Information
OCT. 16, 2015
Ujoh designer as the winners of the 9th DHL Designer Award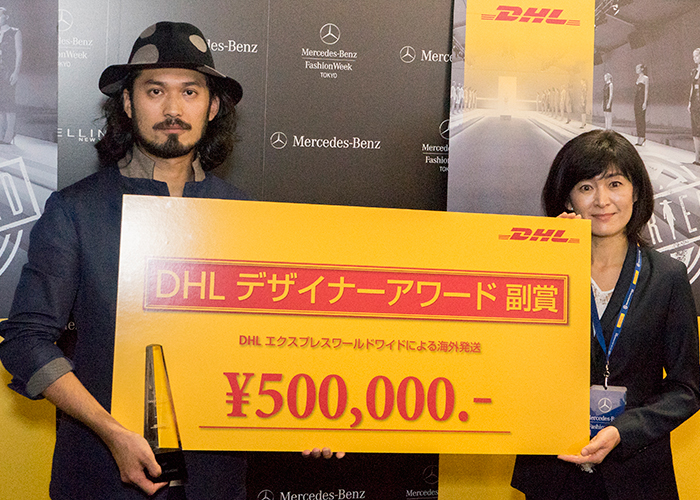 Mitsuru Nishizaki receives the DHL Designer Award, presented by Tomoko Takedatsu, Communications Manager of DHL Japan's Sales and Marketing Division.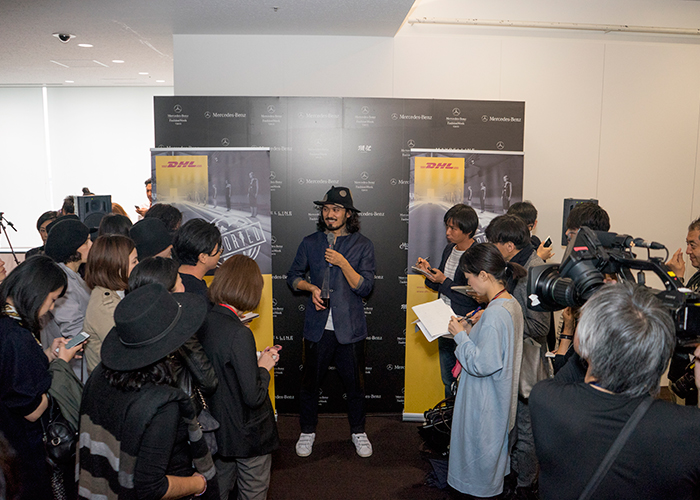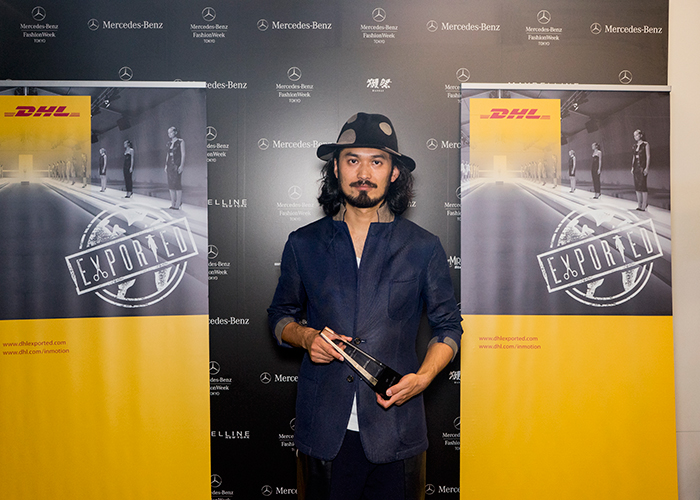 Mitsuru Nishizaki, designer of Ujoh, clinches award for young and promising fashion designers
DHL, the world's leading international express service provider, today announced the winner of the 9th DHL Designer Award. The award recognizes young, up-and-coming fashion designers with international potential. As the Official Logistics Partner of the Mercedes-Benz Fashion Week TOKYO (MBFWT), DHL provides shipping and delivery services for the MBFWT.
DHL Japan and Japan Fashion Week Organization (JFW Organization) selected the winner from a pool of promising fashion designers, who showcased their collections at the fashion week. The winner was selected based on creativity, design and the potential to go global.
The winner of this year's DHL Designer Award is Mitsuru Nishizaki, the designer behind Ujoh, who has been participating in MBFWT since the 2014 Spring/Summer show. Launched in 2009, Ujoh is a brand distinct in its elegant style. The brand has expanded its footprint internationally, to reach clients in London, Moscow, China, and Hong Kong. Sales for Ujoh are also expected to kick off in New York and Paris this season. A commemorative plaque and an overseas shipping credit valued at 500,000 yen was presented to the winner at an award ceremony, by Tomoko Takedatsu, Marketing Communications Manager of DHL Express Japan. The overseas shipping credit offers practical assistance in helping the winner launch or expand his brands overseas.
Upon receiving the award, Nishizaki said, "I am honored to receive such a prestigious award. I am sincerely grateful to everyone who has supported in the day-to-day efforts at Ujoh. In our quest to achieve global expansion, I would like to take the opportunity offered by this award to step up Ujoh's overseas expansion efforts."
Taketo Yamakawa, President and Representative Director of DHL Japan said, "This season marks the 9th DHL Designer Award. We are pleased to have supported the internationalization efforts of many young and promising Japanese designers through the award. As the market leader in international express services, DHL offers the world's largest global network combined with superior quality logistics services. We will continue our strong support for Japan's designers and fashion industry and their global expansion goals."
In addition to the DHL Designer Award, DHL has also been supporting the global fashion industry since 2014, through the DHL Exported program. A collaboration with IMG Fashion, the program aims to help talented designers expand their businesses internationally. The program sponsors runway debuts at impactful Fashion Week events held in New York, London, Milan and Tokyo. Of the four Cycle Two winners of DHL Exported Program announced in September, Marques Almeida – a brand that won at its Tokyo debut, will reveal their collection for the first time at the 2016-2017 Autumn/Winter Mercedes-Benz Fashion Week Tokyo. Atsushi Nakashima is the first Japanese designer selected as a winner for Cycle Two. His collection will be showcased at Milan Fashion Week in February 2016.