Information
APR. 28, 2021
Rakuten Fashion Week TOKYO 2022 S/S | Now accepting applications for exhibition brands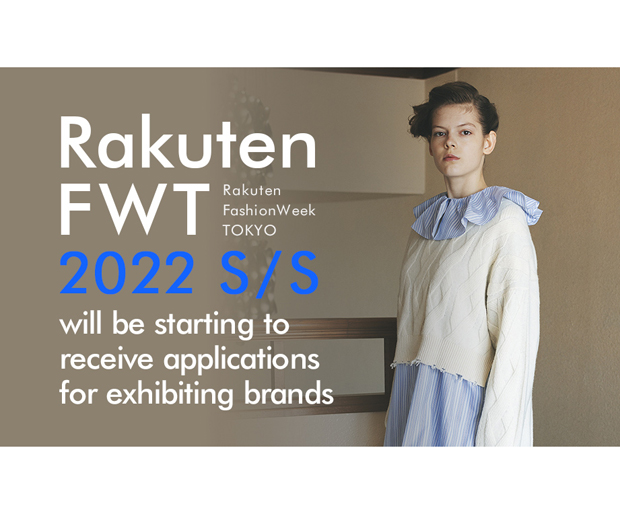 Rakuten Fashion Week TOKYO,
aspiring towards further fusion of digital & physical,
is starting to receive applications of participating brands for the 2022 S/S season.

-In the term held in March 2021, amidst the COVID-19 pandemic, Rakuten Fashion Week TOKYO was the only one of the world's 5 most collections that realized physical shows-
In the past 2021 A/W season, of the world's 5 most collections (namely N.Y., London, Milan, Paris, Tokyo), Tokyo was the only one which realized physical shows, by thoroughly carrying out COVID-19 infection prevention measures. Furthermore, the fusing with digital presentations attracted many participants.
Especially in digital, by transmitting a digest movie of the term week through SNS, groups which could not be reached before by conventional collection presentations only were approached, along with carrying out projects in hope to create a familiarity towards the world of fashion, such as having digital influencers choose and introduce their favorite Looks
The coming 2022 S/S season, with efforts in further advances in fusion of physical and digital, will be evolving further into a new form of fashion week
Transmission of digital presentations will be strengthened, with pre-presentation interviews of designers who wish to report on collection highlights, and because overseas press cannot come to the event under the present situation, the attractions of participating brands will be conveyed to overseas media by communication through sharing movies, etc. By fusing as much as possible, things which can be done unique to digital with attractions unique to analogue, we are aspiring to create a new fashion week with heated passion.
How to submit your application
Please read the participation guide (PDF) and the COVID-19 Infection manual carefully, and email your participation application (EXCEL) along with all necessary documents/data to the "Japan Fashion Week Organization/contact person: Minegishi".
*For details on how to apply, please refer to p.32 of the "Participation Guide".
Application Form Sending Address
Indicating "Application to exhibit in Rakuten Fashion Week TOKYO 2022 S/S" as the title, please email documents and send samples/lookbooks by post.
Person in charge: Ms. Minegishi
Japan Fashion Week Organization
8th Floor, No.5 Kanou Bldg., 3-26-16 Shibuya, Shibuya-ku, Tokyo 150-0002
Mail: rakutenfwt22ss@jfw.jp
Application Deadline
Applications must arrive by
May 28st (Fri.), must be received by 18:00
*Applications will not be accepted after the deadline