Information
MAR. 15, 2022
RakutenFWT 2022 A/W | Day 2 Report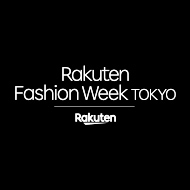 "Rakuten Fashion Week TOKYO (hereinafter indicated as Rakuten FWT) 2022 A/W" (governing
body: the Japan Fashion Week Organization, hereinafter indicated as JFWO), welcomed its second day.
●KIDILL12:00〜One of the award-winning designers of the TOKYO FASHION AWARD, Mr. Hiroaki Sueyasu, presented a physical show at the Official venue of Shibuya Hikarie. Members of the rock band, PSYSALIA, who the designer himself is a fan, made a live performance wearing collection items. Having presented their COLLECTION this past January, the presentation here was a production expressive of his mental, emotional state.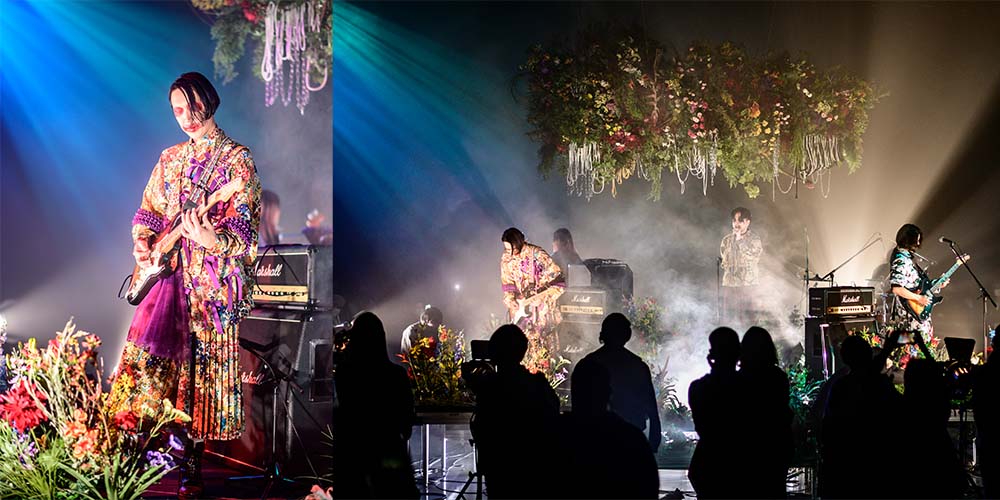 ●First-time participant, "OXYMORON"
(13:00~ Online presentation along with a press event at Shibuya Hikarie, COURT)
A brand established in 2021, by the designer, Mr. Hiromasa Fukuda, from Hokkaido. This season, under the theme, 'Less Is More', they shot their COLLECTION on the subway of Sapporo, where the designer grew up. Announcing unique designs with several armholes or necklines, the designer commented, "I wish for the wearer to wear them as they please and have fun with it".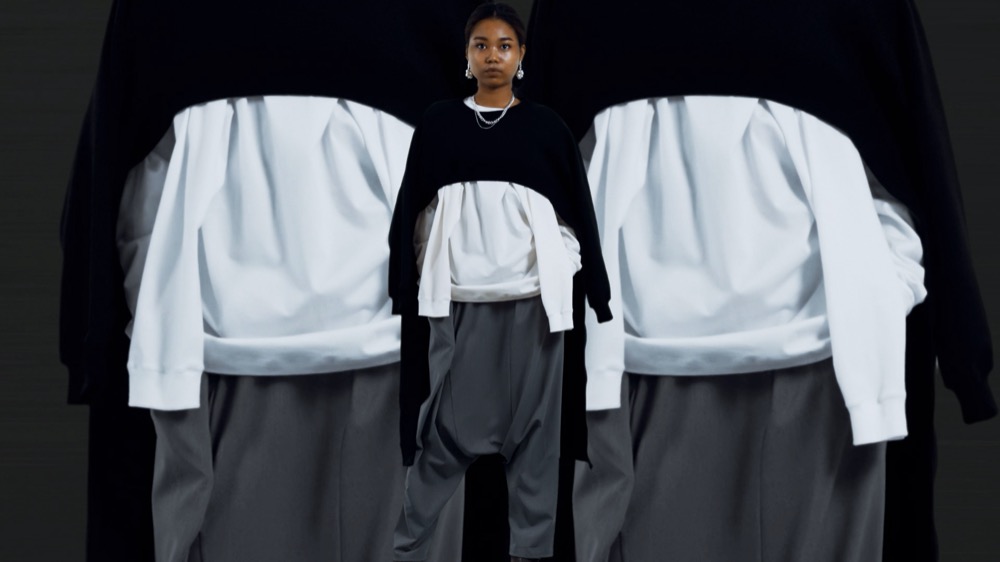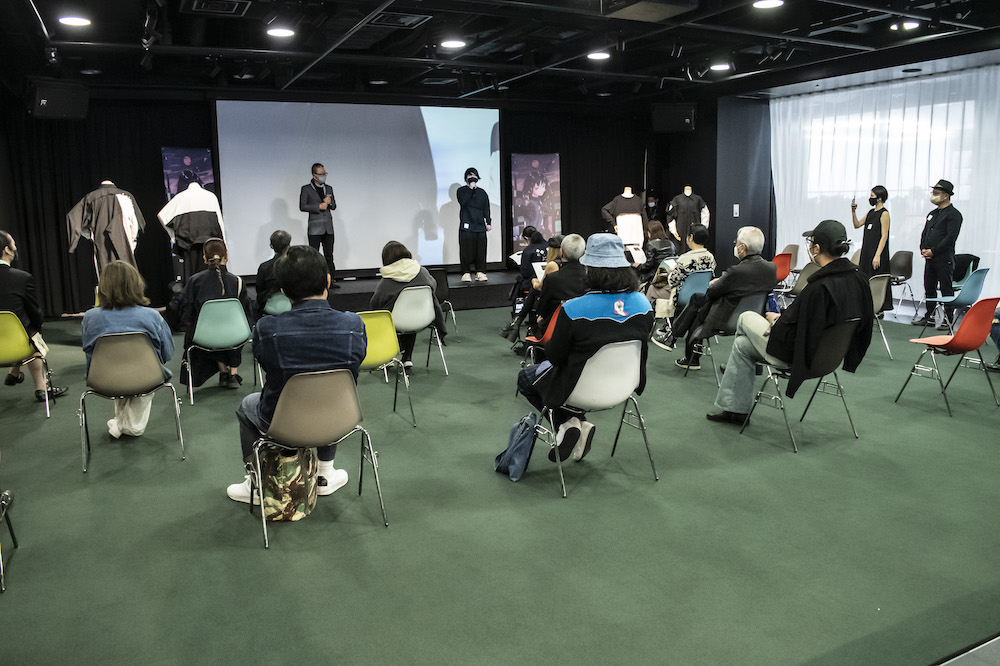 ●At the Official venue of Omotesando Hills, Ms. Tzu Chin Shen, the designer ofSeivson, from Taiwan, presented a physical presentation. (15:00~)
In the 2022AW season, under the theme of "Do Electric Sheep Dream of Sleeping Beauty?", she expressed a world fusing AI and life, virtual and real. Presenting a COLLECTION flowing with a futuristic atmosphere.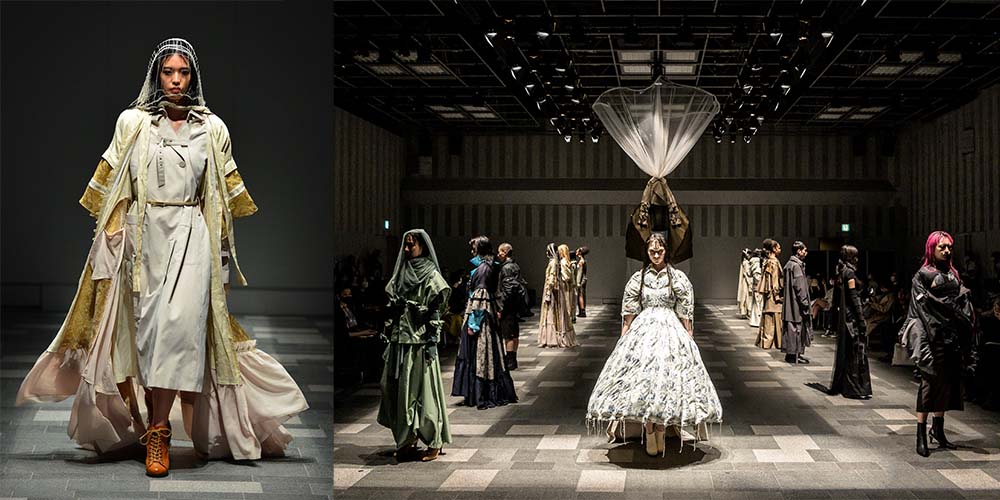 ●el conductorH presented a physical show under the theme, "LOVE" (20:00~).
Presenting a full women's line for the first time.
el conductorH, by the designer, Mr. Shintaro Nagamine, presented a collection expressing the peril, transience of the two sides of love, such as the other side of a love that is too intense, the instant love changes to hate with one trigger, the conflict, sadness of swaying back and forth between both emotions, the dual nature of beauty and horror. Furthermore, this season, they developed their first full women's line, making it a line-up more powerfully expressive than ever of the brand's characteristics, while challenging a new fields.
●Introduction of new efforts in preventive measures against the spread of the Novelle coronavirus (COVID-19) infection
In addition to the measures being taken in continuance from last season, such as guidance in carry out the original Rakuten FWT 'Guideline on infection control of the Novel coronavirus (COVID-19)
in fashion shows', through carrying out of temperature taking / sterilization and disinfection / constant wearing of masks, placing of CO2 concentration detector devices (cooperation: ASAHI KASEI CORPORATION) at official venues, antigen testing of related staff, etc., as a new measure, "Launchmetrics", a noncontact invitation/guests management system has been introduced and put into use at official venues. Furthermore, also being officially introduced are "Dantotsu Maskool Premier" masks and "KUTSUKU INNER Premier" mask inners of KOMATSU MATERE Co., Ltd.,
which have superior ability in cutting both virus spray and pollen, while possessing characteristics of both non-woven and woven fabrics. During the whole event term, participating brands and all related staff will be wearing these masks and inners.
To guests arriving wearing masks of their choice, inner filters (KUTSUKU INNER) are being passed out for free.