Information
APR. 28, 2022
Rakuten Fashion Week TOKYO 2023 S/S |Accepting applications for participating brands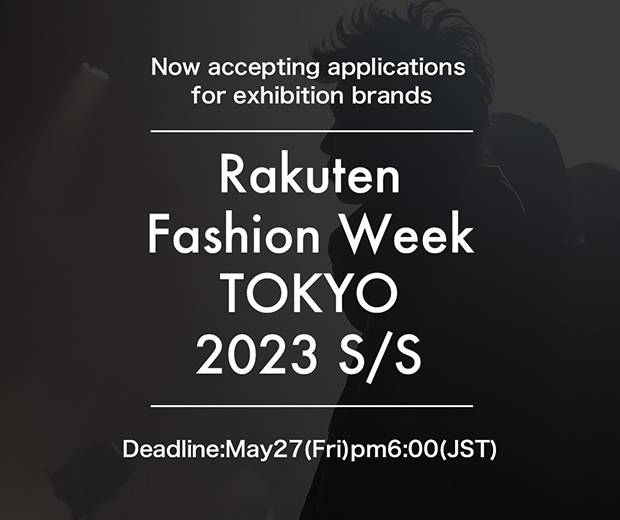 At Rakuten Fashion Week TOKYO,
aiming to create a new fashion week of Tokyo that continuously evolves with the times,
we will commence accepting applications for brands who wish to participate in the upcoming 2023 S/S season
amid these times of 'with corona', we will be carrying out this event under the motto of "safe and secure".
In this past 2022 A/W season, by carefully following the presentation/operation rules laid down in the renewed infection control of COVID-19 manual with added articles, over half the participating brands were able to carry out physical presentations of their collections. Furthermore, by widely transmitting all collections, both physical, digital, and including those presented utilizing new expression methodologies, in our Official WEB site and our Official YouTube channel, we received grave reactions.
In continuance, again in the upcoming 2023 S/S season, we aim at having both digital platforms and physical presentations coexist midst these times of 'with' corona, operating a fashion event with flexibility.
 
Holding a "Tokyo-like" fashion week
At Rakuten Fashion Week TOKYO, with the aim of operating and transmitting a more "Tokyo-like" fashion week, we are carrying out various efforts to approach groups that are difficult to reach through regular collection presentations alone, mainly through digital platforms conscious of BtoC.
As we have done in the past few seasons, we will continue to hoist our slogan of "strengthening of power of transmission", to broaden opportunities to have more people widely experience and enjoy fashion, thereby aiming to create a new fashion week of Tokyo which evolves with the times.
How to submit your application
Please read the participation guide (PDF) and the COVID-19 Infection manual carefully, and email your participation application (EXCEL) along with all necessary documents/data to the "Japan Fashion Week Organization/contact person: Minegishi".
*For details on how to apply, please refer to p.36 of the "Participation Guide".
Application Form Sending Address
Indicating "Application to exhibit in Rakuten Fashion Week TOKYO 2023 S/S" as the title, please email documents and send samples/lookbooks by post.
Person in charge: Ms. Minegishi
Japan Fashion Week Organization
6th Floor, Giraffa Bldg., 1-6-10 Hiro, Shibuya-ku, Tokyo 150-0012
Mail: rakutenfwt23ss@jfw.jp
Application Deadline
Applications must arrive by
May 27st (Fri.), must be received by 18:00
*Applications will not be accepted after the deadline