Information
AUG. 31, 2022
RakutenFWT 2023 S/S | Day 3 Report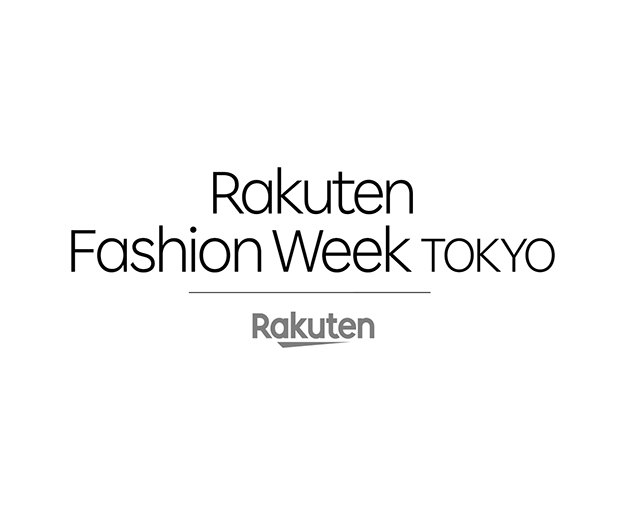 "Rakuten Fashion Week TOKYO (hereinafter indicated as Rakuten FWT) 2023 S/S" (governing body: the Japan Fashion Week Organization, hereinafter indicated as JFWO), welcomed its 3rd day.
 
First-time participant "ablankpage" (11:00~) presented at the official venue of Shibuya Hikarie
"ablankpage" by Larprojpaiboon Phoovade, a designer from Bangkok, Thailand, participated in Rakuten FWT for the first time. Because the brand name literally means "an empty blank page", along with the desire and conflict of "continue writing one's life story regardless of prejudice or stereotype", the designer felt he wanted to "get rid of stereotypes", which became this collection's theme. Starting with an array of colorful pieces abundantly using Thai letters or textiles, the colors fading away gradually to a blank paper-like white costume, he expressed the way in which one's true self appears by peeling away stereotypes such as race, nationality, appearances.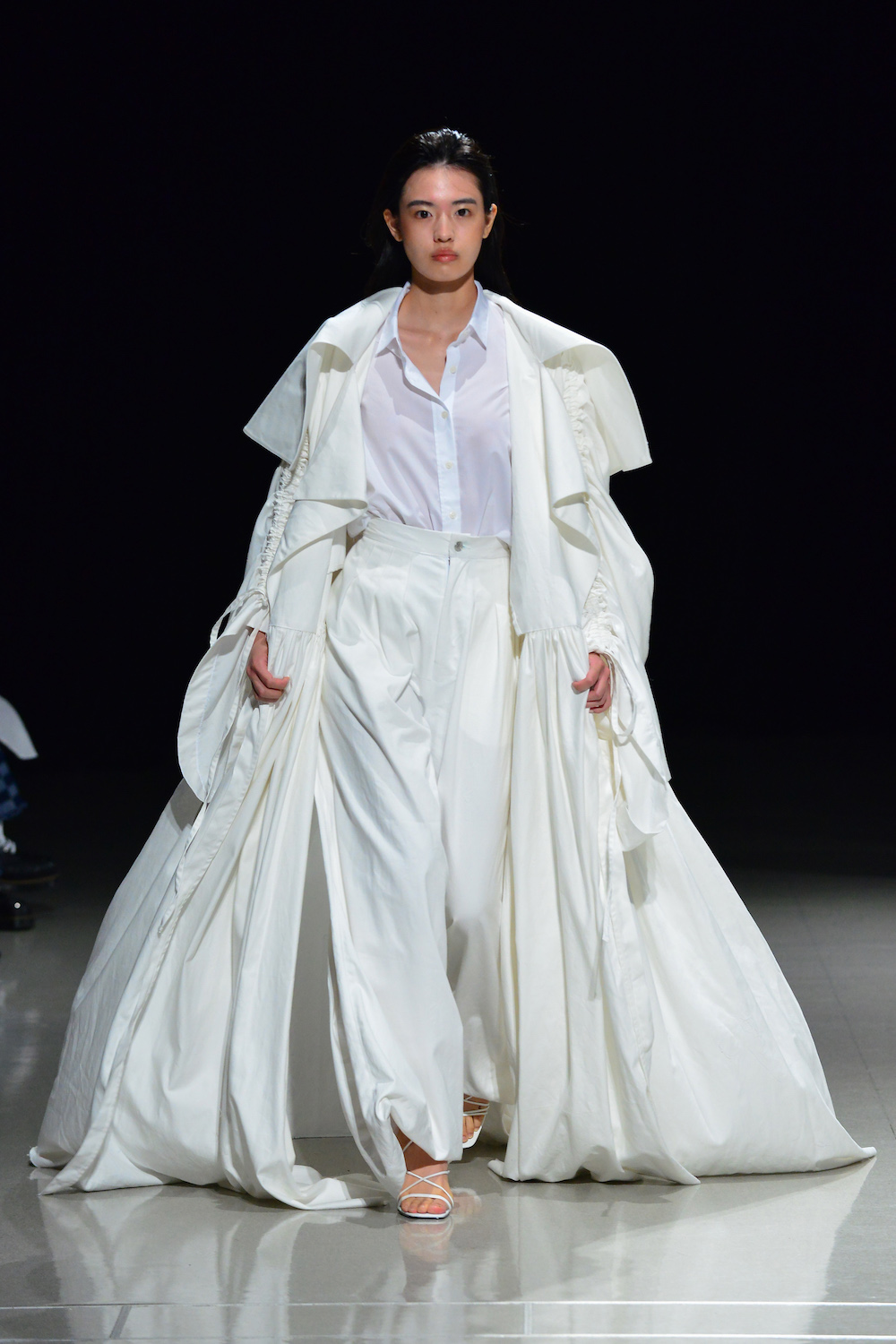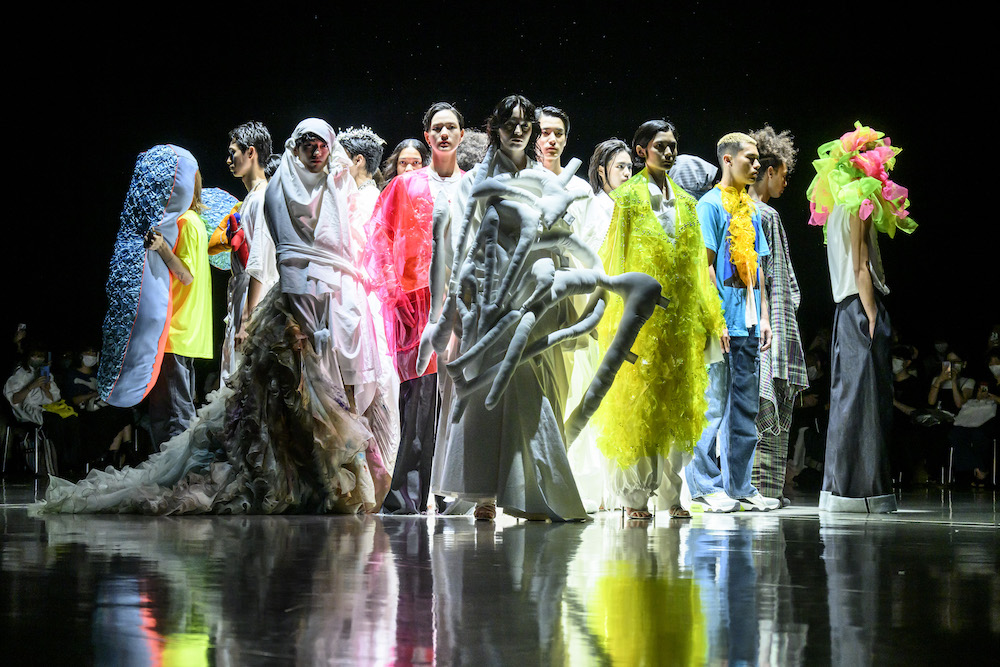 "CINOH" (13:30~) digital presentation
"CIHOH" by the designer Takayuki Chino, gave a digital presentation.
Looking for the meaning of existence of such labels as "MENS" or "WOMENS" these past few seasons, during a time in which words such as genderless or timeless are being whispered, this season, he offers designs in a man-ish style combined with sweetness and a healthy comfort in wearing.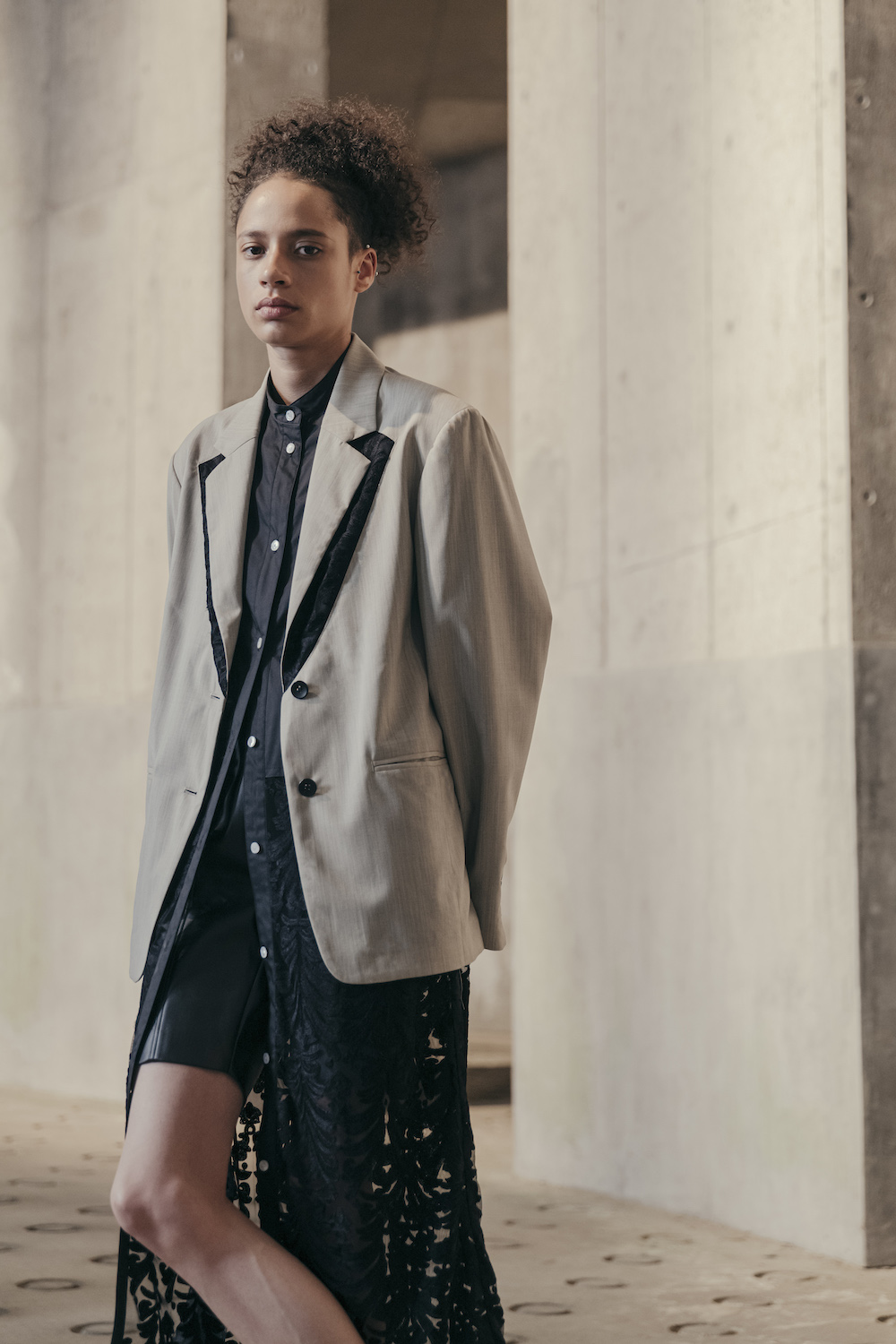 First-time participant "genzai" (17:00~) supported by CONVERSE in shoes
CONVERSE JAPAN CO., LTD, an official partner of Rakuten FWT and CONVERSE, has provided "ALL STAR® ", shoes, the standard model representing the brand, to the show of genzai, a brand participating in Rakuten FWT for the first time.
Under the theme of "dystopia", models and dancers surrounded the rapper, Hideyoshi, presenting a live performance like show.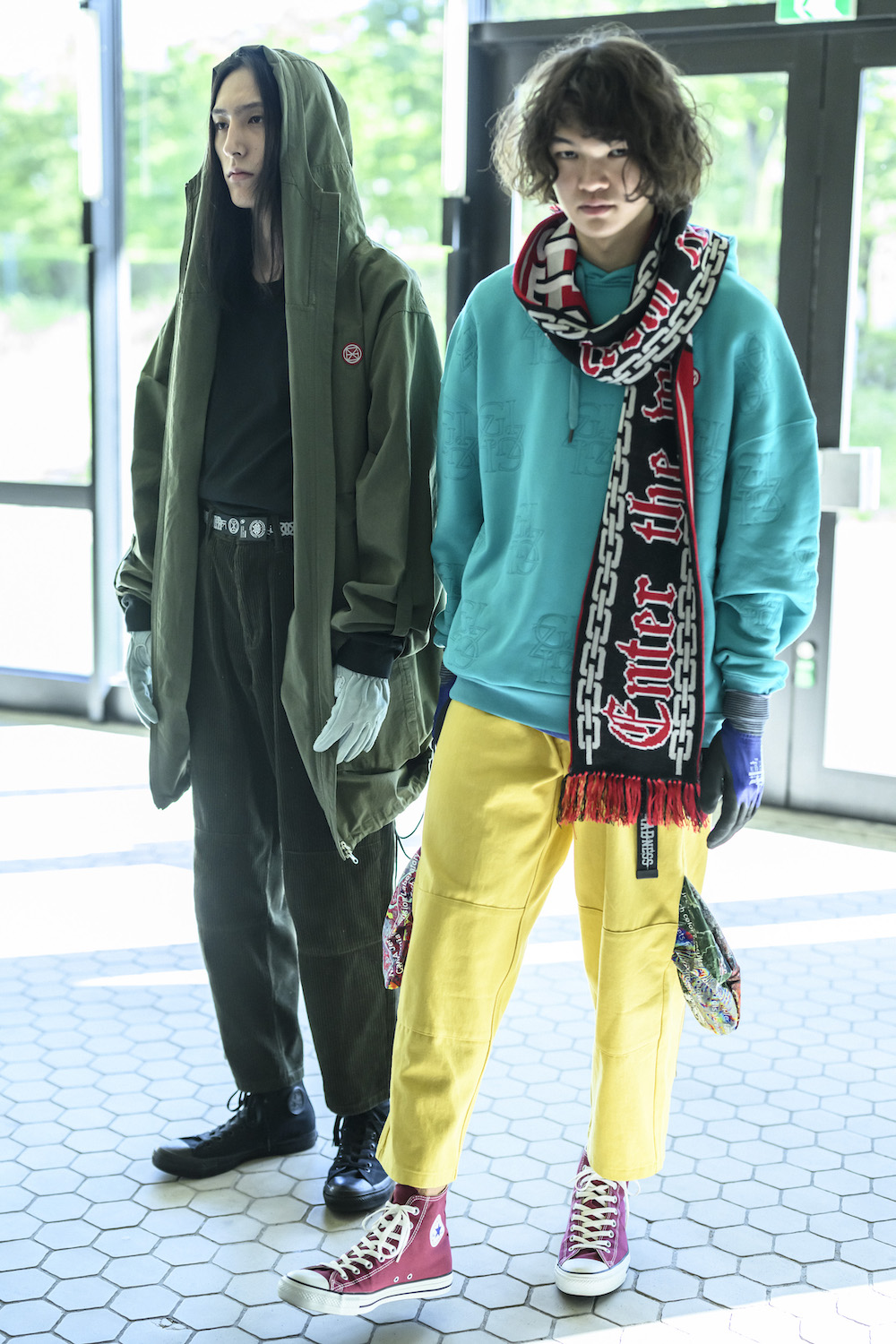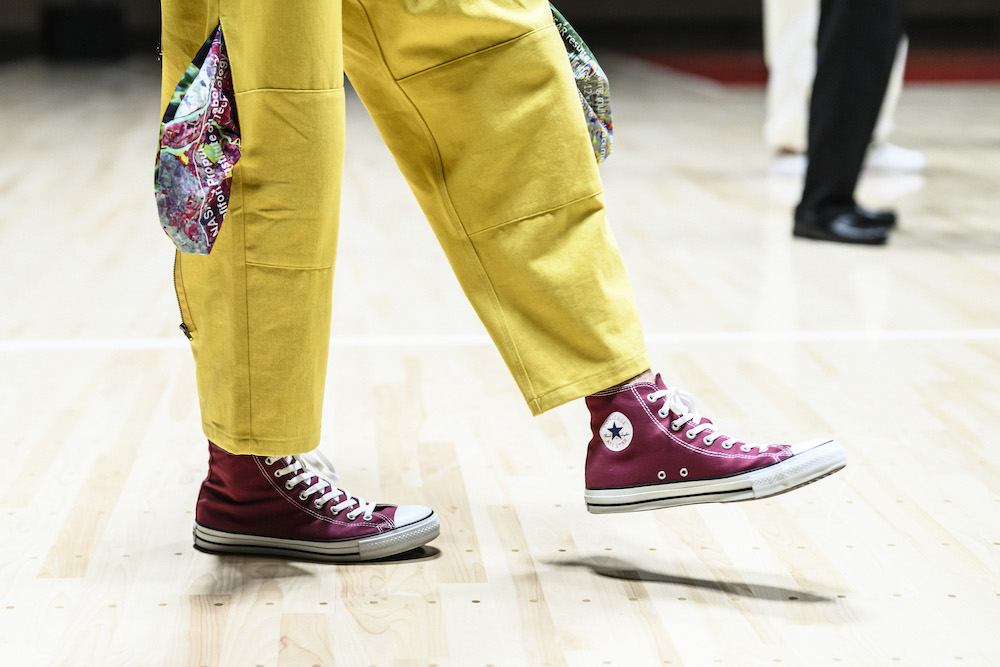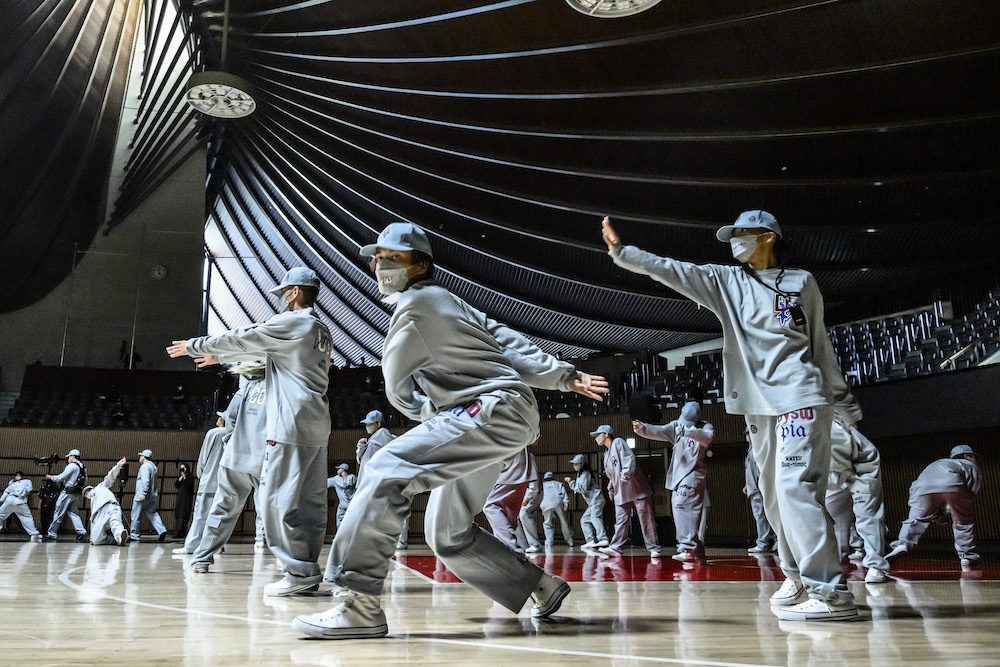 First time participant, "LEVER COUTURE" (19:00~) presented a physical show
LEVER COUTURE, this season's overseas participant, presented their collection on the runway. LEVER COUTURE is a brand by Lessja Verlingieri, a designer from Ukraine, launched in 2011, with a client list filled with an impressive array of famous people. Known for creating costumes for famous celebrity's music videos, stages, red carpet, etc. This time, the designer visited Japan in person to present their very first show in Japan.
 
The"DIGITAL VOICE"project, with fashionistas and influencers, being carried out!
This season again, the highly popular "DIGITAL VOICE" project is being carried out. Starting with "Street Snap", in which a colorful line-up of models, creators who realize the "now of fashion" wears collection items of participating brands, and "RECOMMEND", in which fashionistas representative of Japan and overseas, introduces looks or attention-grabbing points in recommendation form, is being transmitted. Please keep your eye on it.
Contents can be seen at the below URL.
https://rakutenfashionweektokyo.com/jp/digital-presentation_2023ss/
(※ The latest uploads can be confirmed on the official Instagram)
In addition, "SPECIAL INTERVIEW" of this season's participating brand designers are also being shown, so please check it out, too.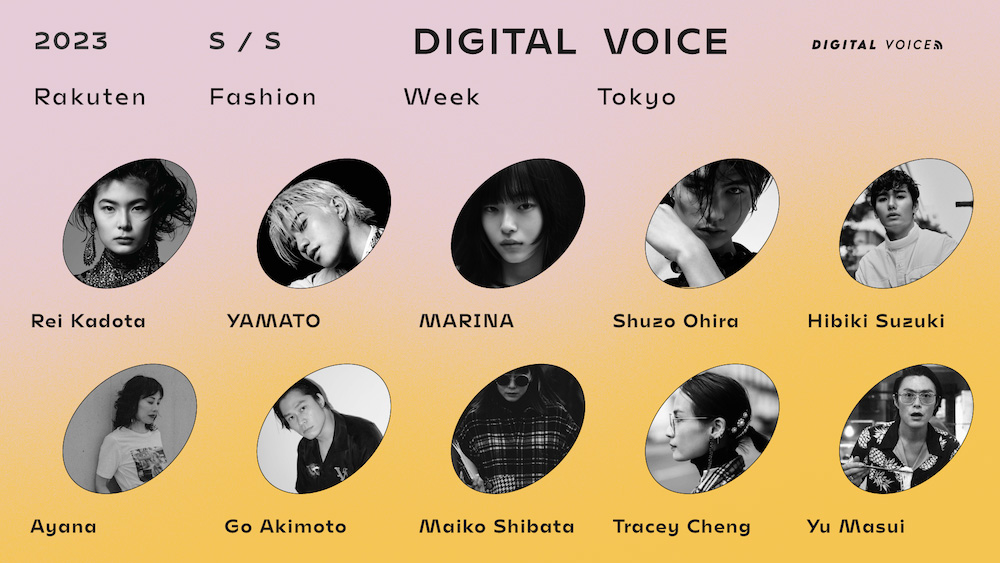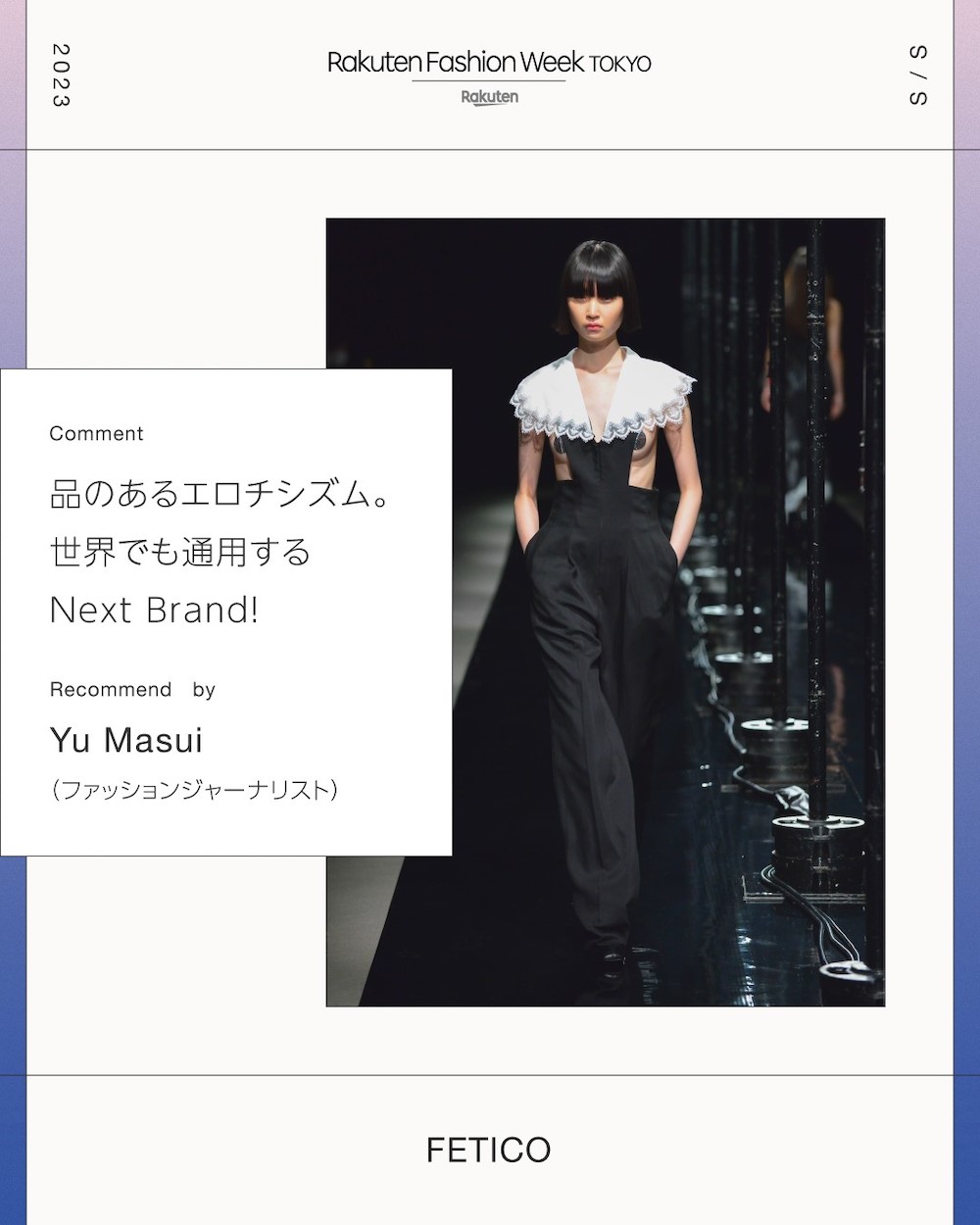 DIGITAL VOICE RECOMMENDATION
SNAP
Rakuten FWT 2023 S/S related event, RIVERSIDE STORY Shibuya river edition
RIVERSIDE STORY Shibuya river edition, a related event of "SDGs that fashion can do" started in the 22 S/S season with a medium-to long-term point of view and being transmitted through a variety of projects, will start from September 2nd (Fri.). "RIVERSIDE STORY" is a project that started with an idea by Xiangyu, an artist inspired by garbage floating along the river, and Yoshiki Hanzawa, designer of PERMINUTE, thinking they would like to record the make up of the city and people's lives unique to that place. This time, garbage from around the Shibuya Hikarie area to the mouth of the river has been collected, processed, made into clothes, and displayed as a related event of Rakuten FWT 2023 S/S. During the term, several pieces will be displayed also at the 9F Atrium of Shibuya Hikarie, the official venue, so please take a look at it too.
Event schedule:September 2nd (Fri.) 17:00 – 18:30 / September 3rd (Sat.) ~ September 5th (Mon.) 13:00 -20:30 / September 6th (Tues.) 13:00 – 18:30
Place: 'KATA' LIQUIDROOM 2F, 3-16-6 Higashi, Shibuya-ku, Tokyo
主催:RIVERSIDE STORY
Hosted by: RIVERSIDE STORY inquiries on event: RIVERSIDE STORY riversidestory.riversidestory.info@gmail.com