Interview & Report

fantasista utamaro
Art Director / Illustrator
Born in 1979. Established KOTOBUKISUN in July 2012 after working freelance. Work includes art direction, illustration, textile design, graphic design and animation direction, and is characteristic for a pop and colorful approach. Recent work focuses on CD covers and Music Video projects (Yuzu, livetune, Denpagumi.inc, LM.C, Tokyo Karankoron, AMIAYA, etc.)
Unique expressions using pop colors and comic strip elements such as onomatopoeia and pop-ups. Using such expressions, fantasista utamaro expands his area of work unboundedly, like his own artwork, to graphics, movies, textiles, products and space. He established Saizen 00 with designer Mikio Sakabe of MIKIO SAKABE and other creators from various genres. Becoming media himself as he releases "WHAT'S A FANTASISTA UTAMARO!? by QUOTATION" as the chief editor, fantasista utamaro, who continues presenting expressions developed from Japan's unique culture, was interviewed.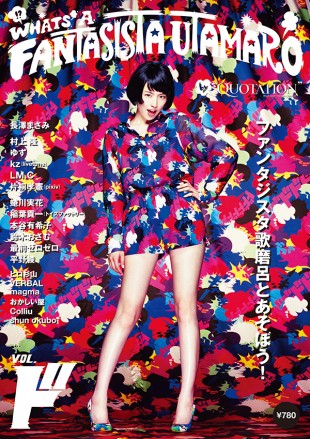 "WHAT'S A FANTASISTA UTAMARO!? by QUOTATION" (MATOI PUBLISHING) released on May 24, 2013
Photo: YOSHIHARU OTA
You design textiles as well. Did you always like fashion?
I did not have a specific brand or style I particularly favored, but I have always liked to stand out since I was a student. I had my own preference as I wore flashy, fluorescent colored clothes while at the same time, favored secondhand clothes from Europe. Even now, I go around clothing shops, but as for the patterns of my textiles or the clothes using such textiles, I design them based on the kind of style that I simply desire and do not really think of it as fashion.
What do you keep in mind when designing textiles?
Since there are already many cute textiles, I try to add unique values by symbolically adding visuals such as onomatopoeia and pop-ups from comic strips. Textiles are talked under fashion, but I think they can be of any genre. For example, it would be interesting if a textile I designed turned out to become the blanket for a kotatsu (a small, traditional Japanese table used for heating) at an old lady's house. I emphathize with surprising expressions found in daily life, and I too would like to casually present expressions that people would wonder about. Well actually, they are too flashy and not casual at all (laughs).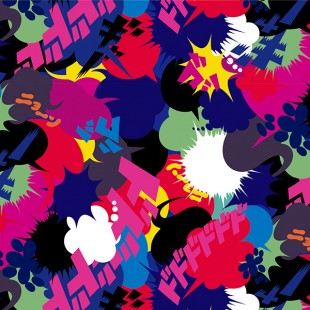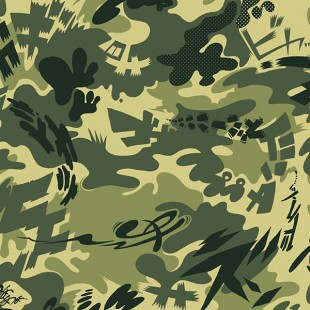 Textile to be presented at the KOMATSU SEIREN booth at Premier Vision in Paris in September
You specialized in textiles in university, is that right?
Yes. I have liked graphic arts and illustration since when I was a student, but I find the format of textile very intriguing. For example, a painting is drawn on a canvas and placed in a frame. Expressions in any genre have a format of their own, but textile can be expressed in any way. It can become a piece of artwork if it is placed on a canvas, or products such as clothing and iPhone cases. In a world where existing formats are shattered with the emergence of the Internet, I think textiles are a way of expression that matches these times. Before I knew it, I was creating artwork that could expand unlimitedly.
You will also participate in Premiere Vision, a textile trade show that will be held in Paris this September.
I am going to participate from the booth of KOMATSU SEIREN, and I am currently designing 10 types of designs. I started designing textiles as a hobby, but since I am able to present my work at an event which is not easy to be a part of, I am hoping to make an interesting approach. I took a textile course in university, and although the work to set each thread into the loom and weave a piece of cloth is very difficult, there are no words to describe the excitement of watching the cloth gradually being made. However, when the cloth is finished and I take it off the loom, it is an ordinary-looking plain-woven cloth and it looks like it lost its appeal, as if all the magic suddenly disappeared. I thought about what this feeling was and I realized that it is like climbing a mountain. A person's ultimate desire is found when you are trying to see something you cannot, like where you are imagining the view from the top of the mountain as you climb it.
That feeling must be the basis of your creations.
I find appeal in things that have not been completed, and the artwork I create that expands unlimitedly is something that I can extend my imagination outside the frame. Just as photos, people try to imagine what the world is like outside the trimmed photo, and I think this is the ultimately creative part of humans. I try to trigger this feeling with my creations.
Your creations show a strong influence by anime, manga and other Japanese pop culture. Why did you decide to take these aspects into your creations?
When I was a child, my family moved a lot, and everywhere I went, I was always the newcomer. With that kind of situation, I was always thinking about who I was, and as I thought about something only I could do, I started drawing pictures. Drawing pictures makes people happy and your work remains. I drew Gundam and Kinnikuman figures, and as I grew older and became interested in designs, I found from many of the things I saw that designs are basically intended for overseas. From around that time, I started wondering if I could mix design with manga, anime and other Japanese subculture I have been familiar to. Establishing a group called "mashcomix" with friends from prep school for art schools, which I went to at the time, was the start of things.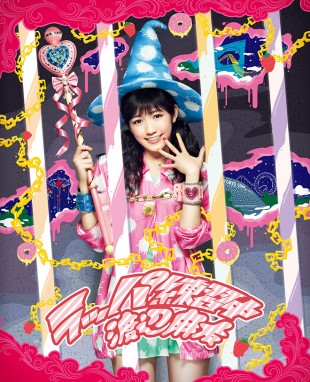 Watanabe Mayu, a member of "AKB48", a cover photography of CD "Rappa Renshūchū (practicing a horn)"
Photo: YOSHIHARU OTA
Currently, you do art direction for idols. Where do you find Japanese pop culture appealing?
Whether it is anime, manga or idol culture, it is very interesting that they are evolving in a unique, Galapagos kind of way with various elements mixed together. I feel there is a need to explain such interesting Japanese culture, and that is what I try to do with my presentations. There is no clear line indicating what unique Japanese culture is, but like Nico Nico Douga and Hatsune Miku, the commonality is that it carries a destructive force that cannot be explained or described with words. This is what I find appealing.
The Saizen 00 project you have with fashion designer Mikio Sakabe is exactly the kind of project that symbolizes such Japanese culture.
For "Saizen 00", we had a live event and fashion show with Denpagumi.inc at TSUTAYA TOKYO ROPPONGI. I thought if I could have an idol group at a rental video store, which is a uniquely Japanese space, and hold a fashion show with Mikio who is sort of a maverick in the fashion industry, we would be able to communicate Japanese culture straightforwardly. I never favored conservative moods, but as specialization advances in design, advertisements, movies, fashion and any other industry, a hierarchy is formed and rules become solid. I have a strong desire to put something with great destructive force there to stir up the unpleasant atmosphere, and I am planning to play this character as long as possible (laughs).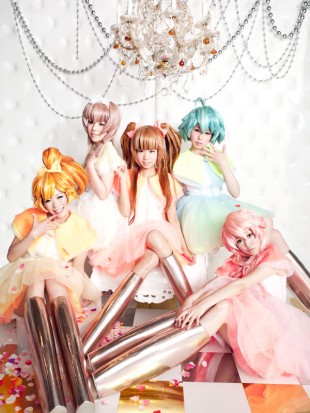 Denpagumi.inc which performed a live fashion show at TSUTAYA TOKYO ROPPONGI
Photo: mika ninagawa
Is there something you have your attention on as fashion unique to Japan?
I am not that familiar with fashion, but "Akihabara Fashion Week" that I went to from my connection with Mikio (Sakabe) was very interesting. It was a show with idols of Dear Stage wearing clothes designed by up-and-coming, cutting-edge designers at a place called Dear Stage in Akihabara, owned by Mofuku-chan who is also a member of "Saizen 00". The talks, or more like shouts, that Mofuku-chan made in between were funny and created an extraordinary atmosphere and I think this is unique to Japan. It surpasses cool or not cool to become something simply powerful. The event was like our souls had taken shape.
There were many cases in the past where phenomena with energy unique to Japan were acclaimed worldwide.
That may be so. I was talking to Mikio the other day about where a "standard miracle" occurs and whether it could be made happen. For example, when Coco Chanel presented the pants-style, it probably was a style not generally accepted at the time, and cool fashion in hip-hop is represented by oversized clothes. Hip-hop originates from African-American culture. When hip-hop was first developed, there were many people who were living in poverty and were accustomed to wearing secondhand clothes since they did not have enough money to buy clothes. That is why the clothes that they wore became oversized. However, music and culture is created to change such negative reality and world. Oversized fashion is now accepted by the world as a cultural standard and is recognized as something good and cool. Something negative turns into something positive. There is nothing more inspiring than this. In the same sense, it would be extremely impressive if the costume culture of Akihabara, which still has a strong image of otaku culture, became a new standard in our country. Creating new value in something that was not common changes the future in any way possible. Something said by someone for the first time is passed on through many people, which eventually becomes a standard. I hope unique culture originating in Japan becomes a valuable asset to the world in that way.