Interview & Report

Henrik Vibskov
HENRIK VIBSKOV Designer
Born in Denmark, in 1972. Graduated from CENTRAL SAINT MARTINS in 2001. His creative talent, not limited to fashion, includes music and films. While a student in school, he won an award for film making, and became known to the world since then. His works are exhibited widely, at THE FUTURE MAP EXPO in London, SOTHEBY GALLERY, PS1-MoMA in N.Y., PALAIS DE TOKYO in Paris. Based in London and Copenhagen, he has been presenting his collections at London fashion week since 2002, and now also at Paris fashion week. He was the first Danish person to be chosen for the Hyreses International Festival of Fashion and Photography. Today, he is well known for his impressionable installations and space creations around the world, starting with Paris fashion week. He is also the only Danish designer participating in the official schedule of Paris fashion week.
The multi-talented Danish designer, Henrik Vibskov, active in a variety of fields including art, film and music, has many Japanese fans with his playful creations and pop textiles, participated in Amazon Fashion Week TOKYO 2018 S/S, and presented a runway show of his collection at Hikarie Hall. We interviewed this designer, whom presented his first runway show in Japan in a unique stage production of having construction workers appear on the runway.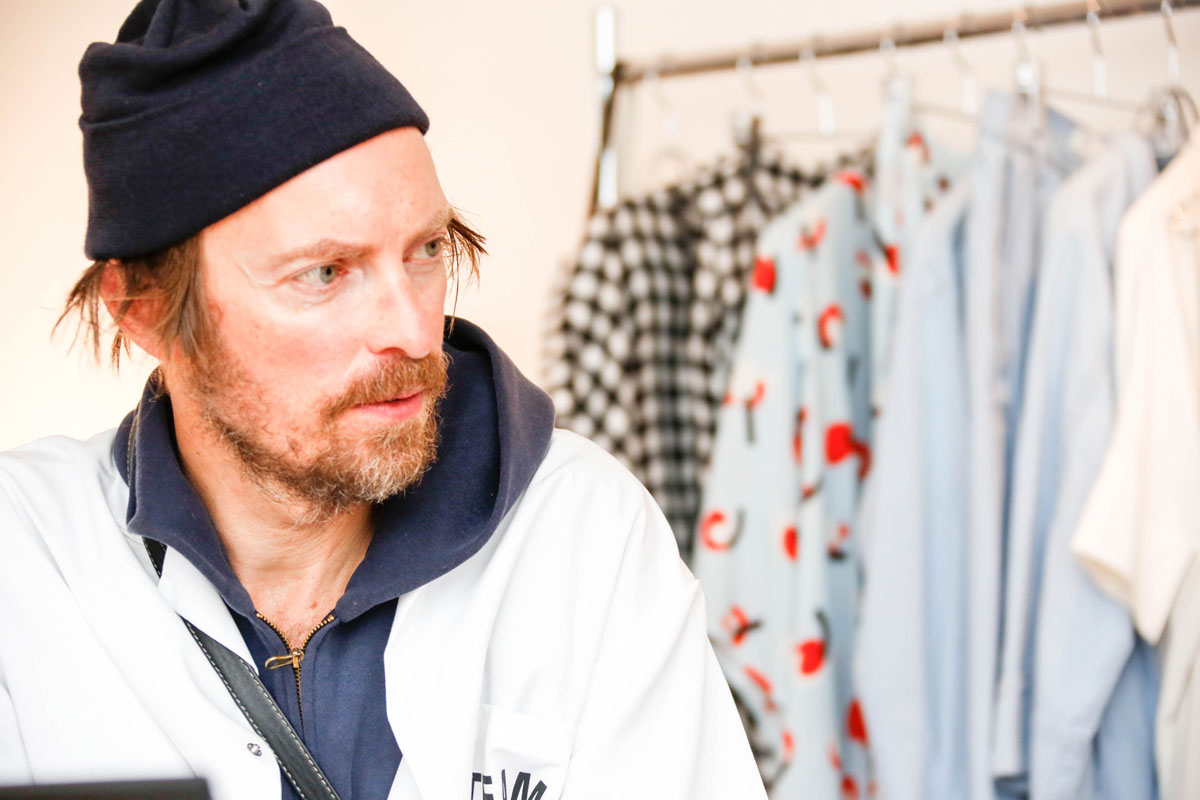 How many times have you been in Japan?
I think I've been here 10 times or so. My first visit was right after graduating from CENTRAL SAINT MARTINS, and after that, I've been here many times on business. This time, I've brought my family with me, and invited them to come see my show, but a year ago at Paris, my son ran out on the runway during the show (laugh), so this time, I made my family sit in a back row. I own a café in Denmark, at which we also sell ice cream. For a time, my children used to think my job was an ice cream man, instead of a designer (laugh), so I think exposing them to such aspects of my work is good in having them feel what it is their father does for a living.
Please tell us how the fashion show in Tokyo came to be.
Right before the Tokyo fashion week term, I was scheduled to do an installation at the 21st Century Museum of Contemporary Art, Kanazawa, as a related program of the "150th Year Anniversary of Japan-Denmark Diplomatic Relations Exhibition". Since I was already scheduled to be in Japan during that time, I decided to make effective use of the opportunity and do a fashion show. There have been many shops carrying my items from before, and because this is an extremely important market for the brand, I thought it would be to our advantage to make an opportunity in which many people could come see our collection, to surely appeal our existence.
In presenting your 2018 S/S collection in Japan, which you had already announced in Europe, was there anything you were particularly conscious of?
There was the difficulty of recomposing a collection which had already been announced, but I had an idea from walking around the streets of Tokyo during an earlier visit … which was, having construction workers appear on the runway. By having people whom have seemingly no connections to the fashion industry, together on the same stage with models and people of the fashion industry, I wanted to create a mood of mutual acknowledgement, understanding and respect.
Living in Europe, did Japanese construction workers seem like a new thing to you?
Yes, it did. I think the work clothing worn by construction workers are very uniquely Japanese, and I am very interested in it. At the same time, despite the difference in type, I think fashion itself is a sort of uniform, so I thought it would be interesting to make these two co-exist. I've always felt that making shows directed only towards fashion industry people such as the media and buyers, often makes shows boring. I wanted to make this show enjoyable for a wider range of guests, so I decided to do the show in this form.
Any thoughts on your first runway show in Tokyo?
The reaction of the guests at the venue was extremely positive. But what impressed me the most was how extremely cooperative and efficient the Japanese team was, from logistics to stage production, and thanks to this, preparations for the production went smoothly. Everything proceeded so much more pleasantly than in Paris, where I usually present my shows (laugh).
We've heard the theme of this collection is "THE GREAT CHAIN OF SLEEPERS", which is presenting "SLEEP". How did this come to be?
Previously, I did a show under the theme "exercise", and one of the performers fell asleep on stage. It took about an hour and a half from the first guest entering the venue to the start of the show. During this time, the performers needed to stand by on stage, laying down, and one of them fell asleep (laugh). This incident got me thinking about sleep, and ended up thinking about 'sleep' from all sorts of angles with my team. We incorporated these thoughts into the collection.
Are your seasonal themes often born in such way?
Yes. The cycle of the fashion industry is so fast, one needs to spit out innovative ideas and art work, one after another, like flipping pan cakes. Within such a situation, I feel this way of proceeding fits me. Also, like this time, having a clear theme makes it easier, and more fun, to speak of the collection. I think I am also largely influenced by SAINT MARTINS, where I received my education, because they always teach the importance of concepts. Now, I teach to students too, and I always speak to them of the importance of being able to explain why they chose that particular form of expression, using my past experiences.
You always come up with ingenious plans for your presentation, but for the brand, how do you place runway shows?
I think fashion shows are unique to the fashion industry, gathering over 1,000 people in one space, and expressing one's creativity through music, lighting, production. For example, one would not do such a presentation to announce new products, such as furniture. But I like this form of presentation, unique to the world of fashion. I have been creating for years now, but unless I keep inspiring myself, my expression will become boring. In this sense also, fashion shows have always been a valuable opportunity for me. Such as involving the public as I did this time, or creating huge construction objects upon the stage as I have done previously, by thinking of new methods of expression and carrying out new challenges, I intend to continue expressing my passion.
You are active, not only in fashion but in various fields. Is there anything you would like to try in the future, as a creator?
There are tons of things I would like to try (laugh). I always have 10 or so projects going on at the same time. Recently, I've designed costumes for ballet and opera, and I have a project underway collaborating with a Japanese metalsmith. I have a big project of relocating our studio waiting for me, along with exhibitions and music activities also. And of course, I will continue to announce new collections. Having various projects proceeding at the same time as I am doing now, is a comfortable state for me. When starting up my brand, my former teacher at SAINT MARTINS said to me, "Once you start, you must continue for at least 10 years". What he meant was, it will take at least 10 years for the brand to be acknowledged, and gain loyal customers. But before I noticed, I've been continuing the brand for over 15 years now. I still enjoy this job, and as long as I feel pleasure in doing this, I intend to continue.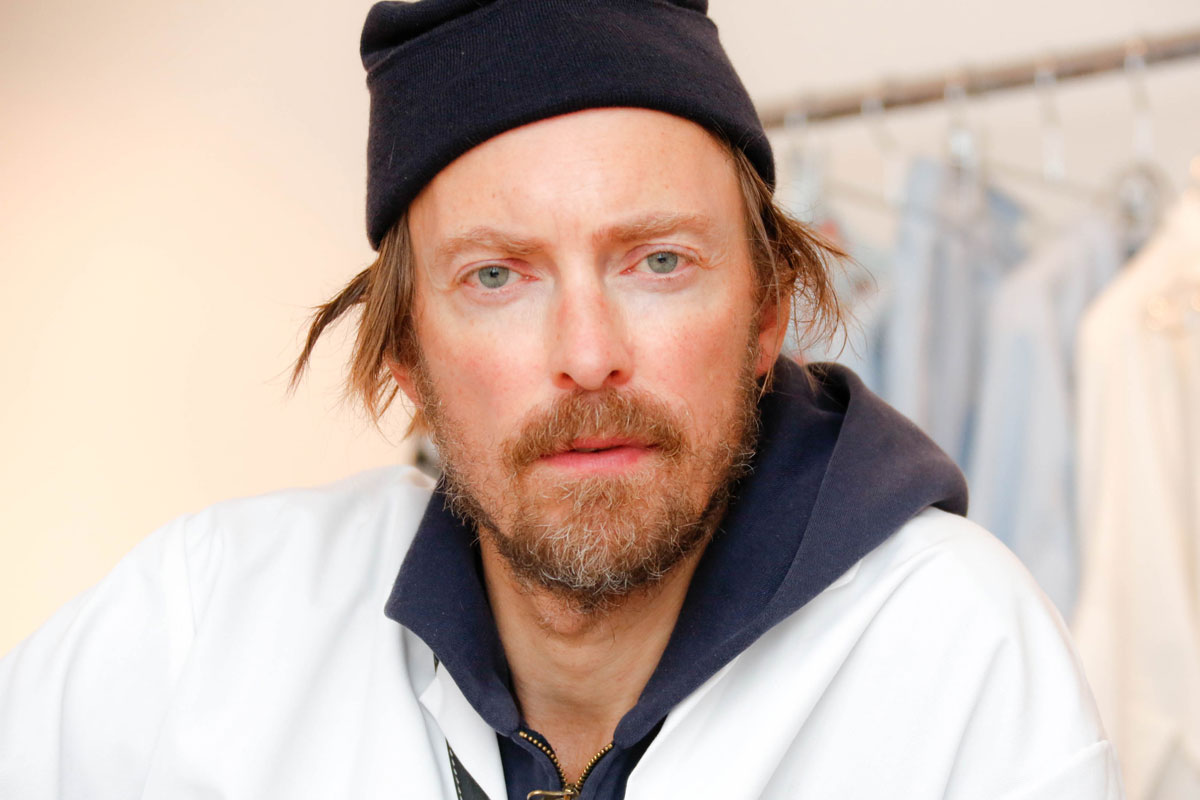 Interview by Yuki Harada
Interpretation by Aiko Osaki