Interview & Report

Layla Alshehri
Maison BO-M / Buyer
"Maison BO-M" is a specialty boutique with two stores in Riyadh and one store in Jeddah. The shop's concepts are lifestyle and gallery, and it carries interior goods as well as miscellaneous goods and ladies' apparel. It also carries Japanese brands, and it draws attention from Saudi Arabian media and industry insiders as a place that transmits domestic trends, such as by conducting fashion shows inside the shop.
Layla Alshehri, buyer of specialty boutique "Maison BO-M," which has two stores in Saudi Arabian capital, Riyadh and one store in Jeddah, came to Japan for the Mercedes-Benz Fashion Week TOKYO 2014 S/S at the invitation of JETRO. The boutique carries ladies' apparel as well as interior accessories and miscellaneous items, and serves as a source of Saudi Arabian fashion, actively conducting collaborations with up-and-coming brands and creators. We asked its buyer about her impressions of Japan, its religion, culture, customs, as well as about the Saudi Arabian fashion scene, which differs in many ways.
Is this your first time in Japan?
I came here on a private trip in 2008. Various things such as the fashion, architecture, and technology were new and creative, and extremely inspiring. This is my first visit since then, and I was extremely happy and excited when I received JETRO's invitation.
Please tell us the concept of "Maison BO-M".
In order to bring about new experiences that did not exist previously in Saudi Arabia, we spent one year coming up with a concept, and opened the store in Riyadh in 2009. Our theme was "a place where new meets old," and we carry fashion items as well as interior and miscellaneous goods. We also have a gallery space and collect contemporary art, etc., from the Arab region. "Maison BO-M" is a creative place where art encounters fashion, and is a one destination place where all your wishes come true. Our target is people aged 25 to about 65, and 80% of our customers are of the royal family. Our store's location is also close to the palace, and in a quiet shopping mall that was built in the 1980s. In addition, we have a building for females only in addition to a building where families can shop, in keeping with Saudi customs. The market is extremely particular, so we are always aware of customizing our products in accordance with the market.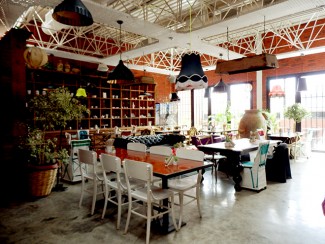 Gallery space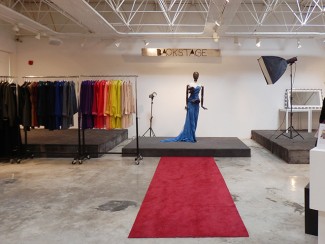 What do you value when buying items?
I am conscious of buying items that fit the Saudi market and culture. Specifically, I look for items that have sleeves and go down to the ankles. The global fashion trends are extremely attractive, but it is important to conform to Saudi culture and religion while also being inspired by them.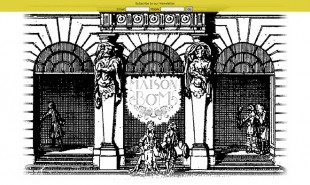 Maison BO-M http://maisonbo-m.com/
What kind of styles and items are popular in Saudi Arabia?
Saudi Arabian women pursue feminine beauty, and therefore desire chic and elegant items. Recently, women have been seeking new niche brands and designs in additions to conventional big brands. Online shopping is popular in Saudi Arabia as women in general are not permitted to drive, but women who visit our store desire limited items and collaboration items, etc., which cannot be purchased online. Members of the royal family always seek new items and are extremely demanding in terms of service as well, but at the same time, they actively support the work of domestic designers.
What are the conditions of the Saudi Arabian fashion industry?
Saudi Arabian designers are often requested to make evening dresses and cocktail dresses, due to the fact that weddings and parties are frequently held. There are no factories in the country, so it is necessary to create these clothes with a tailor or make them in foreign factories in Turkey or Dubai, etc. Thus, clothes-making in Saudi Arabia is still in its initial stages, and there are difficulties in procuring fabrics and materials and cost issues, etc.
Can you tell us about the Japanese brands that you currently carry at "Maison BO-M"?
The Japanese brands we carry are mainly accessories, jewelry, and leather products. For small leather products, we carry COMME des GARÇONS, for accessories we have a lot of Q-pot., e.m., and yukié deuxpoints, etc., and these are also popular as gifts. We can check out these brands at exhibitions in Paris, but I can check out more brands by visiting Tokyo in this way, so I am very grateful for the invitation.
Do you do a lot of your buying in Paris?
In the past, I used to go to Paris, Milan, London, and New York every season, but now I have young children, so I mainly go to Paris and Milan. I also have had the opportunity to visit fashion weeks in developing countries such as Bangkok and Istanbul. There are intriguing designers there and it is very interesting. Our clients strongly demand that we introduce new items quickly, so therefore I've become a hard worker (laughs).
What impressions do you have of Japanese fashion designers?
They are extremely creative and they produce new forms that differ from those in Paris, Milan, and New York. I want to bring excellent artists and designers to Saudi Arabia, so I am hoping that I can use this visit to invite Japanese designers, artists, and stylists to Saudi Arabia and hold an exhibition to introduce Japanese culture.
What do you think about Tokyo street fashion?
I think that it is very attractive. Tokyo is the capital of Japan, and I feel that everyone has a strong sense of identity. On one end, there is the latest fashion while on the other end, there is street fashion as seen in Harajuku, etc., and in between there are chic, dressy and feminine styles as well. The level of each of these is high, and I feel that the entire city is a fashion show.
Are there any shops or areas that stand out in your mind?
In terms of shops, there are many that showcase their products like installations, and I thought they were wonderful overall. Unlike New York and Paris, I think stores are characterized by the fact that they do not only show the clothes they sell, but attract customers by having a theme or story. In addition, even for international brands, unique interpretations were used to create a new atmosphere, which was very impressive. In terms of areas, in addition to Aoyama, which I went on my previous visit, I was impressed by the many small shops with new concepts in Daikanyama, which I visited for the first time.
Were you able to find new brands on this trip to Japan?
I liked the bag brands carnet and avie which have collaborations with brands such as Comme des Garçons. You can see sacai in Paris as well, but I am happy that I was able to visit their showroom in Japan. In particular, I feel that avie is perfect for the Saudi Arabian market. Our mission is to surprise our Saudi clients, and I think this brand will fit the task.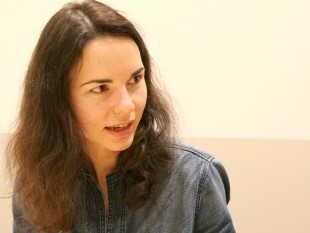 Finally, please tell us about your impressions and opinions of fashion week in Japan, if you have any.
Compared to other fashion weeks, the location is easy to find, and it was wonderfully organized. While the fashion weeks of Paris, Milano, London, and New York are each unique, I think it is important for bloggers, who are gradually taking the place of media, to actively post articles about new brands and designers, etc., and raise the profile of Tokyo Fashion Week.