Interview & Report

MIZU
Make-up Director, Maybelline New York
Mizu is Japanese make-up artist who lives in New York. After completing his education in Japan, Mizu re-located to New York where he continued to pursue his talent under makeup artists Peter Philips and Mark Carrasquillo. Mizu's sophistication has made him a favorite among editors and photographers not only in NY but globally. His diverse aesthetics; from flawless beauty to kaleidoscopic makes him an integral part of make-up collaboration. Mizu's work has graced the pages of many cutting edge magazines internationally and his advertising and beauty clients include: Wella, Avon, PHI and Osklen. Mizu became the make-up director for Maybelline New York for Japan in July 2007. He has expanded his make-up activities into various forms of creation, including magazine shoots, product development, and backstage involvement with collections for the Mercedes Benz Fashion Week in New York and Tokyo. With his fresh young talent, passion and creativity for make-up goes beyond the boundaries of expression.
A showcase of the latest fashions in Tokyo would not be the same without MIZU, renowned Make-up Director for Maybelline New York, official makeup sponsors of Mercedes-Benz Fashion Week TOKYO. We asked MIZU about everything from his backstage insights on Tokyo fashion and his inspirations to this season's beauty trends, and even his private life in New York.
* This interview was conducted by email. Responses account of said person.
Q. How did you first become interested in make-up?
A. My mother was a beautician, so I was very comfortable and familiar with "beauty" from a young age. After I graduated from high school, I went to work at a hotel in Yokohama. But one day, I caught some backstage footage of a fashion collection on TV. It struck me so much that I just thought, "Someday I want to go backstage, too!" I decided to venture into make-up because I'd always been good at art and I had some confidence in drawing.
Q. How did you acquire your skills as a make-up artist?
A. Before I became a make-up assistant, I would study photos in magazines and draw the make-up looks I liked with colored pencils. I didn't have any make-up myself, so I would go to stores and try the testers at the cosmetics counters, and after that I'd practice at home. After I became an assistant, I learned from photo shoots and studied magazines from cover to cover.
Q. How did you feel when you found out that you were appointed Make-up Director for Maybelline New York?
A. The first mascara I ever bought as a make-up artist was a Maybelline New York one. So when I heard that I'd been chosen for the job, I felt like it was fate.
Q. What kind of work have you done since then?
A. I've worked as a make-up artist backstage at the New York and Tokyo Fashion Weeks, photo shoots for magazines, and make-up shows. In addition, I've been involved in developing new products, such as lipsticks, fake eyelashes, and eye shadow.
Q. What has been your most memorable work to date?
A. Most recently, that would have to be my work with the actress Tilda Swinton. It was a very natural make-up look, but she was such an amazing and unpretentious actress.
Another job I've really enjoyed is developing our new range of eye shadows. We shut ourselves up in the meeting room every day from first thing in the morning to discuss the pro's and con's of different shades and textures. I'm really excited to launch our ideal colors and textures for the eye shadows worldwide after the testing period.
Q. What do you prioritize most in make-up?
A. "Beauty." I try to use make-up to accentuate the uniqueness and beauty of each person. At times the make-up may be creative or even deliberately messy, but at all times it is imperative for me to maintain elegance.
Q. What is the inspiration for your work as a make-up artist?
A. When I work with make-up, I'm constantly expressing my intuition in the moment, which I link with the various inspirations I find in everyday life. Anything can become a source of inspiration if you just change the way you look at it. For example, the color schemes in a dish at a restaurant, interior decorations, graffiti on the street; everything in this world is a reference work for me.
Q. What are the make-up trends and looks for women for this season (2013 S/S) and for the 2013-14 A/W and 2014 S/S seasons? And can you tell us what kind of make-up you'll be focusing on?
A. 2013 S/S is a season with lots of color! Make-up is colorful while still maintaining balance. For example, red or pink lipstick is balanced with minimal make-up on the rest of the face. We're seeing color eyeliners on the inner eyelids, as well as lots of silver-toned and blue shades in eye shadows. As for the 2013-14 A/W season, the focus will be on eye make-up! Glam-rock deep red eye shadows, black and brown eye shadows, as well as metallic textures and glitter. Again, graphic lines with eyeliner, color eyeliners and smudging to accentuate the eyes. Unlike summer and spring, elegant and sexy berry shades will be seen on the lips. The 2014 S/S season will be about simplicity and elegance but also powerful women. Lipstick trends will continue with glossy, sexy lips. Every season will see natural looks in make-up, but this spring and summer I want to focus on the beauty of natural skin while having some fun with lipsticks and colors.
—— On Mercedes-Benz Fashion Week TOKYO
Q. Please tell us about your impressions as a participant.
A. I think that Mercedes Benz Fashion Week TOKYO showcases the work of unique, talented designers. Operations and preparations were so well organized in Tokyo that it made my work much easier.
Q. How have you created the make-up looks for the designer brands you've worked with? Can you tell us about your collaboration with designers?
A. Each designer has a unique style. I respect their individuality and share ideas to create the best looks possible. During the preliminary make-up test, some designers have a very fixed idea of the make-up they want, while others prefer to decide on the make-up at the end to match the clothes and the hair. But I think we are all united in our ultimate goal, which is to create a wonderful collection.
Q. What do you prioritize when doing make-up for a fashion collection?
A. It is basically stage make-up, so I focus on making the models look beautiful on the runway by balancing colors and perfecting textures. The models all have different faces, but I use make-up to pull the whole look together and create a sense of unity.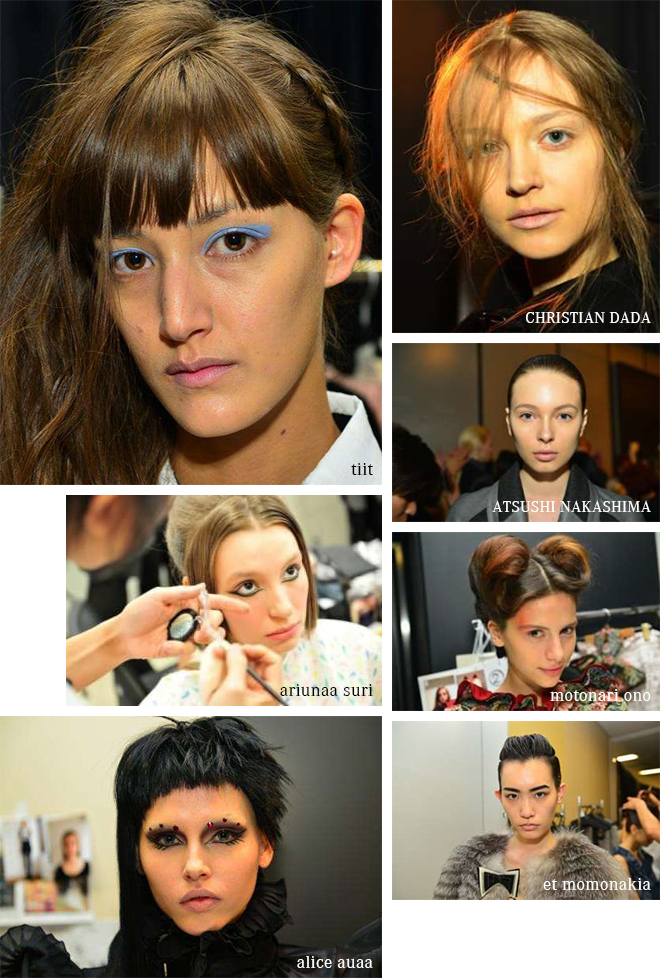 Q. As you are now based in New York, can you tell us about the differences/similarities between New York and Tokyo, and what you like about each city?
A. New York is energetic and a city of dreams. It's a stimulating city because it's overflowing with people from all over the world who have come in pursuit of their dreams. That's why I love New York. Tokyo is very in tune to current trends. I think there is a great sense of solidarity here. I love Japanese food so I always enjoy coming back to Tokyo.
Q. How do people in New York and Tokyo differ in terms of fashion and make-up?
A. Wherever I am in the world, I enjoy seeing people who love fashion because it shows their sensitivity! Tokyo soaks up trends immediately, so you can see many people with the same make-up and fashion. As people are skilled with their hands, I feel that there are many people with very high skills who try different styles of make-up. In New York, there are people from all over the world, so I think everyone has their own individual style. I think they enjoy matching their make-up and fashion to the TPO (time, place, and occasion). In general, the make-up is simpler, but the sexy make-up at night is very noticeable.
Q. What do you do in your free time? And can you recommend any sightseeing spots in New York?
A. I like to spend time at home. I look at photography books, read manga, and watch movies. And I love my local park. It's up on a hill so you can see Manhattan and the Statue of Liberty, so I often find myself just enjoying the scenery. I also like walking, so I'll take the time to walk, for example, from Chinatown to Chelsea. On the way, I like people watching (for their clothes and make-up) and window shopping. And of course I love art galleries. In New York, I would recommend the art galleries and Central Park, as well as West End Avenue.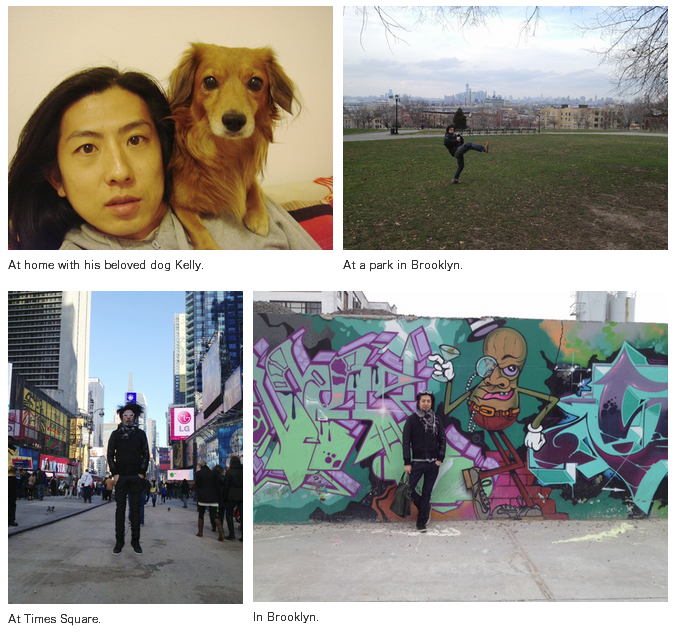 Q. What are your future plans and aspirations?
A. I would like to continue my work with product development, shoots, and fashion shows. I want to keep creating new products for people to enjoy across the globe, and I'm interested in getting involved with product development for the Asian market. As for future aspirations, I would like to launch a Maybelline New York MIZU collection one day.