Interview & Report

Saks Fifth Avenue Vice President
MBFWT 2015-16 A/W invited guest interview vol.1
Saks Fifth Avenue Vice President / Eric Allen Jennings
Eric Allen Jennings, Vice President of the New York based "Saks Fifth Avenue ," the department store that continues to increase in momentum and open new stores one after another, visited Japan for the first time during the period of the Mercedes-Benz Fashion Week TOKYO 2015-16 A/W exhibition. We sat down with Jennings to hear his impressions from visiting MBFWT and of Japanese brands, as well as the company's outlook since its new stance was taken in 2013.

Saks Fifth Avenue website http://www.saksfifthavenue.com
Hearing that this is your first visit to Japan, what sort of things did you to for preparation since the invitation from JETRO was decided?

I was extremely honored when the invitation from JETRO was decided. Although it is my first visit to Japan, I prepared so as to be able to find new things from a flat state of mind and perspective towards my new encounters with Japanese brands, while intentionally not gathering prior information. As I knew that a variety of fashions would all be mixed together in Tokyo, such as mode, street, and avant-garde, I could not wait to visit. I left my scheduling, such as business meetings and visits up to JETRO.
What did you think of the exhibition and show?
I was able to have business meetings with a total of 25 brands since coming to Japan. Japanese brands have many items that are packed with stories of having production backgrounds in factories with advanced technologies, and the wonderful elaboration of details is quite charming. In particular, the knitting techniques were effective and there were many eye-catching items. I was able to come in contact with many great brands.
How were the streets of Tokyo?
I was also able to look at department stores and select shops around Tokyo. They were quite interesting, with each shop fitting the trends while also being expressly branded. For example, Isetan Shinjuku and United Arrows showed off a mixing on the sales floor of high brands from around the world and young brands; it was a very fresh feeling. In addition, I am able to see that the young people who walk the streets of Tokyo are truly free with their fashion, and that everyone is having fun with fashion. After thinking about what kind of word would fit to explain this situation, I encountered a designer at one of the exhibitions I visited that used the word "zing." I felt that this was truly the perfect word to represent Tokyo's fashion. Tokyo's fashion is lively, fun, and exciting. The city of Tokyo itself is truly overflowing with the energy of fashion.
What sort of work do you do on an everyday basis as the Vice President of Saks Fifth Avenue?
It's my role to watch over the entire company, and am engaged in each of the departments, including the art direction of the stores, buying, marketing, promotion, and advertising. I create a roadmap for each season in the buying department to share the vision with buyers from each department.
Please tell us some important points from the buying side of things.
Although I'm constantly looking for new brands, it is important to be particularly strict in judgement when buying into a new brand. Although it may be obvious, it is my job when buying to firmly convey the attractiveness of that brand and its items to the customers in order to lead to purchases. Handling a new brand also means you will be taking on the corresponding risk that accompanies it. However, brands that should be bought, even if it means shouldering risk, are actively purchased. It is my hope for young brands to coexist together with famous name-brands. I have conveyed to each buyer to always be on the lookout for new things from across the globe.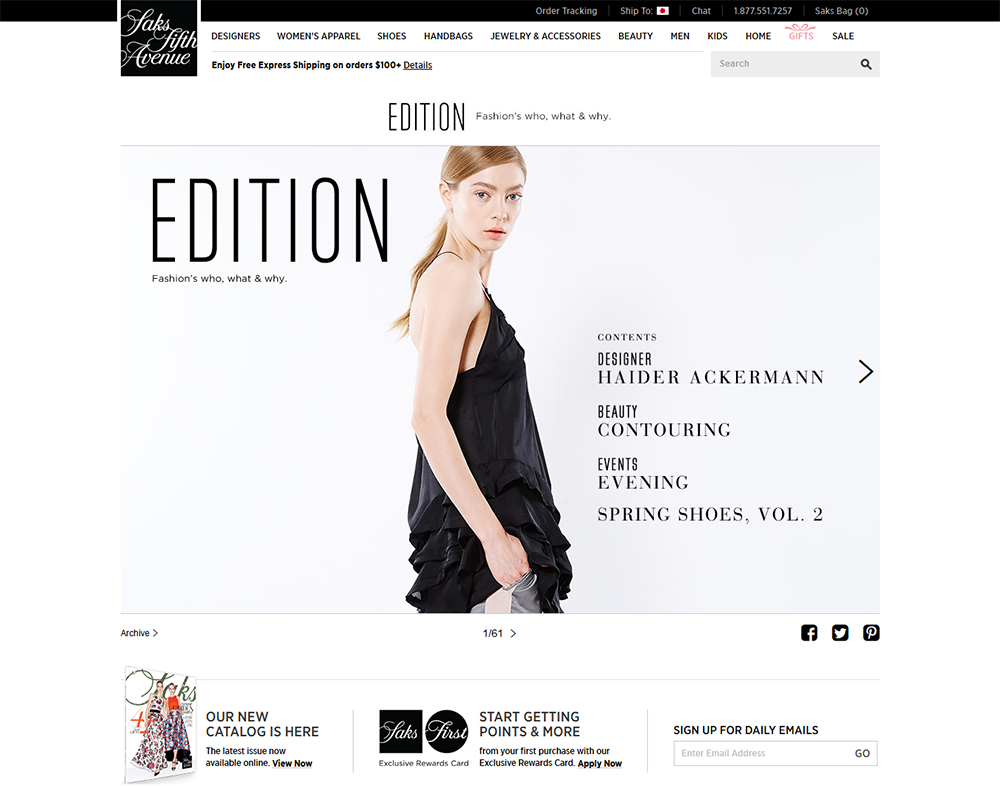 Saks Fifth Avenue website http://www.saksfifthavenue.com
Is there something you are looking for in Japanese brands?
For brands, I believe that it is necessary to put equal effort into both the creation side and the business side. However, although I do think that Japanese brands fulfill the creation side wonderfully, sometimes there can be some difficult in conveying which zone is being targeted by the design and pricing on the marketing side. As the products being made are high quality and created in a very particular manner, it is only natural that the price is higher. This is a point that not only we, but also the customers of Saks Fifth Avenue, understand for the height of quality of Japanese brands. That is why having a clear target of what type of people you want to wear your clothing makes it easier for us as a buyer to buy into, and also makes it easier for customers to shop for.
One more thing, which I think may become a major challenge, is that Tokyo Fashion Weeks is held after exhibitions have finished in various countries, and orders have already been completed. This may make it difficult, in particular for western buyers, to buy into.
Please tell us about the future company outlook for Saks Fifth Avenue.
The management company for Saks Fifth Avenue changed to a new structure around a year ago. With the newly gained momentum, we have plans to open eight new stores around the world in this coming year and a half. Our plans are to have more than a total of 60 stores, and along with that the number of our staff will increase, with buyers expected to increase up to 40 people. We will continue to be on the lookout for new brands while expanding our stores, and hope to be able to make new proposals to our Saks Fifth Avenue customers.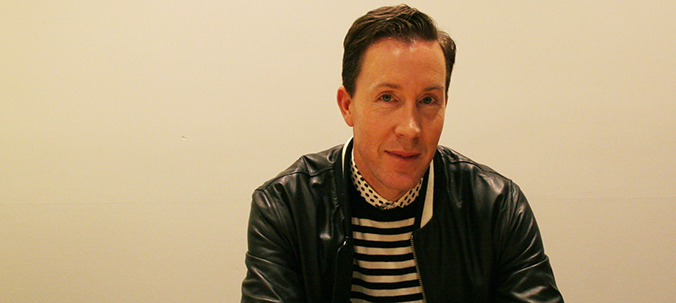 Interview by Shinya Miyaura (Secori Gallery)