ablankpage. X Royal Thai Embassy Tokyo/ AS YEARS GOES BYS. "ablankpage. X EDWIN X NISHIKAWA KEORI"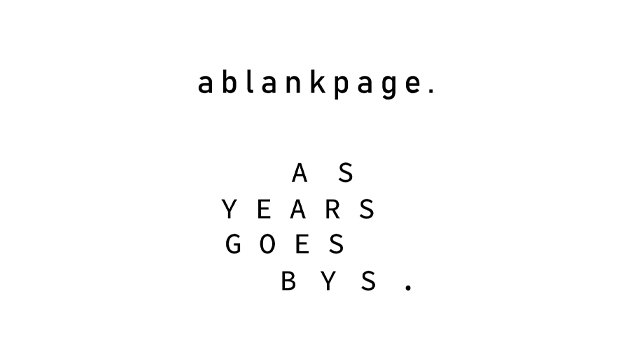 Designer Profile
Larprojpaiboon Phoovadej
Born in 1996. Bangkok, Thailand
While attending the Dressmaker Academy, he attended "Coconogacco" and later graduated from Bunka Fashion Graduate University in 2021. Won major awards include the 56th National Fashion Design Contest , International Award, 93rd Soen Award, 2020 LVMH DARE Tokyo .
In 2022, "ablankpage" started from the autumn/winter collection. Later in 2023 he started a sustainable brand "AS YEARS GONE BYS"
working there as a creative director.
Brand Profile
ablankpage [Established year] 2022

Founded in 2022 by designer Larprojpaiboon Phoovadej.
a gender-neutral brand
ablankpage means "a page that does not have anything written on it"
having a concept of being a page with nothing on profound us to be able write our own journey, without being bound by prejudice or stereotypes.
Every season, a creation are being made by the concept of creating something out of blank pages.

AS YEARS GOES BYS. [Established year] 2023

2023 a brand teamed up with Edwin's Sustainability, projects for SDGs The concept and goal is to be sustainable , androgynous and Gender-Inclusive
Category
Men's & Women's / Haute‐couture, Ready to wear, Shoes, Bags, Hats, Accessories and others
Contact
ablankpage
Address

ablankpage "Flat Nipponpori" 5th floor Higashi Nippori, Arakawa-ku, Tokyo

Tel

090-3809-1957

Email
Press
ESTEEM PRESS / Junko Naito
Address

3F 4-3 Sarugakucho Shibuya-ku, Tokyo 150-0033 JAPAN

Tel

03-5428-0928

Fax

03-5428-0929

Email

Link