Asian Fashion Meets TOKYO (Indonesia) 2017AW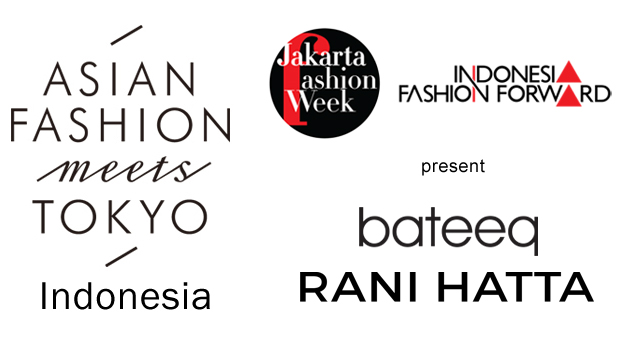 Designer Profile
■Michelle Tjokrosaputro
Michelle Tjokrosaputro was born in Karanganyar on 20th May 1980. She obtained her Bachelor of Arts degree in International Business Administration and International Communications from the American University of Paris. Upon returning to Indonesia, she was asked to continue her family business, PT Dan Liris, which is a large-scale textile/garment company based in Solo. Her love of batik combined with her modern perspectives, inspired Michelle to create a brand which catered to her liking. As such, Michelle established PT Efrata Retailindo in 2012 – a subsidiary unit of PT Dan Liris – as well as the Bateeq brand in 2013. Currently, Michelle serves as Bateeq's CEO and Creative Director in which she has been credited for driving the brand's immense success.

■Rani Hatta
Rani Hatta is one of Indonesian fashion designer, well known in spoty minimalist as her signature cuts. Graduate as one of the best student from Susan Budihardjo Fashion School Jakarta in 2012.
Brand Profile
■Bateeq
[Established year] 2012
[Instagram] https://www.instagram.com/bateeqshop/
[Official website] http://www.bateeqshop.com/
Bateeq is a part of IFF designers Batch V. IFF is a initiative program from Jakarta Fashion Week. Bateeq launched in 2013. Bateeq give priority to ensuring the perfection of our motifs, sewing, fitting and display shops. While continuing to innovate with batik fabrics, special attention is paid to various aspects such as color schemes, unique motifs inspired by Indonesia's rich cultural heritage, and current fashion trends. Bateeq also highlight the best features of our customers both inside and outside the country. Bateeq have a mission to coalesce Indonesia's cultural heritage with modern style to make our customers shine and feel fabulous. Bateeq pursue every avenue of excellence and seek to offer our customers the ultimate level of convenience.

■RANI HATTA
[Established year] 2013
[Instagram] https://www.instagram.com/ranihattaofficial/
[Official website] http://ranihatta.com/
Established in May 2013, this premium brand condensed sporty and minimalist elements. Comfort, cutting, and high quality are factors that take precedence in any of the design and product. We believe with emphasis on quality, this brand is able to complete both in national and international markets.
Category
Men's, Women's & Kids / Ready To Wear
Contact
■RANI HATTA
CV. AMMARINDO / Yoshio Yokobori
Address

Jl. alternatif Cibubur, Citywalk Citragran CW 09/05, Bekasi, 17435, Indonesia

Tel

+62 81392834567

Email
■BATEEQ
PT. EFRATA RETAILINDO / Yoshio Yokobori
Address

PLAZA INDONESIA- Jl. M. H. Thamrin Kav. 28-30, Jakarta Pusat, Level 4, Unit E025

Tel

+62 21 29924159

Fax

+62 21 29035398

Email

Link
Shop
RANI HATTA
Address

Jl. alternatif Cibubur, Citywalk Citragran CW 09/05, Bekasi 17435, Indonesia

Tel

62 81392834567

Email

Link
District.12
Address

FX Sudirman F4. Jalan Jenderal Sudirman, Senayan 10270, Jakarta

Tel

62856 9561 7138
fashionlinkXblckvnue
Address

Senayan City, 2nd floor. Jalan Asia Afrika lot. 19, 12190, Jakarta
Galeries Lafayette Jakarta.
Address

Pacific Place Mall SCBD, Jl. Jenderal Sudirman Kav.52-53, 12190, Jakarta

Tel

(62)21-57973343
BATEEQ PLAZA INDONESIA
Address

PLAZA INDONESIA- Jl. M. H. Thamrin Kav. 28-30, Jakarta Pusat, Level 4, Unit E025

Tel

+62 21 29924159

Email

Link
BATEEQ PASIFIC PLACE
Address

PACIFIC PLACE – SCBD, Jl. Jend. Sudirman Kav. 52-53, Jakarta Selatan, Level 2, Unit 48

Tel

+62 21 29035922

Email

Link
BATEEQ AEON
Address

AEON MALL – Mall Aeon Lantai 2 No 68 BSD City,Tangerang, Kabupaten Tangerang, Banten 15345

Tel

+62 21 29168222

Email

Link
BATEEQ MALL TAMAN ANGGREK
Address

MAL TAMAN ANGGREK – Jl. Letjen S. Parman Kav. 21, Slipi, Jakarta, Level 1, Unit E.30

Tel

+62 21 5639420

Email

Link
BATEEQ KUNINGAN CITY
Address

KUNINGAN CITY MALL – Jl. Prof. Dr. Satrio Kav.18, Kuningan, Jakarta, Level 2, Unit 32

Tel

+62 21 50100511

Email

Link
Online Shop
ranihatta.com