Takahiro Kawaguchi by atlier.Ta.a.Na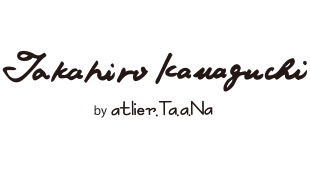 Designer
Takahiro Kawaguchi
Brand SNS
Designer Profile
Kawaguchi Takahiro was born in 1967. Fukuoka Prefecture Northern Kyushu City living.
Construction companies working in the family business until the age of 30.
Afterwards, he enters the dress special school in Nagoya.
It was engaged in the clothes making from custom-made. However, it becomes independent 2008 of the desire that it wants to make the dress of an original design from favorite denim.
House brand 'atlier.Ta.a.Na' is started up.
Brand Profile
Year 2008, 'atlier.Ta.a.Na' by designer Takahiro Kawaguchi rises. Denim dresses, skirts and jackets, branded products that focus on non-denim pants. From what I design clothes stuck to the orthodox, well-built expansion close to the real details of what I want to wear long.
From S / S 2012 collection line as a new brand launches' ??Takahiro Kawaguchi by atlier.Ta.a.Na.'
Category
Men's & Women's / Clothes, Bags, Hats, Accessories and others
Contact
Takahiro Kawaguchi.co.,ltd
Address

3-16-13 Einomaru, Yahatanishiku, Kitakyusyushi, Fukuoka, 807-0851, JAPAN

Tel

093-602-7779

Fax

093-602-1611

Email

Link
Press
Ms. Ayumi Sumiyoshi[Takahiro Kawaguchi.co.,ltd]
Address

3-16-13 Einomaru, Yahatanishiku, Kitakyusyushi, Fukuoka, 807-0851, JAPAN

Tel

093-602-7779

Fax

093-602-1611

Email

Link
Shop
atlier. Ta. a. Na
Address

3-16-13, Einomaru, Yahatanishiku, Kitakyusyushi, Fukuoka, 807-0851, JAPAN

Tel

093-602-7779

Fax

093-602-1611

Email

Link
atlier. Ta. a. Na
Tel

093-602-7779

Fax

093-602-1611

Email

Link