Style
Selected by2014-15 A/W
Shogo Yanagi
FAKE TOKYO Chief Director
Selected Style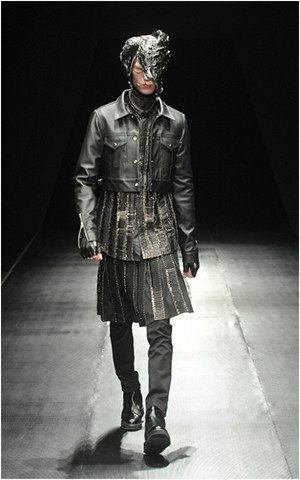 Expanding a sense of modern rock and punk, which is my background, to modern luxury, the high quality and new sensation has led to a high reputation for the brand. Activities such as the collaborations together with Mackintosh and COMME des GARÇONS can't be missed.
A men's short jacket style that seems like it has been done, but hasn't. Although the inner shirt is an aggressive item that uses a large amount of safety pins, I enjoy the balance between the luxury leather material and styling with a minimal feeling of class. This style allows you to feel a new approach to the punk style.
Brand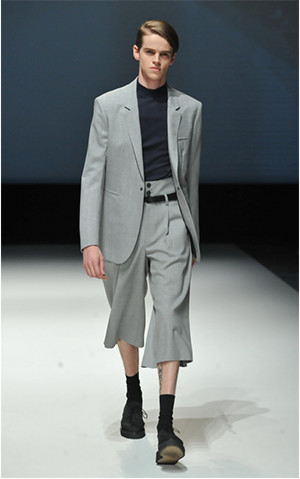 Personally, I think the styles proposed consistently each season without deviation are great. Since the DRESSEDUNDRESSED STYLE is established, I hope that they remain unchanged and continue to propose Tokyo mode.
The setup style of the men's high waist, high-necked collar, and tuck-in is contradictory with that of recent Tokyo street styles; you can really feel the strength of the brand intentions through these proposals. The color contrast of light gray and navy is great as well.
Brand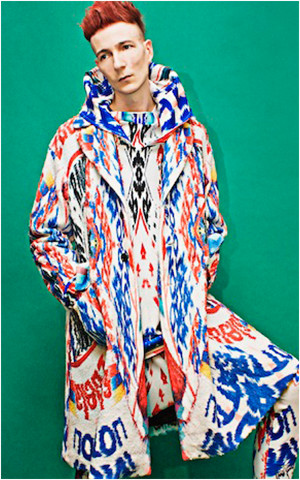 Even from the Tokyo collection, I feel that the brand is strongly aware of the season's theme, especially through the styling. I got the feeling that they were saying "This coordination is cute, right?," through their presentation. I can feel that the brand's own original style that is not limited to its clothes is transmitted, the collection being one itself. Style is what creates the fashion scene of a street brand, not clothing. Thus, I feel that this brand is one that gets across the message well of, this type of style is "style approach = brand."
It was good that, although each of the items is absorbed in detail, the styling was done well to synchronize with the season's theme. This type of skirt and socks length is difficult on a female silhouette that isn't tall, but I can't help but with that Japanese women can naturally pull off this type of playful elegant style.
Brand
Recommended Items
The jacket has a distinguishing design of having a very short length.

This item shines to the fullest as a proposal with a 99% IS- feeling, using leather materials with a down jacket base, and incorporating this into a rider style. The luxurious jet black color along with the cold-weather resistance is really cool.
Bodysong.

I think the design approach to the collaboration T-shirt with artist kou that is "barely safe? Or barely out?" is great. The point that the approach unique to a fashion brand originating street fashion will make you feel some sort of antithesis is good.

The point that a sense of fun and a message in which a street and rebellious spirit are felt somewhere in the items are proposed through the brand and items is an important point as a fashion brand. I want to support the brand through such a stance.
Curator's Profile

Shogo Yanagi
FAKE TOKYO Chief Director
As the chief director of TAKE TOKYO, various activities such as buying focused on the PR of FAKE TOKYO & FAKE SHOWROOM and CANDY management. As a music artist visual producer at the FAKE SHOWROOM, clothing outfits and artwork direction are also conducted.
Recommended Shop
Curators