Information
JAN. 31, 2014
The MBFWT Official Site has been renewed!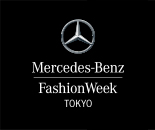 Today, the Mercedes-Benz Fashion Week TOKYO Official Site was renewed.
Not only has the design been updated, but information such as news and schedules has become easier to find, and collection pictures have become easier to view.
Also, contents such as a Tokyo Guide Map, the latest styles and items selected by curators, and a blog focusing on Japan's manufacturing sites will be sequentially rolled out.
Please look forward to it!