Information
NOV. 24, 2020
Rakuten Fashion Week TOKYO 2021 A/W | Now accepting applications for exhibition brands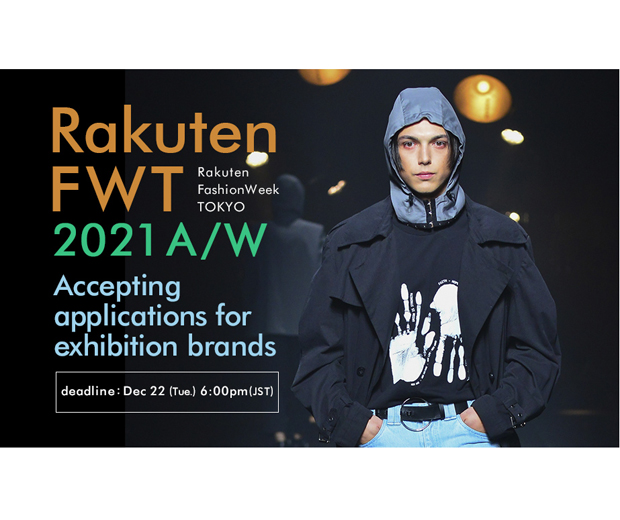 We've taken a big step forward in holding a safe, yet new and evolved event, amidst this coronavirus crisis
Application to participate in the coming 2021 A/W season is starting.
Thanks to the cooperation of all participants, the past 2021SS finished safely, with both physical and digital collection presentations, done in accordance with the COVID-19 infection control manual. We would like to take this opportunity to thank you all for your efforts and cooperation. In the coming 2021AW season, we are planning for a continually safe and evolved event, to which we hope many brands will participate. Our wish is to convey a renewed sense of greatness and wonder of fashion, through the fashion week scheduled for this coming March.
Rakuten Fashion Week TOKYO 2021 A/W will be held between March 15(Mon) – March 20(Sat), 2021.We are now accepting applications from designers who wish to participate in the Rakuten Fashion Week TOKYO 2021 A/W.
How to submit your application
Please read the participation guide (PDF) and the COVID-19 Infection manual carefully, and email your participation application (EXCEL) along with all necessary documents/data to the "Japan Fashion Week Organization/contact person: Minegishi".
*For details on how to apply, please refer to p.31 of the "Participation Guide".
Application Form Sending Address
Indicating "Application to exhibit in Rakuten Fashion Week TOKYO 2021 A/W" as the title, please email documents and send samples/lookbooks by post.
Person in charge: Ms. Minegishi
Japan Fashion Week Organization
8th Floor, No.5 Kanou Bldg., 3-26-16 Shibuya, Shibuya-ku, Tokyo 150-0002
Mail: rakutenfwt21aw@jfw.jp
Application Deadline
Applications must arrive by
December 22st (Tue.), must be received by 18:00
*Applications will not be accepted after the deadline