Information
SEP. 01, 2022
RakutenFWT 2023 S/S | Day 4 Report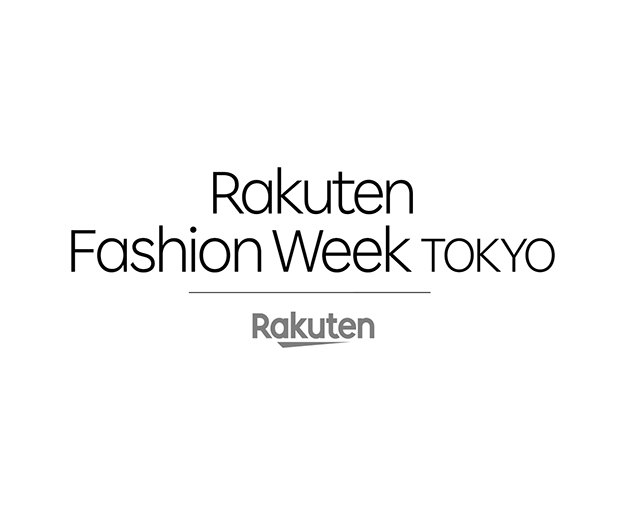 "Rakuten Fashion Week TOKYO (hereinafter indicated as Rakuten FWT) 2023 S/S" (governing body: the Japan Fashion Week Organization, hereinafter indicated as JFWO), welcomed its 4th day.
 
First time participant " M A S U" (16:00~) presented at the official venue of Shibuya Hikarie
As a part of the "Japan Expo" being promoted by the Japanese Government, the very first solo runway show by the brand MASU was held at the official venue of Shibuya Hikarie (hosted by: Agency for Cultural Affairs, Government of Japan, Japan Arts Council, JFWO). Under the theme, "ready", they presented a collection inspired by Michael Jackson, one of the most popular pop-stars around the world. The presentation was given at a venue blanketed with a red carpet, which the designer, Shinpei Goto, says thought of before anything else as runway arrangements.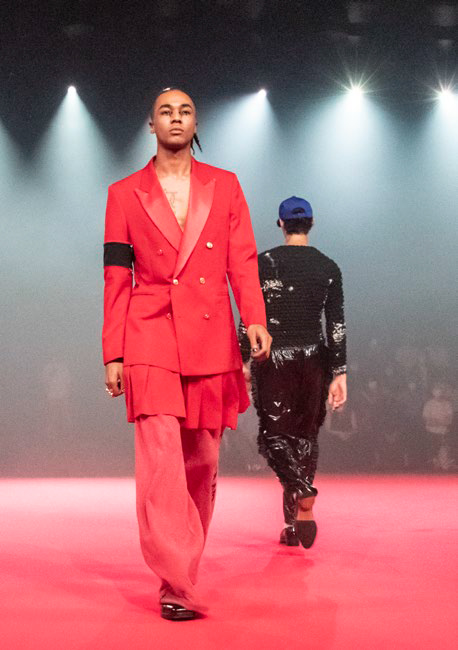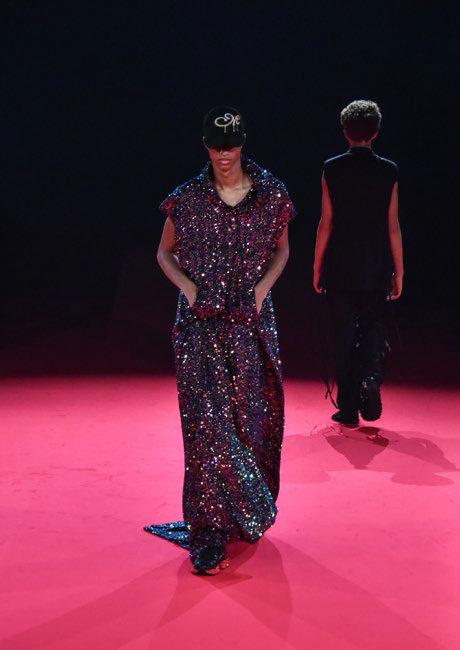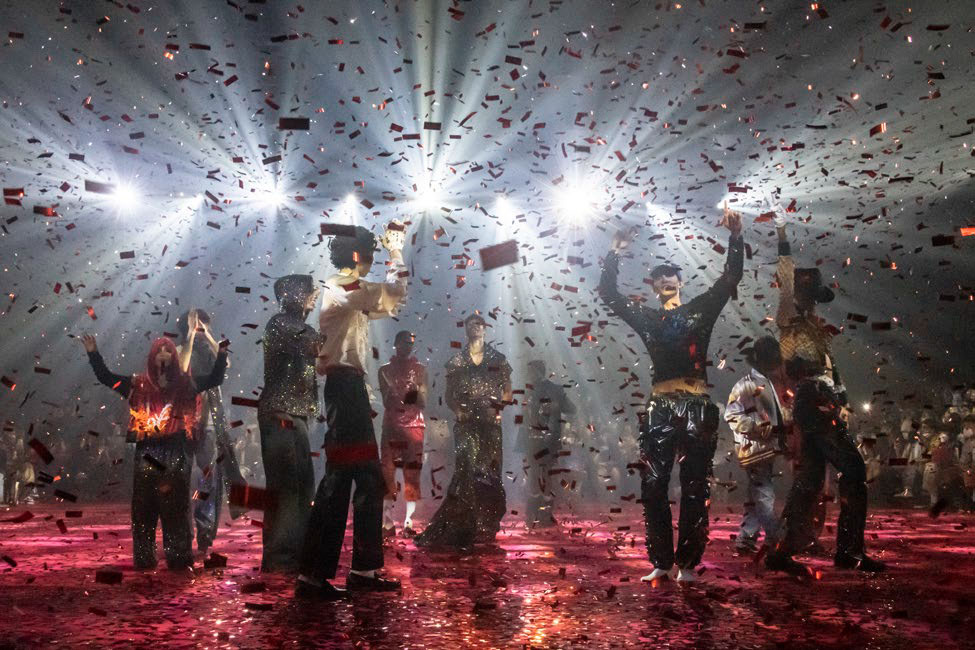 Rakuten FWT 2023 S/S related event _ DAIWA x Bunka Gakuen University x Tokyo University of Arts Upcycling of Fishing Nets Project Announcing of Award-winning pieces (15:30~)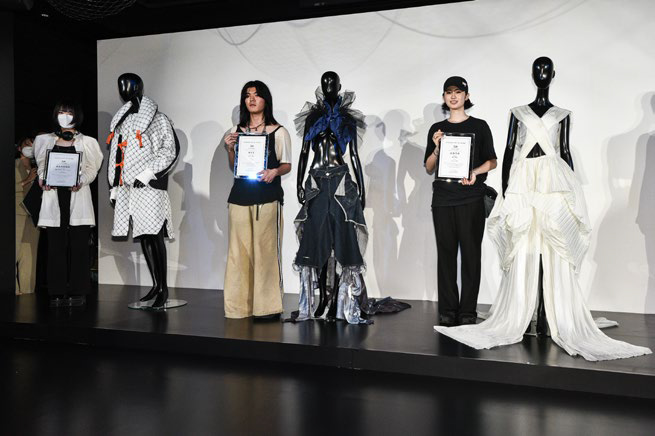 'BE EARTH-FRIENDLY' – the Upcycling of Fishing Nets, inter-industrial cooperation project, being carried out in cooperation between GLOBERIDE, Inc., the company that develops the fishing brand DAIWA, Bunka Gakuen University, an educational institution specializing in fashion, and Tokyo University of Arts, a national general arts university. This time, under the theme of "an upcycle reborn from the world of the ocean", discarded fishing nets have been upcycled and students of Bunka Gakuen University have created fashion items utilizing these materials. Those fashion items have been exhibited in a space constructed by students of Tokyo University of Art, and today,a presentation ceremony to announce award-winning pieces was held. In addition to being exhibited at the official venue of Shibuya Hikarie until September 3rd (Sat.), the first-place winning item is scheduled to be commercialized to be sold at D-VEC TOKYO EXCLUSIVE. Second-place and third-place items will continue to be exhibited at the DAIWA Apparel Showroom, after the Rakuten FWT 2023 S/S term has ended. Today being the first day of exhibits, the SDGs reporter, Ms. Neru Nagahama visited the exhibit venue, and studiously listened to explanations.
 
Place: Shibuya Hikarie 8F 8/COURT
Hours open to the public: Sept. 1st (Thurs.) after 18:00 / Sept. 2nd (Fri.) 11:00~20:00 / Sept. 3rd (Sat.) 11:00~18:00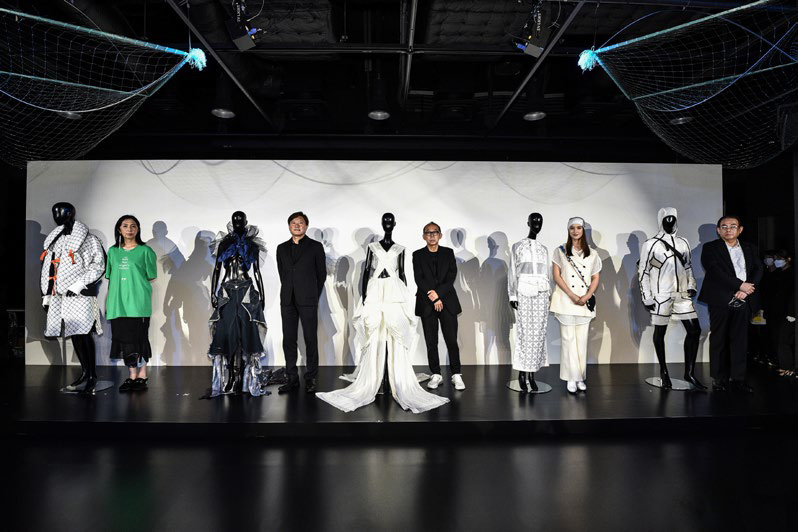 Judges (left to right): Ms. Chizuru Mukou, WWD JAPAN Executive Editor, Sustainability Director / Mr. Hiroshi Komoda, JFW Secretary-General / Mr. Tsutomu Sasaki, D-VEC Creative Director TSUTSU STUDIO / Ms. Naomi Trauden, / Mr. Kenichi Kobayashi, GLOBERIDE, Inc. CEO, Fishing Sales and Marketing Division, Apparel Marketing Chief Director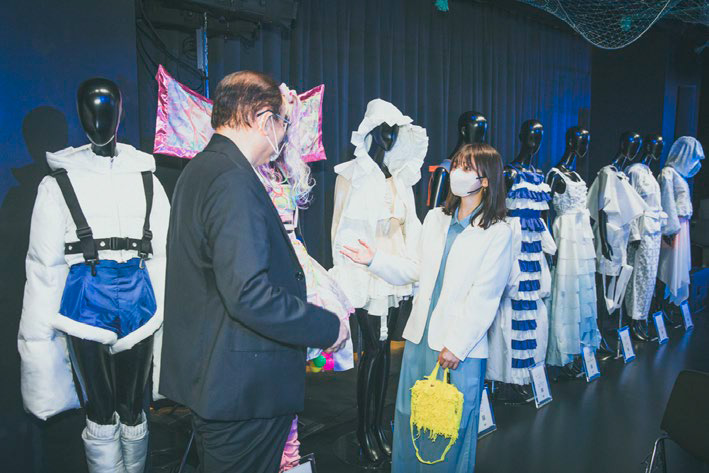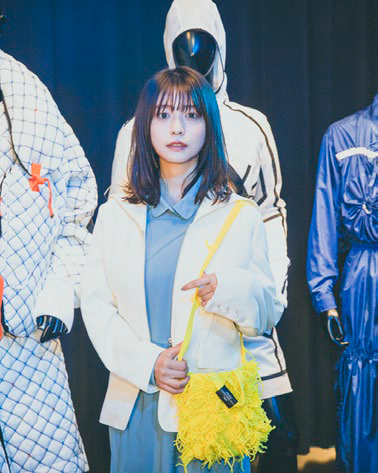 First time participant "BASICKS" (17:30~) presented their very first show
The very first show for former CHRISTIAN DADA designer, Mr. Masanori Morikawa's new brand, "BASICKS", and the first time for him to participate in fashion week since 2019 S/S, was presented.
The show was supported by "DHL Japan", which participated in the "Denim de Mirai project" developed by Rakuten FWT last year, sympathized with BASICKS' efforts in SDGs from the selection of materials to distribution because of DHL Japan's goal being the realization of sustainable logistics with reduced environmental loading. As a first-time ever effort for the Japanese fashion industry, the show was presented utilizing their delivery center as the venue. In the collection, items made of upcycled DHL uniforms were presented.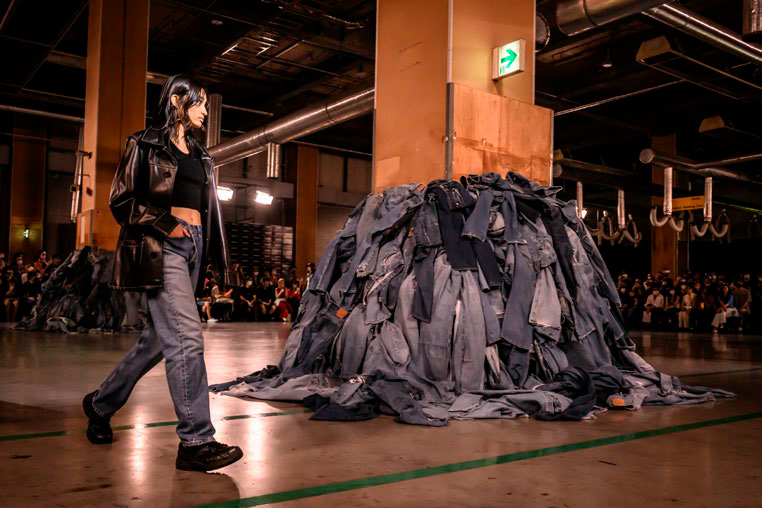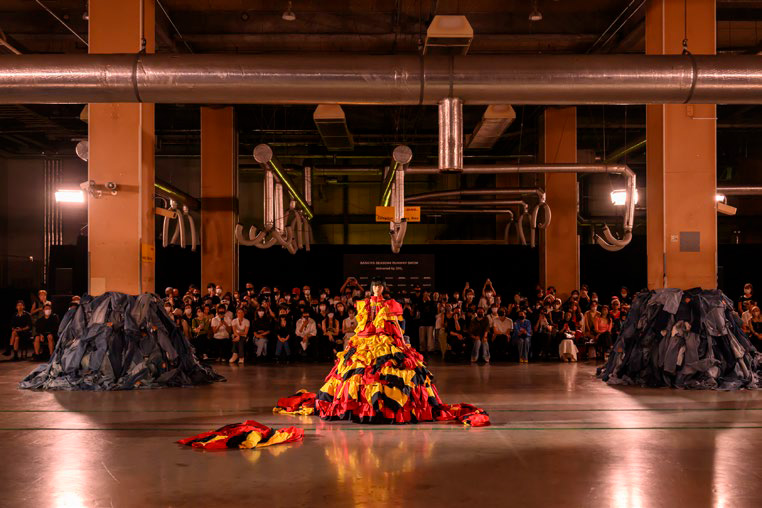 "el conductorH" 21:00~
"el conductorH" by the designer, Shintaro Nagamine, gave a digital presentation under the theme, "The Judgement Day".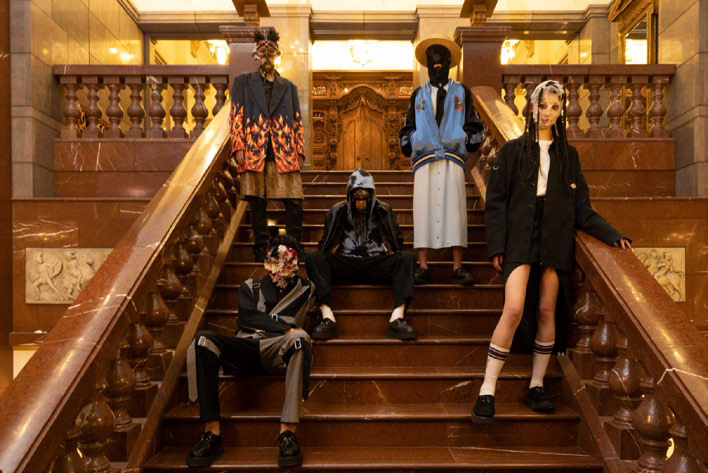 Rakuten FWT 2023 S/S related event
FUDGE meets Rakuten Fashion Week TOKYO 2023 S/S "FUDGE 20th Anniversary Gallery"
A gallery project looking back at the visuals of the fashion magazine, "FUDGE", celebrating their 20th anniversary this year, started today at CUBE in the official venue of Shibuya Hikarie. Its contents is filled with fun events, including an Instagram campaign in which you can win a gift, introduction of a digital magazine exclusive to the venue, etc. 20 years seems near yet far. We hope you enjoy the 20 years transitions in the slightly nostalgic FUDGE-ish fashion and aesthetic sense.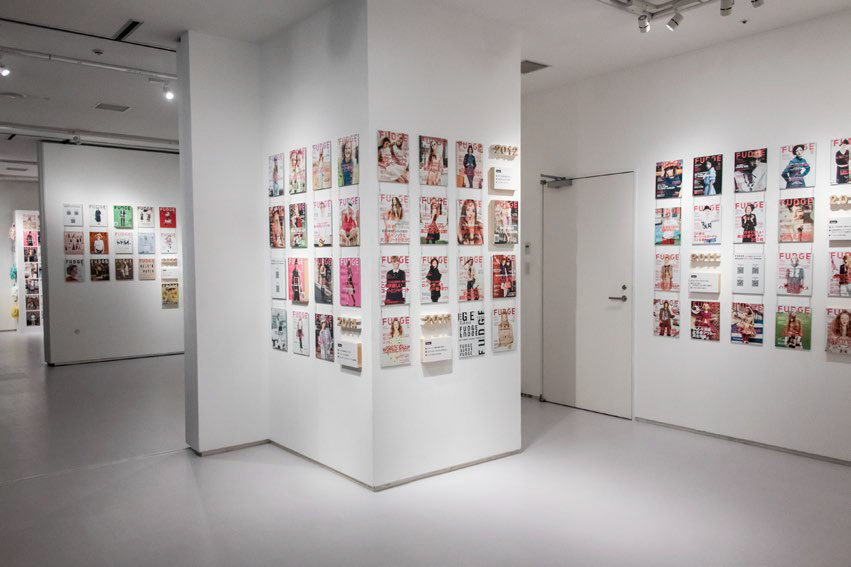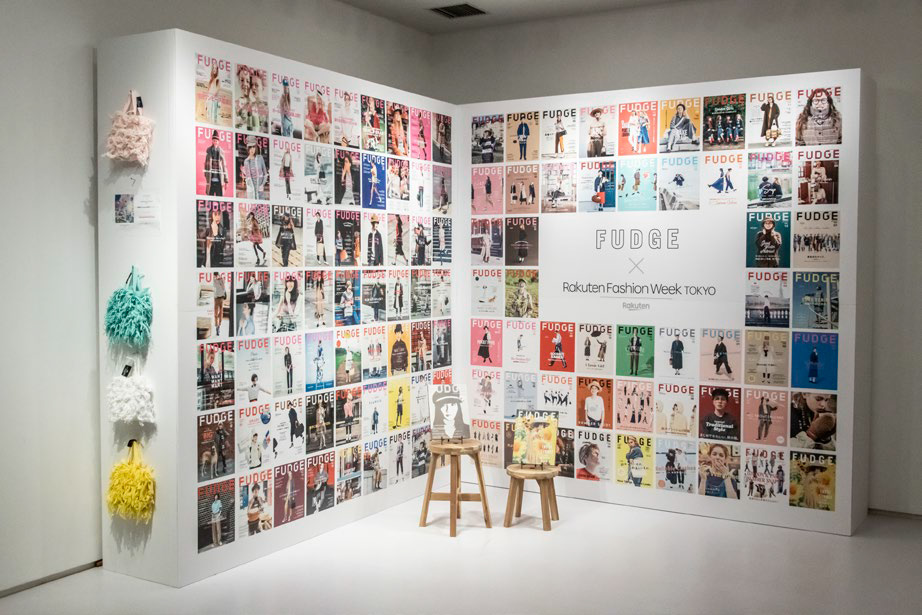 ■At the Venue Only Instagram contribution campaign■
By shooting a photo in front of the "FUDGExRakuten Fashion Week TOKYO" original panel established at the venue, putting an original hashtag to it and uploading it to Instagram, as a gift you will receive a Rakuten FWT 2023 S/S official eco-bag designed by Ms. Neru Nagahama, on the spot, on a first-come first serve basis!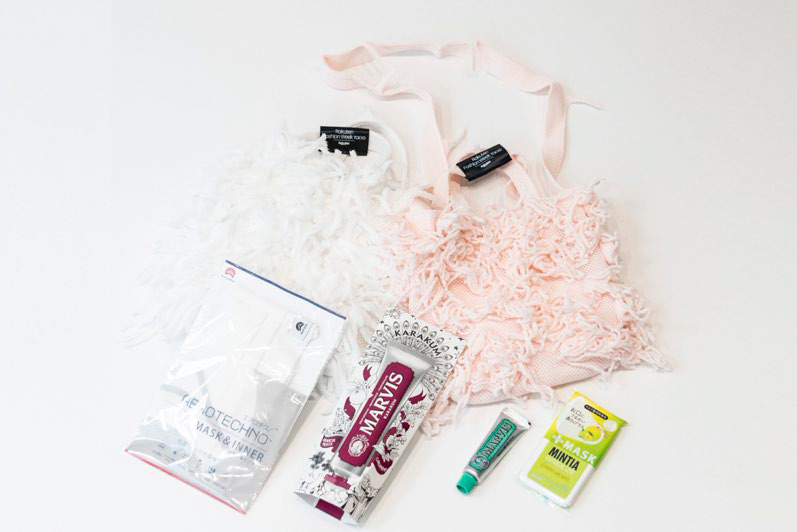 ※The gift is first-come first serve. Once the prepared number has been given out, the campaign will end.
 
First time participant from overseas, "LEVER COUTURE" (19:00~) presented a physical show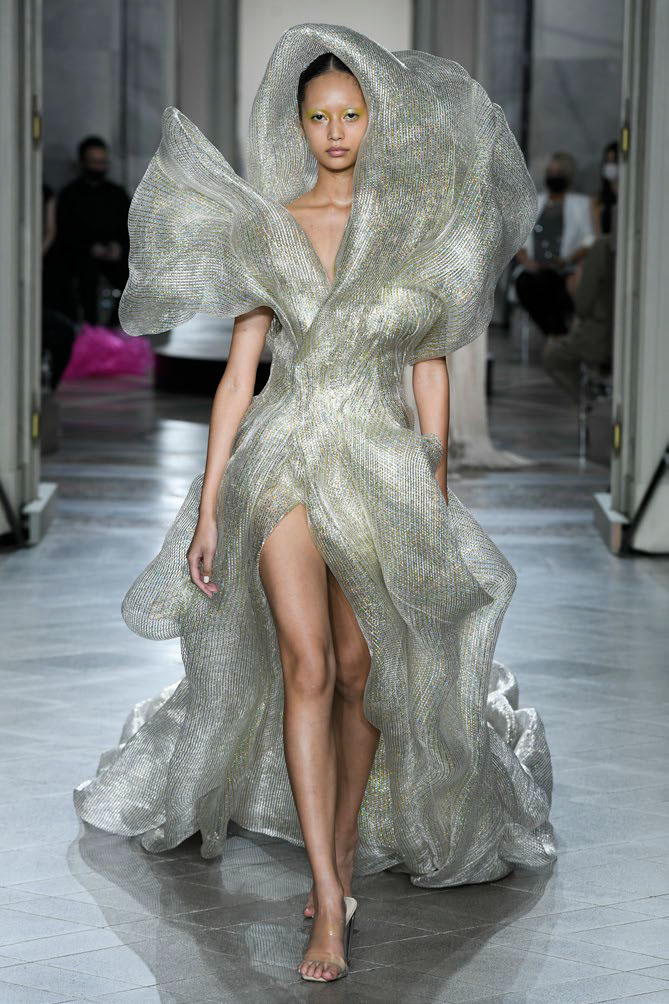 Last night, LEVER COUTURE, a first time participant from overseas, presented a runway show, with an impressive finale of Ukraine and Japan colors.
LEVER COUTURE is a brand by Lessja Verlingieri, a designer from Ukraine, launched in 2011. This time, the designer visited Japan, making an appearance in person to present their very first show in Japan.