Information
MAY. 12, 2023
Rakuten Fashion Week TOKYO 2024 S/S | Start of accepting applications for participating brands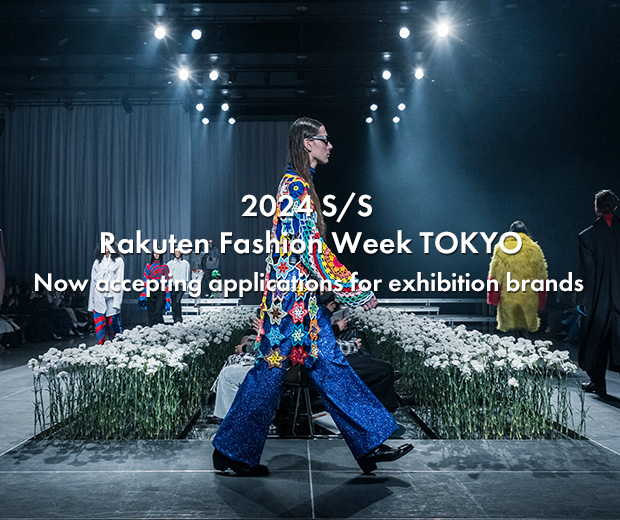 The 2024 S/S season of Rakuten Fashion Week TOKYO
Advancing towards a new stage, with the aim to create a fashion week unique to Tokyo
Announcing the start of accepting applications for participating brands
This is to announce, we have started to receive applications for brands wishing to participate in Rakuten Fashion Week TOKYO 2024 S/S, scheduled to be held between August 28th (Mon.), 2023 ~ September 2nd (Sat.).
 
This past 2023 A/W season, because of the start of the event term coincided with the date the government announced for mask-wearing to be entrusted to judgement of individuals, signing the gradual calming of social situations under corona, the event turned out to be one encompassing a strong feel of liberation.
 
In the upcoming 2023 S/S season, based on the new format of "fusing of digital and physical" and "strengthening of power to transmit globally" cultivated amid the 'with corona' years, we intend to continue unfolding a variety of contents, along with efforts in strengthening both national and international transmission, in aim to carry out a more lively, vigorous event.
 
Furthermore, the new support program* launched by the Japan Fashion Week Organization (hereinafter indicated as JFWO) last year, with the aim to support and foster new talents with the prospect to excel globally in the fashion industry through JFWO's new mission of "the creation of designers, from Japan to the world", will continue to be carried out again, this year.
JFWO will continue to provide support to help in the growth of the brand, along with raising global recognition, broaden activity opportunities, and to be the catalyst for the brand to advance forward to the next stage, so please consider participating in this opportunity also.
* Information on the "JFW Brand Support Program 2024"
How to submit your application
Please read the participation guide (PDF) carefully, and email your participation application (EXCEL) along with all necessary documents/data to the "Japan Fashion Week Organization/contact person: Minegishi".
*For details on how to apply, please refer to p.38 of the "Participation Guide".
Application Form Sending Address
Indicating "Application to exhibit in Rakuten Fashion Week TOKYO 2024 S/S" as the title, please email documents and send samples/lookbooks by post.
Person in charge: Ms. Minegishi
Japan Fashion Week Organization
6th Floor, Giraffa Bldg., 1-6-10 Hiro, Shibuya-ku, Tokyo 150-0012
Mail: rakutenfwt24ss@jfw.jp
Application Deadline
Applications must arrive by
June 9th(Fri.), must be received by 18:00
*Applications will not be accepted after the deadline