Interview & Report

Andreas Murkudis
MBFWT 2016 A/W invited guest interview vol.1
Owner of 'Andreas Murkudis'
'Andreas Murkudis' is one of Berlin's most prestigious select shops, known for handling a wide variety of high quality items, including fashion, interior, designed goods, art, etc.  Mr. Andreas Murkudis, owner and buyer of this shop, was a guest to the Mercedes-Benz Fashion Week TOKYO 2016 A/W, by invitation from JETRO.  He has the ability to look at scenes from a bird's-eye view, clipping out moods of the time with his unique perceptiveness.  We have asked him of his impression of Tokyo as a town, and what things he values when making selections for his shop.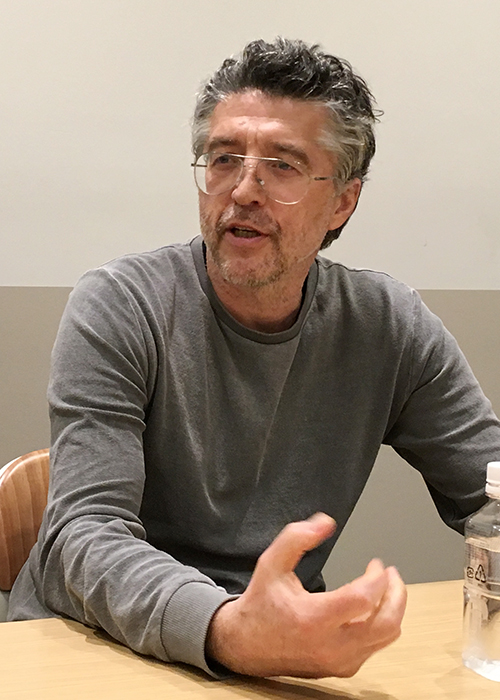 How many times have you been to Japan?
This is my second time.  My first time was last year October, and I went around various shops and showrooms at that time, too.  At my store, we've carried Japanese clothing, cosmetics, and goods, but I had the impression that Japanese clothing are rather expensive, so I've been cautious about introducing in new brands.  However, last time, when I came to Japan by invitation of JETRO, I encountered many fabulous brands, and changed my mind.  I am interested, not only in fashion but also, interior, furniture, and chinaware/porcelain.  During my stay here, I was stimulated in all of these fields, more so than when I am in Europe.
What is your impression of shops and people's fashion in Tokyo?
In Tokyo, I walked around town by myself, and found many interesting shops along the streets.  I had the impression that branding is done very well.  And not just in fashion.  Book stores, interior shops, galleries, etc., all had their own concept, and shops were made with attention to details.
In addition, I saw many people dressed in extremely creative stylings.  At the same time, one thing that seemed odd was, despite the fact that luxury brand items are selling well in Japan, I didn't see many people wearing it in town.  Where are those people hiding? (laugh)
Is the fashion of Berlin, where your shop is, very different from fashion in Tokyo?
In Berlin, there are many people who are not well off financially, so people wearing luxury brands are minorities.  Majority of the people tend to favor vintage/used items, sold at low prices at flea markets or vintage shops.  But there are many people dressed in creative stylings, within those limitations.  Furthermore, this could be a tendency that applies to all of Europe and not only Berlin but, I think there are many customers who are attracted to the name value of famous big brand names.  On the other hand, I feel there are many people in Japan who are more interested in the quality of products, and the care that is put into making products.  I think this is different from Berlin.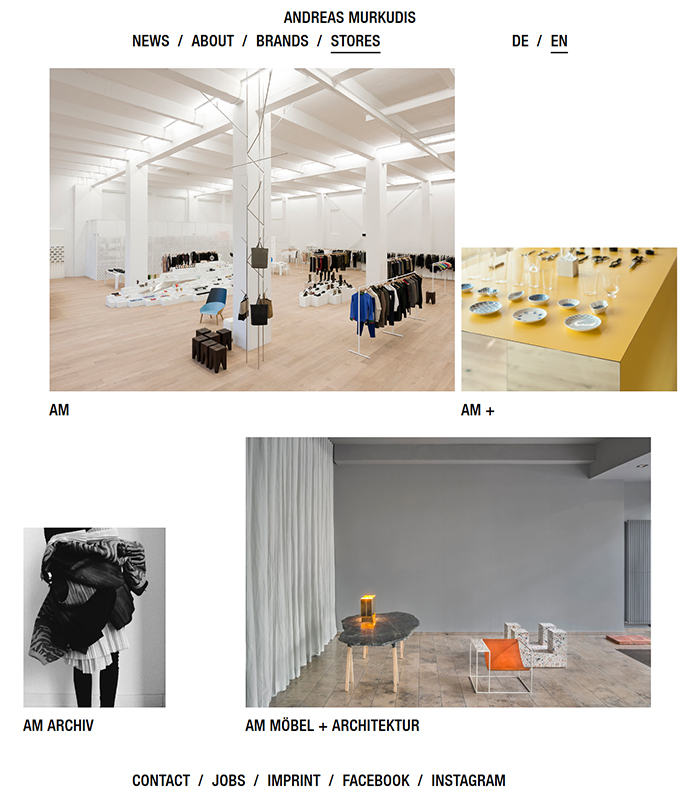 Andreas Murkudis WebSite
www.andreasmurkudis.com
Please tell us the circumstances behind why you opened 'Andreas Murkudis' in Berlin.
Before I opened my own shop, I had worked at a museum for 20 years.  Just when I was thinking it was about time I end this job, I found out about this old building in a back alley in the center of Berlin.  I renovated it and started a small shop, which was the start of my present business.  Since then, I carried both ladies/men clothing/accessories, cosmetics, furniture, chinaware/porcelain, books, etc., basically things that I like, regardless of genre.  This style is unchanged, and the same today.  The business gradually began to succeed, and grew so that in the end, I owned 6 shops in the same building.  However, the area itself began to become commercialized, so in 2011, we moved to a building on Potsdamer strasse, with a floor of 1,000 square meters, and 20 meter ceiling.  We combined all 6 shops into one, reopened there.
What things do you place value on, when buying items for your shop?
This is unchanged also, but I always make sure to carefully check 3 points in any product.  Namely, quality, design, and handwork.  I am the buyer and proprietor, so I am always in the position to make the final decision.  And I trust my intuition in such situations.  Of course I also consider whether it will sell or not, but to tell you the truth, that's not too important.  If I think an item is good, we will continue to carry it in the store for 10 years or more, even if it does not sell.  And once we carry a brand, we will never end transaction with them from our side, and we try to form long relationships.  Also, although we carry famous brand names such as Yohji Yamamoto and Celine, at the same time, even if a brand is still unknown to the world, if their quality is good, we will handle them the same way we handle well known brands.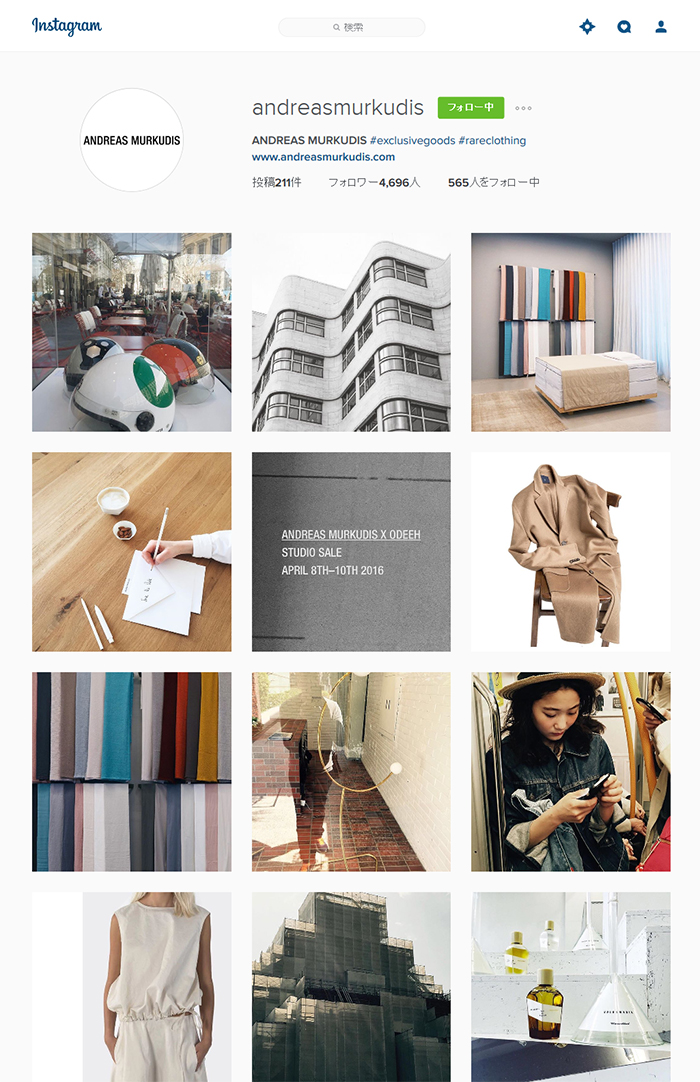 Andreas Murkudis Instagram
www.instagram.com/ANDREASMURKUDIS/
How do you find such unknown brands?
I go to Paris 6 – 8 times a year, and often find brands during this these visits.  Besides that, I get information from my friend's network, and do a lot of research on the internet also.  In addition, when I travel abroad on a business trip, like I am doing now, I make it a point to walk around places that are not mentioned in guidebooks.  Walking around with my own feet, allows me to encounter all sorts of new things.  I think that the best way to find new discoveries is, to try to stay at the destination, as long as possible, and try to find during that time.
Have you seen some fashion shows in Tokyo, too?
Yes, some.  I haven't seen enough to comment much on them, but I have the impression that the preparation and presentation of every show was very professional.  I've told you that I visit Paris quite often, but I do not see many shows in Paris either.  I usually stay in Paris, 3, 4 days at a time, but if I go to a show, I always end up spending several hours for just getting to the venue and waiting.  Of course, for the media and press people, shows are extremely important, but for buyers, it is not so much so.  For me, it is more important to see clothes displayed in shops, to be able to see and decide from a customer's point of view.
How many new transactions do you think you will make, this time?
Well, I have plans to carry a total of 30 new Japanese brands, not just fashion, and I feel I need more space in the shop (laugh).  In Japan, I have found so many things that surprise me, and it has given me so many inspirations.  In truth, I feel I did not have nearly enough time, and it feels so hard to leave (laugh), so from now on, I hope to come back here regularly.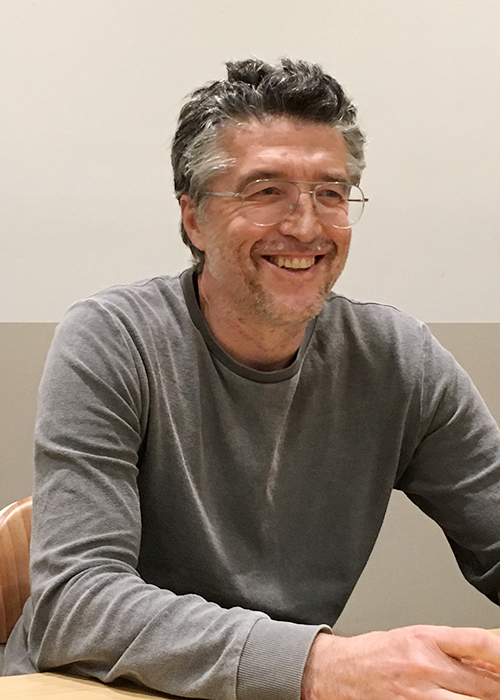 Please continue to spread knowledge of Japanese brands in Germany.
Of course!  Coming here this time, I feel I have the responsibility to convey my findings here to Europe, like an ambassador.  As I was before actually coming here, I feel that much of Japan is either not known yet in Europe, or has the wrong image.  For me, this has changed in this trip, and I would like to thank JETRO, most sincerely, for inviting me and giving me this opportunity.  I think that their match-making system of picking up brands that will surely please me, based on sound research, is wonderful, and that this is an effort which Berlin should follow.
Also, with the future in mind, I think it would be advantageous to organize a good system in which, top creations of Japanese fashion, products, designs, etc., can be gathered together and presented in Europe. Not only will it be extremely beneficial to European buyers who do not have the time or financial power to visit Japan, I think it will also induce more people to want to come to Japan.