Interview & Report

Keita Ikeuchi / Mihoko Mori "and wander"
TOKYO FASHION AWARD 2016, Award Winning Designer
Keita Ikeuchi: After graduating from Tama Art University, worked at ISSEY MIYAKE MEN, as a member of the design team, involved in apparel, planning and development of goods.
Mihoko Mori: Born in Tokyo. After graduating from Esmod Japon Tokyo, became active as in free-lance work, after having worked as a member of the design team at ISSEY MIYAKE.
Ikeuchi and Mori started "and wander" together, in 2011 S/S. Infatuated by the attractions of nature, they enjoy mountain climbing. With this real feel of the mountains, compounded with their planning ability nurtured in their experience of having worked at a Paris Collection brand, they offer outdoors wear and gears.
'and wander', is an outdoors brand established in 2011, by Keita Ikeuchi and Mihoko Mori, whom both used to work at ISSEY MIYAKE, and both infatuated by the joys of playing in nature.  Their items, created by a real feel of the mountains from actually enjoying it, compounded by experience nurtured at a designers' brand, is highly regarded as a one-and-only outdoors wear and gear.  We've asked these TOKYO FASHION AWARD winning designers the circumstances behind the establishment of their brand, and future aspirations.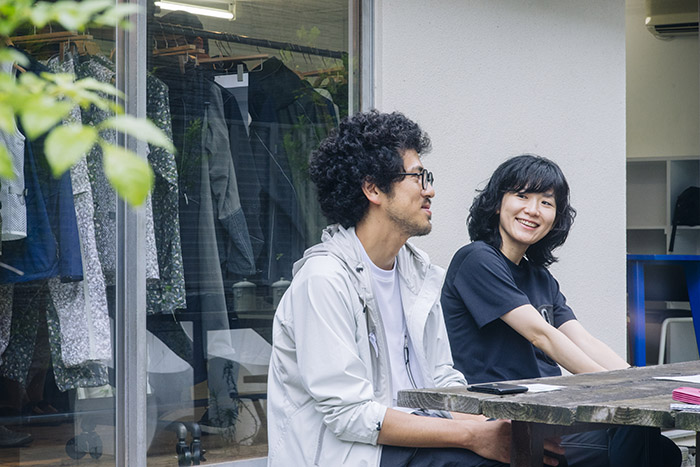 Both of you used to work at ISSEY MIYAKE, so how did you come to starting up an outdoors brand?
Ikeuchi:  When I was working at ISSEY MIYAKE, a colleague who enjoys the outdoors, repeatedly invited me to camp, and I became hooked myself.  Back then, outdoors life was just coming into trend, but when I went to outdoors shops, I couldn't find anything I want to pay money for, and so, I began to think, why not make it ourselves.  After a few years, when I decided to quit the company and go on my own, I asked Mori if she would be interested in joining me, and we started up the brand together.
Mori:  At that time, I had already quit ISSEY MIYAKE, and was working as a free-lance designer.  As Ikeuchi said, back then, there weren't any outdoors wear that we wanted to buy.  For example, in ladies outer wear, colors were limited to really bright pinks and purples, with a choked waist.  Regardless of gender, the sales point of outdoors wear is, by nature, mainly specks, but it's not like we're interested in climbing 6,000 meters class mountains, rather, we basically only go to areas where we can enjoy over the weekend, while based in Tokyo.  And it was really difficult to find wears that matched such feelings.
Ikeuchi:  As the word "wander", which we use in our brand, means "to roam aimlessly", we felt we wanted to enjoy the outdoors more casually, instead of hard mountain climbs aiming for high peaks.  Our hope is that people incorporate such enjoyments in their lives, and this is where our brand name, "and wander" is derived from.
I feel that in the "and wander" collection, you have many items that can be worn as town wear, what kind of people are your main customers?
Mori:  Of course there are people who wear our clothing in town, but many people wear it for mountain climbing, and you can see many people uploading photographs of climbing a mountain on Instagram, wearing "and wander" wear.  Each item is attached with a tag with a mountain icon.  3 mountain icons means that the wear is made with materials and cutting fit for serious mountain climbing.  On the other hand, 1 mountain icon means that mainly high-tech fibers mixed with organic fibers are being used, and can be used in situation that are an extension of daily life.  In the first place, outdoors wear can be folded compactly, so they are convenient to carry around, and even if you're met with sudden rain, they dry quickly so they are extremely convenient to use in town.
Ikeuchi:  Because "and wander" is basically an outdoors brand, we actually walk around mountains to try out and compare different materials, and we are constantly thinking about having our customers wear our clothing in town, also.  Therefore, rather than setting seasonal themes and announcing new collections every season, ours is a trial-and-update sort of creation of actually going into the mountains wearing the clothing ourselves, to update and brush up the aspects that bother us.
What do you think is the difference between a designers' brand, such as ISSEY MIYAKE, and an outdoors brand?
Mori:  The biggest difference is in the preparation of fabrics.  Especially because the lead time of high-tech fabrics is so long, and it usually takes 3 ~ 4 months just to develop.  As for fabrics, we make a new one every season, but when we seek after good quality, as a result, in many cases, we end up with made in Japan.  But of course, after all we are Japanese, so if we can continue to produce in Japan, we would prefer to do so.
Ikeuchi:  Outdoors wear has rules of layering.  For the inner layer close to the skin we have to use quick drying fabrics, in the middle, fabrics with heat retaining properties, and fabrics that are highly waterproof on the outer layer.  Although it is difficult to work within such limitations, it is also what makes it interesting.  It is no fun to play only by the rules, so we always try to make something that is slightly out of place, within the boundaries that it works in the mountain.  I think it is thanks to our experience of working at a designers' brand that makes it possible for us to take an approach of slipping in fashion aspects as a displacement.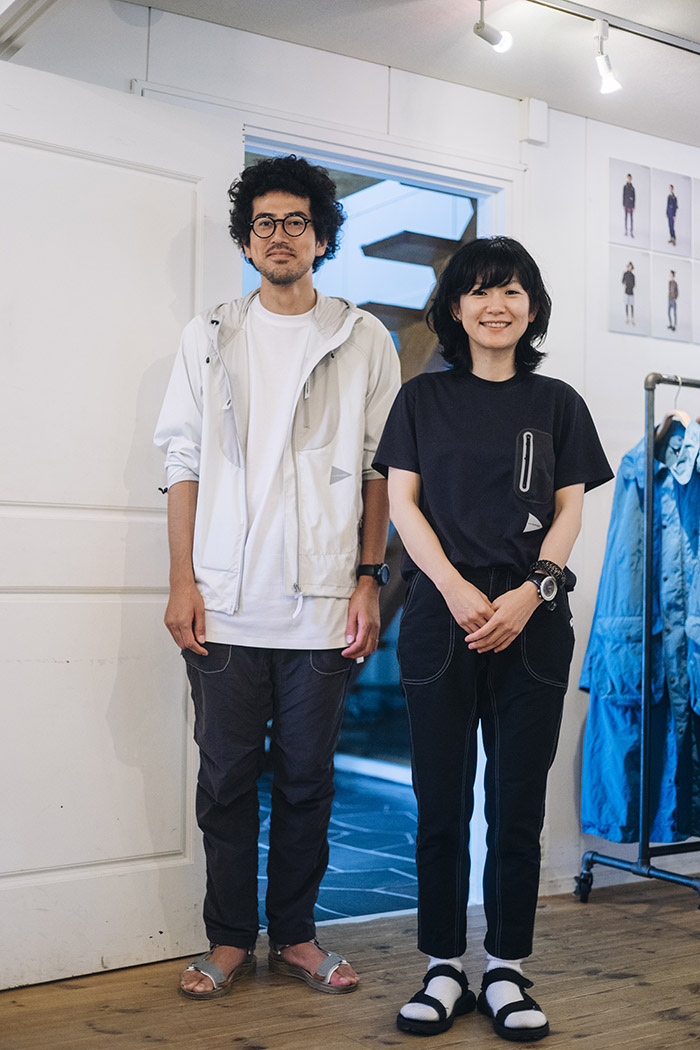 Including winning the TOKYO FASHION AWARD 2016, it seems you have been putting strength into overseas developments in recent years.  Please tell us of future plans.
Mori:  With regards to overseas, we realize we need to put more effort into having our brand acknowledged.  On a different note, we have opportunities to take our friends out into the mountain, but in the future, we would like to plan mountain climbing tours for "and wander" fans, to convey the pleasures of playing outdoors in nature.
Ikeuchi:  In Japan, we would like to continue what we have been doing, and hopefully open our own direct shop, which we can use also, as a channel to convey the pleasures of playing in nature.  The aim of our brand is that it become a window to the great outdoors, to make people feel they want to walk around in nature, or go camping, wearing these clothing, and we intend to continue to work hard in making such clothing.
Interview by Yuki Harada
Photography by Yohey Goto