Interview & Report

Susumu Miura "AVALONE"
TOKYO FASHION AWARD 2016, Award Winning Designer
Born in 1979, at Shizuoka prefecture.
After being active as the vocalist of a death metal band, and a tattoo artist, started making clothing through self-education.
In addition to his original brands, 'exit for dis' and 'corvette by exit for dis', he does stage costume designs for artists and musicians.
To sum-up his cultural background and the skills he acquired as a weapon, started up "AVALONE" in 2013.

Having self-educated himself with skills, Mr. Susumu Miura started making clothing with a background in counter culture, which he himself had been influenced, in 2002.  In 2013, as a sum-up of the experiences and skills he had accumulated, he established "AVALONE", quickly gathering attention from overseas media.  Being awarded the TOKYO FASHION AWARD 2016, the brand held its first overseas exhibition.  We've asked their designer, Mr. Miura, on the background of the brand and his source of creativity.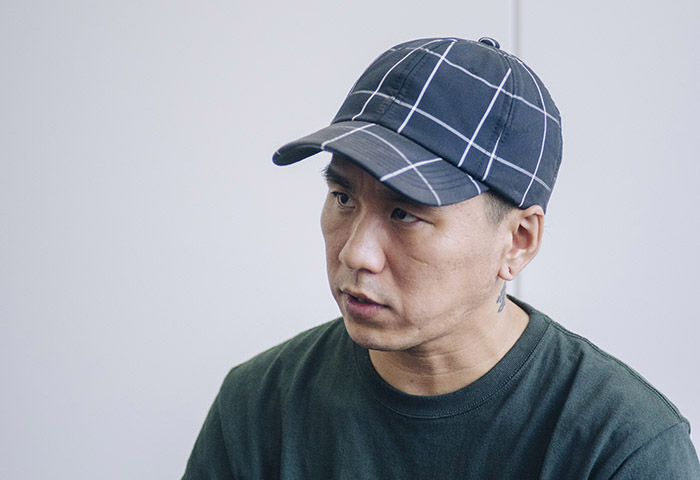 Your personal history includes experience as the vocalist of a death metal brand, and a tattoo artist.  When did you begin to think of becoming a fashion designer?
To tell you the truth, I first thought about becoming a fashion designer when I was a junior high school student.  When I was a child, I became familiar with overseas culture through the 70's ~ 80's music videos of MTV, and this is at the base of me.  And when I was an 8th grader, Alexander McQueen debuted, and I was stunned when I saw him using Sex Pistols music as the show BGM.  It was so very cool, and it was then that I vaguely felt that fashion design is a job in which the designer can express their favorite culture or history through clothing.  Since then, I began to remake secondhand clothing and sell it to my friends, and fashion became an indispensable part of life.
You are self-educated in fashion.  Why didn't you think of studying at a fashion college or something?
After graduating from high school, I thought about going to a fashion college, but because I had always been interested in underground culture, I figured I'd learn more by putting myself in place where I can be in touch with such things, so I ordered a tattoo machine from New York, and began training as a tattoo artist.  At the same time, I was active in band activities.  Just then, designers like Martin Margiela came out, and mode fashion that I always liked started to get re-noticed by young people, so I thought, now I can express myself the way I want to, and started a brand named 'exit for dis', in 2002.  And with that, I began to concentrate on making clothing.
Why did you change the brand name to AVALONE later?
My family runs a fishery at Izu, and my older brother has succeeded my father as the second president, but due to aftermaths of the Tohoku earthquake and tsunami, he needed more hands, and so I returned to help my family, in 2012.  I had just turned 30 years old, and was at a time of contemplating whether what I have been doing is really correct or not.  So I returned home at such a timing, and decided to think about the future whilst working really hard from early morning.  The family business was fun in its own way, but the feeling of wanting to continue making clothes became stronger and stronger, and so I decided to start up a new brand named AVALONE, as a sum-up of what I have been doing.  My family business handles abalones, and it is in part thanks to my father that I can continue to make clothing, so out of respect, I changed the spelling a little bit, and named the brand AVALONE.
I think that counter culture is at the back-bone of your brand.  What is its attraction to you?
Cultures that were born as a repellence against the times, always has a dark side.  I think I have always been attracted to the psychological darkness of turning ones' back on the society and politics of each generation.  I've always tried to express such dark sides in my creations also, but through winning the TOKYO FASHION AWAD, and exhibiting at the Paris showroom for two seasons, made me painfully aware that I haven't fully lived up to expressive potential yet.  Fashion born from overseas street cultures are directly connected with the lifestyle and atmosphere of the people born and raised in it, which is a reality completely alien from those of Japanese, living in such a plentiful and peaceful country like Japan.  Through my experience of coming into contact with such people, I feel I've been given a strong supportive push forward to express myself more with my limiters turned off.
As part of the award program of the TOKYO FASHION AWARD, you've shown a presentation in Tokyo also.  Could you tell us about that?
I did the presentation with only 6 models, and a live orchestra.  I focused on the historic background of death metal and black metal, using a reverse pentagram motif, which is the symbol of the devil, as the theme, with the orchestra playing ritualistic melodies that seem to release prohibited human desires, I expressed the world view of the brand with a black magic sort of production.  I've always enjoyed probing deep into the historical backgrounds of cultures, and am often inspired by it, but in the future, as I have mentioned earlier, I intend to reevaluate my true identity and challenge myself to be more expressive of my true senses, such as insects and plants, which I have always liked since I was a child.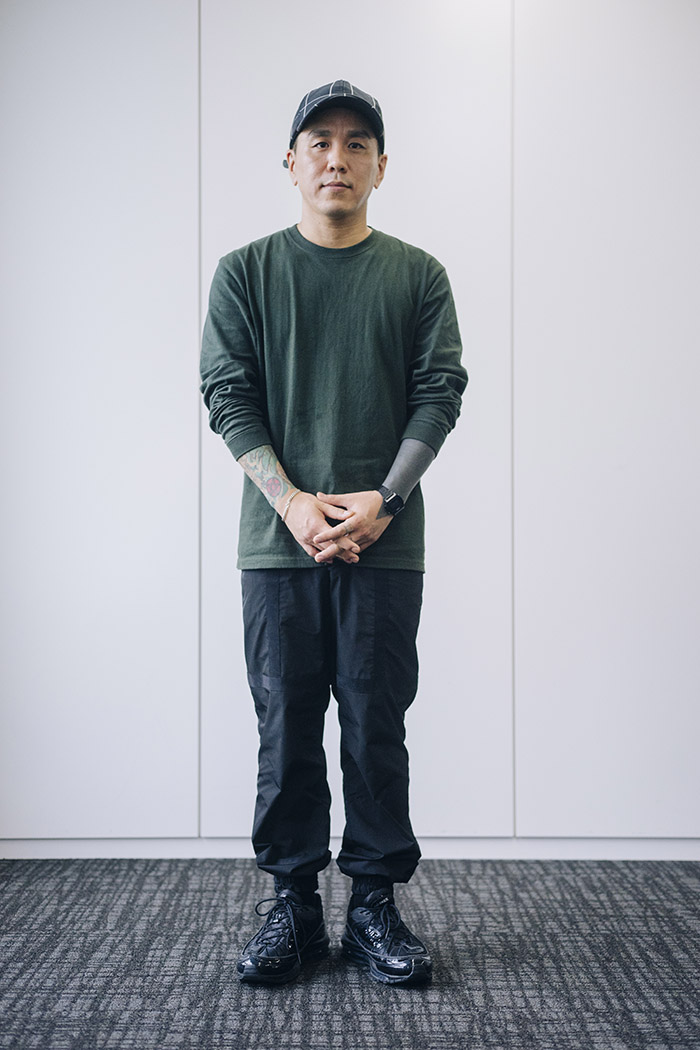 Do you intend to continue collection announcements in this style?
It is, of course, under the premise that befitting our state, but I do hope to continue challenging such ways of expression in my announcements.  I intend to exhibit again at Paris, in January and June next year, but I would also like to make a presentation like this overseas also, so in that sense, this one that I made in Tokyo, turned out to be a great opportunity to prepare and feel out reactions.  Also, I'm planning to have shootings with overseas photographers and stylists that I met in Paris.  I hope to continue giving birth to creative items in collaborations with them.
Interview by Yuki Harada
Photography by Yohey Goto