Interview & Report

BAJOWOO
99%IS- / Designer
Born on 1984 in Seoul , Korea. Enrolled ESMODE in 2003. Afterword, started up first Punk brand in KOREA, produced rock band costumes and artworks. Then visited London, Paris, Tokyo, Bangkok, experienced underground punk in there. This is background mind of his creation.Moved to Tokyo in 2008, enrolled Dressmaker School in 2010. At Autumn/Winter in 2012 when he was Second year student, started up 99%IS-.
99%IS- (ninety-nine percent is) is a new cutting-edge brand gaining popularity through a style based on a contemporary interpretation of punk/rock fashion such as high-quality leather jackets and items using original studs. Many artists support the brand, including Lady Gaga and Big Bang who wear their items on stage and in their private time, and it has also done collaborations with various other brands including Mackintosh, Comme des Garçons and George Cox. We interviewed BAJOWOO, the designer for this brand who will be participating for the first time in Mercedes-Benz Fashion Week TOKYO 2014 S/S which is to be opening soon.
When did you start becoming interested in fashion?
I liked dressing up since I was a kid, and I was doing simple remakes of clothes since elementary school. I liked music since I was young too, and I went to a live house in South Korea for the first time when I was in sixth grade. Apparently, it was the first time for an elementary schooler to visit that live house, and everyone was friendly, including band members that hung out with me. Before long, band members started asking me to remake their clothes, and that eventually lead me to making band T-shirts as well. I couldn't play instruments, but I began to think that I should express what I want with clothes instead of music.
Did you study fashion professionally?
After graduating high school, I entered ESMOD in South Korea, but I dropped out in my second year. I worked as an assistant for a stylist and at a leather factory, and eventually went to the U.K. in 2007, to see a live performance by the Sex Pistols which they put on for the first time in 30 years. I ended up staying there for about half a year while crashing in apartments of punks that I met on the local U.K. streets. After that, I was invited by a designer I knew in Japan and decided to study abroad at a fashion school in Japan. I still go to school there and expect to graduate next March.
Why did you decide to come to Japan?
Japan is interesting in that, for example, Shibuya and Harajuku have completely different styles, and I thought Japan was a great place to be because the Japanese seem to be the best in the world at enjoying fashion. Actually, when I was in London, it was really fun to see live performances of various bands, but I began to feel uncomfortable about the relationship between fashion and music. Punks didn't seem to care about fashion at all, while people in the fashion industry were making clothes saying that they're punk, even if they don't know too much about punk music. In Japan, there are a lot of hardcore people, and there are many brands that make clothes with a real understanding of punk and music. There was also the fact that they were bringing in punk and rock, which are originally part of British and American culture, and expressing them while adapting them to the Japanese culture. I felt that I had a lot of things to learn.
So you were feeling frustrated about the current relationship fashion and music.
For example, many people think of a person with spiky hear wearing a leather studded jacket when they hear the word, punk fashion. But I think that in itself means that that is no longer punk. Punk was originally born to go against existing music and styles, but it's turned into a fixed fashion style. To me, that only looks like cosplay of punks. I also feel that punks nowadays have withdrawn into their own world and are building an ever higher wall around them, and I want to destroy that from the inside.
That's why you need to understand the background and history of how punk and rock were born.
Yes. Of course, I want to do something that no one else has done before, but instead of just using completely new things to accomplish that, the concept of the brand is to provide my own contemporary interpretation based on knowledge of the original background. It's really fun to listen to the stories of punks that I meet in the streets of New York and London and learn the relationship between fashion and the historical background of that time, and it brings to light what kind of fashion would be appropriate for today's world. For example, since studs are so common now, if I were to use studs, I would have to go as far as to making my original studs or else there is no meaning to using them, and it brought me the inspiration that it may be cool to express rock and punk fashion, which is conventionally thought of as cheap and dirty, with good quality material, needlework and patterns.
Did you always have the desire to launch your own brand?
Yes, but I ended up launching it earlier than I thought I would (laughs). I actually wanted to launch my own brand after graduating fashion school, but when I was in my first year, I had some clothes that I made mixing patterns from racing jackets that were popular among punks in the 70s and 80s and had a vintage shop in Harajuku called BerBerJin put them on display. They were well received and I continued to display my clothes at that store. After that, I became acquainted with a stylist who does the seasonal catalogs for the speciality boutique CANDY, and that lead me to Shogo Yanagi from FAKE SHOWROOM who does PR for me now, and he encouraged me to launch my own brand properly–that's how I came to launch 99%IS-.
How do you decide upon themes for a season's collection?
I have several ideas that I want to express, and many times I bring them out depending on how I feel at the moment and expand on them. For example, for the 2013-14 Autumn/Winter season, I started out from the anarchy symbol that I like, and I thought about what anarchy means in today's world. That leads me to the theme "looking for anarchy in today's world." From there, I connected "looking for" something with Sherlock Holmes, and I created a collection that mixes fashion from Holmes' time and my taste. I figured that I needed to know the background if I were to incorporate Holmes, so I read all the novels and watched all the movies about him, and then went all the way to U.K., his homeland, to visit places that are associated with Holmes as well as old tailor shops in London.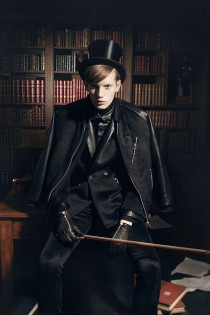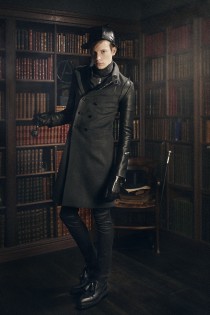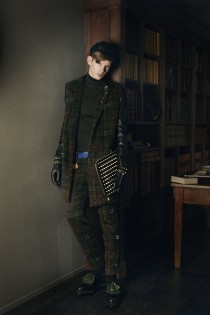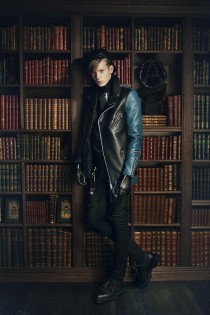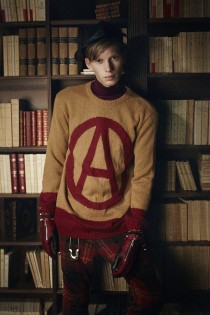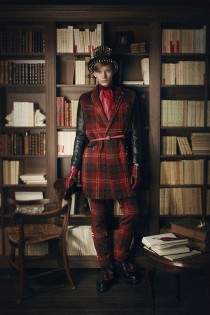 2013-14 AW collection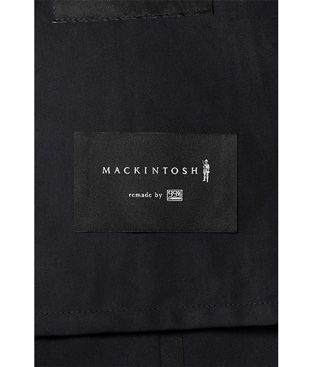 You unveiled a studded coat that is a remake of a rubberized fabric coat by Mackintosh the other day. It seems like you have many collaborations with other brands.
It's great to create things with people who have something I don't. For the project with Mackintosh, "MACKINTOSH remade by 99%IS-", I was able to have many discussions with them in advance, and I think it ended up in a brilliant product. At first, I was worried that it may be a problem to punch holes with studs on a coat made by a brand that focuses so much on waterproofing, but Mackintosh accepted that and I felt that they were actually the true punks (laughs). Mackintosh does all the seam finishes for their coats by hand, and I felt that in that aspect they were similar to 99%IS- which does all the studs by hand. The two brands have completely different tastes, but I think our collaboration went well.
MACKINTOSH remade by 99%IS-
This is your first time to participate in Mercedes-Benz Fashion Week TOKYO, and I think it will be a good opportunity for you to appeal to many more people. How would you like to present your collection?
I plan to present my collection in a presentation format. If I brought in a band for my presentation, it would be too direct (laughs). I don't plan to express things like that. If I express only what I like, it would be imbalanced. I want to mix in elements that I am interested in at that moment. I want to express my collection in a way that is broadly accepted, instead of shutting myself in my own world, especially since Fashion Week is a place where many people get to see my collection.
To conclude, could you give us your vision for the brand's future?
I would like to continue to be based in Japan. I may return to South Korea in the future if something comes up, but it's normal for a Korean to establish a brand in South Korea. In Japan, I am a foreigner and I struggle with problems such as language, but I feel like that is why it is meaningful to be here. Up to now, I was able to work alone because I had the people at Fake Showroom and friends that are stylists, but going forward, I would like to hire staff members and eventually make my brand look like a real fashion brand.