Interview & Report

Ken Oe "Coohem"
TOKYO FASHION AWARD 2016, Award Winning Designer
Born and raised in Yamagata prefecture, known for its fabrication of knits. In university, majored in fashion marketing, design and textile. After working at a select shop, joined YONETOMI SENI CO.,LTD, there, participating in the development of knit textiles. Inspired by the vintage textiles originally invented by YONETOMI SENI, he launched the company's original brand, "Coohem". He has renovated numerous archives into fashion items with a modern sense, in pursuit of the infinite possibilities of knitted-tweeds.
"Coohem", a coined word deriving from the word "交編 /kóuhen/", was launched in the 2010 A/W season, as the factory brand of the reputable long-established knit maker, YONETOMI SENI CO., LTD. "交編 /kóuhen/" is a technique of intricately combining various yarns to create a unique original knit textile. "Coohem" translates these textiles into 'real' clothing in traditional styles with playful and happy aesthetics. By concluding all processes, from the planning/development of textiles to production in their own factory, makes it possible for them to realize highly original items, full of sophisticated craftsmanship and creativity.
"Coohem" was established in 2010, a factory brand of YONETOMI SENI CO., LTD., a knit maker in Yamagata prefecture, established in 1952.  They have achieved popularity with their knit items which embodies both their unique techniques and a sense of the trend.  Despite already having many overseas sales channels, they continue to evolve, with a new men's line, starting from their 2016 A/W collection, announced in Paris.  "Coohem" is attracting attention as the role model for factory brands, and we spoke to their Director, Mr. Ken Oe.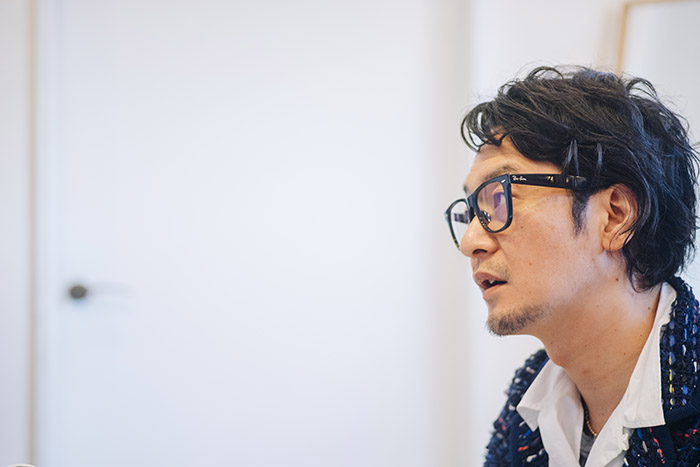 Could you please tell us how the brand came to be?
As a knit maker, our company has been developing and offering textiles to designers' brands and select shops, for 60 years.  We have a certain degree of acknowledgement in the knit industry, but as overseas productions increased, we were forced to reduce our size of business.  So in order to make the most of our factories techniques and skills, I suggested to my father (Tomizo Oe), who was the President of YONETOMI SENI at the time, to start up a factory brand, and that is how this brand was born.  I myself had been working at a select shop, but with the start of this new business, I joined YONETOMI SENI.
Were you able to gain understanding from within the company immediately, to start up a factory brand?
Compared to Europe in which many of the famous maisons are factory brands, in Japan, the distance between customers and the people who produce at factories, is very far apart.  In our company alone, most of our staff had never seen the products that we made lined in stores.  So at first, despite my many explanations, I was not able to gain their understanding, and I had to actually show them a certain degree of results, before getting started full-fledged.  From there, I gradually learned how to extract techniques, how to apply these into products.  Then our products became carried by famous overseas shops, and our sneakers made of original knit fabrics became a big hit, and the number of cooperators within the company gradually increased.
What do you keep in mind, when designing?
I extract the mood of the times from the flow of fashion as a whole, and try to incorporate that in our items, using our unique techniques.  Also, as a factory brand of a knit maker, I'm always conscious of presenting the finest of our skills at each new season, so we vigorously challenge the factory to develop new techniques that are not used in OEM products.  This, of course, is time and money consuming and therefore very bad from a productivity point of view, but without this, differentiation from others is difficult.  So at times, I spend months persuading factory staff.  But taking the time to think over how something can be realized, has been a positive experience for the company.
With domestic textile industries in decline, what do you think is needed for Japanese factories and factory brands to survive?
The skills of an experience craftsman is not something you can simply buy, and once lost, it can never be recovered.  But at the same time, for veterans, opening a new window is difficult.  Perhaps the same could be said for any other industry, but the skills of craftsmen with years of experience, and the fresh sense of young people are equally important, and success cannot be realized without one or the other.  In our company also, we have been stressing the importance of training young people to our veteran staff, and telling our young staff daily, to pay respect to the skills and experiences of veteran craftsmen.  New challenges of young people are necessary, but before that, without the cooperation of skilled craftsmen willing to take action, I think there cannot be any evolution in production.
As an award winner of the TOKYO FASHION AWARD 2016, you participating in the Paris showroom exhibition of the 2016 A/W season, and you announced your men's collection for the first time, right?
Personally, I've always wanted to start a men's collection, and this showroom was the perfect opportunity.  In the first season, we made men's items as an extension if women's, but in the next 2017 S/S season, we did it the other way around, and extended textiles made with a men's collection in mind, into women's.  By doing this, it turned out to be a man-ish and sharp collection, never seen before in Coohem items, and was very highly praised by overseas buyers.  In the 2017 A/W season, we are planning a total renewal of the brand, including the logo, and we intend to start wholesales of our men's line, in full capacity.
As a part of the TOKYO FASHION AWARD programs, you made a presentation at Tokyo, in March.  Do you have plans to continue such efforts?
In truth, for the presentation, we wanted to bring machines from our factory in Yamagata, but because of various limitations, this wasn't realized.  I'd like to do this kind of presentation someday, and I'd like to show this, not only to the media, buyers, and customers, but also to presently active designers and students studying to be designers.  Without an increase in the number of people with a knowledge and acknowledgement of the people who actually make things, I think that making things in Japan and selling them cannot be realized.  I think that there are things that only our brand can convey, and I think that making presentations during the fashion week term is both effective and worthwhile.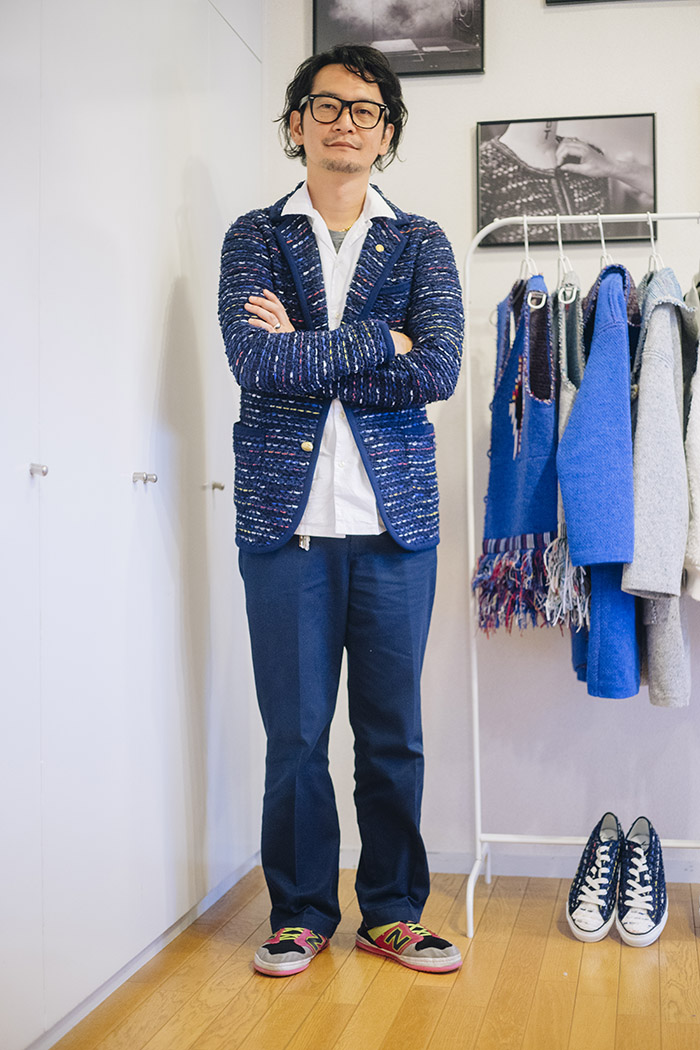 Please tell us of your future plans.
We intend to continue announcing both our men's and women's collections, both domestically and at overseas.  In addition, as a mid-tem goal, we hope to realize the opening of a direct shop with a small factory attached to it, with the aim of not only to sell, but also to convey the background of the brand, and make it a place where all sorts of people can gather to exchange opinions.
Interview by Yuki Harada
Photography by Yohey Goto