Interview & Report

DETTO K/ "D.TT.K" designer
TOKYO FASHION AWARD 2015 Winner Designer
Kazuma Detto (D.TT.K) has been expressing his original styles into clothing, photography, videos, and spatial presentations. In 2013 he has launched the clothing line D.TT.K with his well known neo-sporty aesthetics.
Following its launch in 2013, D.TT.K showcased a runway show in 2014 at New York's fashion week, and in 2015, the brand then presented their collection for two seasons at a showroom in Paris as a winner of the TOKYO FASHION AWARD ("TFA"). We sat down for an interview with DETTO K, the designer behind the up-and-comer brand attracting wide attention and steadily increasing its following since it made a debut with a unique concept that blends together sports, street culture, mode, and other styles.
You held an exhibition in New York and Paris shortly after launching your brand in 2013. Have you always been international-minded?
Yes. To put it more precisely, I think I didn't have the mindset of working as a Japan-based brand from the beginning, rather than describing myself as international-minded. We're living in a time where we can easily communicate with many different people around the world, so I think this is a natural result.
How did you start your brand?
I played soccer up to high school, with my sights set on becoming a professional player. But many of my relatives worked in art-related fields, so I've always been drawing pictures or crafting artwork. It naturally became my pastime, and my lifestyle. After I quit soccer, I started studying product design at college. At the same time I took an interest in many different modes of culture and absorbed them. I never cared distinguishing genres like art, music, or fashion since back then; what I had in mind was how to establish my own lifestyle. I dropped out of college, travelled Europe for around three months, and then came to Tokyo. This was when I started painting clothes and crafting accessories as my own creations, and it eventually led to the launch of my brand.
So you didn't experience specialized training on clothing?
No, so I can't make clothes from scratch. I've been studying how to craft clothes from square one ever since I launched my brand, but I still don't feel like I'm crafting clothes. Rather, the mindset that I have is product-making in a broader sense; clothes are, for me, tools that enable to portray and broaden my style. With D.TT.K, I focus on how to develop complex forms of masculinity through not only clothes but by photography, videos, and spatial presentations as well. Along with lifestyles, I also want to depict the trend of the current times in which SNSs and other networks are expanding.
What is the process that you go through when you craft clothes for each season?
I always stay alert, devote myself to drawing pictures based on my mood or what I would like to wear, and communicate my idea to the people that engage in the process of making clothes. My lack of technical knowledge on the fabrication of clothes often creates a headache for the production staff, and I'm frequently told that my idea is unrealistic. But I'm rather good at taking creative approaches to cater to their responses, and in many cases the end result becomes an interesting item. These processes are very enjoyable, and I'm extremely lucky being able to have many different people, including people from the production, work with me and positively react to my over-the-top requests. At the exhibition in Paris the other day, I secured my intention to build up my circle of friends and expand the possibilities of making clothes in a further interesting format.
You mentioned about TFA. Could you share with us why you decided to take part?
I decided mainly because of the assistance it provides for the opportunity to exhibit my work in Paris ? the city where people from the fashion industry gathers the most. Shops based in New York, London, and Los Angeles offer our products, but it's rare for overseas buyers to visit shows hosted in Tokyo. So I thought this is an important opportunity to invite buyers who are showing interest to our brand to take a look at our items first-hand. Participating twice in the showrooms enabled to make the brand's presence known to many people, and it also allowed us to gain new clients. This made me renew my hopes to host exhibitions in Paris on a continued basis.
It's been only around two years since D.TT.K started. Please share with us your future plans.
I plan to present a new format by incorporating domains and cultures that are not directly linked to fashion. For instance, I have an interest in car designs, and I also like appearances that embody science fiction concepts; sometimes I would craft clothes that are inspired from these factors. I would like to continue to actively acquire these elements and develop items that provide a sense of complexity, and I'm also looking to roll out unique and distinctive promotion approaches. D.TT.K's goal is to position itself as a creative label instead of a mere clothing brand, and I also hope to create items other than clothes.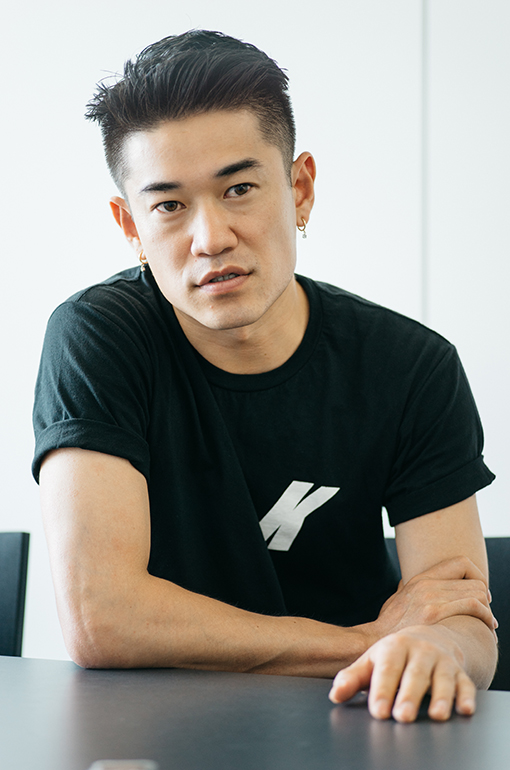 Would you like to continue to present runway shows in Tokyo?
This March, we held a live installation at Mercedes-Benz Fashion Week TOKYO as a winner brand of TFA 2015. It was a wonderful experience for us, being able to present at an official event like fashion week. I would love to take part again if we have the opportunity, but if we're going to participate, I would want to liven up the event by having many different people and companies involved in it. I also think that I would need to engage in activities that would ignite a movement among young people.
Interview by Yuki Harada
Photography by Yohey Goto