Interview & Report

Emi Funayama
FETICO Designer
Born in JAPAN in 1986. Graduated from ESMOD JAPON in 2010.
Experienced designer of collection brands.
Together with a pattern maker, launched FETICO in 2020.
"FETICO", a women's brand which gathers wildly enthusiastic support from fashion addicted women, since their debut in 2020. They are also the award-winning brand of the first "JFW NEXT BRAND AWARD", a new support program sponsored by JFWO, for brands with high prospective to become globally active. This coming August, FETICO is scheduled to present their long awaited very first runway show at Rakuten Fashion Week TOKYO 2023 S/S. We spoke to their designer, Ms. Emi Funayama, on their brand, which is gathering attention from the fashion industry.
What is the brand concept, and what is it that you hold dear in creating your clothing?
The brand concept is "The Figure : Feminine". In making clothes, we develop collections with "being feminine" being an absolute aspect. In production, we place importance on being clothes with a sense of raising self-affirmation, along with achieving both creativity and quality at the same time. I feel strength in forms created in black, and I also like the solidity forged by black which comes out when photographed. We also spend much time on fitting and pattern checking with our patternmaker, in pursuit of beauty and freshness.
If I'm going to take the trouble of making clothes in this time and age, I want to make pieces which will truly be valued and loved. I hope to offer clothes which will be treasured for years to come, become people's number one favorites, hung on the best hanger in their closet.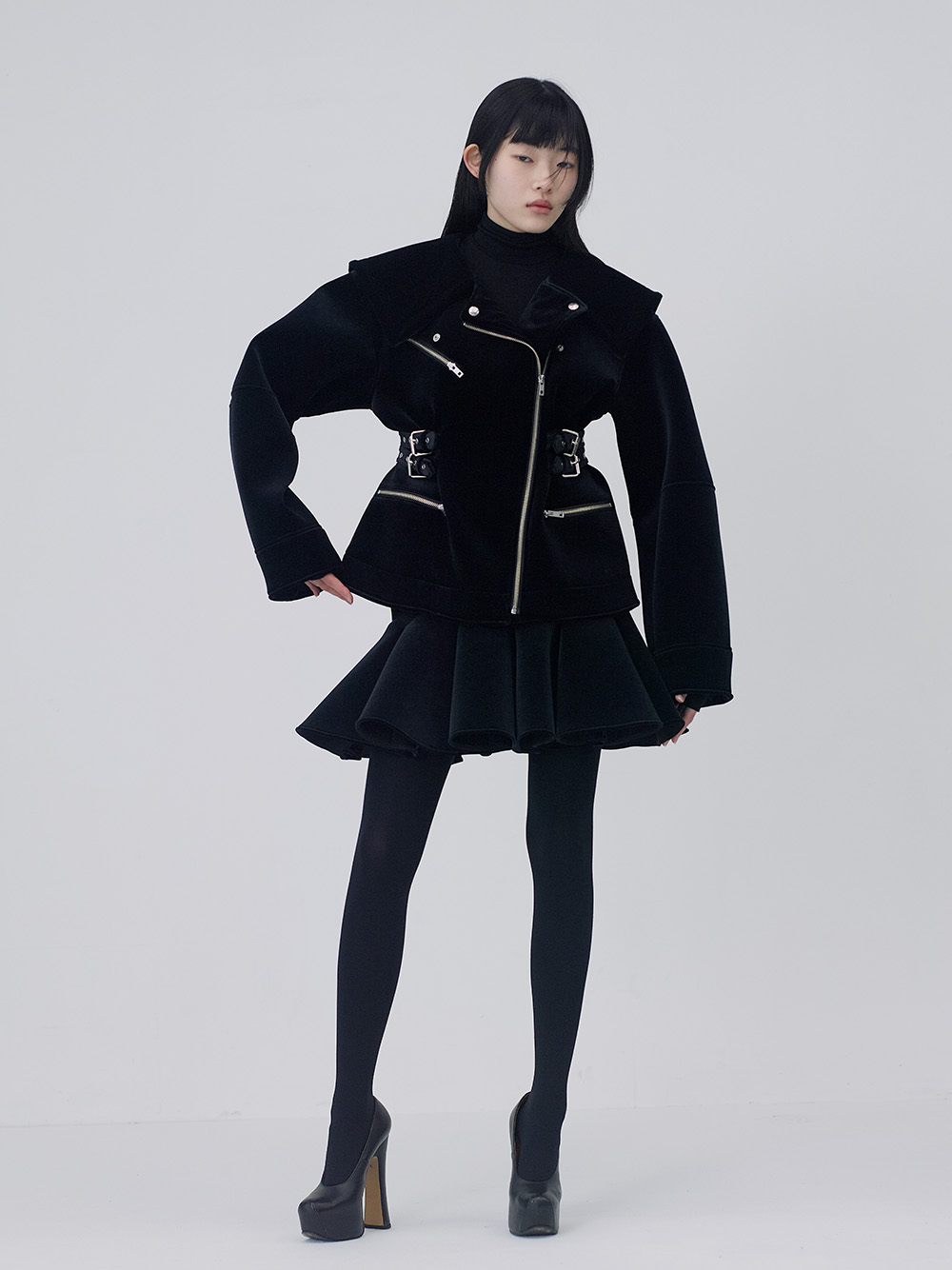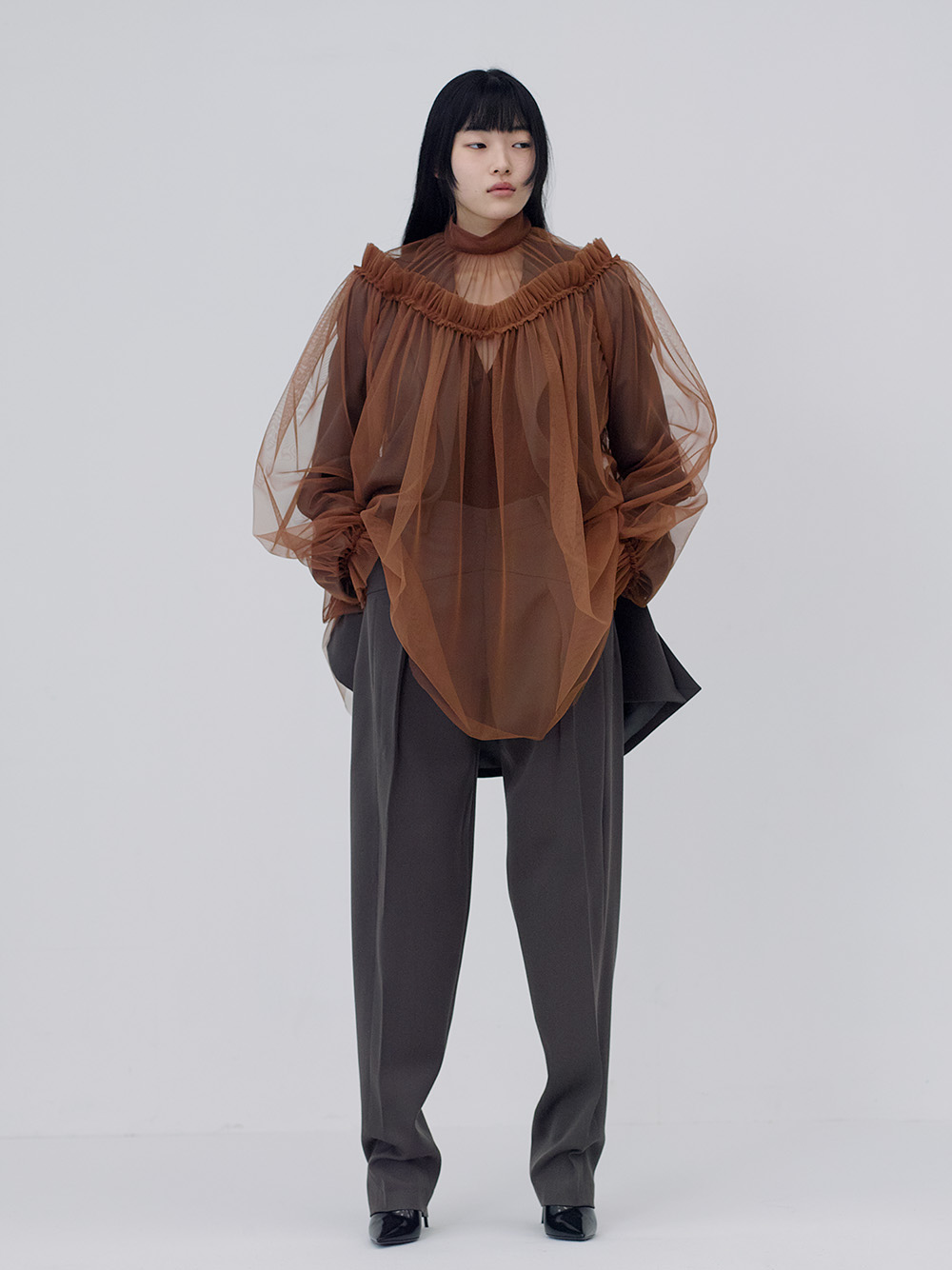 2022 A/W LOOK
As a brand, are you conscious of SDGs type points of views in any way?
From the time I started the brand, I had made up my mind not to create clothes with no value. I wish to offer beautiful, carefully crafted wear such as vintage wear, which hold value regardless of the passing of time. Even if a product is highly marketable, we will not make it if I think it is a waste of time. I will not simply choose materials prioritizing sustainability because it differs from the brand's principle, but the rate of sustainable materials coming up as a choice while prioritizing design, is increasing.
Starting your brand from the 2020 A/W season, the next upcoming 2023 S/S will be your sixth season. What do you think about the fact that your brand is growing rapidly in a short time?
The first season started without securing any sales or press person(s). Sales wasn't great, but we felt a sure response in the existence of madly enthusiastic fans of the brand, which enabled us to keep faith that the brand will do well. It was a small collection, but we received media coverage, and we were able to tie a contract with THE WALL as a sales representative. The customers of THE WALL matched the image of prospective customers I had been hoping for, so I was happy about the partnership. From there, we gained edgy shops as wholesale customers, which later connected to business with major select shops, so I think it is safe to say that we are growing steadily.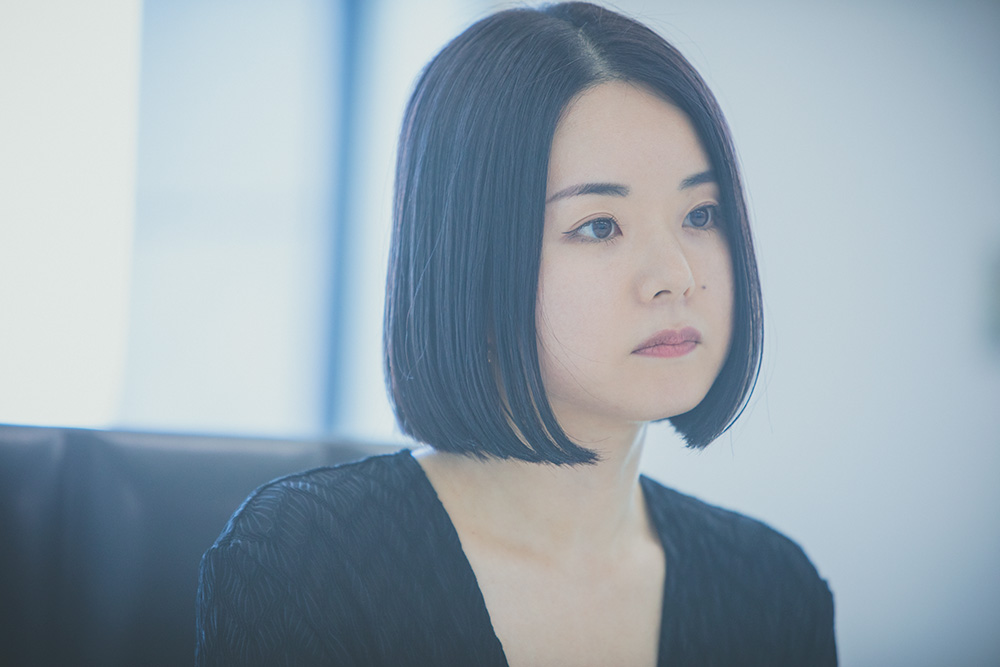 Presently, what is the extent of your business?
Presently, we have approximately 30 accounts domestically. It seems, customers who usually wear import brands and place importance on fashion are buying our items. Their age range and taste in fashion varies, but our items are popular among passionate fashion enthusiasts who cannot live without fashion. I am happy to say, skinny young men also sometimes choose our bottoms and outers.
What is it about FETICO that attracts customers so much?
Most of FETICO designs are not made from a man's point of view, but rather, body-conscious designs for women wanting to break through for themselves and enjoy being body-conscious. Presently, there aren't any brands in Japan offering to this zone, so I think this is one of the largest reasons. We are a mode brand that is also sexually beautiful at the same time. In overseas, there are brands catering to such zones, but for mature women, I think sometimes their clothes may seem a bit too much. We offer a graceful, modest sexiness. I have the impression that Japanese women have the tendency to hide their femininity too much, and it is my wish that mature women become more able to enjoy exposing skin or bodyline.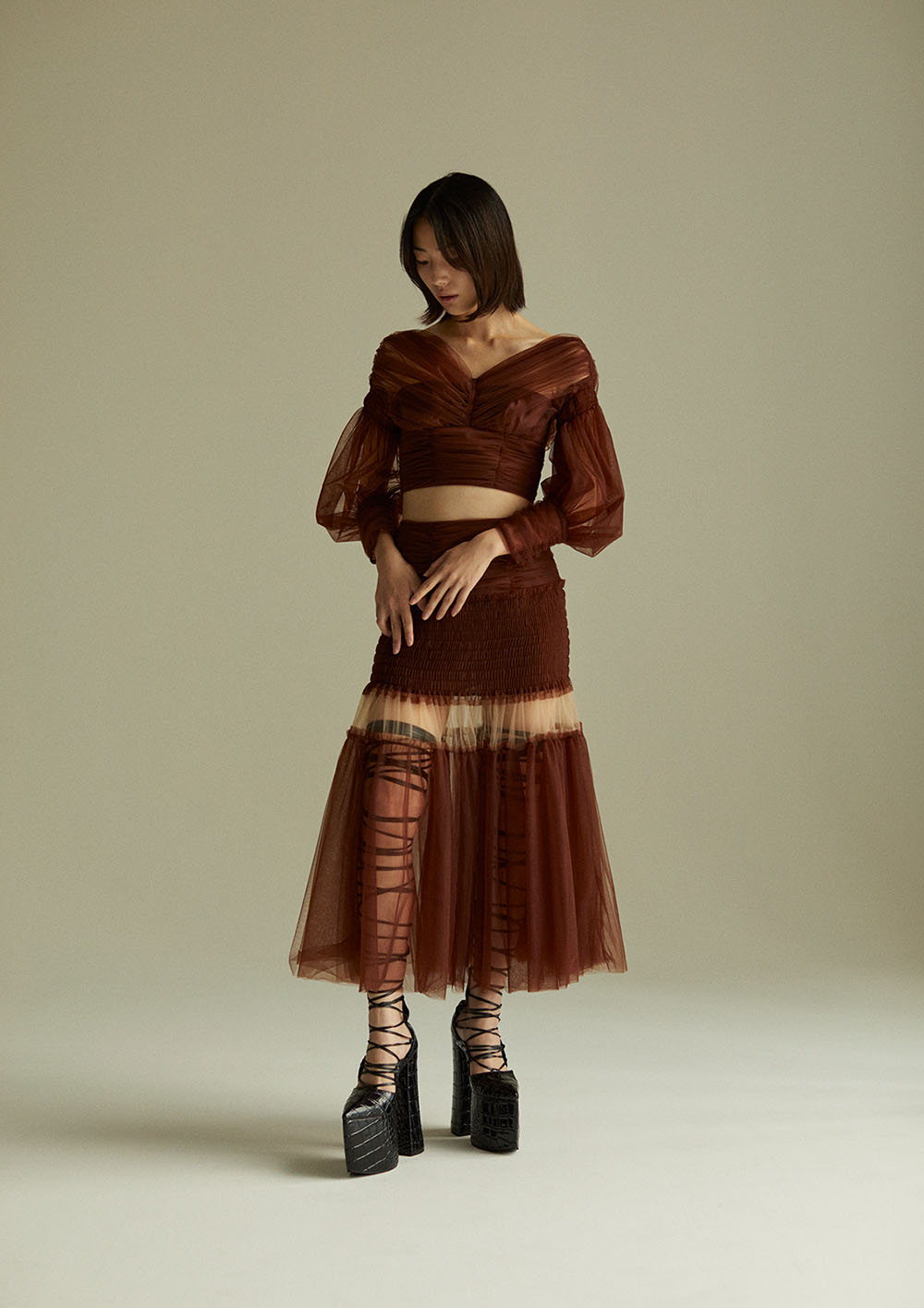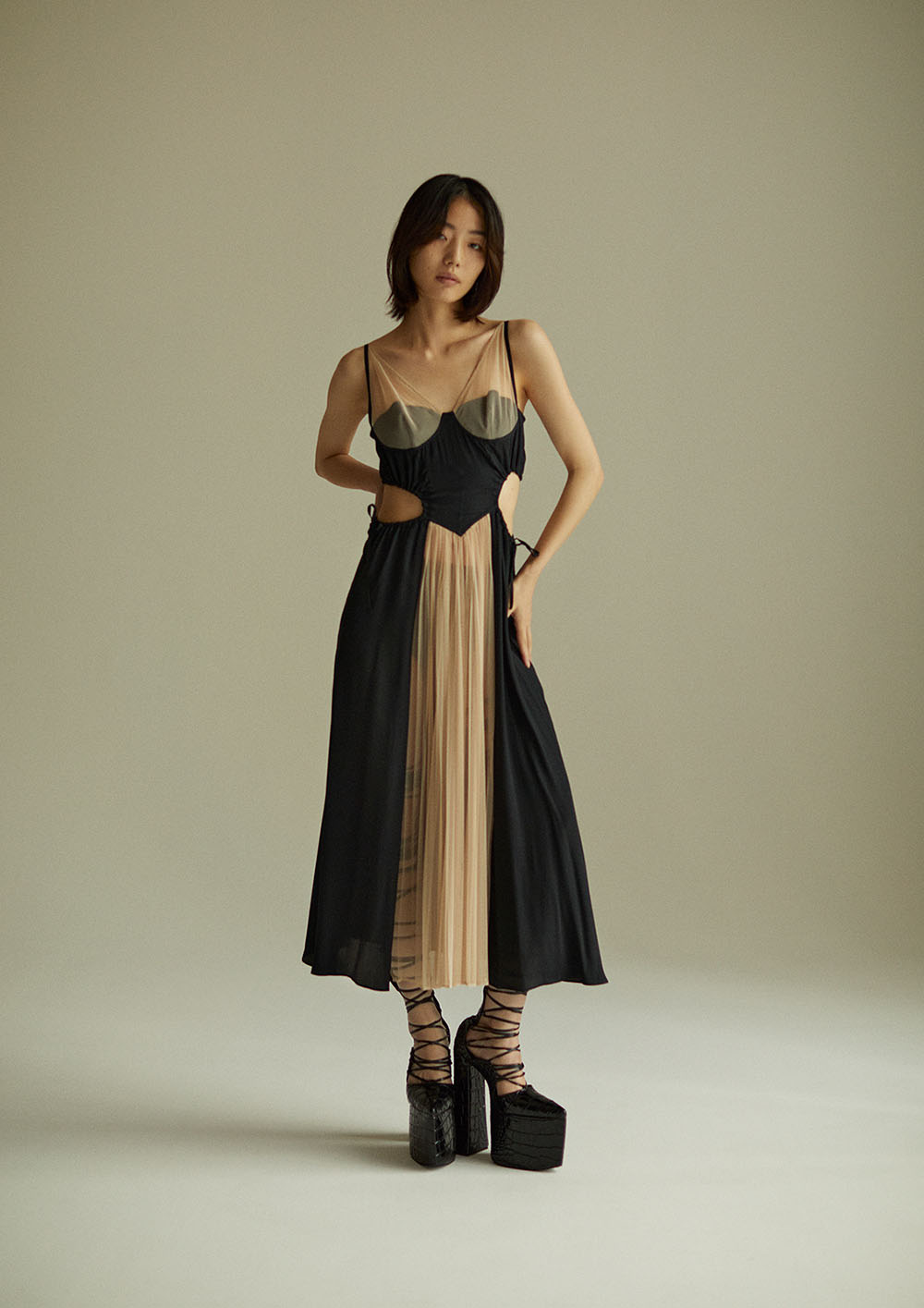 2022 S/S LOOK
Where do you get your inspirations for creation?
I often refer to classic haute couture, but I also keep in mind artists or some female image which I am interested in at that moment.
Under what theme will you be presenting your collection for the 2023 S/S season?
We are developing it as a collection in which one feels humidity, inspired by author and nude model, Ms. Izumi Suzuki.
Please tell us, how you came to participate in Rakuten Fashion Week TOKYO in this upcoming 2023 S/S season.
We had been seeing an increasing in being asked, why don't you do a show?, and with further rises in number of accounts in the 22 A/W season, we felt a rise in heated excitement towards the brand, so we were hoping to throw this energy against something. Plus, brands I was personally interested in were beginning to present shows, which gave me the impression that the sense of existence of Tokyo collection was at a rise also, so I figured, doing a show at this timing would be a good thing, and decided to participate.
Please tell us about your fervor towards your show plans.
As a show I'm doing for myself, this will be the very first since my graduation collection, so honestly speaking, I am nervous … Working in cooperation with Mr. Wakatsuki of DRUMCAN, we are aiming to create a stoic runway show. Up to now, we had only given look presentations with one or two models, so I am hoping to show a variety of female images through this show. From seeing the 30 looks we will be presenting, I would be pleased if people have positive thoughts such as, if it were me I want to wear it like this, or I want to be a woman like that. It will be transmitted online also, so I hope people who don't know of our brand will see too and hope our fans will enjoy seeing the worldview of our brand.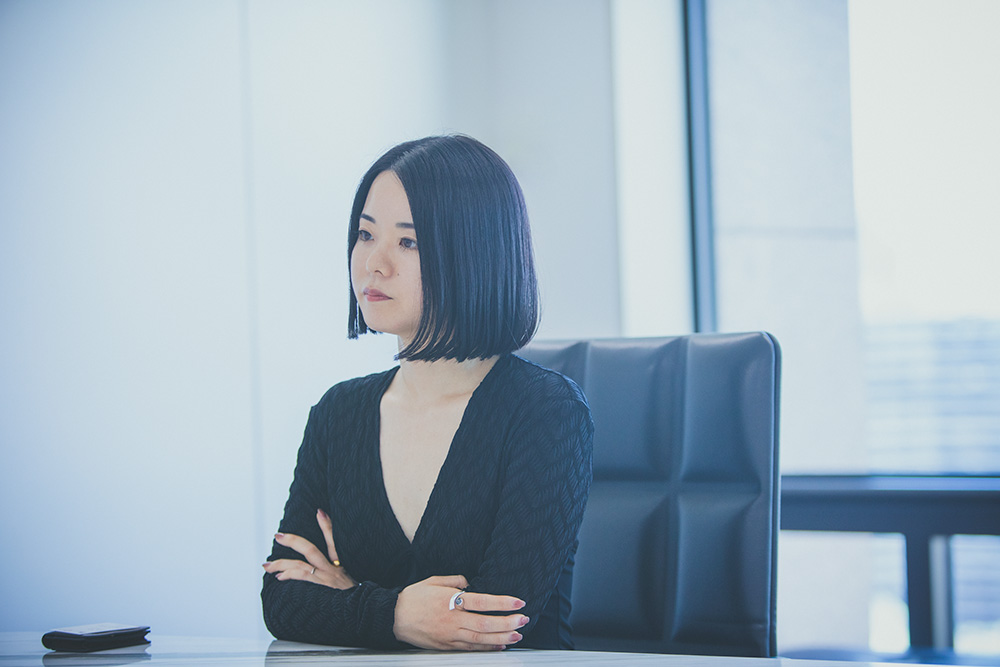 We are looking forward to seeing the brand's very first runway show! Finally, please tell us your future aspirations as a brand and as a designer.
As a brand, our first priority is to continue the brand, so we intend to continue nurturing the brand carefully. We work with factories who are happy about the brand's growth as if it were about themselves, and we also hope we can grow enough so that more people, such as these factories, can enjoy the merits and profits of our growth along with us. Our aim is to become a brand which is recognized overseas too, like TOGA or sacai. We are aware that Japan is not the center place for fashion, so we have always aimed to produce products that will also be accepted overseas. As a designer, I wish to raise brand strength, so I intend to include bags and accessories in our line up in order to be able to suggest styling in totality. Furthermore, presently we are making creative, yet real clothes suggestions, but in the future, I intend to broaden my scope of designs to include such things as dresses, break free creative wise making one-of-a-kind items, challenge myself in making items more conscious of high sales, etc.