Interview & Report

Yui Hashimoto "ETHOSENS"
TOKYO FASHION AWARD 2016, Award Winning Designer
Graduated from Esmode Japon, in 2000. After having worked as the pattern maker of the brands YAB-YUM and LOLO, established his own brand, ETHOSENS, from the 2007-08 A/W season. Since, has been announcing a collection, twice a year in Tokyo. Exhibited at Paris Area in 2008 S/S, and Paris Rendez-Vous in 2008-09 A/W. Opened the ETHOSENS flagship shop, ETHOSENS of white sauce, at Shibuya, in July 2011. Held a solo exhibition at Paris, for the 2016 S/S season.
Since the establishment of the brand in 2007, ETHOSENS has been continuing to convey their unique aesthetic sense, through their characteristic cutting and selection of materials, based in classic styles.  Having won the TOKYO FASHION AWARD 2016, thereby having experienced exhibiting at Paris for two consecutive seasons and a runway show in Tokyo, and with the 10th anniversary of their brand coming up, they are stepping into a new stage.  We interviewed their designer, Mr. Yui Hashimoto, at their flagship shop at Shibuya, Tokyo.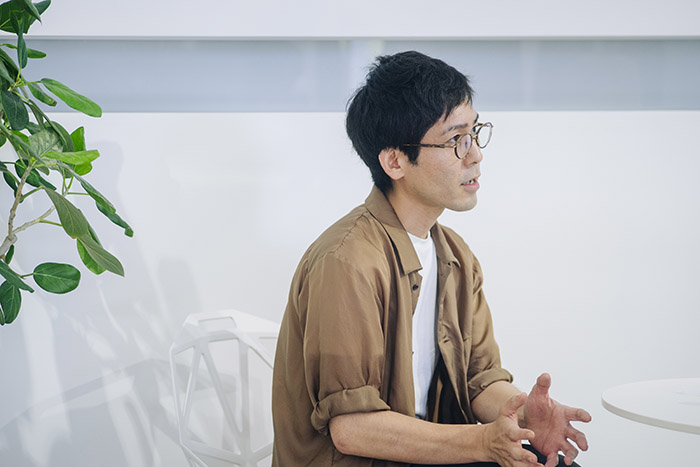 When did you decide to become a designer?
Because my mother is an oil-painter, I've always enjoyed creation, since I was a child.  But I felt it would be difficult to make a living as an artist.  So, since I was always interested in fashion, I decided to go into the world of fashion when I was a high school student, and started from working in retail.  I didn't have a clear vision of starting up my own brand back then, but I began to think that I want to be involved in the whole creative process, from start to finish, and so I went to a fashion college.  After graduating, I worked at a brand called YAB-YAM, which used to announce their collections at the Tokyo Collection back then, to gain some experience.
How did it come to start up your own brand?
I began dreaming of starting up my own brand when I was attending fashion college.  After having worked at YAB-YAM and LOLO, a brand based on European secondhand clothing, I started my own brand.  Both YAB-YAM and LOLO are brands that favor secondhand clothing, and since I too am obsessed with its charms, I made items in that direction for a few seasons.  Back then, the trend of times were also flowing in that direction, so we started out fairly well, but gradually, I started to feel a dilemma towards my originality.  No matter how hard I try, I felt my work was merely a rehash of my teachers' brands.  I also felt that a secondhand-ish style could not win against the real deal.  So in 2007, I decided to restart the brand under the present ETHOSENS name, and it was only then that I think the direction I should take became clear to me..
Where does the brand name, ETHOSENS, come from?
It's a coined word, between the Greek word "ETHOS", which means "habit", "custom", and the English word "SENSE".  "Habits" and "customs" are things that are done unconsciously, but I feel that it is important to turn my eyes to senses that are born from such unconscious actions, and that's why I named the brand so.  By the way, just like the rhomboid, which is our brand icon, is a square seen from a slanted angle, I constantly face creation, conscious of the idea that even in ordinary daily life, if I change my point of view, there could be a new discovery.
How do you create your collections, every season?
I draw sketches of moods, senses, feelings in daily life that I can't put into words, and I reflect them in the color, details, volume, etc. of the clothing, along as thinking of a theme word to express the whole collection.  At ETHOSENS, we pick an annual theme every year, and wrestle with that throughout the year.  My senses or feelings are not things that change in a mere in six months, plus I prefer to dig deep into a theme, so this is the natural cycle for me.
Last year you held a solo exhibition in Paris, and this year, you exhibited at the showroom for two consecutive seasons, at the same Paris, as a winner of the TOKYO FASHION AWARD.  Is your inclination towards overseas markets increasing in recent years?
I think so.  When I reached the stage of contemplating the next action for the brand, as a choice, I figured I could either announce overseas, or do a show in Japan.  And at that timing, we received an offer for overseas sales, so we did an exhibition at Paris, last year.  Having done this, I was feeling the difficulties of an unknown brand doing a solo exhibition overseas, which is when I learned about the existence of the TOKYO FASHION AWARD.  It turns out, award winning brands will have an opportunity to do a show in Tokyo, in addition to participating in the showroom in Paris, which is exactly in synch with the development plan I had imagined for the brand, so I decided to apply.
How did you feel about the differences between overseas markets and Japanese markets?
Compared to the Japanese and Asia markets, the age group of consumers is higher in European and US markets, so naturally, I have the impression that people of older age groups have shown interest in our items.  I also felt that in Paris, in order for a brand to spread acknowledgement from zero, it needs to really express originality and strength.  This is not easy, so I think cautious continuation is important.  On the other hand, I think that Asian markets, including Japan, will continue to increase in importance, even from a global point of view, so I think we need to care for that also.  When thinking of appealing to Asian markets, being situated in Tokyo is a forte, so from now on, I am thinking it would be best to take only carefully selected items to the exhibition in Paris, and then show my full collection at the show in Tokyo, afterwards.
Does this mean you intend to continue presenting shows in Tokyo, after next season?
Yes, I mean to.  Shows are great opportunities to express the world view of the brand, and it tends to have good influences on my creation.  In the last show, we appointed female models for the first time, and I'm hoping to start a ladies' collection, as soon as possible.  I've been receiving requests for a ladies line for a long time, so I intend to announce it as a ladies' wear collection, not in a unisex style, and I hope to carefully prepare a structure for it.
Interview by Yuki Harada
Photography by Yohey Goto