Interview & Report

Hiromichi Ochiai / "FACETASM" designer
TOKYO FASHION AWARD 2015 Winner Designer
Born in Tokyo in 1977. Graduated from the Bunka Fashion College in 1999. Worked for eight years at the textiles company "Guildwork", which mainly deals with domestic modes like COMME des GARCONS, Zucca, and UNDERCOVER, while working as an assistant at NGAP (artists that work on everything from Western clothing to furniture and interior). Launched his own brand "FACETASM" in the spring of 2007.
FACETASM performed its first overseas runway show during the Men's Fashion Week in Milan held in June, gaining critical acclaim. As a winner of the TOKYO FASHION AWARD 2015, we sat down with designer Hiromichi Ochiai, responsible for holding two exhibitions in Paris showrooms and appealing a strong presence as a brand representing contemporary Tokyo. We talked about topics such as his current mental state, and future projects in anticipation of overseas expansion.
You just completed your first show overseas the other day at Men's Fashion Week in Milan. Let's start off with your impressions regarding the show.
Our recent activities in Tokyo have been highly evaluated, and we were able to receive this valuable opportunity for an announcement in response to an offer from Mr. Giorgio Armani. Although the period between receiving the offer and the event was quite short, as it was all a first experience for us, everything was very hectic. For the show, we wanted to propose a free fashion that went beyond race and gender, while firmly showing off a sense of FACETASM. We kept this in our minds while thinking of silhouette, color balance, and even the casting of models.
It seems that the triumphal show held in March in Tokyo as a TOKYO FASHION AWARD (TFA) winning designer acted as one of the opportunities for achieving this show. Please tell us about your motivations for applying for the TFA.
Although we had built up overseas business partners throughout Asia with our collection announcements thus far in Tokyo, we had no opportunity to go abroad directly and present our clothing. I believe that overseas expansion will be an important issue as the next step for the brand. Since Tokyo Fashion Week is held later than those in Milan, Paris, and New York, even if buyers come to see the exhibition they might not have any budget left over, and many buyers don't even come to Tokyo in the first place. That is why I decided to apply for this award, which can help support our collection announcements overseas.
The 2015-16 AW collection show announced in March had the very simple and universal theme of "love." How do you decide on themes for each collection?
There isn't one particular thing we do to determine the themes. While there may be times in which a theme is clearly established from the beginning, there are also times in which I will look at the finalized clothes, and the thing that I wanted to express will come into view. "Love" was decided about halfway through the clothes making process, simply because I thought that it would be nice if a DM with the word written on it were to arrive. This was the eighth show we held in Tokyo, and we received the response that we were able to show off a high level of completion for both the clothing and production.
FACETASM made its runway debut at MBFWT for the 2012 S/S season. What do fashion shows mean to you?
As expected, shows are still the best path for mode, and are also something that we believe is very important. I feel the necessity as a brand to announce a collection in such a place. Once actually starting, it became possible to hear a variety of evaluations, from the good to the bad, which I think works out very well for us. Since I launched FACETASM with no brand management experience, each show acts as a new lesson for me, and I am able to see how far we have come.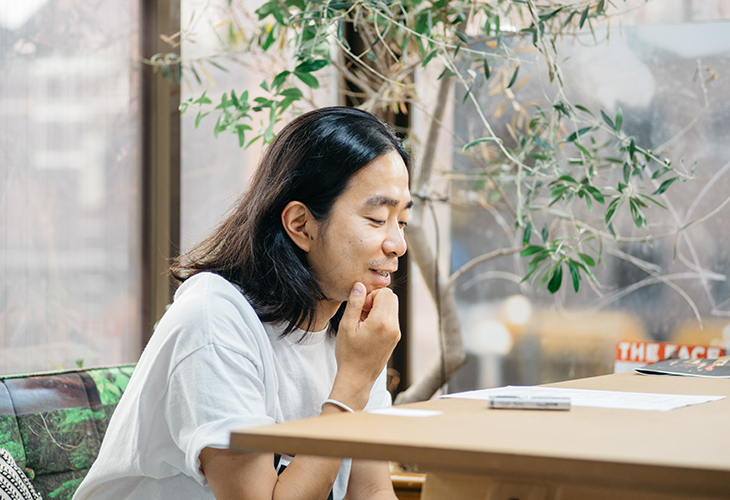 It's been quite a long time since FACETASM began to be referred to as the brand that symbolizes Tokyo. Do you have strong feelings for continuing to transmit from Tokyo as a brand?
While we certainly are often said to have a Tokyo style, although it does make us happy to hear this, it's not as if we're strongly aware of this. Since I myself was born and raised in Tokyo, I make things that can only be made here, so what I put out naturally is taken as having a Tokyo style. As I personally have strong feelings for wanting to transmit outside of Tokyo more, after participating in the TFA Paris showroom this time, I truly felt the need to go abroad on our own in order to accomplish this.
How do you feel about the way Tokyo brands are thought about overseas?
I felt that the awareness of Tokyo Brands and Fashion Week was still quite low. However, since starting and continuing shows in Tokyo, I feel that the level of guests that come to Fashion Week has increased year by year, and that the potential for Tokyo brands is quite high. However, in order to have that to be properly evaluated, I still think that an organization such as the TFA is necessary to act as a window with overseas.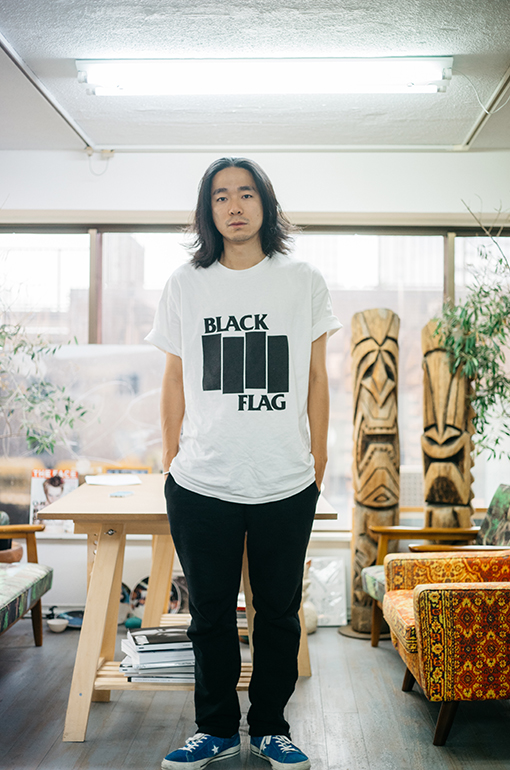 It will soon be ten years since the launch of the brand. Please tell us about future prospects.
Since we received a good reaction and results with the collection announcements in Paris and Milan this time, I feel strongly that we must put this to good use in the future. I would always like to move forward as a brand, and while thinking of things we can do currently, I would like to surprise people throughout the world in our own way. As with up until now, I believe that all sorts of different things can happen without expecting the future. While corresponding flexibly in each case, I would like to continue on with things that are positive for the brand with a firm sense of responsibility.
Interview by Yuki Harada
Photography by Yohey Goto