Interview & Report

Koji Udo / "FACTOTUM" designer
TOKYO FASHION AWARD 2015 Winner Designer
Born in 1971. Joined Beams Inc. after graduating from Tokyo Mode Gakuen. After leaving Beams and returning from studies in London, participated in the launch of domestic brands. Started FACTOTUM after separating to becoming independent.
After establishing the brand in 2004, the FACTOTUM collection was expanded as a fusion of mode and real clothing, representing Tokyo as a highly acclaimed men's brand. We sat down for an interview with FACTOTUM's designer Koji Udo, who was recently selected as a winning designer for the TOKYO FASHION AWARD (TFA) in 2014 and debuted work for two seasons in Paris, showing a full-fledged start to overseas expansion.
Please let us know of your motives for applying for this TFA after winning the TFA in 2014 and announcing your collections for two seasons in showrooms in Paris.
We participated independently as a brand for the first time in a joint exhibition with a showroom in New York about five years ago. At that exhibition, a few business partners were determined, and it seemed like a smooth start towards overseas expansion. However, due to a lack of preparation on our part, we were unable to continue to conduct business. For a while after this fell through, we began to announce our collections based in Japan. In the meantime, we continued to have aspirations for overseas expansions, and it was due to these aspirations that we decided to apply for the TFA this time around.
Was anything changed on the creative side of things with the collection announcements overseas?
We deployed the items while staying aware of the importance of incorporating techniques with a Japanese sense, such as dying and embroidery. Although we did not intend to change the simple and basic "real clothing" base of the brand just because we began making announcements abroad, we received advice that we needed to have items with a stronger impact, so we expressed that in our own style of approach.
Please tell us about the theme of the 2016 S/S collection announced the other day.
The collection this time was inspired by Mr. Yamao Sansei, the poet from Yakushima Island. I traveled to the Yakushima and Amani Oshima islands to visit some of the locations Mr. Yamao was associated with. The things that I felt while traveling there and the local tie-die techniques from the area were incorporated into the collection.
It seems that travel is an important inspiration source for FACTOTUM.
That's right. It's part of FACTOTUM's clothing creation style for me to make my way to the locations related to the work and authors that I'm interested in, and to reflect what I experienced at those places in our creations. Although I'm not the only designer who gets clothes creation inspiration from travel, in my case, rather than directly express that inspiration, it often comes up as a back theme. Although that may end up being difficult to get across, because I personally like for it to be conveyed slowly later on, I want to cherish such an approach. At the same time, I want to promote a balance with the part of having an impact which can be easily understood by people overseas as I mentioned earlier.
It seems that FACTOTUM consistently places value on the material of denim. What do you find attractive about it?
I consider denim as the ultimate everyday wear. It can be said that denim leaves room open for other things, as it goes well with any type of material and item. I feel the potential in how the expression of the denim changes drastically depending on the proposal. I feel the reward of pursuing my own type of expressions within the limited framework that is denim, and am extremely particular about always incorporating new materials, processes, silhouettes, and details that may not be immediately noticed. Having enjoyed clothing since the time I was in high school, denim has always been a symbolic item to me, coming from the fact that my style consisted of Levis jeans, Hanes t-shirts, and Converse sneakers back then.
It seems that you used to work as a staff member of the select shop Beams. What happened between your time as a Beams employee and the establishment of FACTOTUM?
I originally worked as a salesperson in the casual section of Beams before going on to study abroad in London. Although I thought about trying to quit working in the clothing industry at that time, once I had more time to think about things by myself when studying abroad, I regained my strong passion for wanting to work in fashion. I therefore returned to Beams and was put in charge of service in the Tailored Section. Although my aspiration at the time was not to become a designer, I later decided to make a shop called "Lounge Lizard" in Harajuku with some friends from my vocational school. We ended up designing an original line, for which I later leveraged my knowledge to launch FACTOTUM.
What type of people do you want to reach with FACTOTUM clothing?
I would be happy if FACTOTUM clothing was worn by people who have their own style. As denim exists as the base of my style originally, I don't have the desire for people to go out there with a full coordination of FACTOTUM clothing. Moreover, I would be happy if people could incorporate it into their own styles, picking up something for each item to match with denim, whether it be a shirt or a cut and sewn item.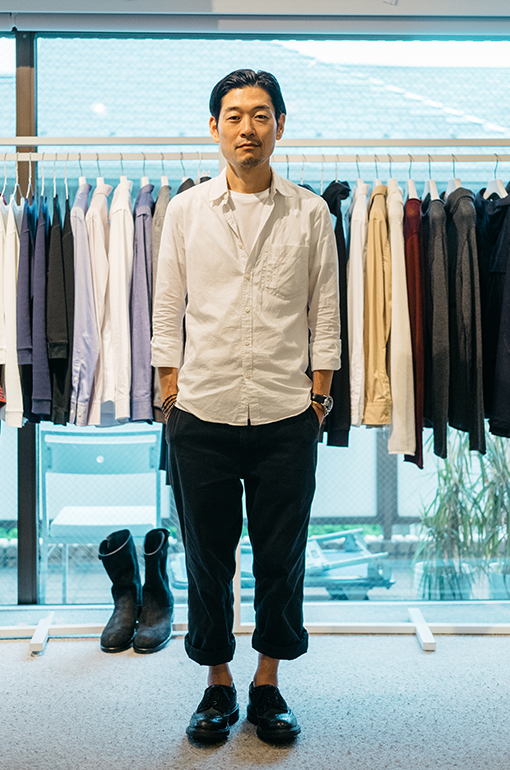 Please tell us about the future prospects for the brand.
With ten years already passing since the establishment of the brand, I have the impression that the customer base is split among customers who were with the brand from its foundation and enjoy the staple items, and young customers that favor the items with a strong impact. Among this situation, last year we launched "VALAIS by FACTOTUM," with traditional items based on classic shirts, jackets and slacks from the time the brand was established. On the other hand, we at FACTOTUM have further strengthened our consciousness to propose new materials and patterns based on the theme of each season, and would also like to actively expand overseas.
Interview by Yuki Harada
Photography by Yohey Goto