Interview & Report

Fumito Ganryu × Yoshikazu Yamagata
Fumito Ganryu/FUMITO GANRYU Designer Yoshikazu Yamagata/writtenafterwards Designer, coconogacco Representative
Fumito Ganryu
1976 Born in Fukuoka, Japan.
2000 Graduated from Bunka Fashion Collage.
2004 Joined COMME des GARÇONS as a pattern maker for 'JUNYA WATANABE'.
2007 Started his own line 'GANRYU' under COMME des GARÇONS.
2017 Launched independent brand 'FUMITO GANRYU', conceptual wear for the 21st century.
2018 Presented SS19 collection at Pitti Uomo, as an invitee for the designer's project.
2019  Presented AW19 collection in Paris Fashion Week on the official calendar.

Yoshikazu Yamagata
(writtenafterwards Designer, coconogacco Representative)
Born 1980 in Tottori Prefecture. In 2005, Yamagata graduated from Central Saint Martins
(London, England) with a BA in Fashion Design Womenswear. He served as design assistant to John Galliano during his studies.
After returning to Japan, he started his own brand in 2007 called "writtenafterwards".
Yamagata was the first Japanese designer to be nominated for the LVMH prize in 2015.
In addition, he opened a space for fashion taught in a free and honest style called "coconogacco".
The Japan Fashion Week Organization presented the runway show, "FUMITO GANRYU + Yoshikazu Yamagata (writtenafterwards)" as a related event in connection to "Fashion In Japan 1945-2020 – Trends and Society", an exhibition held by the Agency for Cultural Affairs, the Japan Arts Council, the National Art Center, Tokyo, and the Iwami Art Museum, Shimane. In the unexpectedness of the combination in addition to the originality of the production with a diverse point of view, we seemed to see the future of fashion shows from hereon. We spoke to both designers on how the show came to be, their thoughts on the show, etc.
This turned out to be the first show in Tokyo for "FUMITO GANRYU", but how did you come to decide on participating?
Mr. Ganryu: I've always had a wish to do a show or presentation at Tokyo, where I spend my daily life. While in the present situation it was difficult to hold physical presentations overseas, I received an offer from the National Art Center, Mr. Imajo of JFW, and Mr. Nakamura of SEIYA NAKAMURA2.24 who was in charge of directions of the show as a whole, to do a project acting as an opening of the exhibition. Both Mr. Yamagata and I were scheduled to exhibit our pieces at the exhibition to begin with, so I felt I wanted to make this an event in which personal connections could be felt in this exhibition of following the descent of fashion.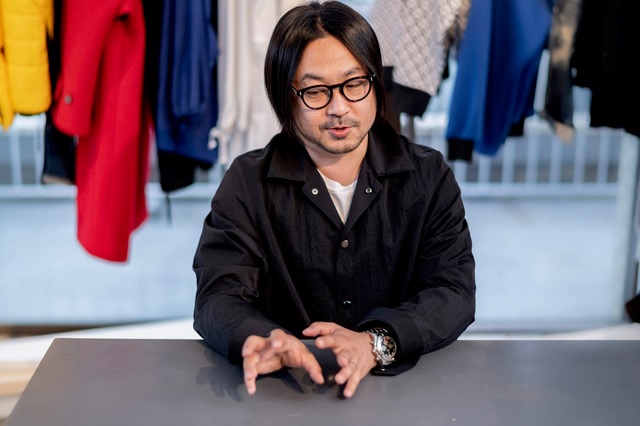 This show-event was a collaboration in which Mr. Yamagata of writtenafterwards did the space production for the 2021AW collection of "FUMITO GANRYU", wasn't it?
Mr. Ganryu: Yes. FUMITO GANRYU presented the collection which had already been presented at the Paris digital fashion week. It was a collection created under the theme, "inevitable diversity", but by totally reediting the styling already made by Mr. Tom Guinness in January, I felt I could express a different aspect of the theme. Today, we hear the word diversity and/or diversification at various corners, but I feel, standardization is waiting beyond diversification. I wanted to put into shape, the countless questions which arise between the repetition between diversification and standardization.
Mr. Yamagata: Mr. Nakamura, the producer of this event as a whole, had asked me to create a piece. While discussing Mr. Ganryu's collection theme, the clothes made under this theme, searching for a point of contact between Mr. Ganryu and ourselves, the word "point of view" in which various points of view cross, came up. I felt it would be interesting if we could express through the production, the way points of views towards things change from time to time, such as a sense of time we see as the past/present/future, a sense of pinching in or pinching out from spaces, such as outer space, earth, the National Art Center, Mr. Ganryu's clothing. As for our piece, under the theme "dismantlement", we created an object inspired by the Gasshouzukuri (thatched roof) houses of Shirakawago. We created the object thinking about animal textiles, vegetable textiles, bacterium recycling system, the hands of craftspeople, suggesting a production of combining an ancient indigenous piece with modern music, placed within the futuristic space of the National Art Center.
Mr. Ganryu: From the start of the brand, I've always placed value on facing production with an ethical mentality. I feel a sympathy with Mr. Yamagata in core things, such as face problems of the earth, but our ways of expression and methods are so different, the image was a positive revelation of our difference and similarities.
FUMITO GANRYU×Yoshikazu Yamagata (writtenafterwards) 2021 A/W Collection
How was the reaction to the show?
Mr. Ganryu: I'm often told it was an interesting combination (laugh). This time in the finale, I had the models wear a T-shirt made in collaboration with Mr. Junnosuke Watanabe of NEGLECT ADULT PATiENTS because, this being a project with Mr. Yamagata and the opening act of the exhibition, I felt the need to evoke a high sense of entertainment of a different vector, and asked Mr. Junnosuke for advice. As a surprise artist, we had all the member of BiSH walk the runway, and afterwards, with much care put into infection prevention measures, we transmitted the after-party live. Things which can only be experienced in physical, and multidimensional efforts in a digital platform. Because this was not simply an ordinary runway show, but rather, an event related to an exhibition capturing the history of fashion from a versatile point of view, we wanted to express the now and the direction in which we are advancing, with the hope that the things incomprehensible yet at the moment, such ideas, and feelings, would linger on and resonate into a single point in the future. Rather than being something which can be understood instantaneously, we hoped to express something which could not be put into words at this moment.
Mr. Yamagata: The National Art Center commented, "there is an irritation of not being able to express the powerfulness of fashion in an exhibition of mannequins. In the show, we felt energy, strength, and the appeal of collaborations". Furthermore, to tell you the truth, guests at the venue were seeing the show from a specific viewpoint, but one could see a completely different view when seeing from far above the museum, and depending upon how one looks at it, the blue hands of the indigo-dye craftsperson could look like the hands of an alien. If I start explaining there's no end to it, but we devised it in a way so that the viewer could let their imagination go wild from diverse points of views. Because it was in the midst of the COVID-19 infection, and because the time was limited, I think there were parts which were difficult to comprehend, but I'm hoping we were able to convey the importance of continuing to change one's point of view.
FUMITO GANRYU×Yoshikazu Yamagata (writtenafterwards) 2021 A/W Collection runway show
Once again, what meaning does fashion have now for the both of you?
Mr. Ganryu: I think of fashion as a second skin, a thing which fosters and speaks for one's feelings, moods. Because I design under the premises that the clothes will be worn, being equipped with experiences such as being comfortable or functional is, to me, only a matter of course. In the future, I think clothes that work more towards one's emotion, clothes which act to maintain a rich mentality, will become necessary, and I hope to offer such clothes, but at the same time, if I have the chance, I would definitely like to challenge myself to thinking about the possibilities of fashion which is not worn, an approach of capturing fashion as a concept.
Mr. Yamagata: I think, fashion has been advancing side-by-side with the history of mankind, and that it is a media to transmit humanity or individuality. Fashion is an aspect which makes people human, something which allows vague expressionisms, unlike AI which is either on or off. While both the real world and virtual world is diversifying all the more, I feel it is important to contemplate what approaches can be taken as fashion.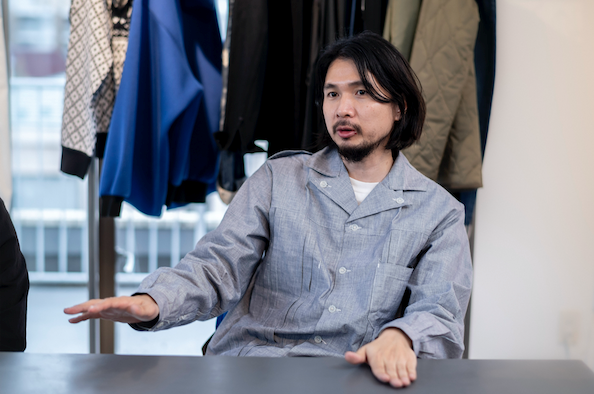 Please tell us your plans for the future.
Mr. Yamagata: For writtenafterwards, this event was the start of an experiment, which will continue on for a year, starting with the exhibition opening at the National Art Center after this, and on to Nagasaki/Goto Islands called the maritime silk road, changing places from the Nagasaki Prefectural Art Museum to Tokyo. In the show, only at the finale, models holding lanterns will walk into and out of a Gasshouzukuri (thatched roof) tunnel-like object. This is a production symbolic of the present situation, the image of a light towards the future while groping in the dark amidst the COVID-19 pandemic, connecting the past, present and future. I hope to continue trying out all sorts of experiments, continuing to suggest roles of fashion.
Mr. Ganryu: It was a truly valuable experience, and think it was an event which could be fulfilled only with the help of many people, which I am thankful for from the bottom of my heart. There were many new discoveries through this event, and if given the opportunity, I'd like to face other new challenges. As for the brand, we have various projects lined up, and because these are times in which we have a choice of physical or digital presentations, I hope to go on in shapes and forms befitting each suggestion.