Interview & Report

Henry Holland
House of Holland designer
【 profile 】
AFTER GRADUATING FROM THE LONDON COLLEGE OF PRINTING WITH A BA JOURNALISM, HENRY HOLLAND WAS CATAPULTED INTO THE FASHION LIMELIGHT IN 2006 WITH HIS IRREVERENT 'FASHION GROUPIES' SLOGAN TEES FEATURING CATCHPHRASES SUCH AS "UHU GARETH PUGH" AND "GET YOUR FREAK ON GILES DEACON".
IN FEBRUARY 2008, AFTER 2 SEASONS SHOWING WITH FASHION EAST, HOUSE OF HOLLAND HELD ITS FIRST SOLO SHOW ON THE LONDON FASHION WEEK SCHEDULE TO CRITICAL ACCLAIM. NOW IN THE BRAND'S 13TH SEASON, HOUSE OF HOLLAND IS FIRMLY ESTABLISHED IN THE INTERNATIONAL FASHION ARENA AND IN JANUARY 2012 WAS AWARDED A TWO-SEASON FASHION FORWARD SPONSORSHIP.
HOUSE OF HOLLAND NOW BOASTS AN IMPRESSIVE ROSTER OF INTERNATIONAL PREMIUM STOCKISTS INCLUDING BROWNS FOCUS, COLETTE, HARVEY NICHOLS, LANE CRAWFORD, MATCHES, OPENING CEREMONY, EMPORIUM, GALLERIES LAFAYETTE, ISETAN, NET-A-PORTER, TSVETNOY, IT AND SELFRIDGES.
DHL co-launched "DHL Exported," a program to support designers to enter the global market, together with IMG Fashion. This program, which offers the opportunity to present one's collection at fashion weeks in New York, London, Milan, and Tokyo, attracted over 150 applications from around the world. After a strict selection process by review committees from each city, four winners were chosen. Of them, the designer who won the opportunity to present his collection at the Mercedes-Benz Fashion Week TOKYO which is to be held in October 2014 and March 2015 is Henry Holland, of the British brand "House of Holland." We asked Mr. Holland, who is visiting Japan for his prestigious award, about his impressions of Japanese fashion, his thoughts on entering into the Tokyo market, and his visions for the upcoming show.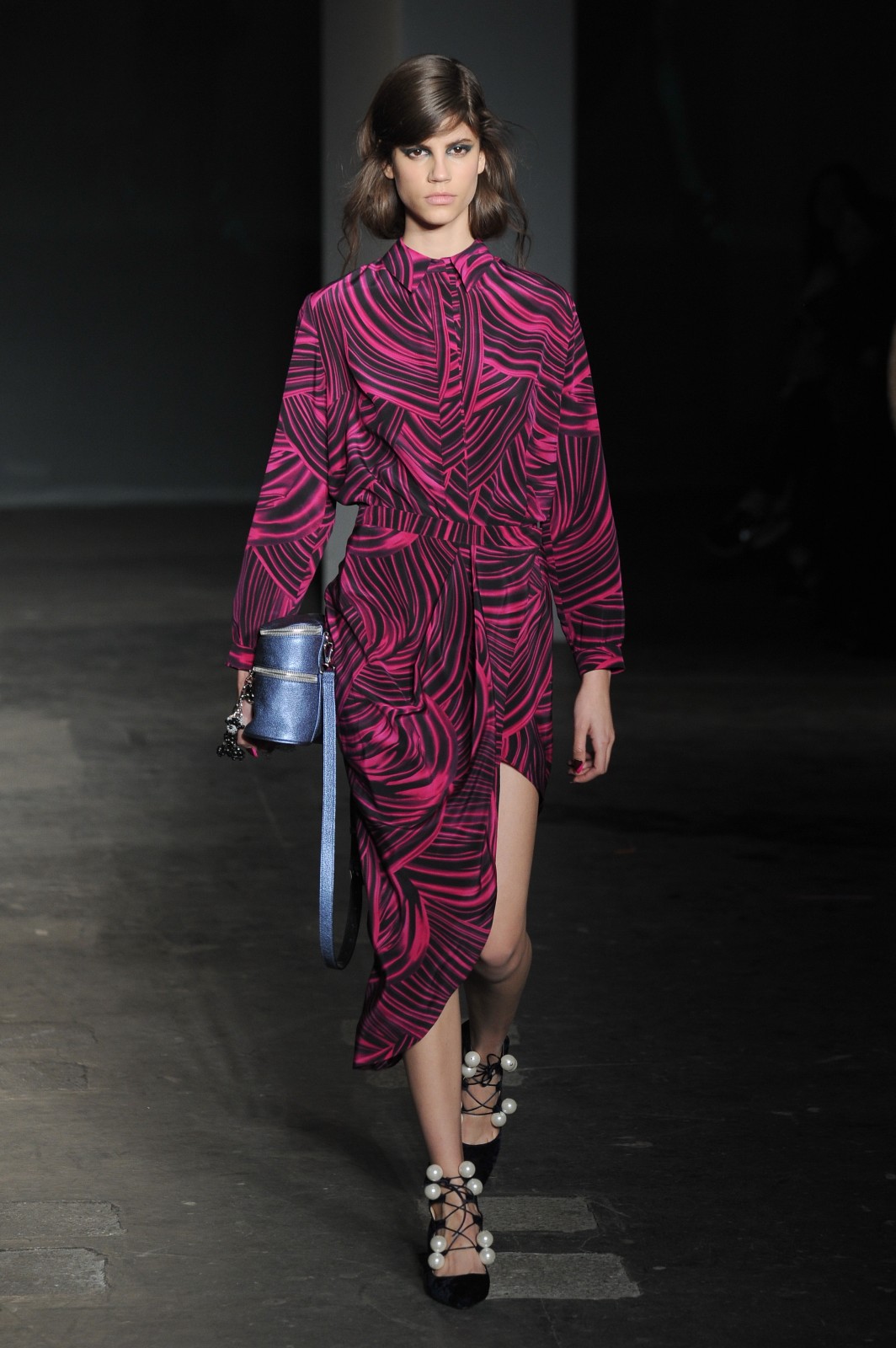 House of Holland 2014-15 A/W collection
How many times have you visited Japan?
This is my fourth visit, but I never have much time, and I haven't been anywhere outside Tokyo, although I really want to visit other places in Japan as well… I really like Tokyo, and I'm often inspired by the street culture, and I feel that Japanese culture is very unique.
What are your impressions of Tokyo fashion?
I think it is fantastic. In particular, men's fashion is excellent even from a global standpoint. There are many brands with extremely unique styles such as "UNDERCOVER" and "visvim" and there are also many independent shops such as "1LDK" which are very exciting and interesting. The architecture is amazing as well.
"House of Holland" is also very popular in Japan; how do you feel about the reaction you've received?
I feel that Japanese people really understand what I am trying to express. I love Japanese fashion, and I am extremely happy that the people of Japan are choosing to wear our clothes.
Is this also why you chose Tokyo for "DHL Exported"?
Yes. It is clear that our brand resonates with the city of Tokyo. We often use bold colors and playful prints, and I think that this approach has something in common with the style of Japanese people. It was really exciting to be chosen for the grand prix, and I'm sure that the opportunity to present in Tokyo not only once but for two seasons will be a great boost for our business.
What impressions do you have of Tokyo Fashion Week?
I've never actually seen it in person, but recently I have had more chances to view it through social media such as Instagram, and I feel that it has grown a lot.
Do you feel that there are any differences in the fashion sense between Tokyo and London, where "House of Holland" is based?
First of all, I think London and Tokyo have many things in common, such as how various cultures have been transmitted from the streets, and how people express their individuality and identity through their clothing. On the other hand, if I were to point out a difference, perhaps it can be said that Tokyo fashion is more extreme in certain areas. This is just my own personal opinion, but I feel that Tokyo's appeal comes from aspects that are greatly removed from tradition.
The world is becoming increasingly borderless, but what are your thoughts regarding the relationship between where your activities are based and your creations?
We are in an era of globalization, but we are definitely affected by the surrounding environment, and I feel that there is clearly a strong relationship between where we are based and the clothes that we make. This is not necessarily visibly apparent, but I feel that the aesthetics and our manner of approach are affected. For instance, I am from north London and I continue to work in London today, and I feel that Londoners use self-deprecating humor and irony and have a cheeky nature, and this is also reflected in my products. I think that it is important to introduce products made from this particular viewpoint to the world.
Henry, you used to work as an editor for a music magazine. How did you end up in the fashion world?
I was always a creative person, and I like fashion as much as I liked to write. In the beginning, I started by making funny T-shirts using the names of celebrities and had my friends wear them, but I think that I was able to get this far because I was blessed with good opportunities and took advantage of the chances that I got.
What do you think about the relationship between music and fashion?
There is a very close relationship between the two, and this is particularly true in Britain, where sometimes fashion pulls along music, or vice versa. I have many musician friends like Rihanna and Katy Perry, and sometimes they wear our brand during their performances, and it would be easy to create opportunities to collaborate with them.
"House of Holland" features bold graphics and patterns, and playful typography, etc. The creations that come out of mixing these elements provide a glimpse of an editor-like sensibility, which is your place of origin.
I never thought about it…but perhaps that may be true. The process of creating many elements and editing them to end up with a final product is the same when I use words to write something, or when I design clothes. What is important in this process is to have courage and to do what I believe is right. I think that unwavering decision-making is necessary to be able to confidently eliminate ideas that deviate from my identity and what I am trying to express.
Are there any things that you are aiming for in terms of your brand in the future?
Right now, our business is starting to take off, so I hope to maintain this and also to enter into the markets of various countries and regions. We newly launched an accessory line featuring handbags, etc., and we hope to expand into shoes and men's wear in the future as well. Once we have a satisfactory product line-up, we hope to open directly-managed stores.
Lastly, please tell us about your enthusiasm regarding the shows that you will present this October and next March in Tokyo.
When it was decided that we would present shows in Tokyo, it was already after we had decided upon the concept for our collection and ordered fabrics and prints; however, for our shown in Tokyo, we hope to show our collection to everyone in an exclusive manner by arranging the styling and adding new products, et cetera.


INTERVIEW by Yuki Harada
Helping with the birth of new creations
■DHL Japan, Inc. Operating officer Marketing manager   Junko Takada

"DHL Exported" is a global project that supports the entry of young up-and-coming designers in the global market. We had previously been conducting the "DHL Designer Award" which supports the overseas expansion of Japanese designers, during fashion week, but we are extremely happy that this has evolved into such a global project. Our main service is speedy and reliable shipping/mailing, but rather than seeing ourselves as a simple transportation business, we take pride in the fact that we are helping with the process of generating trends and creations that influence the directionality of our clients' various industries. Even in the field of fashion, by helping out in a borderless manner with various processes from concept creation to design, material procurement, manufacturing, and sales, we feel that we are playing a part in the culture of fashion, and the designer support project is an extension of our efforts. We are extremely happy to have met Henry on his visit to Japan, and to directly feel his passion regarding his entry into the Tokyo market and help him with this process. We look forward to the presentation of his collection in October, and we hope that he accomplishes his dreams.

「DHL Exported」official website http://dhlexported.com/