Interview & Report

Hideo Yoshii × Souta Yamaguchi
HIDESIGN Chief designer  × Fashion Director
HIDESIGN
Design group specializing in uniforms for corporations.
Possess human resources and facility necessary to comprehensively complete production within the company, from designing, pattern making, cutting to sewing.

Born in 1982, at Tokoname City, Aichi Prefecture. Graduated from Bunka Fashion College (award-winner of the 22nd School President Award).
Started working as a stylist / fashion director in 2006.
HIDESIGN, who has been producing corporate uniforms since its establishment in 2005, will be participating in Rakuten Fashion Week TOKYO for the first time in the 2023 S/S season. In participating, they will be challenging themselves in presenting their very first runway show, under the direction of Mr. Souta Yamaguchi, who has experience directing various brands. We spoke to Mr. Hideo Yoshii, President and Chief Designer of HIDESIGN, and Mr. Yamaguchi, on their fervor towards the show.
Please tell us how "HIDESIGN", a design group of "uniform wear" composed of designers, pattern makers, sewers, graphic designers, came to participate in presenting a show.
Mr. Yoshii: HIDESIGN, welcoming our 18th year, is a design company specializing in producing corporate uniforms. Our mission in production is to create uniforms befitting the work contents or atmosphere of the people who will be wearing them. To us, designing means visiting the workplace, undergoing extensive site investigations to deduce the ultimate answer in order to create the best suited uniform. It was our wish to replace the design process we have been carrying out for individual corporations to city life and thereby exert our abilities in the fashion field, so we decided to participate.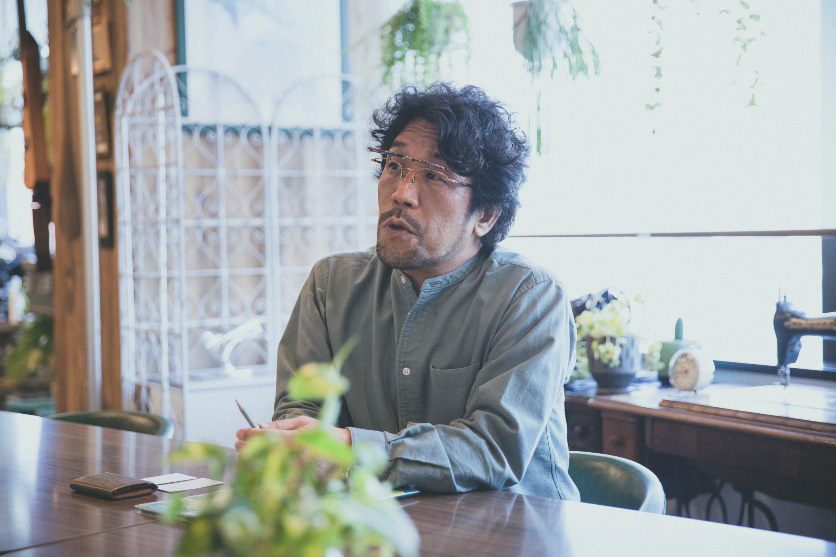 In creating the HIDESIGN collection, you have welcomed Mr. Yamaguchi as the director. To you, Mr. Yamaguchi, what is the attraction of HIDESIGN?
Mr. Yamaguchi: The usual style of design processes in creating fashion starts with first creating a worldview, then accompanying that to reality, but the design process of HIDESIGN is the complete opposite of this in that in their case, real conditions exist first. Their attitude of being thoroughly particular about optimizing by first learning of the workers' atmosphere or conditions, was attractive to me.
They visit the workplace, quantify work environments from a diverse viewpoint, and plan textile specs or patterns based on these numerical values. Having this sort of truly sincere creativeness as a brand, I feel they have the potential to draw an extremely unique future.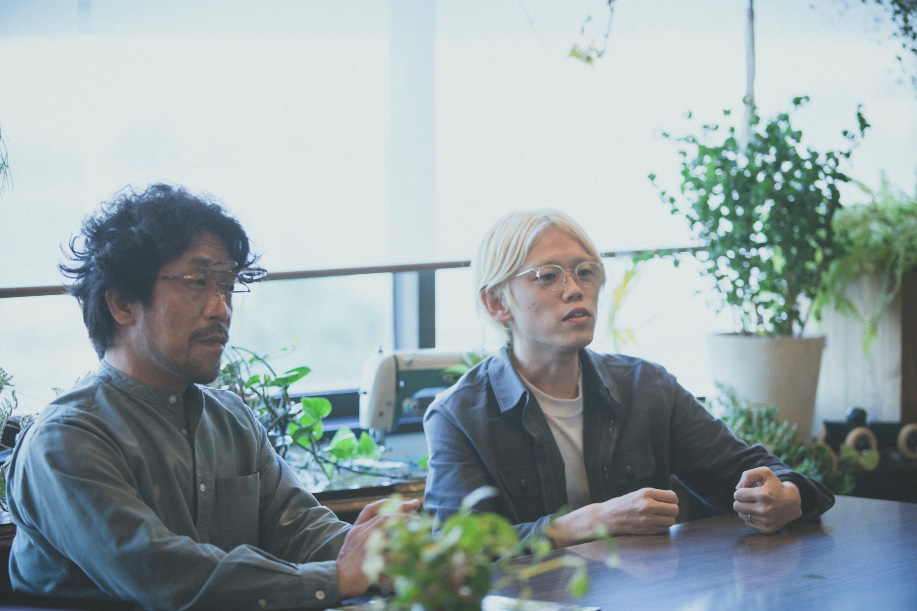 Through the process of creating with Mr. Yamaguchi, were there any new discoveries as HIDESIGN?
Mr. Yoshii: Every day was a succession of surprise. As a guideline for this collection, he suggested "gray collar", which in itself stimulated my imagination. In corporative uniforms we design, types can be categorized into either "blue collar" based on manual labor indoors and outdoors, or "white collar" based on intellectual labor at the office. We interpreted this word to express the ideal of blurring the border between "blue collar" and "white collar", making the most of each type of uniform's inherent attractiveness in everyday city work-life. We feel it is a word that opens all sorts of possibilities towards the future, and we are very fond of it.
Because it is a brand that possess high skills nurtured through producing uniforms, is there anything that you, Mr. Yamaguchi, felt made creating a collection difficult, or any new discoveries?
Mr. Yamaguchi:When we look at clothing as a product, it made me realize that the uniform industry has high standards in strength aspects. In uniform wear, strength, as a product, is demanded, including economical rational, from textile quality to sewing, whereas in fashion wear, one of its attractions are decorative finishes, so I am constantly contemplating where to establish the grounding point.
One grounding point I derived at for this collection is the development of a 100% plant-based textile, which TORAY INDUSTRIES, INC. is presently putting strength into.
In the uniform industry in which textiles are produced on a scale of several hundred meters per textile, petroleum derived textiles are being viewed as a huge problem. Furthermore, the problem of maintaining the physical strength so that uniforms can continue to be worn safely for several years, exists as one with a high degree of difficulty.
As a challenge to this problem, in close communication with TORAY INDUSTRIES, INC., we probed into creating quality plant-based textiles which can replace conventional textiles, while maintaining functionality as uniform wear and maintain decorativeness as fashion wear.
It would be ideal if we can put our imagination into full use, add it to the principle of HIDESIGN of constructing a design to optimize labor environment and spread it to a global environment level.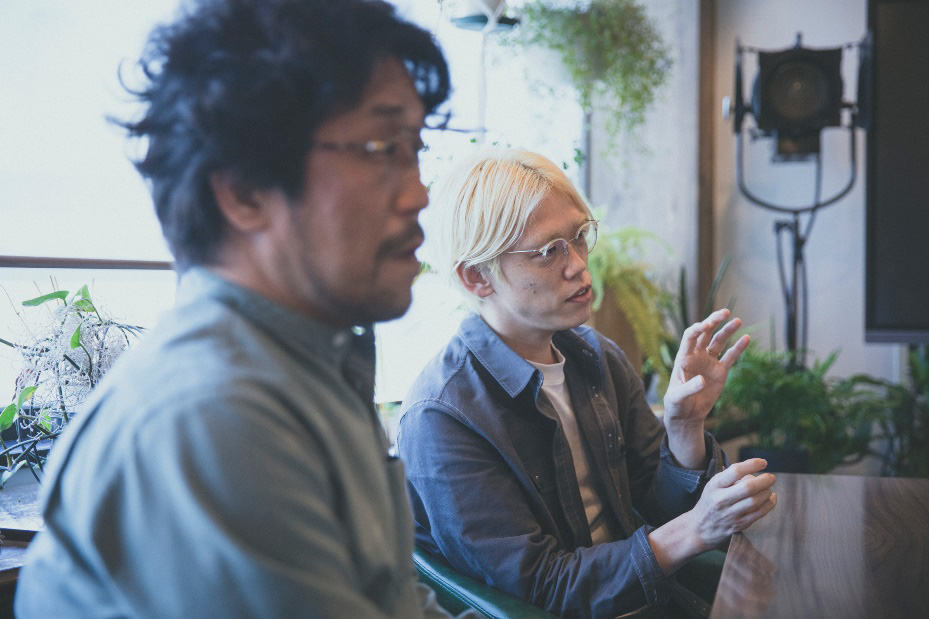 Where is this upcoming show positioned for HIDESIGN?
Mr. Yoshii: In uniform wears, a design which can be worn safely for years in bulks of several thousand per case is demanded for, so generally, solutions that offer stable supply from materials to production is usually adopted, but this doesn't mean that the industry is abandoning innovation. Experimental developments are being carried out daily, but in reality, most of such experiments are being thrown away without being actualized.
We have positioned this collection as a place to transmit a part of such innovative developments, and it is our hope that it will turn out to be a place at which both fashion/uniform industries discover a new value.
Mr. Yamaguchi: The collection we will be presenting at the show is not one which simply adds fashionability or trendiness to uniforms, but rather, sort of a search and suggestion of a new standard. If clothing designed to optimize city environments equipped with aspects of storing any tools necessary to the user can be accepted as fashion, function will transform into decoration, and HIDESIGN will be able to draw up a beauty all its own.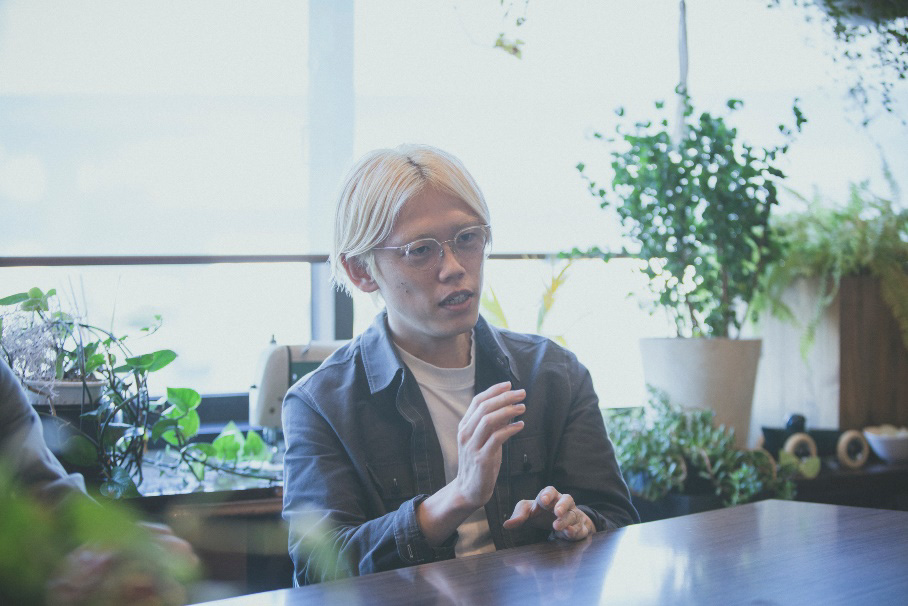 Finally, please tell us the future aspirations of HIDESIGN.
Mr. Yoshii: It is our hope that in choosing clothes for city life, functionality to assist people will also work emotionally as a decoration. Pockets to carry around tools. Sleeves that can be separated depending upon the situation. Lengths that can be adjusted depending upon the weather, etc. It would be wonderful if each and every action we take as a brand who's forte is designs specializing in people and the environment connects to society as fashion. We hope to reserve our past knowledge in shape and suggest it as a brand.
Mr. Yamaguchi: I think, teams that have both such desires and resources are truly rare, so I hope they can structure a new value in society. HIGESIGN sucking up the desires towards the future that upstream manufactures wish to suggest, presenting it in their collection as a never seen before value. I think this can be accomplished in this upcoming collection. The next question is, how to deliver this value to end users. I would be happy if through this collection, people newly realizing what is going on will be willing to join us as a new member of the team.