Interview & Report

Arashi Yanagawa / "JOHN LAWRENCE SULLIVAN" designer
TOKYO FASHION AWARD 2015 Winner Designer
As an ex-professional boxer, Arashi Yanagawa, possesses an unprecedented background for someone involved in fashion. He founded his own brand "John Lawrence Sullivan" in 2003. The brand's name is an homage to a man who embodied traits like strength, personality, and dignity, and never backed down from a challenge. The bedrock of the clothing Yanagawa makes lies in tailoring accentuated by edgy styles that incorporate traditional elements. His superb creations have a magnetism that originates in the concept of a masculine image that is at once powerful and elegant.
Based on self-taught tailoring techniques, the brand JOHN LAWRENCE SULLIVAN saw a sudden rise in its profile with an innovative style using original cuts and materials. After taking part in a number of fashion shows in Tokyo, the brand made its way to Paris from 2011-12 A/W and is steadily making its presence felt abroad. We sat down with designer Arashi Yanagawa, who showcased his collection these past two seasons at a showroom in Paris as the winner designer for the TOKYO FASHION AWARD ("TFA").
We heard that the 2016 S/S collection that you revealed at Paris's "showroom.tokyo" as a TFA-winning designer was inspired by the late 70s-80s music scene.
What I had in mind was the underground music scene like Cold Wave or Dark Wave, but I don't want to give a restrictive picture because the collection is made from a mix of different elements that I encountered in my life. So I'm not very keen on sharing concepts or seasonal themes (laughs). I arrange roles and direct my fashion shows to communicate the concept of the collection, and people are free to feel any kind of impression from it.
You've held several runway shows in Tokyo from 2007 S/S before your foray into Paris. Why did you decide to present your work in a non-Japanese environment?
I had a strong yearning to take part in fashion shows. I joined eight shows in Tokyo and was well received, but I wanted to have more people see my work and wanted to incorporate different opinions. Paris has many journalists who, just like designers, have well-determined opinions and can share views at their own discretion, and it's very stimulating how they respond squarely to the work in which we've devoted ourselves into. Regarding buyers, in many cases buyers in Japan look for simple or casual items, whereas buyers abroad are often interested in visuals and looks from fashion shows; they prefer items with distinctive characteristics. This is another appealing aspect that I see outside of Japan.
It's been more than ten years since you launched your brand. Do you see any changes happening in the Japanese market?
When my brand was trying to make inroads in Paris, numerous Japanese shops had unique styles and many buyers were looking for edgy items as well. But apparel-related sales started to struggle as the recession came along, and I think particularly menswear is becoming conservative-oriented. Clothing is not selling well, and that's a fact. That being said, I think the situation we're facing now is the ordinary state in a way ? there would be no problem as long as we can continue to work together with a shop that understands the devotion that we have as a brand.
Tailoring is your band's key concept. In what aspects do you see its appeal?
Tailoring often brings a stiff-mannered impression to people, but I think its formality is part of its appeal. Rather than starting from scratch, I'm the type that can only create clothes by applying and building upon a given standard. Tailoring is a core element for me, and I also think that it serves as a baseline of menswear.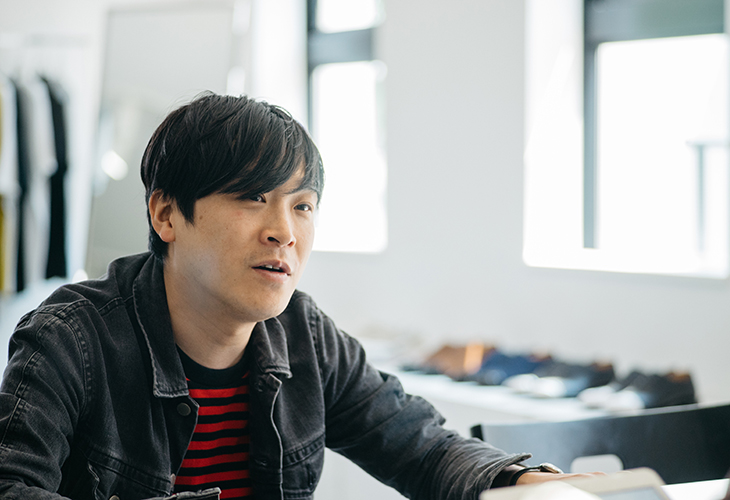 You used to be a professional boxer. Have you been interested in fashion from back then?
I've always liked fashion ever since my childhood. My older sister was a regular reader of a men's fashion magazine, and I started reading them as well ? I was in 7th grade when I thought I wanted to look like the people that appeared in the magazine. Then I started visiting a local multi-brand shop in Hiroshima, and my interest in fashion grew stronger through the conversations I had with the store's staff. The shop offered a lot of authentic items, and I started collecting leather shoes when I was in junior high.
How did you start creating clothes on your own?
I continued boxing with my sights set on the Olympic Games, and retired after my four years as a professional boxer. This was when I visited London, which I've always been fascinated with. If you go to Camden Market, you would see leather jackets offered at prices that are unthinkable in Japan. I bought them in large quantities, went back to Japan, borrowed a space at a used clothing shop in Nakameguro where my friend worked, and started selling the jackets in a market-like style. Eventually I thought about crafting clothes on my own, so I asked the people I often hung out with back then ? they were involved in the fashion industry ? to introduce me to people, and then I started making patterns for jackets, pants, and blousons. That was how JOHN LAWRENCE SULLIVAN started.
You launched a women's line in 2010. Does this require a different mindset from the men's line?
I'm the one who's basically creating it, so it's along the lines of our menswear, and I also think the concept for both genders are the same. Taking my core elements, such as tailoring and slacks, I adapt them to womenswear ? I'm only doing what I'm capable of.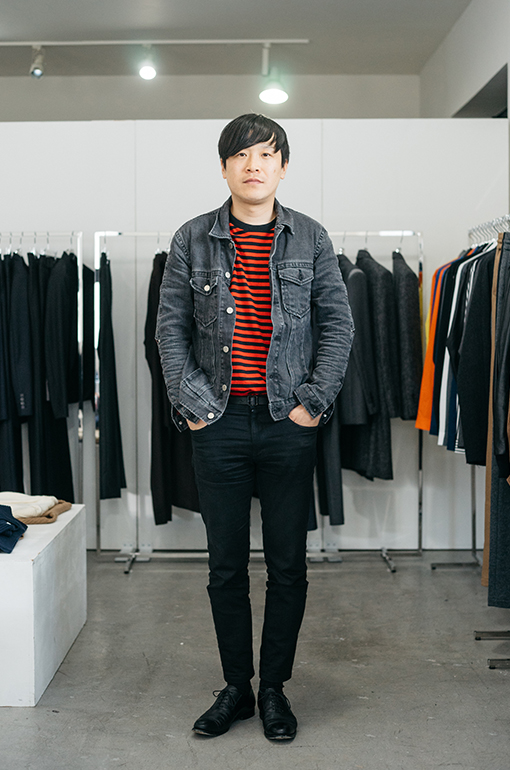 Do you plan to continue presenting your brand's work overseas?
Yes I do. I do have affection for Tokyo because my brand expanded through the process of joining shows in Tokyo. But schedule-wise, we can't deliver our items on time for foreign clients if we take part in Tokyo's fashion shows. We are rearranging overseas PR and showroom teams at the moment, and I would like to take part in a show again in Paris or London once the teams are ready.
Interview by Yuki Harada
Photography by Yohey Goto