Interview & Report

KHOKI
KHOKI Designer
KHOKI is a design team based in Tokyo.

KHOKI was established in 2019 by members who have gained experience in various luxury Japanese brands.
Since its establishment, their modern designs respect craftmanship, they blend a wide variety of cultures and traditional techniques for their clothes with nostalgic feelings which provides relaxing atmosphere for all.

They combines traditional textile techniques such as Quilts, Cantas and Suzani with their creative pattern cuttings to create their "new casual clothings".

KHOKI also explores new way of communication with their customers by their website "EYE" where they showcase and sell their personal items what inspires them for their collection.
"KHOKI", a brand producing by a design team under the concept of "production in which people's hands are visible", started up in 2019. While having a sense of warmth derived from sure craftsmanship, at the same time, their clothes have an avant-garde, incomplete aspect also, which allows for freedom for the wearer to wear as they please and have fun with it. KHOKI is one such attention gathering brand. In the 23 AW season, they presented their very first runway show at Tokyo, and experienced participating in their very first overseas showroom. We spoke to this brand with great vigor as if to shoot a flying bird, on its road up to now and their plans for the future.
Many people probably have the impression that the brand is wrapped in a veil of mystery, so first, could you please tell us how the brank came to be?
KHOKI started in 2019 as a design team of several designers, then was incorporated in 2022, at which time the brand started its activities as a brand in full-scale. We started under the thought that we would like to produce things that we like, with friends or people we like, to present at private exhibitions, rather than making commercial products. When the brand was first launched, all the members were employed separately at different companies, working in apparel, so we made it a point not to disclose personal histories or profiles of members, but now, we feel we have come to the point that there is no need to highlight anybody in particular, so we do not disclose profiles. Rather than an individualistic way of production, we feel it is important to continue creating as a team.
Developments since the start of the brand, its growth, has been very fast, hasn't it?
We did not think of ourselves as making things for business, but by word of mouth, buyers started to come to our exhibition, one after another. The whole team felt KHOKI had potential to exist as a business, so we incorporated, which leds to now. At first, our production capacity was low, so we were selling merely 7 or 8 styles, along with paintings. A total state of chaos. But around 2022, we finally become organized enough to compose a line-up good enough to satisfy buyers. At which point, we applied to TFA, became an award-winner, presented a show, started overseas developments. We are in a state that everything started to move all at once, non-stop. The speed at which the brand has moved forward since its start has been so fast, we are surprised ourselves.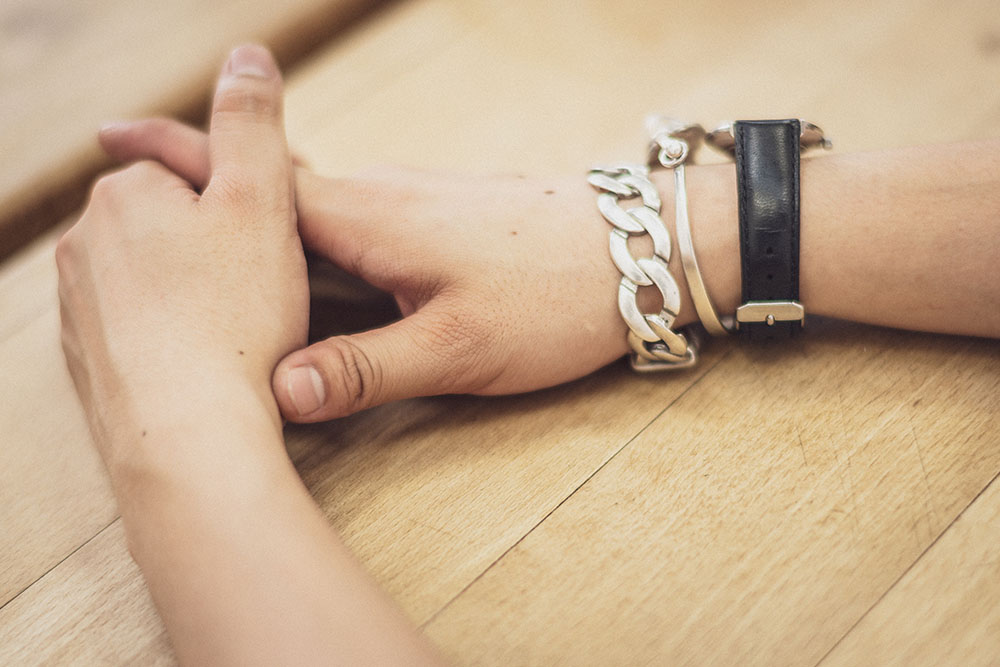 How do you proceed with production as a team?
As a division of roles, we have a director, patten maker, production manager, etc. but regarding production details, we hold discussions as a team. Since the start of KHOKI, we have flagged "production in which people's hands are visible" as our concept and have expressed our stance in how we face craftmanship in our clothes. We are often attracted to old things and are constantly discussing how we can update such aspects modernly. We each have different values, but we often find aspects we share a preference for, and we feel our creations are a result of standardizing and rubbing together of our individual likes. Rather than thinking of clothes as merchandise, it is our intention to continue creating life-size products, things that we or our friends wish to wear. This process and/or sensation that we have as KHOKI, is what makes working as a team interesting.
I guess, the great attractions of the brand comes from working as a team.
We have an iconic item which we have been continuing for the last three seasons or so, using American quilt, and this itself stems from the background of one of the members. They wanted to dig deeper into quilts which was a familiar part of their life since childhood, and the rest of the team sympathized with this feeling. We started with the procurement of vintage quilts, which has now connected into creating original quilts at our own production facility.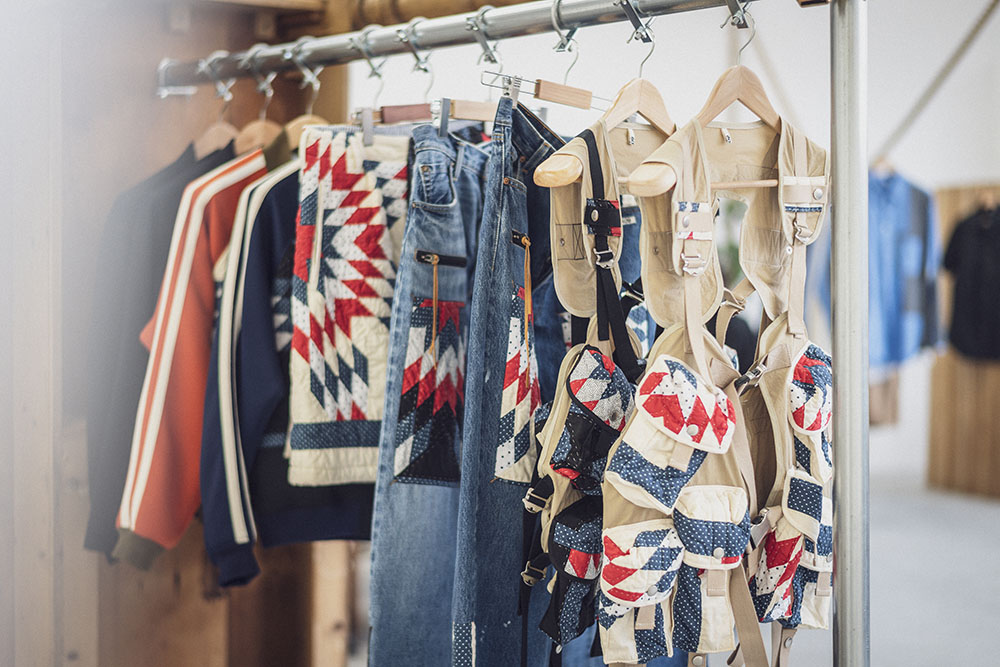 Despite your anonymous worldview, we feel the backgrounds of team members, their ideas, are reflected, in real, in your EC site, "Eye".
Because we do not disclose our profile, it is probably difficult to imagine what kind of person is creating the clothes with what sort of viewpoint. We started up our EC site to make this point transparent. By selling those things that are in our line of view along with our clothes, we hope we can turn it into a portfolio-like existence. Rather than disclosing those things we see daily as information, we value our customers being able to purchase our items as a one-of-a-kind item, and it is our wish to form a close sense of distance with the visitors of our site.
With what kind of mindset did you face the runway show you presented at Rakuten Fashion Week TOKYO, this past March?
It was our very first show, but we made it a point to produce our collection under the same mindset, same tension as we always do. As for the show itself, we discussed how we could make the collection into an interesting first show, and as a result, we flagged "fantasy" as an easily shared theme among all team members, creating a worldview of mysterious residents wearing KHOKI clothes.
How was the reaction to your very first show?
From right after the show, we have enjoyed an increase in contact from overseas medias, stylists, which proved to us that we had reached classes we had never reached before, so it is safe to say that we received grave reactions! Creating such a show in such an abbreviated time with this team, has given us great confidence. On the other hand, we felt, how to express and present future creations, future collections, including the 24SS season, will be a huge task for us.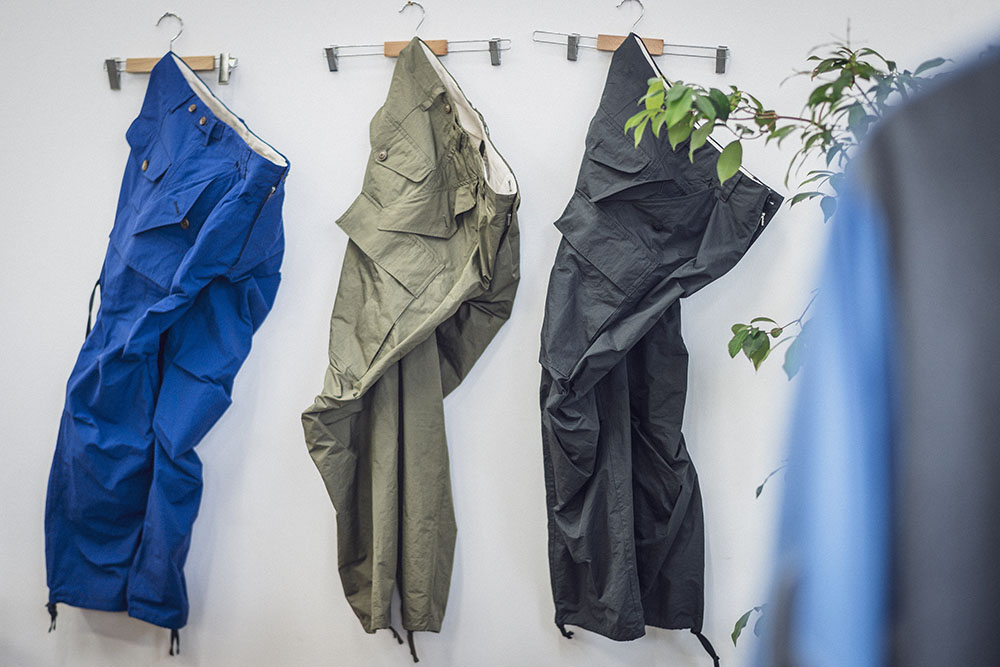 Do you plan to continue presenting at Tokyo from here on?
We do hope to continue presenting at Tokyo, but we also feel that brands of our generation are proceeding in ways differing from conventional fashion businesses. We do not have the image of going the royal road of creating a collection, presenting at Tokyo, moving our base to Paris, and continuing to present there. But at the same time, this is not to say we have completely abandoned the royal road. Rather, while challenging, battling through new, interesting ways of expression, we also intend to conform to traditional fashion business. The cool point of this time of age is that, both styles can be enjoyed, and both are accepted.
Please tell us your future prospects as a brand.
I do not think there are any Japanese design teams developing overseas, so it would be great if we could be such a brand. Furthermore, by experiencing a show at Tokyo, we have realized the importance of sales with a sure, sturdy foothold. We would also like to challenge presenting a show overseas. For this, we think it is important to raise our strength as a team, thereby increasing the attractiveness of KHOKI, and promoting growth. As for business, we presently have 26 accounts domestically, along with 6 accounts overseas starting from 24SS. Our overseas delivery starts from the 23AW season, so we realize that our most immediate task is to raise the digestion ratio of this season.
Interview by Tomoko Kawasaki
Photography by Daichi Saito