Interview & Report

Kohichi Watanabe
RAINMAKER Designer
Born in 1980
Learned design under the influence of his father who is a commercial facilities designer
1998 Worked in MORIKAGE SHIRTS KYOTO
Learned about custom tailoring and the design/production of ready-made clothes
2008 A/W
Launched N4

2008 A/W – 2013 S/S
Announced Men's collection as a N4 designer

2013 A/W
Launched his own label 'RAINMAKER'
RAINMAKER, based in Kyoto, established in 2013. Participating in RakutenFWT for the last six seasons consecutively, continuing to give online presentations during the corona pandemic. RAINMAKER is scheduled to give an online presentation again in the upcoming 2023 S/S season. We asked their designer about the value of presenting online, future aspirations as a designer, etc.
Please tell us the state of your present business.
It's not flamboyant, but we've been growing bit by bit every season.
I also feel, fans have been increasing surely and steadily at shops that carry our items.
As for our directly operated shop, ever since the start of the pandemic, we feel we have built a positive relationship with even our distant customers, so I feel we can say sales are doing well in both real shop and EC.
Please tell us your brand concept.
We are producing clothes under the aim of while learning from history or tradition, rather than simply retreading, updating to a modern interpretation.
We also develop products expressing traditional Japanese wear from a superficial approach, structural approach.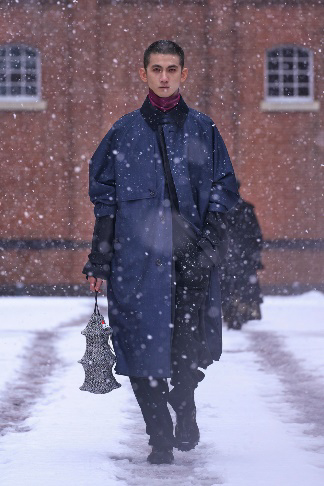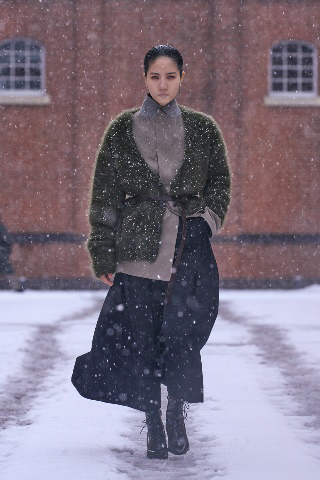 Are there any designers you have been influenced by, and from what/where do you gain stimulation for inspirations in your creations?
I think it overlaps also with the brand concept, but I feel I often gain inspiration from the keyword, 【Japan】.
This is true in many aspects, including history, techniques, outline, structure, etc.
I have many opportunities to meet with craftsmen and people related to traditional crafts, whom I am often greatly stimulated by.
In continuance from last season, this season again you will be participating in RFWT with an online presentation. How did you come to decide on giving an online presentation of your collection?
We switched to doing movie presentations of runway shows staged in Kyoto, where we are based at, from the time online participation became available due to the spread of the corona pandemic.
We feel, participating online allows us to shoot utilizing geographical advantages which is better in expressing our identity as a brand.
*But in the future, we are thinking about broadening our area of shooting, rather than limiting our place of location to Kyoto.
Plus, another reason is that I am attracted to the broad range of expressionisms which become possible only in digital and cannot be done in physical.
In your past online presentations, have you had any response?
By presenting through an attention gathering platform such as Rakuten Fashion Week TOKYO, I feel the brand's level of acknowledgement is surely rising.
Thanks to the locations where we do our shoots, I feel there has been an increase in people looking forward to our presentations.
The snowing scene at the Maizuru Brick Park of your last season's presentation was very impressive. What theme and composition are you thinking of for this season?
Last season's short movie turned out to be a very memorable shoot for me too.
We were aiming for a shoot in the snow, but of course, this is something we have no control over.
The day before the shoot there was absolutely no snow, so we welcomed the day of the shoot, praying for snow.
As a result, it began to snow from around midnight the night before, and our prayers with answered with snow fall on the day of the shoot.
In order to realize a shoot midst natural snow fall, the movie was shot with one take only, but midway through the show, a beautiful natural light shined through like a halo, making the image even more mystical.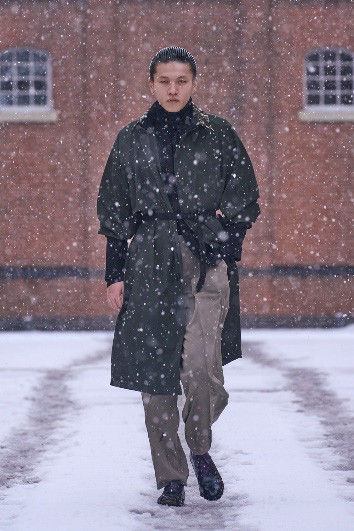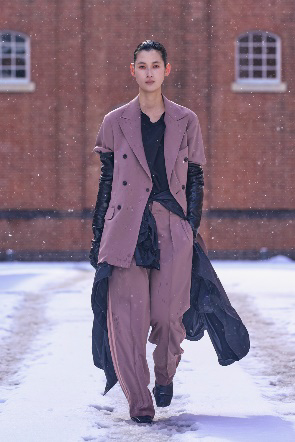 As for this season, I'd like to save the fun for later so I'm going to keep it a secret for now, but I can tell you, there will be a surprise in the show this time, so I ask you to please wait and look forward to the presentation.
Please tell us your future aspirations as a brand or as a designer.
This is a dream I've painted from the time I started up the brand, but in the future, I hope to erect a production structure in which we can continue to produce at our own factory.