Interview & Report

Kohichi Watanabe (RAINMAKER)
TOKYO FASHION AWARD 2019, Winning Designer
RAINMAKER Founder / Designer
Born in 1980
Learned design under the influence of his father who is a commercial facilities designer
1998 Worked in MORIKAGE SHIRTS KYOTO
Learned about custom tailoring and the design/production of ready-made clothes
2008 A/W Launched N4
2008 A/W – 2013 S/S Announced Men's collection as a N4 designer
2013 A/W Launched his own label 'RAINMAKER'
RAINMAKER , started up from the 2013 A/W season by Mr. Kohichi Watanabe, whom started the fashion brand N4 in the 2008 A/W season, and Mr. Kotaro Kishi, as their own brand.  Based in Kyoto, they continue to present original collections in collaboration with local makers, under their unique philosophy.  Now having appealed to overseas markets also as an award-winning designer of the TOKYO FASHION AWARD, we spoke to their founder and designer, Mr. Kohichi Watanabe, about the brands past and future.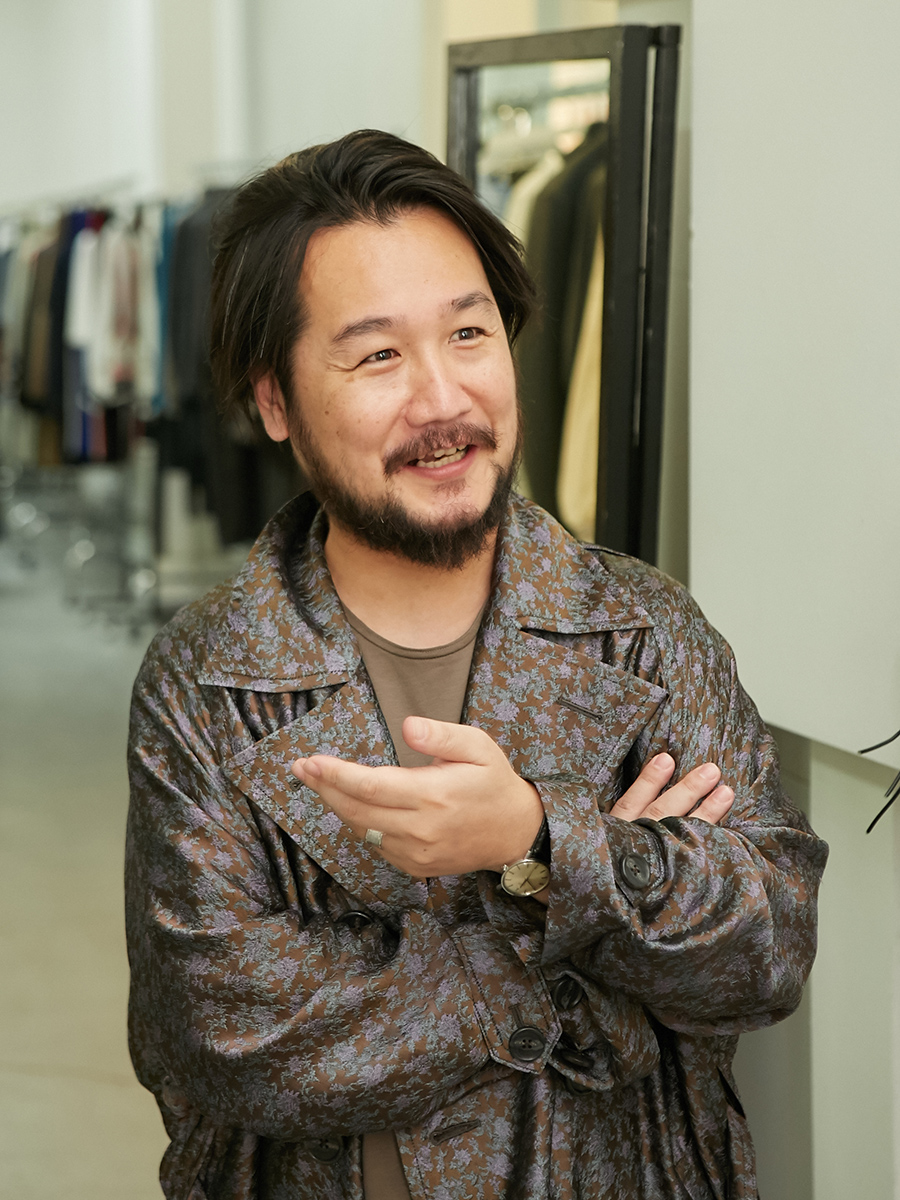 Please tell us the background behind how you came the start-up the brand.
I myself had been dreaming of becoming a designer since my second year in high school.  I went on to study at a university in Kyoto, and then joined MORIKAGE SHIRTS KYOTO, during which time I also studied at a dressmaking school and started making original shirts, pants, jackets, etc.  Later, I started up a brand called N4, and after presenting 10 seasons of collections, started up RAINMAKER from the 2013 A/W season.  We opened a directly operated shop in Kyoto at the same time we started the brand.  The shop is not in an area where people can go around shopping, but on the other hand, it's a nice and quiet atmosphere, allowing us to care for customers sincerely, and customers to take their own sweet time in shopping.  The shop and office are in the same building, which is a property that fulfills our wish to produce at a place where we can see the faces of our customers.
Why do you produce at Kyoto?
The reason why RAINMAKER is based in Kyoto is because this allows us to produce in a calm atmosphere at our own pace, and because there are many long established factories or producers in Kyoto whom have traditional skills, making it easier for us to challenge new things, which is one of the brands' world views.
Please tell us the brand's core particularity towards design and/or production.
RAINMAKER does not make wild, outlandish things or nostalgic creations.  We interpret historical resources and/or context from a modern point of view, context of the times we are living in today, and incorporate it into our creations.  For example, we've created T-shirts with the history of suits as the resource and combined a no-collar jacket with a V-neck shirt, expressing the relationship between a Japanese kimono juban (undershirt) and haneri (decorative collar).  These are popular items among overseas tourists at our directly operated shop at Kyoto.  On the surface it is Japanese, but construction wise it is Western, and I feel this sort of sense will be received well be overseas buyers.
Is it because you have this sort of sense that you do collaborations with local makers?
Yes.  We do regular presentations of collaborations with local Kyoto makers such as Kaikado (tea canister), kanaamitsuji (Kyoto wire-netting), Hosoo (Nishijin brocade), etc., whom we've had interactions with from before.  Presently, we are developing miscellaneous goods made of bamboo such as coin cases, in collaboration with the bamboo craft company, KOHCHOSAI KOSUGA.  Fundamentally, Kyoto is a rare area in which many worldly heritages are preserved, and also, has the function of a global database.  I'm also thinking of a system which will allow us to continue production eternally, at such a place where treasure sought from around the world are being stored.
RAINMAKER 2019 A/W collection runway show @Hikarie Hall B
How do you decide on your seasonal themes?
As a brand, RAINMAKER does not raise a clear seasonal theme in our production, but rather, under the stance of interpreting historical resources and/or context with a modern point of view, we carry out a consistent production.  But we sometimes do seasonal expressions through variations in textiles.
Having experienced exhibiting at "PITTI UOMO" and the Paris showroom for 2 seasons, and a runway show at Tokyo as an award-winning designer of the TOKYO FASHION AWARD 2019, your brand has advanced to the next step.  Please tell us your future aspirations.
RAINMAKER had never had any transactions with any overseas shops before, so the efforts we did as part of the TOKYO FASHION AWARD was our very first presentation towards overseas.  Having entered our 6th year from the start of the brand, we had started to think about aiming for overseas developments, so we had started preparations in speeding up our production schedule to meet overseas schedules.  But with that said, we faced the 2 seasons under the stance of having our collection seen and valued as is, the same as in Japan, without being especially conscious of it being overseas.  As for the 2020 S/S season we presented earlier at Paris, the simple jacket style was very well received from buyers from London, Canada, and the U.S., and it looks like we'll be tying contracts with several companies.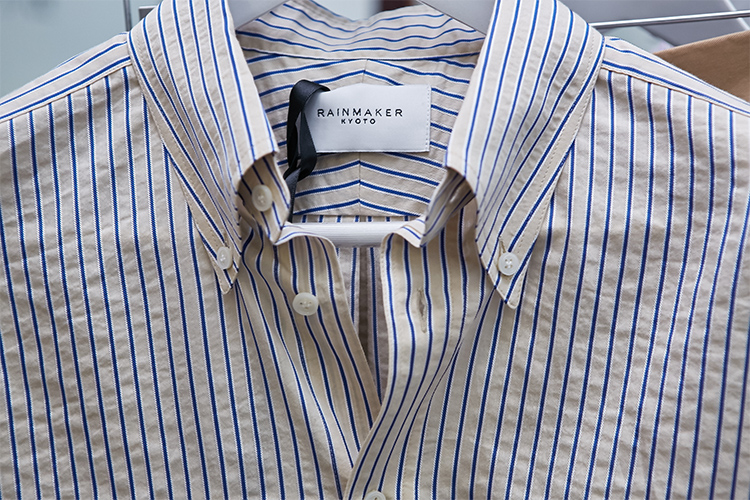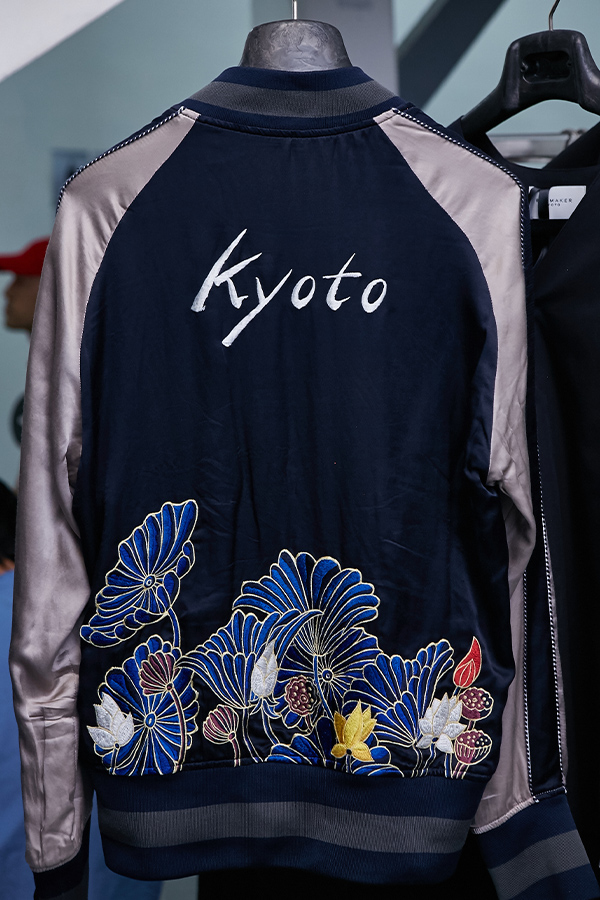 TOKYO FASHION AWARD "showroom.tokyo S/S 2020" in Paris
It seems you have a lot to look forward to in your future developments in overseas markets
Our aim in doing overseas collection presentations is to acquire 10 accounts by the 4th season.  We have 2 more seasons of support from the TOKYO FASHION AWARD in exhibiting at the Paris showroom, so while continuing that, we will consider either tying a contract with a local showroom or continue down-to-earth sales ourselves, whichever is the most effective.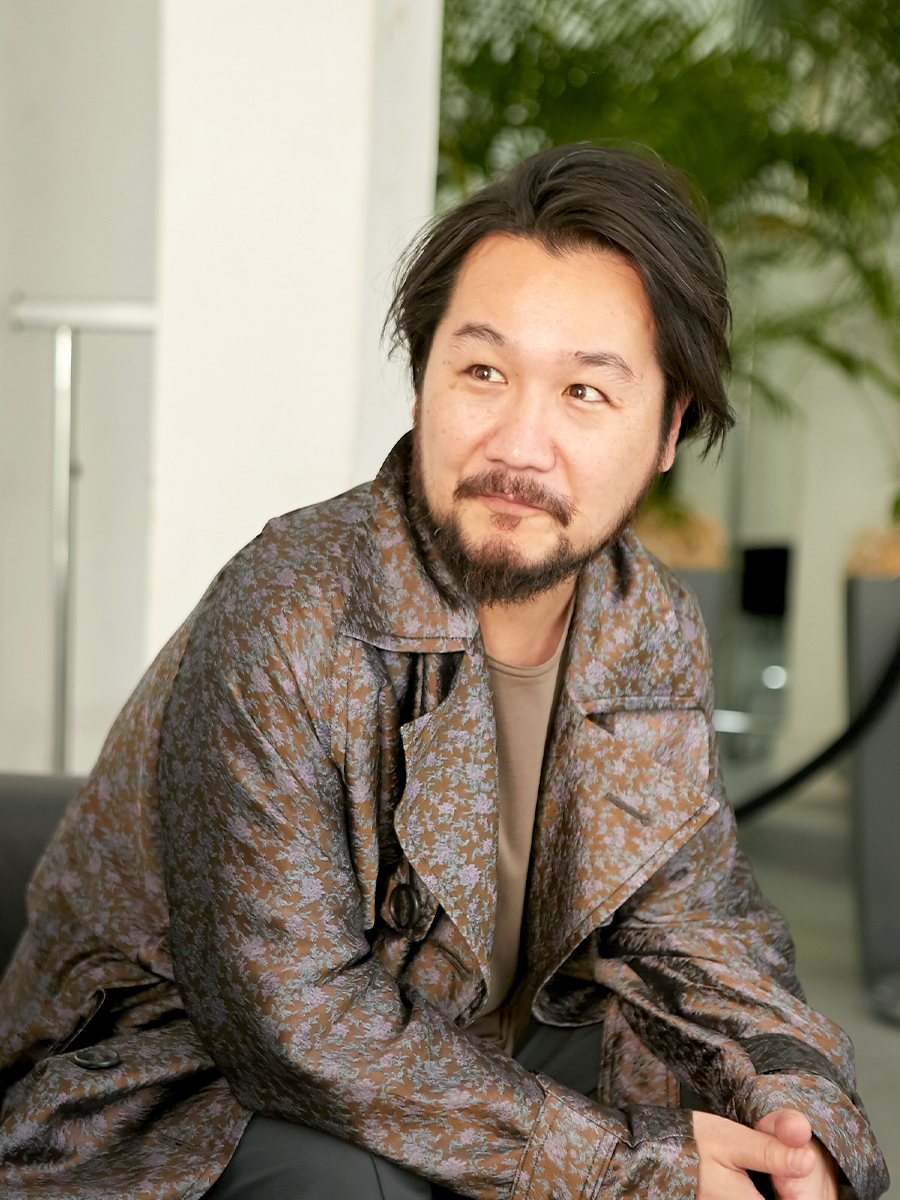 You are both the designer and manager of the brand.  What sort of vision are you imagining for the brand's future?
I think we need to sustain the brand through many methods, and recently, we've started up a new brand called MILL.  This has an aspect of human resource development, but as a future plan, we are hoping to create a facility in Kyoto, our home-ground, containing a self-factory, atelier, planning office, shop all-in-one, to create an atmosphere which will allow us to perpetuate the clothes making of RAINMAKER.  Because these are times in which clothes making has hardly any aspects to idolize, by creating an atmosphere in which the process of clothes making can be seen and the value of a brand be visualized, we think we can create an atmosphere in which the production of RAINMAKER can and will be passed on eternally.  We hope that RAINMAKER will become an existence which, not only its tangible aspects but also non-tangible aspects, such as the concept or background behind the brand, will be supported by many.
Interview by Tomoko Kawasaki
Translation by Aiko Osaki
Photography by Wataru Fukaya