Interview & Report

Shinsuke Morishita
LAMARCK / CREATIVE DIRECTOR
After graduating university, Shinsuke Morishita enrolled the Bunka Fashion College and then the Bunka Fashion Graduate School. While still studying there, he participated in international fashion tradeshows in Paris, Vienna and Russia.
Soon after his graduation in 2011, he started his own brand 'LAMARCK', under the brand concept of 'progressive evolution'. Following the theory introduced by the naturalist Jean-Baptiste Lamarck, Lamarck wanted to create clothes which would allow people to discover every time a new self, mirroring the continuous evolution of time and phenomena.
At the Mercedes-Benz Fashion Week TOKYO 2013-14 A/W, LAMARCK, who this year presented for the first time its collection in a show. The collection, which focused on the "ups and downs" theme and played with it not only at shape but also at emotional level while presenting a clean female image with bold cutting and original style, was highly acclaimed. We have interviewed Shinsuke Morishita, the brand designer, who soon after graduation started his own brand, two years later hit the runway show and right away received wide endorsement ranging from major department stores to cutting edge select shops.
How did you become interested in fashion?
My mother was a dressmaker, so since I was a kid I was surrounded by clothes made by hand or by machine. Also, when I was in high school it was the period of the 'urahara boom' and from that moment fashion fascinated me. Then, once I entered college, I joined a club that was organizing events such as fashion shows. I was in charge of making clothes and I started thinking that I wanted it to become my future job. So, after graduation, I entered the Bunka Fashion College and then the Graduate School and then launched my own brand.
After graduation did you think at all about getting a job at a fashion company?
Yes, I did a sort of job hunting and I researched several companies, but at graduate school, where the focus was on training owner-designers, I had already learned the basics from both the creative and business side, so I thought to launch a new brand and to start a new thing on my own. Also at school teachers always used to say "you are the independent type", and, by chance, the same year I graduated it was inaugurated the Bunka Fashion Incubation which I am now using as atelier. Timing was just perfect.
You also participated in tradeshows overseas when you were a student, right?
Yes. I had this incredible opportunity when I was in graduate school, and it was great, also because I had the chance to test the foreign reaction to my clothes. From abroad they often ask me what's the theme behind my clothes. I mean, in Japan is it rare for people to talk about simple and minimalist clothes, while overseas they will ask the difficult questions such as "Why did you choose a minimalist approach for this piece?" or "Where is its appeal?" Either bad or good, you get a honest and straightforward opinion.
What vision did you have when you set up your brand?
I wanted to create a brand with a strong minimalist and intellectual identity, and I named it LAMARCK after the Jean-Baptiste Lamarck a naturalist who is said to have set up the foundations of Darwin's theory of evolution. Among the keywords in Lamarck's theory, there is this "progressive evolution" which, in the simplest terms, means that as long as the human kind exists, a generation's experiences will be carried over to future generations. I felt that could be also true for fashion.
Which similarities did you see, exactly?
In the LAMARCK collection there are pieces such as one-piece shirt-and-tops and recurrent styling such as the hem on the open back jacket or the cuff showing the shirt. I like to combine basic elements and make them evolving in something new, and this is basically what the concept of "progressive evolution" means according to Lamarck.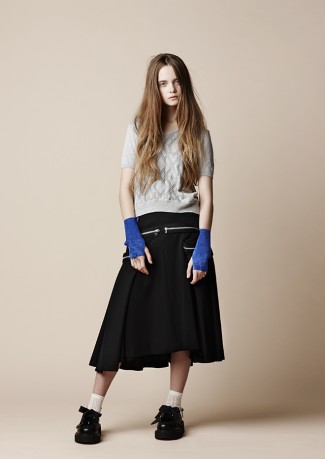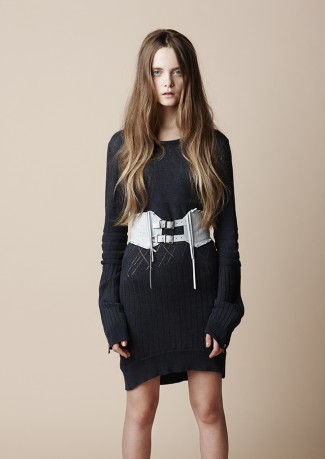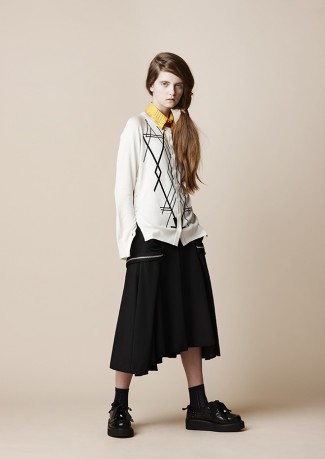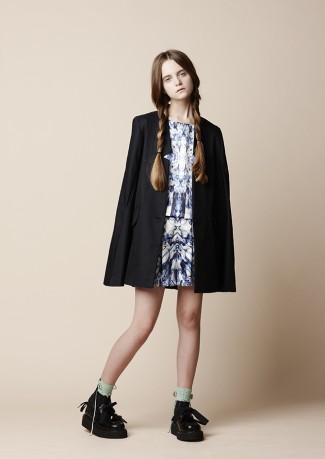 2012 S/S debut collection
In your 2013-14 A/W collection you focused on the so-called "ups and downs". How did you come up with this season theme?
There was no particular source inspiration. For 2013-14 A/W, I started working on the concept of waves and the idea was to express it three-dimensionally. From that I started researching materials and I came across knit. Then I kept developing it from there. Often I just combine, one by one, different elements that I liked, in terms of images, materials as well as techniques. The season theme emerges almost naturally from these combinations. Just recently, for example, I was able to find a new interesting material, and I am thinking it would be great to make it the theme behind 2014 S/S, which I will present this October. I want to create something to stress its texture and silhouette. Sometimes, as in this case, I simply develop my collection starting from the material. Every time there is a new trigger element.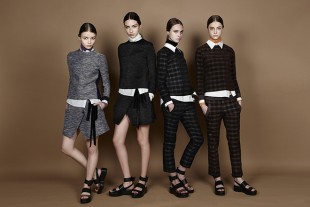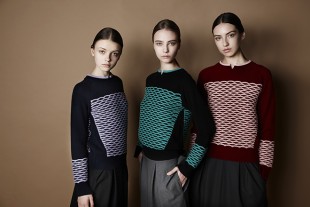 2013-14 A/W campaign visual
You took part in a show for the first time in the last Fashion Week, in March. What was you impression?
I always wanted to present my collection in a show and beyond my expectations I had this opportunity earlier than expected, so it was quite crazy (laughs). This time there were a lot of people with whom I never worked before and there was great cooperation. I would say it was a great experience. Thanks to the Fashion Week, I had the chance to show my collection to a large audience and to get offers from overseas. Without doubts shows are a unique opportunity to get people to know the brand, and a great place to launch the brand image.
Is there any element to which you particularly pay attention in the production aspect of the show?
Of course, to express your vision of the world you need to put efforts in the production of the show and since, in the end, the main aim is to make my collection looks nice, I try to not overdo. Also, as I like to make three-dimensional clothes, I must be careful to design clothes that look great from any angle. For the show as well, I pay attention to a set up which makes them look great from any angle. Normally you wouldn't put too much design effort in the back of the clothes, but since during the runaway it is great when the model turns back, I design keeping in mind that also the style of the back will leave its own impression on the audience.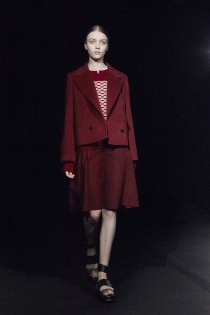 The show at Mercedes-Benz Fashion Week TOKYO 2013-14 A/W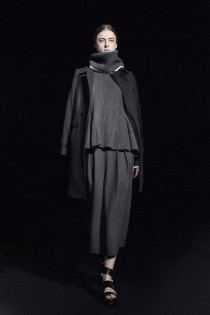 What do you think about the music and projection for the show?
Last time I commissioned to the artist both music and visuals, but I would like to do something which expresses the personality of the music creator while still respecting the brand image and season theme, something which has a little bit of the best of both, you know. Also when I commission music and visuals, I do not impose my view but rather I try to help the artist to get the feel, the image of the brand. I welcome ideas from the artist and I try to arrange frequent meetings to build the project together, step by step.
I believe you follow also shows overseas. What do you feel is the differences in the Fashion Week in Japan and overseas?
In the Fashion Week overseas, venues are much more scattered than in Japan. For example, in Paris, brands get to use places of cultural heritage with a long history. I think that this makes a huge difference. I mean, overseas, because the venue itself has its strong character, the show production is often quite simple. In Japan, we don't have the chance to use such locations to present our creations, and I wonder if this is the reason that leads to some excesses.
What about the support given to young designers?
I believe that the more choices you get, the better it is. Apart from the financial backup, there are different forms of support, and I think that it's good that from our side, as brands, we have the chance to select the kind of support which best suits us.
Do you plan to take part in the show in the future?
I think that, of course, shows are still the best way to get visibility for your brand name. But from next season I will take part in a tradeshow in Paris and I intend to put my efforts in expanding the sales channels overseas by leveraging tradeshows. I would like to grow my brand in a synergetic way, without focusing just on Japan or just overseas markets, but rather trying to integrate approaches as much as possible.
To conclude, are you excited about your next collection?
As I mentioned before, I am excited to work on new interesting materials. Also, last time I could only present 12 looks for time constraints, so this time I would like to introduce more variations and to give it more substance. In the future I would also like to produce collection pieces, and I want to make each of them more complete.