Interview & Report

MAPPY
Fashion blogger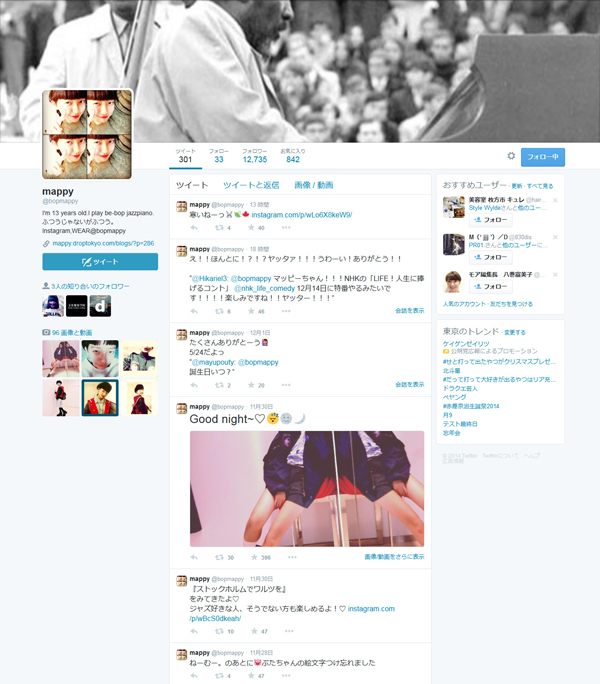 twitter@bopmappy
[ Blog ] http://mappy-droptokyo.tumblr.com/
[ Twitter ] http://twitter.com/bopmappy
[ Instagram ] http://instagram.com/bopmappy
MAPPY is a 13 year-old fashion blogger that has caught the attention of the media.
She stirred a large reaction in the fashion media and SNS after visiting Hikarie Hall, an official event space for the Mercedes-Benz Fashion Week TOKYO 2014-15 A/W in March of this year. MAPPY came to MBFWT 2015 S/S in October and we talked with her about her impression of the show, fashion and who and what, she's interested in lately.
Tell us about what you wore to the MBFWT 2015 S/S.
Give us your impressions of each show and tell us what items got your attention.
Is there anybody or anything you've got your eye on?
I'm not very influenced by other people, but I saw a brand on Instagram called SOMEWHERE NOWHEREthat has my interest.
And, I also look at LYLEXOX's  account a lot. He does all the makeup himself!
I'd also someday like to meet Ms. Yoshie, a designer for Candy Stripper.
Where do you get your hip wardrobe ideas from?
I don't consider them new ideas per se, rather expressions of what I already have inside me. Call it intuition, or just how I feel at that particular moment,…I don't think too deeply about it. But, I do always base my outfit on something, such as "mode", or "the 60's", or "used clothes", something I like.
Since I'm writing a blog I tend to be up on all the latest trends, but I don't incorporate them into my outfits.
Has much changed since you started using SNS such as Instagram and Twitter in addition to your blog? And, is there anything that you would like to try?
Could you tell me what you think about Tokyo fashion and what you would change, if anything, to make it more enjoyable?
I feel like there are a lot of people who are wearing the same thing. And I always think to myself, "it's fashion, you should let go a little more!"
There are many people love Tokyo fashion, and that's great, but I would like to see them put a little more of themselves into their outfits. You shouldn't worry about what other people think or be fearful about sticking out, I think you should show who you are and enjoy fashion.