Interview & Report

Masayuki Ino (doublet)
TOKYO FASHION AWARD 2017 Winner
Born at Gunma Prefecture, in 1979. After graduating from Tokyo MODE GAKUEN College of Fashion & Design, gained experience as a corporate designer, and later, worked on the planning/production of shoes/accessories at MIHARAYASUHIRO. Later, started up "doublet" together with pattern maker Mr. Takashi Murakami, debuting with an exhibition of their 2013 Spring/Summer collection. In 2013, chosen to be a business support designer as the grand prix winner of the "2013 TOKYO NEW DESIGNER FASHION GRAND PRIX" PROFESSIONAL CATEGORY. Award winner of the 2017 TOKYO FASHION AWARD.
Doublet, whose principle is "daily wear with a feel of disorder", offers basic items filled with unique ideas born from the designer's original point of view. Mr. Masayuki Ino, whom started up his own brand in 2012, after having designed shoes at MIHARAYASUHIRO for seven years, is surely building up his career as a designer by winning the TOKYO FASHION AWARD 2017, thereby presenting his first individual runway show at Tokyo and exhibiting at the Paris showroom for two consecutive seasons, earlier this year. Already doing business with popular overseas select shops, we've interviewed this energetic designer whom is receiving high praise both nationally and internationally.
First, tell us the details behind your starting up your own brand.
After graduating from vocational college, I experienced working as a designer for a character brand, production of leather goods at a belt factory, and oversaw shoes design at MIHARAYASUHIRO for seven years. I was so useless back then, I remember being scolded by Mr. Mihara (Yasuhiro), almost every day (laugh). But without that experience, I don't think I would be here today so I'm very thankful for it. After a while, Mr. Mihara didn't scold me as much. Around the same time, my suggestions began to be accepted, and when it got rejected, I began to think "I'm sure it will turn out fabulous …". I'm sure there were many aspects I didn't realize at the time, and/or my explanations of the item was probably insufficient, but my ego as a designer wanting to put my images into shape gradually grew, and I began thinking of starting up my own brand.
Why did you start up a clothes brand, instead of a shoes which you had been creating?
To be honest, I had trouble making up my mind at first. But, I originally went to vocational college because I wanted to make clothes, and because I had been looking at Mr. Mihara's shoes from up close for so long, I was afraid mine would only be an adaptation of my mentor's. I figured, it would be better for me to challenge myself in a new field, and so, under the concept of making clothes with a feel of disorder by adding a fresh idea to basic items, I started up doublet. I lacked in both experience and knowhow in clothes making, but I feel we have been growing surely as we continue the brand.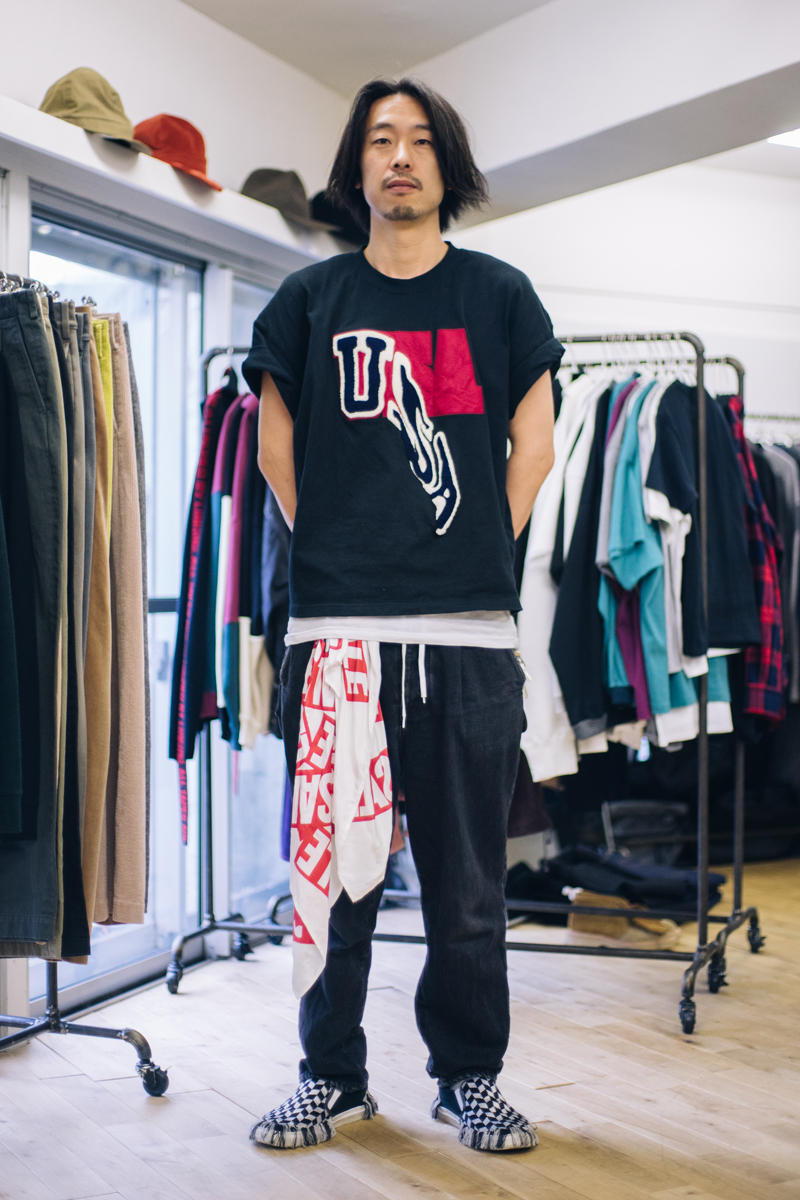 Between starting up your brand and the present, was there a turning point?
When I first started up the brand, there was a part of me that tried to make mode-like items, but at one point, I broke through this way of thinking and decided to concentrate on making things I really like. And such items were received well. I think this enabled me to express myself and the brand more naturally. I began to consciously apply past experiences into my designs, for example, skateboard and BMX cultures that I enjoyed during my college days, clothes that I liked back then, movies that I loved, etc.
Are there any designers or creators you've been influenced by?
As for fashion designers, my mentor, Mr. Yasuhiro Mihara, of course, but I also like Mr. Jun Takahashi of UNDERCOVER very much. I've also been influenced by Walter Van Beirendonck and Jeremy Scott, whom I think have exceptional humor. In fields other than fashion, I like movie directors such as David Lynch, M. Night Shyamalan, Darren Aronofsky, etc. I also like pop-art, like Andy Warhol.
How do you decide on your seasonal themes?
I often focus on questions that trouble me in daily life, things I've speculated, and/or things that I am interested in. For example, for the 2018 Spring/Summer season, I'm hitching the theme "undead stock", and the image is "living stock", like the living dead. Sales exist in the fashion industry, but I've always felt that selling at a lower price is unfair to those buying at regular price. In my mind, I understand that it is necessity, but I'm just uncomfortable with it. Under this theme that came to me from such thoughts, I've made T-shirts with "SALE" printed in big letters, shirts and T-shirts that are sealed and unable to try on, like you see in dead-stock of vintage shops.
I think such playfulness is a huge attraction of doublet.
Ideas that makes one chuckle or creates conversation, is precious to me. To focus on aspects of such ideas, I try to chip off all excess aspects of clothes making. I want my customers to have fun, and I think it would be great if they become popular among friends and colleagues by wearing my clothes.
Now that you've shown your collection for 2 consecutive seasons at the Paris showroom, and have presented a runway show in Tokyo as a TOKYO FASHION AWARD 2017 award winner, your brand is advancing into its next stage. Please tell us your thoughts on future developments.
Both the overseas announcement of our collection and individual show presentation were a first for the brand, so it was an extremely fruitful experience. There are some things that changed within me through these experiences, and my challenge spirit has increased, so I would like to continue making overseas announcements. Keeping in mind to continue making new suggestions every season so that people will continue to be interested in our brand, I intend to continue making clothes earnestly.
Interview by Yuki Harada / Translation by Aiko Osaki
Photography by Yohey Goto