Interview & Report

Megu Miura
MEGMIURA WARDROBE Designer
Born in Yokohama city.Graduated from Esmod Japon Tokyo.Joined STIL Co., Ltd. as a designer assistant for YOICHINAGASAWA and mainly worked on the Paris Collection. She became an independent freelance designer, working for various clients.she launched MEGMIURA WARDROBE, a ready-to-wear line of MEGMIURA.MEGMIURA WARDROBE will be rebranded from the 21AW collection to be released in March 2021.
"MEGMIURA WARDROBE", by Ms. Megu Miura, launched in 2016 as her own pret-a-porter brand, rebranded in the 2021AW season as a brand specializing in outerwear. Participating in Rakuten Fashion Week TOKYO in the 2022SS season for the first time, in the form of a digital presentation. During the term at Hikarie, held a talk session explaining the digital presentation video, at which. the venue was filled with feverish excitement. We spoke to Ms. Miura on the aim of this time's presentation, the brand's philosophy, and her peculiarities in designing.
This time, you participated in Rakuten Fashion WEEK TOKYO for the first time. Please tell us the background behind deciding to participate.
From a lady's brand with a strong image of being an elegant brand, "MEGMIURA WARDROBE" rebranded in 2021AW to a brand specializing in outerwear, under the concept of being "genderless", "ageless", and "body positive". As a means to have the rebranding of the brand widely acknowledged, we decided to participate in fashion week, at which we can be seen by many people. Rather than our conventional way of presenting through looks, we felt, showing a video piece in which people can see the collection being worn by a variety of models, their movements, expressions while wearing, would help in conveying the concept to a wider crowd, so participating this time was a natural flow of things for the brand.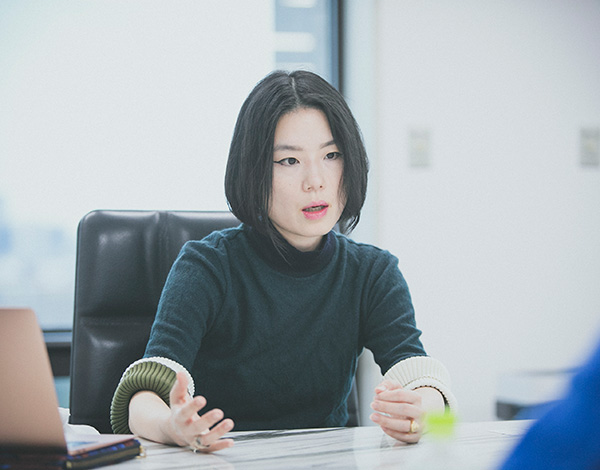 Why did you choose a digital presentation, rather than a runway show?
Our three concepts, along with the design slogan of "360 degrees beautiful form" which the brand advocates can probably be expressed on a runway too, but we wanted people to see the collection in the angle, movement we wanted to show first, so we decided on presenting a video piece. Under the theme, "To a new balanced world", the video was created with the image of living in the world with a new balance, wearing our outwear. As for expressionisms and structure, it was inspired by the movie, "American Utopia", by David Byrne and Spike Lee, in which utopia for multi-layer cultured races was depicted.
How was the reaction to the video?
To be honest, the actual reaction to the video is unknown because it was a digital transmission, but I think it was good to have been able to do the talk session at the same time the video was released. Through the talk session, we were able to share the worldview of the video with our guests, along with directly conveying the spirit of the brand and explain the process leading up to creating the video. We received all sorts of questions and interviews at the spot, which, I feel, connected up to an opportunity to broaden our communication. Because it was a video presentation, I hope it will reach our fans and business partners nationwide, regardless of physical distance.
What kind of presentation do you plan to do for the brand in the future?
As a brand, we would like to continue delivering a positive message, so keeping in mind a runway presentation, while ascertaining the corona situation which changes by the minute, whether it is digital, physical or some completely new and different form of presentation, we will consider the best presentation for us at that time.
We will be looking forward to your future presentations! We would like to ask you also about your creations. In the first place, when rebranding, why did you decide to specialize in outerwear?
Originally, we had been active as a lady's brand, because of the coronavirus pandemic, I was forced to think about a lot of things and began to feel I would like to offer a fashion which would support people live a better life. And as a result of this wish growing stronger, I began to think centering around outerwear, as an item which is not segmented by gender, and can be expressed freely. Today, since the feel for indoors and outdoors is changing, if we could just throw on an outer over room wear and go out shopping to a convenience store or department store, if such fashion existed, I think it would be interesting. Plus, it is an item which allows us to make our figures look better. I feel, it has many possibilities.
From where or what do you get the inspirations for your collection?
In rebranding, we presented a variety of items, so we placed importance on mood and following the theme, but now that we specialize in outers, I create by digging down deep into the "image of the person who wears it". The way a person sees an item, the way they conceive it, differs with every person, for example, an item which is conceived to be very feminine when seen by a woman, could look very different from a man's point of view. I'm hoping to aggress such boarders, so I am basing my creation on the image of people, imagining, this will be great for this kind of person to wear, or this doesn't work for this kind of person.
Furthermore, because outers are items affected by change in climate, I intend to develop through close communication with our business customers. I feel, information on every-changing situations of the shop floor, opinions of business customers, are valuable to the brand.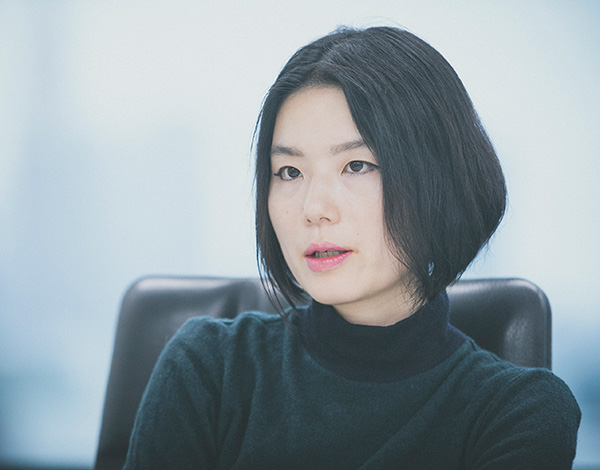 How is the brand's business presently?
After rebranding, we have 8 accounts domestically. Before rebranding our main business was overseas, but this is presently at a yield due to the corona virus. Now that we have largely changed both our target and direction, naturally, our clientele is also beginning to change, so as our first step, I feel it is important to establish a firm position nationally, as a brand which is loved and trusted.
Finally, please tell us your prospects, as a brand and as a designer.
As a brand, we aim for MEGMIURA brand outers to be lined up at coat corners of all sorts of shops, regardless of men's or lady's. We hope to create a situation in which all customers, men, women, young, old, regardless of figure, can all come and try on our items. For this, the first priority is to value our retail partners. But in the future, because I would like our customers to enjoy communicating with shop staff who can explain the brand in their own words, I hope to open a shop of our own one day. Regardless of it being the shop floor of our retailers, pop-up events or fashion weeks, as a brand, we would also like to play a part in invigorating such places of fashion. As a designer, I'm thinking it would be interesting to expand on business specializing in categories. For example, a bottoms brand or cut-and-sew brand, etc. Each having a variety of customers, with communication between customers of each brand starting and spreading. If I could realize such a development, I would be very happy as a designer.