Interview & Report

Moe Ishida
HOUGA Designer
In 2011, she graduated from Keio University in Tokyo, Japan with diploma of literature, major of Art History.
While attending the university, she studied fashion design at ESMOD JAPON in Tokyo.
She launched her own fashion brand "HOUGA" with 2019S/S collection.

"HOUGA", a fashion brand which started from the 2019 S/S season, created by the designer, Ms. Moe Ishida. In her world in which stories are woven one after another, the clothes born with an organic image along with a heart-bouncing sense of air, frees the women who wear them. Such an attention gathering brand will be participating in Rakuten Fashion Week TOKYO 2022 S/S for the first time, to present their collection. Rakuten Fashion Week also is expecting this brand to lead the next generation to lead the future of women's fashion. As its designer, we spoke to Ms. Ishida on how the brand was started, up to her present state of mind.
First, please tell us about the background behind how you came to start up HOUGA.
I'm very shy in front of strangers and am not very good at talking to people. But I found that often, clothes I was wearing gave me an opportunity to speak with others, making it easier for me to communicate with others, so I had an admiration towards designers since I was a child. When I was in university, I went to a fashion vocational school. After graduating, I joined BIGI and gained experience as a designer at FRAPBOIS. When I was 28 years old, at the timing of childbirth, I decided to become independent, and started HOUGA from the 2019 S/S season.
Please tell us the concept of HOUGA.
" Unbirthday Party Dress" is our concept, to have people spend 364 out of 365 days in a birthday-like happy mood, a brand to enable people to take a step forward. Although it is a party dress, it is not the kind that you have to stand straight and feel stress, but rather, we suggest a kind of clothes that by wearing, lets you return to your true self, sets you free, and allows you to want to challenge new things.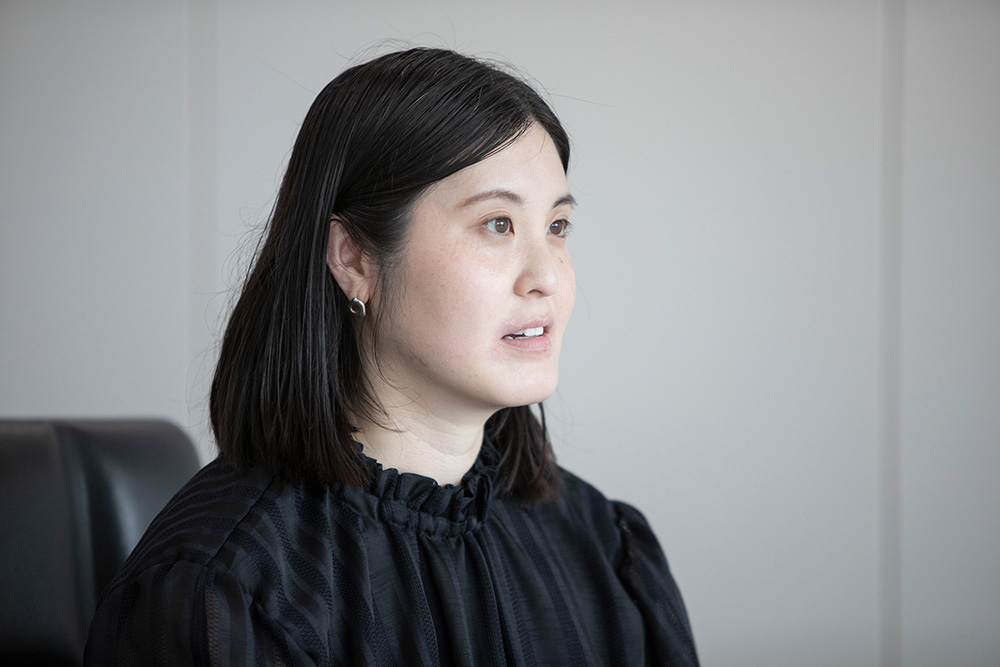 What is it that you hold dear in your creations?
I make it a point to choose materials which have a lightness so people do not feel stress when wearing, and easy to care for. I also place value on a plant-like or organic image, so I frequently use curves which connect to free movement, plasticity and surface expressions which does not show body lines.
From where do you gain your source of inspiration?
I often gain images from moods or discomfort I feel in everyday life. Since I was a child, there is a world in which I am free, filled with all my favorite stories, and the constraints I feel in daily life, that which I yearn for is reflected in this world, which directly becomes the world of HOUGA, and from the stories of this world, collections are born. Just because you are an adult, it does not mean you have to wear grown-up clothes, and I wonder, what is to be lady-like or mother-like, are there set rules and does it have to be so. In truth, there are no set rules, and HOUGA clothes are born from a free world in which in which things do not have to conform to stereotypical images.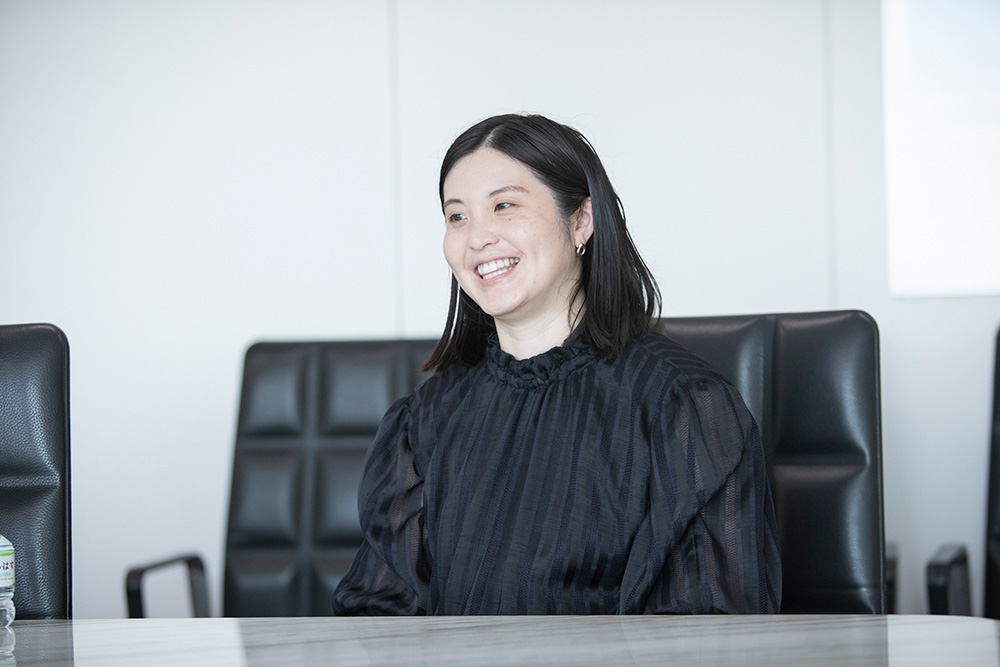 Why does HOUGA specialize in dresses?
When starting up my brand alone, first of all, I was face with the reality that there was limit to what I can do alone, by myself. Since there is a limit to begin with, I thought I might as well go to the extreme in something I like and decided to specialize in dresses which allows for freedom in expression, unlike jackets or shirts. We also make set-ups. Party dresses worn according to TPO made to be worn in daily life, is what HOUGA dresses are.
Who are your main customers?
We also offer 2-way clothes which can be shared by adults and children, along with clothes which can be worn in all sorts of ways, so our customers are of a wide age range, but centered around people in their late 20's to 30's. Starting from transmitting the brand in Instagram, I've done POP-UP events all over Japan, and I have a feel that the acknowledgement of the brand is rising. We mainly sell in Japan, but there is a store in Hong Kong that like our items, and we have been receiving orders from them, too.
Clothes which can be shared by adults and children, how wonderful. What gave you the idea for this?
I've always loved kid's dresses, and many of those people around me who've seen my creation had said, "why don't you try making kid's clothes?", so I decided to try making kid's dresses. During that process, I began to think, "I want to wear this too!", so I began to construct it, going back and forth between kid's and adult bodies. This way, the opportunity of a piece being worn increases, and I think it is really interesting how the same piece shows different attractions. I don't make men's wear, but I am honestly hoping that men too will wear HOUGA wear!
Your such attitude towards creation seems to speak for itself, but what kind of mind-set do you have towards SDGs?
Regardless of era or generation, I place importance on creating ageless clothes which can be worn by adults and children. I produce with the wish that each piece will be worn dearly for a long time by the customer, as clothes that carries memories. As for production, since the start of the brand, I've been working with a sewing factory in Nara prefecture, which utilizes a system of hiring seamstresses who have qualifications but cannot work full-time due to reasons such as child-care or nursing and have them sew at home. I too am a working mom, doing this brand while raising a child, so I strongly sympathize with such efforts. I hope to grow as a brand, continuing to produce in cooperation with such companies which I can sympathize with spiritually.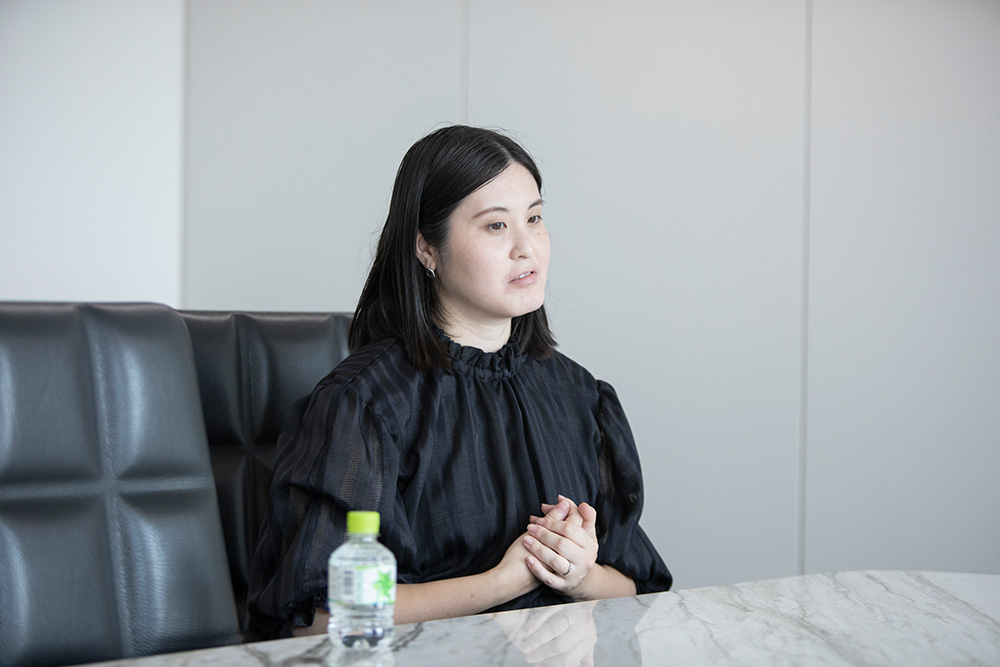 Please tell us the theme of the 2022 S/S collection you will be presenting.
The theme is "pleasant holiday". In the 21SS, with the theme "in a world on my own", I faced the world of my own, in 21AW, the story of HOUGA went forward with the image of leaving for a challenge trip under "hopeful journey", so for the next season, in order not to force myself to try too hard, maintaining a natural flow of things, I've incorporated the message of getting away from the city and resting at an out of the ordinary space. I will be presenting leisure dresses to allow oneself to rest, wear inspired by tennis, cycling, Victorian kid's dresses. I will be introducing approximately 25 pieces, including set-ups, and small items such as detachable collars, hats, cuffs, etc.
So, you will be participating in Rakuten Fashion Week TOKYO for the first time. Now that the show date is getting close, please tell us how you feel.
Up until now, HOUGA has continued to challenge itself to a new challenge every season, and I felt the next challenge should be fashion week, so I decided to participate this time. I am making preparations with the hope to give those people who know the brand, a peek into the world of HOUGA through the runway show. HOUGA is a brand that has the meaning of sprouting and growing, I wish to have people learn of the brand through the show first and feel its future possibilities.