Interview & Report

Noriyuki Shimizu "Name."
TOKYO FASHION AWARD 2016, Award Winning Designer
After graduating from Bunka Fashion College, worked as a pattern maker for several brands. Started 'Name' in 2010 (from the 2011 S/S collection). Still makes his own patterns, with a uniqueness of expression, seen no where else.
'Name.' is a brand started in 2010, by the designer, Noriyuki Shimizu, who started out as a pattern maker, and Ryo Kaise, Representative/Director. This men's wear brand has gained popularity with their skilled expression of the mood of the times, through sensitive pattern work, unique use of materials, and details with a twist, and was awarded the TOKYO FASHION AWARD in 2016. Having experienced their first overseas exhibition and show announcement in Japan, we've interviewed the designer of this brand, which continues to grow steadily.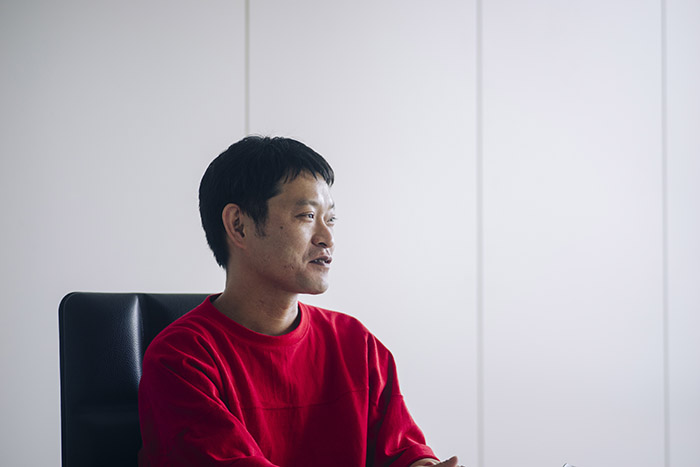 First off, when did you start thinking of being in the fashion business?
I've always liked fashion, but especially when I was a high school student, I was greatly influenced by Undercover.  Back then, their life-size approach of making even young people feel that wearing a T-shirt would make them look cool, was fresh.  Being from the same hometown as their designer, Mr. Jun Takahashi, made me feel closer to the brand, and I started to dream about being in the fashion business.  I went on to Bunka Fashion College with the aim of one day starting my own brand, but I was all thumbs and so clumsy with my hands, I can't tell you how many times I felt dismay at school (laugh).
What kind of work did you do after graduating?
For a while I didn't join any company and was working in a free-lance state, until a local select shop owner invited me to go on business trips with him to Tokyo, and I learned of all sorts of brands.  Among which, a certain lady's brand caught my eye, and I began helping out there.  Their designer used to be a pattern maker, and taught me so much about pattern making.  From then, I experience pattern making for several brands, and then began to accept free-lance work when I was around 26 years old.
What induced you to start up your own brand?
I began to support the brand I was receiving pattern making work from in planning also, but after a while, the company went bankrupt.  During the time I was involved with this brand, I had a lot of opportunities to speak with Kaise, who is the representative of our company now.  He decided to start up his own company, and I decided to participate as the designer, and the result was the birth of our present brand.  Back then, I wasn't really aware of the processes and costs involved in clothes making beyond making patterns, so I've been learning along the way, and within my ability, I began to design, contemplating approaches that will catch peoples' eyes.
How is your experience as a pattern maker put into use when you are designing your clothing?
For example, there is such a thing as a line which is not visible in a flat design drawing, but as a pattern maker, I am trained to visualize in a 3D form, and I think, being able to design with these point of views unique to pattern making, is my forte.  I started out as a pattern maker for lady's wear, but in men's wear, which is the core of our brand, there are many rules in pattern making, which is fresh to me.  Three piece set-ups, which are especially important in our brand, are really worthwhile items in learning pattern rules.  We've been updating these items gradually, adjusting patterns by the millimeter every time we change textiles and/or factories.  I don't know if our customers notice the difference at all (laugh), but I believe that such scrupulousness is an influence of my experience as a pattern maker.
How do decide on your seasonal collection themes?
In most cases, I start from creating the textile, instead of setting a clear theme.  Most of the time we make our own original textile, but we don't go to the textile factory with a clear image.  Rather, we look at the archives and processing techniques of the textile factory to find some hint, and from there, we convey our wishes like color and texture, to make our own original.  I think of clothes designs after the textile is made, and after 70% or so of the total collection is fixed, I decide on a season theme.
In the 2016 A/W season, when you announced your collection in a show style, what was your theme?
For that season, we already knew we would be exhibiting at the Paris showroom, as award winners of the TOKYO FASHION AWARD, so we created items in part, conscious of putting in design aspects that would capture the eyes of overseas buyers, such as a patchwork coat of various materials.  In correlation with such eye catching items, I added simple items that the brand has always offered, and set up the theme, "ambivalence".  By announcing in show style, we received all new reactions that we've never experienced before, like contact from overseas immediately afterwards.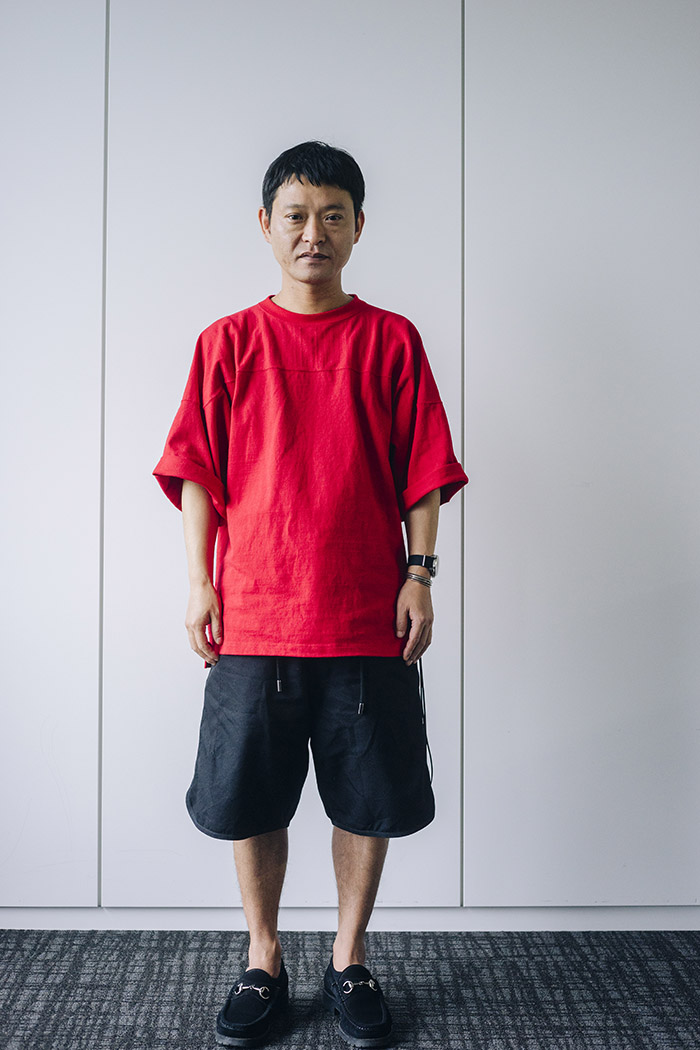 Now that the brand has also experienced its first overseas exhibition, please tell us of your future plans.
By winning the TOKYO FASHION AWARD, we were able to wrestle overseas exhibits and a domestic show presentation, which are both things we had always vaguely thought of doing, so it turned out to be an extremely good experience.  The majority of our staff still lack in experience, plus there aren't many people around to give them sufficient advice, so we usually wrestle tasks by putting our heads together, and there were many things that we realized for the first time, through actually experiencing these overseas exhibits and domestic show.  As for the future, we hope to continue to flesh out on past experiences, whilst placing value on timing and chance, as we have always done.
Interview by Yuki Harada
Photography by Yohey Goto