Interview & Report

Naohiro Fujisaki
TOKYO FASHION AWARD 2020, Winning Designer
With the concept of "clothes as a tool," Naohiro Fujisaki founded meanswhile in Autumn/Winter of 2014 after years of working at various fashion houses. Receiving praise not only domestically, Fujisaki's work has been featured in publications from around the world. In 2016, he took top honors at "Tokyo New Designer Fashion Grand Prix" in the professional category, and won the
"Tokyo Fashion Award" for 2020, solidifying his force within the Japanese menswearscene.
Suggesting daily wear for today, based in outdoors, military, workwear, etc., meanswhile is a brand focusing on functions of clothing. Launched by designer, Naohiro Fujisaki, in 2014, the brand has been gathering attention nationally and internationally from early on, participating in joint overseas exhibits since 2015, being awarded the TOKYO NEW DESIGNER FASHION GRAND PRIX, PROFESSIONAL CATEGORY, etc. We interviewed their designer, Mr. Fujisaki, who is surely advancing his steps forward, presenting an elaborate runway show during Rakuten Fashion Week TOKYO 2021 S/S this past October, as an award-winning designer of TOKYO FASHION AWARD 2020.
Around when did you begin to aspire to become a fashion designer?
Because my father was an art teacher, since I was a little boy, I've always wanted to work in some occupation that makes something. However, I also had a slight rebellious feel that I didn't want to follow the same road as my father, so at the timing of graduating from high school, I chose the path of fashion, which I had been interested in from before, and studied clothes making at university. After graduating, I started working at an apparel maker, but at the same time, started making clothes I want to make, and when that became solid, I sort of jumped into launching my own brand.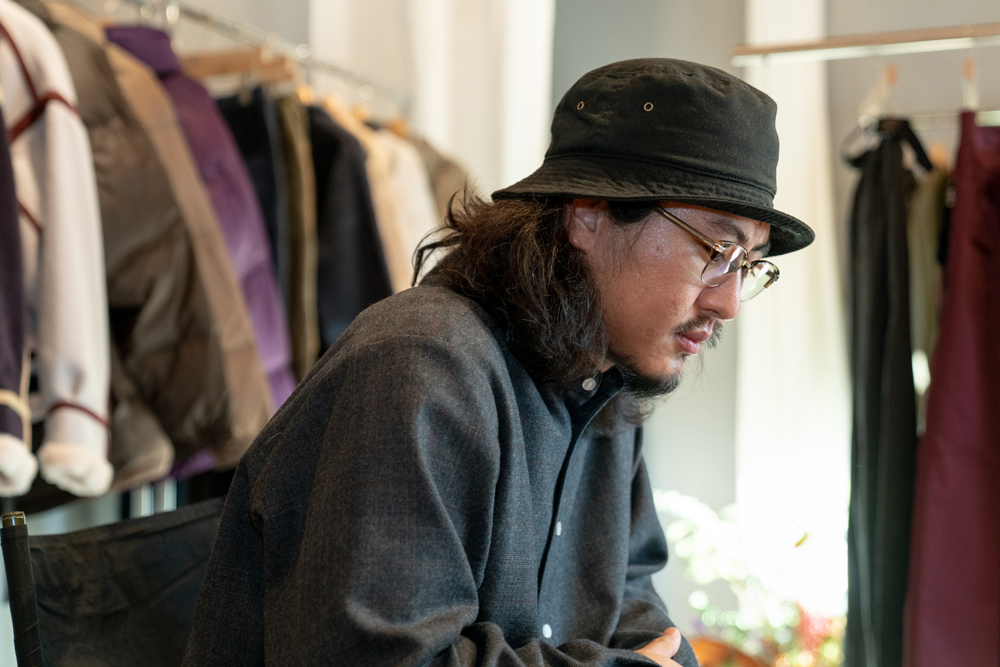 Please explain your brand concept of "as long it is daily wear, clothes are not costumes, but rather, tools".
I've always liked outdoors and sportswear and am interested in the functional aspects of clothing. Clothes have an aspect of being tools for daily life, but also an aspect as a costume. Up to now, in the world of fashion which I am a part of, the system of the industry circling mainly around Europe has created trends, constantly urging consumers to purchase new things as if there were a sell-by date on clothes. As a harmful influence of this, the fashion industry has now struck a thick brick wall. All the more reason why I intend to continue purposely eliminating costume aspects from my clothes and continue suggesting as a tool.
So your creations encompass an antithesis towards present situations of the industry.
I feel that more than a few people have a frivolous image of the word fashion, but I think it is an image that the people involved in the industry themselves have created over a long period of time. In the world of fashion, things which were cool until the previous season, can all of the sudden become passé in the next season. In recent years, the apparel industry has been called a declining industry. Continuing such bad traditions only makes it difficult for newcomers to enter, and I have a wish to change this situation somehow.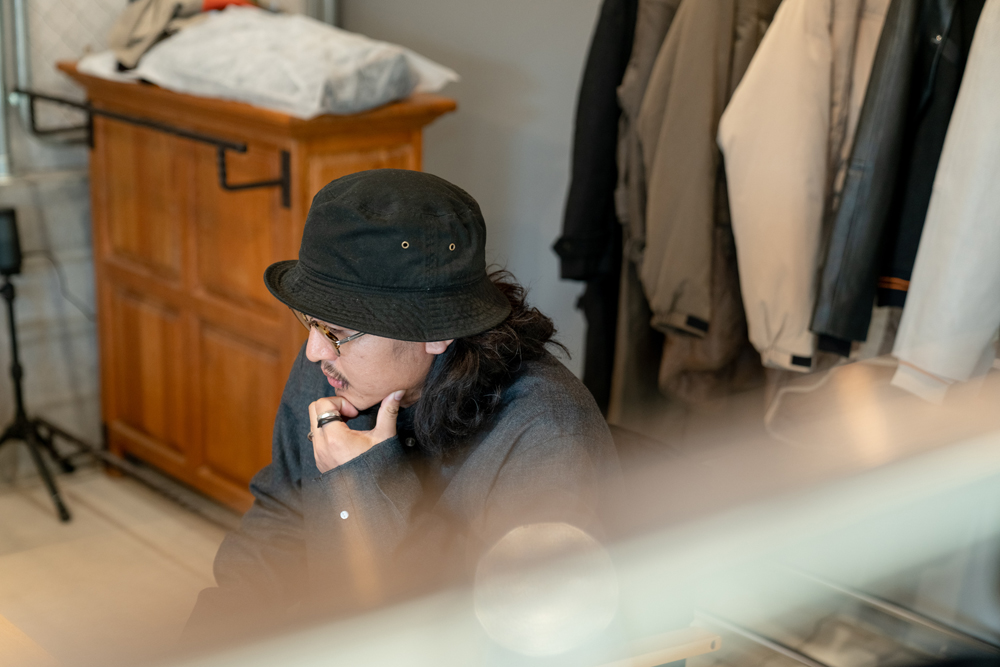 Where do you get your inspirations for clothes making?
Everything around me becomes an inspiration source, but I am often inspired especially by things of nature, natural things. All natural things are shaped in a way they were meant to be. There are many things I discover by examining why they became such shapes, and I think it has become a habit of contemplating the reasons for functions through observing nature.
So the brand's creation of deconstructing and rebuilding the structure and/or functions of clothes comes from such a mindset.
Men's fashion especially has a strong side of reproducing what has been made from long ago according to today's demands, but considering the massive changes in lifestyles and transportation methods between back then and today, I think it is wrong that the shape of pockets are exactly the same as 100 years ago. To me, fashion is an expression of people's style or inner feelings of the time, such as their lifestyle or mentality, so I wish to continue pursuing new things while always being conscious of such aspects.
Please tell us also about the brands first runway show carried out this October.
Originally, the show was scheduled to be held in March but was cancelled due to the spread of COVID-19, and rescheduled to be held in October, so I decided to mix in the autumn/winter collection which was cancelled, and faced it with a mindset of doing two seasons worth of shows in one. I also wanted to make it a fairly large-scale show, so we created an elaborate set, including a steel scaffold in the venue as an image of a construction site, and hired over 50 models. Since it was the brand's very first runway show, as a sort of an introduction of the brand, I had hoped that many people would see it, but at the same time, we had to secure social distancing, so I had to compromise with a production of models walking to and forth an upper and lower two layered runway, and guests viewing from outside the scaffold.
meanswhile 2021 S/S collection runway show
As people's lifestyles and values are changing amid this COVID-19 pandemic, how do you think fashion will change from here-on?
If the world should come to a situation in which people could not go outside at all, then the existence of clothes may change also, but at this point, it's hard to tell. As for myself, during the period when staying indoors was forced, I was strongly troubled by the thought of whether creating new things has any meaning or not. And as a result, I derived at the thought that what I have been doing up to now and the things I have been thinking of doing, was not a mistake, so I intend to continue making clothes under the same concept, continuing to focus on the function of clothing.
You've opened the brand's company store the other day, but do you have any other plans, aims for the future?
When I first started up the brand, I drew up a rough plan for about up to 7 years into the future, and this is exactly our 7th year. But because life has been forced to change drastically just at that time, I decided not to think too much about the future. Either way, the things I've been aiming for originally are not things like reaching a certain sales amount or presenting in the Paris Collection by when. Rather, my aim is to influence the way customers think through the brand's philosophy. My hope is to continue activities earnestly, to realize this aim.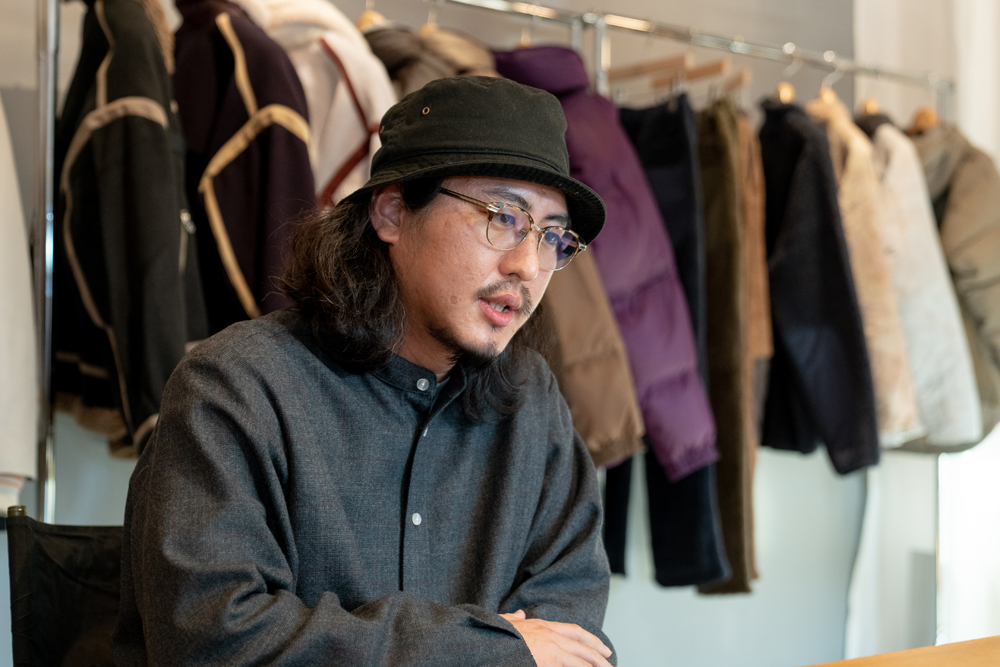 Interview by Yuki Harada
Photography by Yohey Goto
Translation by Aiko Osaki