Interview & Report

Nobuyuki Matsui (Nobuyuki Matsui)
TOKYO FASHION AWARD 2019, Winning Designer
Nobuyuki Matsui grew up in Japan and move to U.K to study psychology, then transferred to London college of fashion to study menswear accomplished at pattern cutting and sewing with a specific interest in innovative surface textile and tailoring. During London fashion week, experience with catwalk show at freemason hall, awarded with the Prize in FAD competition. Work experience from some of the young designer brands in London. Stating his own brands from Autumn and Winter collection 2016 which is based on bespoke order and launched first ready to wear collection from Spring and Summer collection 2018. as ready to wear collection.
Being touched by the attractions of fashion while studying abroad in England, Mr. Nobuyuki Matsui started up a brand in 2016, crowned with his own name, "Nobuyuki Matsui".  Gaining support through his conceptual theme establishing, designs with a twist, creation of elaborate detail based on tailored skills, he was awarded the TOKYO FASHION AWARD 2019, and by carrying out exhibits in Europe and a runway show in Tokyo, has become a more widely known existence.  We spoke to Mr. Matsui, whom has an out of the ordinary carrier of switching from psychology to fashion, at his atelier in downtown Tokyo.
We've heard that after graduating from high school, you were studying psychology at England.  What made you switch to fashion?
Originally, I had been majoring in business psychology to take after my father's company.  There was much to learn from psychology, but I always felt somewhat of a doubt as to whether this was what I really wanted to do, which my professor also pointed out to me at one time.  This being my opportunity, I began to look into art, which I had an interest in from before.  I tried out all sorts of fine arts offered in the university's foundation course, from photography, textile, fashion, etc., among which, I was especially attracted to fashion, so I entered the London College of Fashion.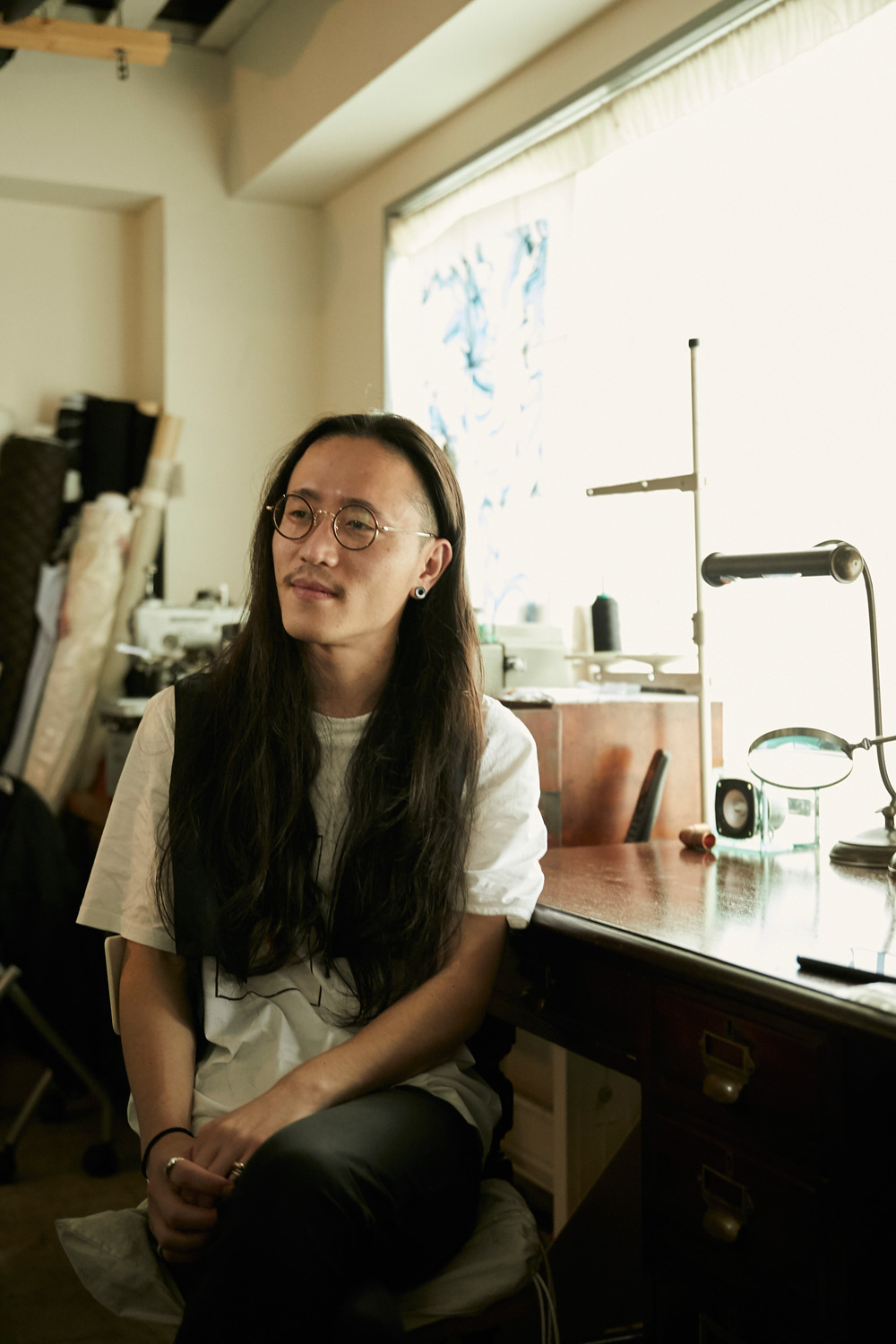 So back then, did you think of fashion as a part of art?
Yes.  The definition of art depends on each individual.  I think of art as something that snuggles up to peoples' hearts, and in that sense, to me, clothes which make people's heart thump by wearing, is art.  Clothes are so much a part of daily life, it may be difficult to think of it as art generally, but I've always held and kept the idea of dealing with fashion as art.
Please tell us how you came to starting up your own brand.
At first, I was making clothes in a close to a bespoke way, of making clothes I want to make as if making an art piece, and if there were someone who liked it and wanted to buy it, I would tailor it for that particular person.  After a while, a friend suggested making a pret-a-porter collection and developing wholesalers, so I started a pret-a-porter collection from the 2018 S/S season.  This didn't change the specifications or elaborations of how I make clothes, but for the first time, I became strongly conscious of considering this as a business and began to think about merchandise line-up and pricing.
You mentioned you create clothes as art, but do you usually first establish a clear message or concept you want to convey?
Yes.  For example, for the collection of the 2019 A/W season, I knew from the beginning that I would be doing a runway show at Tokyo as part of the TOKYO FASHION AWARD winner's program, so inspired by amazon whom was the title sponsor of the fashion week at the time, I established "buffer material" as the theme.  The reason for this was that I wanted to express the change in flow of fashion due to EC, of being able to buy clothes without directly seeing or trying on becoming commonplace, and the contradictions which exists there.  At the end of the show, I staged a hand-sewn jacket made of buffer material as an art piece, but this too was an effort to express the brand's message.
As a brand, Nobuyuki Matsui has always placed value on handcraft.  Please tell us the reason for this.
When I was home-staying in England, the grandfather of the family I stayed with passed away.  I saw his family take his suits to a bespoke tailor, to have them retailored for his grandchild, and this became my motive.  Recently, with recycle and/or up-cycle, there is a wider variety of regeneration methods for clothes, but putting all that aside, I was deeply touched by their attitude towards purely taking good care of things, and the sight of how delighted the grandchild was.  It made me want to make things that would make people happy regardless of generation, and that became a huge motive for me to aspire towards fashion.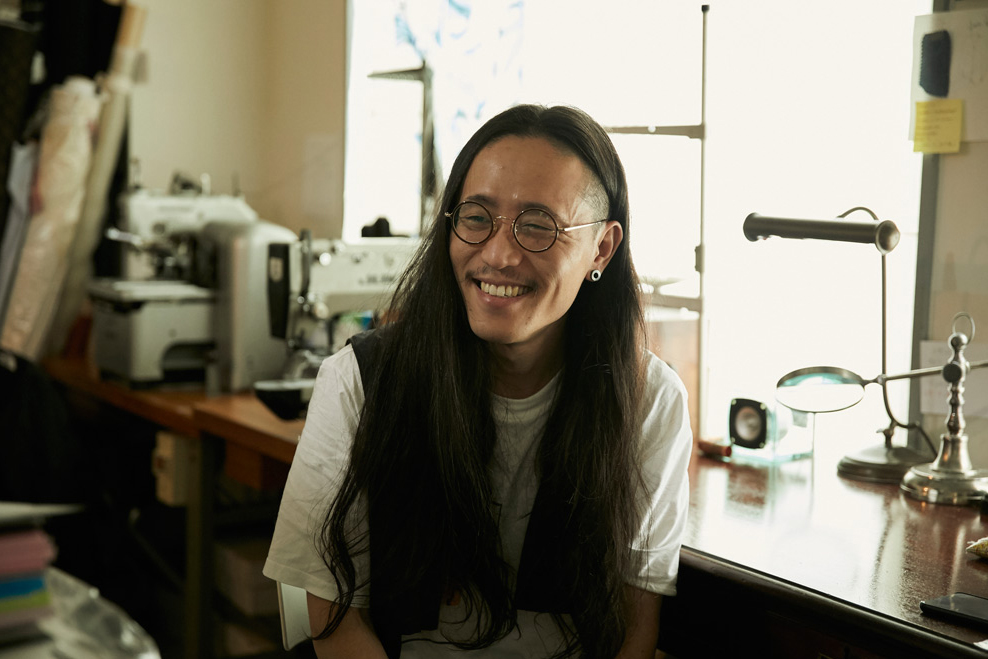 However, on the other hand, fashion is now generally something in which a new collection is presented every half year.
It's true there is a side in which I carry a dilemma in making clothes, but someday in the future, I hope to break away from producing ready-made clothes in the flow of mass production, mass consumption, and build my own method of production or system which will allow less waist.  However, I also have the idea that, in order to change that which I feel is a contradiction, I need to first put myself in that situation and experience it first-hand.  I'm not trying to say or convey that fast fashion is bad.  As a choice, I would just like to suggest an alternate way of enjoying fashion, of mixing new things with old.
Having been awarded the TOKYO FASHION AWARD 2019 and having experienced 2 seasons of exhibits in Europe, your spread of activities is growing.  Please tell us your future aspirations for the brand.
To begin with, one of my motives in applying to the award was that I wanted to present and have people purchase my collection in England, where I learned all my skills and knowledge of fashion, and thereon to Europe.  I can't predict the future, but I hope to one day own my own shop or create a clothes-making base in England, because it was the place that gave me the opportunity to aspire towards fashion.  Furthermore, as a brand, I am hoping to build a system which will enable me to create a wide range of clothes, from ready-to-wear, bespoke, to haute couture.
Interview by Yuki Harada
Translation by Aiko Osaki
Photography by Wataru Fukaya