Interview & Report

Keisuke Imazaki
"PLASTICTOKYO" designer
Graduated from BFGU
Started PLASTICTOKYO for the 2013 S/S collection.
During the Mercedes-Benz Fashion Week TOKYO 2016 S/S, PLASTICTOKYO held their first runway show, and became the talk of the town. Declaring a concept of spreading the mix culture only seen in Tokyo out into the world, with a weapon of strong impact graphic prints he himself makes, this is a brand which is steadily increasing fans. Under the theme of updating Summer-fest. fashion, they presented the latest in streetwear, utilizing the newest functional fabrics. We've asked their designer, Mr. Keisuke Imazaki, on his feelings behind his first show, background of the brand, etc.
When did you first become interested in fashion?
I used to wear a remodeled uniform in junior high school. One which I remodeled myself. Back then, when I sought to do something to express myself, fashion was the only means I had. I used to admire brands such as W&LT, beauty:beast, and visited their shops in Kyoto, but at the same time, I felt I wanted to leave my creations in this world. So after graduating from high school, I came to Tokyo to study fashion at Bunka Fashion College.
Please tell us how the brand was started. What steps did you go through?
A had won a few contests during college, and through these opportunities, I gradually began to feel a sure response. Later I advanced to Bunka Fashion Graduate University. I took my graduation production visual book to 'CANDY', a select shop that used to exist at 2-chome, Shinjuku, and they let me hold an exhibit sales. It was then that I named my brand "PLASTICTOKYO", and I've been using this brand name since. I was still a student and didn't know left from right, so every time an item was sold, I made a new one and took it to the shop. But as a business, that's just too unorganized, so I decided to work at an apparel company to learn the ropes. After experiencing production control for 4 years, in 2012, I started the brand in full-scale.
Where does your brand name come from?
There was a band called the Plastics, that was active between the '70s ~ '80s. In the lyrics of one of their songs, "Digital Watch", they use this word. The lyrics of this song is like a list of words combined with names of cities, like "new fashion, Paris", "new wave, London" and so on. And at the end comes, "Plastic, Tokyo". Also, I'm a fan of manga by Ms. Kyoko Okazaki, and by coincidence, she uses the expression "that's plastic" for things that are cool and new. It sounded good, and since I had my mind set on going out into the world, I figured it would be better if it were easy to see and clear that we were a Japanese brand.
What are you impressions of Tokyo, as a town?
Kyoto, where I grew up, is a unique town. By local ordinance, building heights, colors and others are regulated. That in itself is interesting and fine, but when I first came to Tokyo at the age of 18, the first thing I felt was "anything goes here". Bunka Fashion College which I went to, is located in Shinjuku, with the metropolitan government office at walking distance, and busy shopping areas such as Kabuki-cho spread a little further off, and this all fascinated me. For the first full scale season of the brand, under the theme of "Touring Tokyo", I announced a collection with prints of the Tokyo Tower and the Sky tree.
One of the major characteristics of PLASTICTOKYO's clothing are the graphical prints. What kind of commitments do you have here?
A few things that I value when making clothing are that they are easy to understand, originality, and that they are a cut-out from the time. As a way to express these things, for me, graphic works. Ever since I was a student, I vaguely thought that no matter how hard I try to think of a concept or theme, no matter how much time I spend on this process, it doesn't really matter when the customer takes the product in their own hands. If you place too much importance on concepts and themes, the clothing becomes heavy. If fact, even buyers as they choose, seem to have a tendency to imagine the clothing lined-up in their store racks. So I decided to keep my clothing self-explanatory, simple to understand by just one look, and began to use graphics symbolically.
Will Tokyo-ish, Japan-ish, continue to be the brands' keyword, beyond the first season?
Yes. I'm hoping that PLASTICTOKYO will become a brand which translates Japanese culture to the world. This doesn't mean making "traditional Japan" the theme. I'd like to think of themes and line-ups that express the attractions of Tokyo and Japan, its sense of flexibility and mix without being tied down to rules, while being conscious of reflecting the moods of the time through my filter.
You seem to be aggressively taking in the latest in functional fabrics also
I want to keep updating streetwear, so if there are new developments in Japanese fabrics, I hope to incorporate them aggressively. In my latest collection, I've used a shape memory fabric which has superior water-repellent and water-resistant abilities. I feel this fabric works well in streetwear, so I intend to continue using it.
In this term, the brand announced its first runway show. What motivated you to participate in Fashion Week?
The fact that I have my eye fixed on world development of the brand, and that I wanted to add a new value to the image of street brands, which many people seem to have. These were my motives. Since this was the first show, I wanted to introduce PLASTICTOKYO comprehensively, to people who were seeing us for the first time. For this collection, the first thing I wanted to do was create streetwear using Japanese functional fabrics, and established the updating of clothing to wear to the Summer-fest. as the theme. As for directing the show, I discussed everything with Mr. Keisuke Kikuchi of kuroko, who was in charge of directions this time. We expressed the gradually rising excitement of the Summer-fest. by having a live band performance at the beginning of the show.
The punk style headpiece using safety pins had great impact also.
That was made by the head stylist, Mr. KUNIO KOHZAKI. In this show, I wanted to present a style of adding PLASTICTOKYO clothing to daily-wear, so I composed the show so that the balance between basic clothing and loud graphic clothing would be about fifty-fifty. Because of this, I strongly wanted to incorporate some fun in the direction. Based on the Summer-fest. theme, we thought it would be a good idea to link it with a music motif, and as a result, those headpieces were born.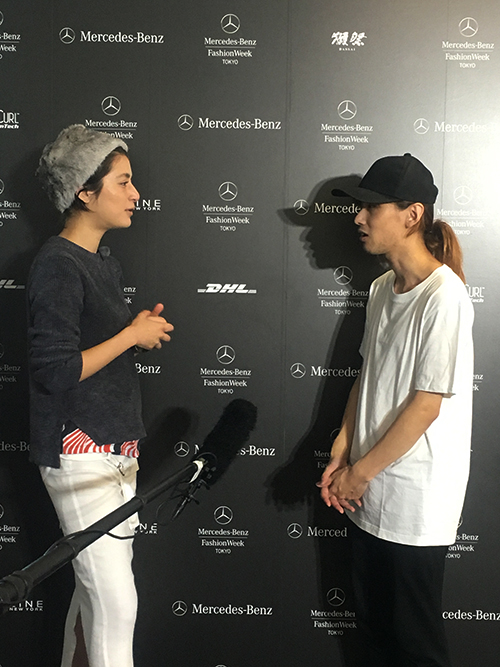 Mr. Imazaki, answering to an interview by Ms. Marie, the MC of "TOKYO FASHION EXPRESS" (NHK WORLD TV) and official ambassador of MBGWT, during the fence interview after the show.
You mentioned overseas developments earlier. Have you ever had a chance to announce at overseas exhibitions or others?
This July, I announced my collection at an exhibition in Paris, for the first time. But due to a lack of time, I couldn't prepare enough styles, and it ended as a sort of simple introduction of myself, so I'm hoping to hold another exhibition in Paris, next January. When considering overseas developments, if I do show announcements in Tokyo first, then exhibitions overseas, the timing is a bit late. So next time, even if I have to force myself a bit, I'm aiming to prepare a full line-up in time for Paris, before announcing it in Tokyo.
Please tell us your future intentions for the brand
As a result of this first show, I received good reactions from overseas, especially Asia, and some shops will be carrying our brand. Especially for a brand like ours, there is a limit to the number of shops that can carry our products, so unless we aggressively spread our market overseas, I don't think we have a future. With regards to shows, since this was our very first show, there was a lot to reflect upon, and I want to make good use of these reflections in the next show. I also place great importance on how the clothing I've created should be conveyed, not only by means of shows. At the moment, I create 80% of the graphics myself, and that is the characteristic of this brand, but as I asked YOSHIROTTEN to be in charge of the visuals of this show, I'm thinking of collaborating with all sorts of people to seek new ways of expression.
Interview by YUKI HARADA