Interview & Report

Satoshi Ezaki
Istituto Marangoni Scholarship – Supported by THE FASHION POST, Tokyo vol.2
Born in Saga Prefecture in 1984. After graduating from Bunka Fashion College, worked for an apparel company for two years before becoming independent.
Learned leather craft through self-education, and also plans leather goods in addition to apparel plans.
Through collaborations with hand-sewing factories and self-made productions in the field of leather goods, Ezaki strives for a careful product development placing a large importance on hand work.

Designers expected to be active both at home and abroad in the future and participate in MBFWT are nominated by the fashion lifestyle journal "
THE FASHION POST
" and the Japan Fashion Week Organization (JFWO) for the "Istituto Marangoni Scholarship – Supported by THE FASHION POST, Tokyo," supporting participation to the study abroad program at Italy's fashion & design vocational school
Istituto Marangoni
. Mr. Satoshi Ezaki just returned from his approximately two-week stay in Italy the other day after being elected as a participating designer in the second round. After gaining experience working at an apparel company and learning leather craft on his own, Mr. Ezaki started his own brand. We asked him about commitments to manufacturing, his past career, and his experience during his time in Italy.
From when did you become interested in fashion?
It was about the time I was a high school student. At that time, I was working a part-time job at a boutique in Saga Prefecture. There I came to know the interesting side of clothing, and thought that I would like to work in fashion. After graduating from high school, I came to Tokyo to learn design at the Bunka Fashion College.
Please tell us about your career after graduating from vocational school.
When applying for apparel companies, I came to work as an assistant designer for a division starting a new ladies brand. After working there for about two years, I moved on to a planning position for a men's brand at a different company. After working there for about a year, I broke off to begin working independently and started the leather craft brand.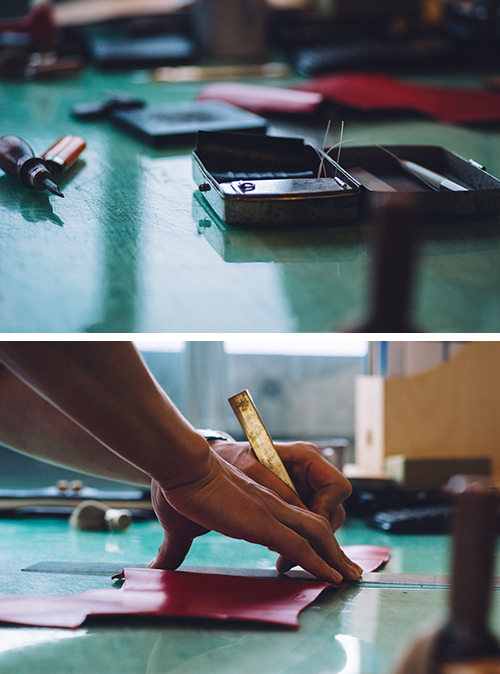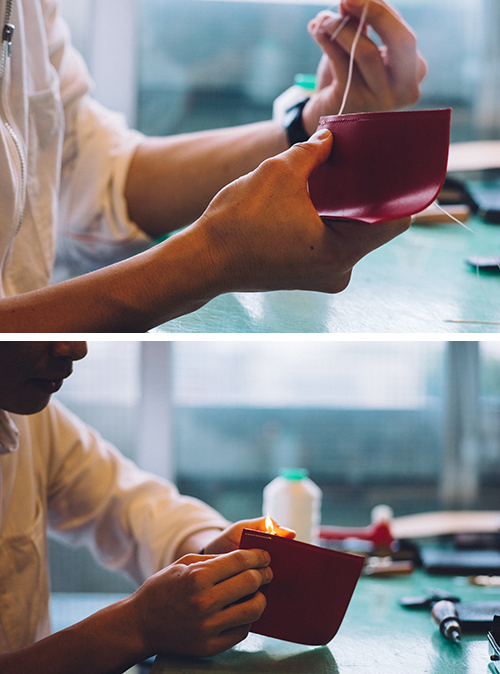 Ezaki learned leather craft on his own.
Did you have an interest in leather craft from before?
I originally loved the leather material. Because I had only learned the basics about leather during my studies at college, I went on to learn about techniques such as hand-stitched leather on my own. I felt that the field of leather craft which has many accessories was fit for me, due to the point that the time until completion is shorter than that of clothing.
What sort of charm did you feel in leather?
The expressions of each and every piece of leather are different thanks to the wrinkles, scratches, and traces of insect bites left behind from when the animal was alive. Thanks to the sense that we're dealing with living creatures, which isn't a feeling you find in other fabrics, the desire to cherish the material is truly strong. In addition, one of the charming things about leather craft is that you can take it all the way from the tanning of the animal skin to the manual creation of a product without ever using a piece of machinery.
What sort of things do you place importance on when making products?
Of course, I want to cherish originality when making products. Since we are living in an era full of things, I believe that it is necessary to firmly convey the "weapon" that only we can create. Also, because I have liked antiques from before, one of the reasons for that is being able to see the mechanisms of the tool itself. With modern products, there are many things that have plastic covering the techniques and technology. For me, I would like to create items which use leather as a base and have the techniques and mechanisms visible.
Are you expanding your products overseas as well?
Yes. We are selling our products in France, the United States, Denmark, and China. Although many orders are placed by people who see our products at joint exhibitions we participate in each time during Paris Fashion Week, there was also a case in which we were contacted by a person who just happened to see our products at a shop when coming to Japan.
How is the reaction from buyers and customers?
The reaction from users both at home and abroad is "I'm not really sure how to use this." (Laughing) That being said, it's not necessarily a bad thing, but something people say while smiling and thinking about how to use it. That is our largest goal with our products, and we strongly wish for customers to be thrilled through our products. Some of our customers even choose to use the products in their own unique way after understanding our proposal for how to use the items.
You were just elected to be a student in the second round of the designer study abroad program at the " Istituto Marangoni." What types of courses did you study while there?
We were able to pick our favorite location from Marangoni's three schools, located in Milan, London, and Paris. I chose Milan because my strong desire to go to Italy, a place with deep traditions in leather. At the Milan school, I majored in a Fashion Production course, which allowed me to learn everything from how to create materials and marketing to merchandising. The members from the class I participated in were from various different nationalities, such as South America, America, and Northern Europe. The attitudes for taking a class were quite different from those seen in Japan and felt fresh. For better or worse, although I had the strong impression that the other students were learning freely without inhibition compared to serious Japanese students, I also felt the height of the power of concentration through the eager taking of notes or active questions for the teacher.
Please tell us about the contents of your classes at Istituto Marangoni.
We broke up into teams to work on the challenge of analyzing items of a particular brand that currently lines the walls of shops, including details such as number of models, materials, and price. Based on that information, we had to predict the image for the next season and make a presentation about it. Overall, the contents were more practical than that which I had learned in Japan, and because the classes were directly linked to business, it was a great learning experience. In addition, we were able to go visit major fabric factories contracted for producing prints and jacquards of luxury brands.
What sort of places did you visit during your stay?
Since lessons were held either in the morning or afternoon on weekdays, I would use the rest of the time for researching the shops of various brands in Milan, and also visited metal fitting and antique shops. Also, because I absolutely had to visit Florence, famous for its leather industry, I used a day off to make the trip. It was truly a great experience to be able to see the long history of the industry first-hand. Taking a look in on the leather shops in Florence, I was able to see a very wide and varied product lineup, and had the impression that products were being made very freely. Although items such as bags and wallets are popular leather goods in Japan, it was stimulating to be able to see the depth of the variety of leather goods.
Looking back on this study abroad program, what type of impressions did you come away?
Thanks to being able to take classes in a free atmosphere and come into touch with many people in the manufacturing business, I felt the desire for wanting to extend my horizons and try our more free expressions. Also, although I had felt it in the opportunities I had for exhibitions abroad up until now, I once again felt the importance of language as a means to express myself. Although I myself am not that good at English, I feel that it is important go overseas and meet face-to-face with the obstacle of language, even if you don't speak English. Doing so will allow you to see the possibility that lies ahead for the first time.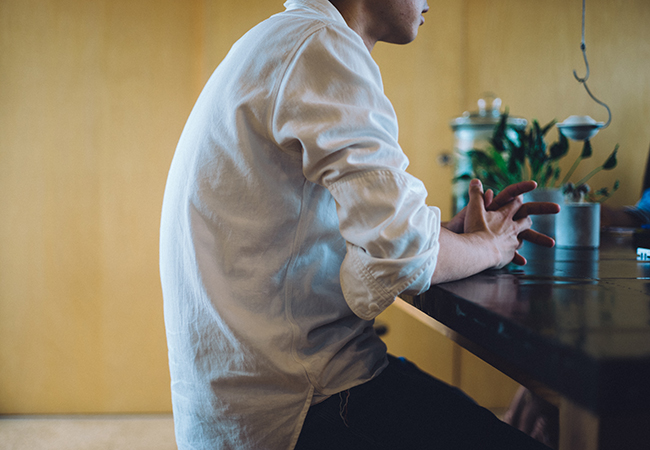 Will this experience have an influence on you in the future?
I believe so. Although it was just a short period of time, being able to study abroad at the Istituto Marangoni allowed me to once again see the splendor of Italian products, and also strengthened my interest. At the same time, I also came to desire to continue working to utilize the strengths of Japan, the county we live in. Although I haven't paid much attention to Japanese techniques this far, I want to extend my knowledge from leather to include techniques such as dying and materials such as Japanese paper. I would then like to connect this knowledge to my own manufacturing, and convey those ideas to people overseas as well.
Interview by Yuki Harada
Photography by Yohey Goto