Interview & Report

SAVE THE ENERGY PROJECT"Re: Jinja"
AmazonFWT 2017 S/S [RELATED EVENTS - Special]
What is the "SAVE THE ENERGY PROJECT"?
「SAVE THE ENERGY」=「let's protect our energy supply」 is a familiar problem, and already a major theme in overseas fashion industries. A subject that Japan must become more conscious of.
In the "SAVE THE ENERGY PROJECT", the efforts in conserving energy of various fashion related fields will be introduced and promoted, with the aim to raise consciousness of "energy conservation ability", in a smart and cool way, through fashion.

The " SAVE THE ENERGY PROJECT ", started up in the March 2016 session of Fashion Week by the Agency for Natural Resources and Energy within the Ministry of Economy, Trade and Industry, held a special installation event in Amazon Fashion Week TOKYO 2017 S/S. This second announcement being positioned as the launching towards the official start of the "SAVE THE ENERGY PROJECT" in March 2017, an installation by Mr. Kensaku Kakimoto, titled "Re: Jinja", emerged in the 8th floor COURT of Shibuya Hikarie, with a showing of a promotion video of the SAVE THE ENERGY PROJECT. Here, is a report of the installation, along with an interview of its Creative Director, Mr. Kensaku Kakimoto, and Plan Director, Ms. Naoko Takahashi.
The project slogan,「SAVE THE ENERGY」=「let's protect our energy supply」is a problem that is very close to the heart for all people of today, and with the international agreement for the framework in lowering of CO2 gas emissions in the Paris Agreement of December 2015, it is also being positioned as an important theme overseas.
Last time, the presentation was focused on denim, which is one of the most prided materials produced in Japan today. This time, a completely new shrine (jinja), "Re: Jinja" was announced. An expression of worshiping nature, beyond the barriers of any history or religion.
If we trace back to ancient times, the times of Kojiki, Japanese had followed physiolatry, worshiping nature itself as "God". Heaven and earth, mountains, rivers, trees and plants, animals, birds, insects, God dwells equally on all living things on earth, or are within themselves a God. It is said that such spirituality of worshiping all living things is at the origin.
With considerations towards decreasing energy consumption, "Re: Jinja" was created with 100% recycled cardboard materials, enshrining a paper-God (*in Japanese, 神様=Kamisama=God; 紙様=Kamisama=(Paper-)God) called Tosatengujoushi. Tosa of Kochi Prefecture, has close to 1,000 years of history as a handmade washi-paper (authentic Japanese paper) production center, and Tosatengujoushi which was born from such a background, has continued to produce the finest handmade washi-paper since the 19th century, with unchanged authentic and traditional skills that surpass the realm of other handmade paper. Because of its strength despite being the worlds' thinnest handmade paper with a thickness of 0.03 mm, it is often expressed as "wings of an ant lion". Tosatengujoushi is being utilized in various fields, including the restoration of "Ukiyoe paintings" owned by the Museum of Fine Arts, Boston, restoration of important documents around the world, and the restoration of "The Last Judgment", the fresco created by Michelangelo, gracing the walls of the Sistine Chapel in Vatican City.
This thin and strong Tosatengujoushi will continue to protect the lives of valuable artifacts and cultural assets around the globe, for hundreds of years into the future. "Re: Jinja" showed, not only a worship of nature, but also exhibited a 'prayer' for deepening and spreading a consciousness towards a global energy conservation and environmental conservation.
Interview
SAVE THE ENERGY PROJECT, Creative Director:
Mr. Kensaku Kakimoto
Director / Videographer / Photographer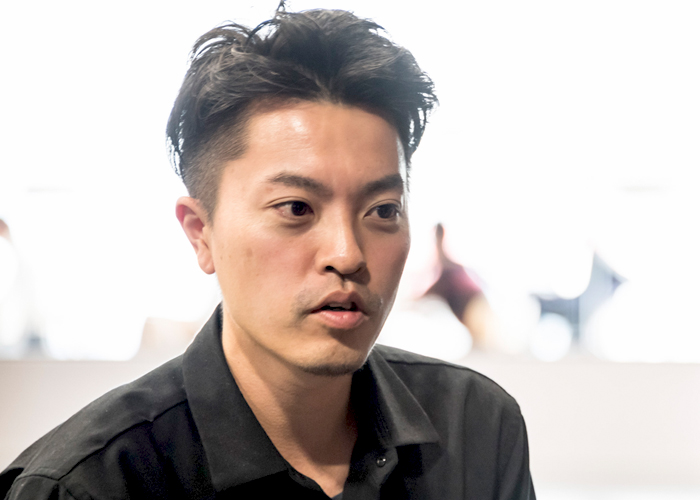 For last times installation, we focused on denim to show energy conservation abilities of the fashion industry, and suggested that by buying clothing made by such makers with energy conservation ability, consumers can participate indirectly in conserving energy. Also, it was my intention to approach this concept from a new angle, and infiltrate the concept, by continued showing of the video I made last time, as a promotion video of this project.
For example, in the video industry that I usually work in, we spend hundreds and thousands on sets for advertisements, PVs, and movies. And even if the message was a proposal towards environmental problems, there existed a contradiction of creating tons of scrap material in the process. From the possibility of recycling clothing, I was inspired to create an installation made with recyclable cardboard, and this was my entrance to the idea of creating a rut of circulation with new recyclable materials. To that I over laid Japanese beliefs, to express a thankfulness, prayer and respect towards being blessed by nature in daily life.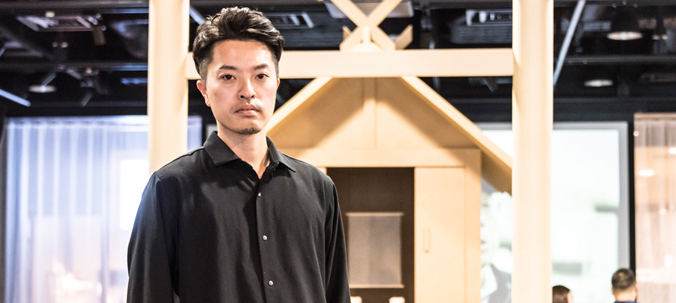 SAVE THE ENERGY PROJECT, Plan Director:
Ms. Naoko Takahashi
Freelance Branding Direction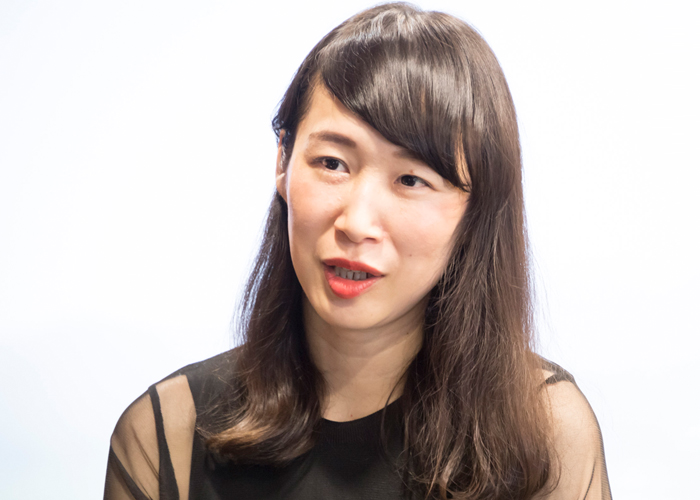 This time, I was also conscious of the uniqueness of a shrine emerging in Shibuya Hikarie, one of the main venues of Fashion Week, and people related to the fashion industry coming to worship it.
For the SAVE THE ENERGY PROJECT, I am hoping to proceed with two axis, namely, high technology and traditional skills. So last time, the focus was on Japanese denim production of today, and this time, we turned our attention to traditional craft. Tosatengujoushi is handmade by the riverbed of Niyodo River, which has the clearest waters in Japan, and is made of sundried kozo (paper mulberry) locally grown in the Gohoku area. Both materials and production are rooted locally, filled with blessings from nature. Among them all, the Tosatengujoushi made by HAMADAWASHI has been designated as a National Important Intangible Cultural Property of Japan, for being the world's thinnest handmade washi paper. Next year March, as a part of this project, a collaboration work between this HAMADAWASHI and a fashion designer, is scheduled to be announced. We hope to continue making presentations, whilst observing the traditions of handmade washi paper.
I hope to continue such joining of traditional skills with fashion, and am proceeding with preparations to do so.
Energy conservation and fashion are still miles apart. All the more reason why we intend to spend time on presenting the tangency of both, and proceed with the project so that the idea of conserving energy becomes rooted in daily life.