Interview & Report

Shinichiro Ishibashi (KUON)
TOKYO FASHION AWARD 2018, Award Winning Designer
Graduated from Bunka Fashion College. After serving his apprenticeship at an established tailor in the Marunouchi area, Tokyo prefecture, he worked as a pattern maker for a Paris Collection brand. In 2014 he became self-employed and started to design for several manufacturers on a freelance basis. As from 2016 S/S, he became the designer of KUON.
KUON started in 2016, by Founder and Director, Mr. Arata Fujiwara, and Designer, Mr. Shinichiro Ishibashi. KUON is gathering both national and international attention for their creations focusing on and modernly updating "boro", a wisdom rooted in the traditional lifestyle of the Japanese, of patchworking old worn-out fabrics or rags to make smock frock, underwear and/or beddings, which is now being highly praised as art from overseas, mainly in Europe. We have spoken to Mr. Ishibashi, the designer of this brand, which expands in clothes making by assembling local cultures and/or skills from around Japan, such as sakiori (torn yarn-woven fabric), sashiko (traditional Japanese quilting), mud-dye, etc.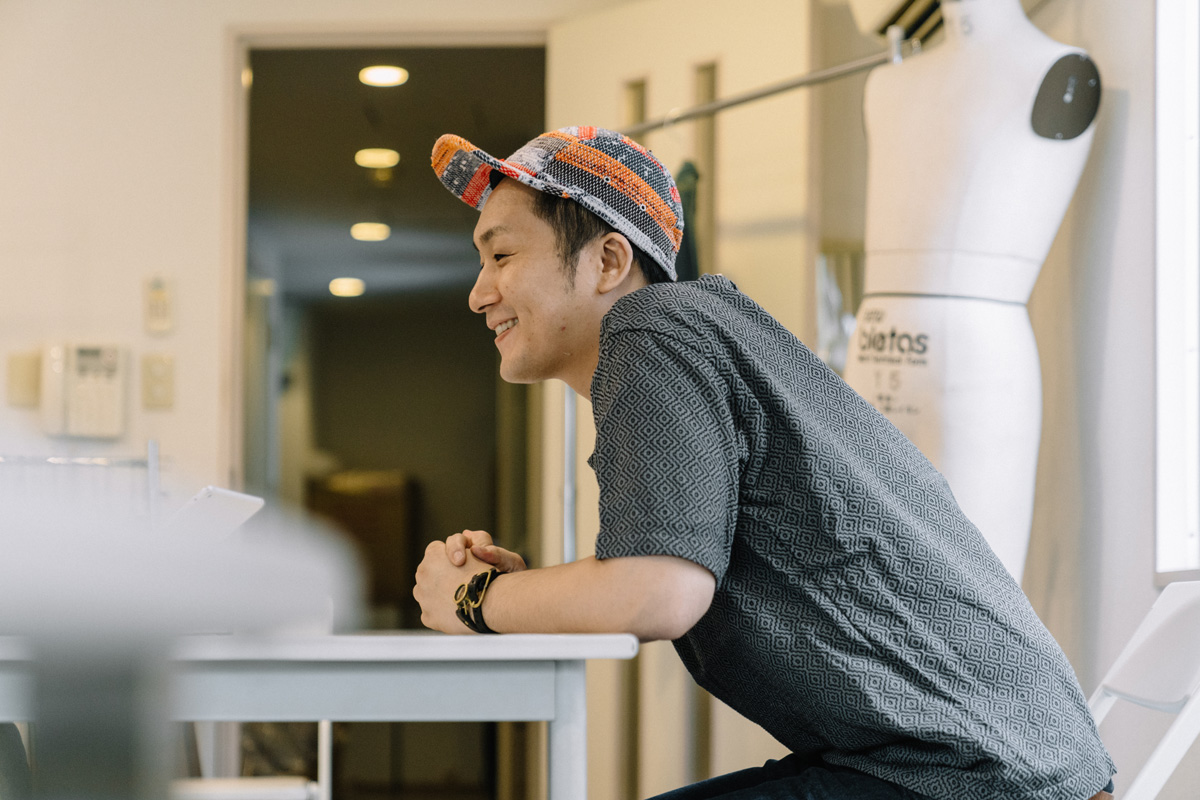 Please tell us how you came to start KUON.
Up to now, I had been working as a pattern maker for several brands, but I became acquainted with Arata Fujiwara, the founder, and after hearing his wish to start a brand using boro, I decided to participate as a designer. I grew up in Iwate prefecture so boro was familiar to me and know the strength of the energy it encompasses. I felt this could turn-out to be a truly unique, never-before brand, and ended up starting it with him.
How are you and Mr. Fujiwara each involved in the brand?
Fujiwara does law work too, so he wasn't a fashion industry person, but from encounters with all sorts of people and visiting the disaster-stricken areas of the Tohoku earthquake and tsunami, it seems he became interested in transmitting a social message out to the world through clothing. For this reason, we place value on sustainability, and Fujiwara carries out a role of creating movements as the director of KUON. As for me, I've always been in the world of fashion, and as the designer of KUON, I tend to create clothing from a product perspective. I feel this balance or broadness is one of the unique characteristics of the brand.
What were your thoughts on how to transmit the brand, while being constricted, by the premise of using boro?
Personally, instead of pushing the use of bore front and center, I felt we should, above all, be a brand which can surely express the coolness of our clothing. We place much value on the skills, culture, time passed, etc., in the background of clothing, and it is great when feel a depth or attachment to our creations from there, but we are careful of not being too pushy. At KUON, each product has a QR code printed on its tag, from which, by accessing people can see explanations on fabrics and skills used, but it is enough for us to have people with interest see it, and it is our wish to make it in a way, so each viewer can respond to it freely in their own way. In truth, each media writes about us from their own perspective, and there is a wide variety of taste in the shops which carries our items, so we are careful not to narrow down or specify our target too much.
How do you make your seasonal collections?
At KUON, we don't fix a seasonal theme, and rather, place importance on our feelings or mood of the moment. Based on that, we usually speak to fabric factories and/or dye factories or craftsmen to decide on the image of the material or fabric, then go on to pattern making. We spend a lot of time communicating with craftsmen. We continue to give birth to new things through those talks, with them making suggestions to us at times, and us asking them if it is possible to do something at others.
You invited craftsmen to the show you did during Amazon Fashion Week TOKYO this March as an award-winning brand of the TOKYO FASHION AWARD, didn't you?
Yes. This time we invited sashiko and sakiori craftsmen, and they were all very happy seeing it. Some craftsmen have expressed happiness, just by our being introduced in the media, such as in newspapers or magazines, or our being carried by a major department store. For KUON which is a brand in which all sorts of skills come together as one, the existence of craftsmen is extremely valuable, and we think it is important for everybody involved to be happy. And for this, it is essential to surely increase sales.
The show itself was a first-time experience for you, so looking back, how was it?
In discussing how to do the show with the producer and stylists, the use of an instrument called handpan was the first thing we decided on. This is a new instrument born in the 2000s, but its unique transient and nostalgic sound matches KUON clothing perfectly. In this show, under the rough theme of transiency, youthfulness, and the swell of time, we decided on a production of using this handpan, and having the models walk in a circle. We thought it would be interesting to do a runway show which appeals to all five senses of the guests coming to see it. In addition, thanks to doing this show, we now have a showroom in New York, and opportunities of being taken up by the media has increased, so we were able to refresh our impression of shows being a powerful tool of transmission.
Please tell us of the brand's future aspirations.
These past two seasons from being awarded the TOKYO FASHION AWARD, experiencing overseas exhibits and a show at Tokyo, has been an immense opportunity for the brand. All the more reason why we think, what we show next is extremely important. 5 years ago, I couldn't even imagine doing my own brand, so it is difficult to hold a clear image of how things will be, 5 years, 10 years from now. But I think KUON is a long sustainable brand, so while holding dear those things we want to do at each moment, we hope to surely face problems which need to be faced head-on and overcome them one-by-one.
Interview by Yuki Harada / Translation by Aiko Osaki
Photography by Yohey Goto (interview)