Interview & Report

Shinpei Yamagishi (BED j.w. FORD)
TOKYO FASHION AWARD 2017 Winner
Established BIRTHLY CO., LTD. July 2010. Started BED j.w. FORD. Began showing collections from the 2011 S/S season, by exhibition. First runway was at the 2017 S/S season at Amazon Fashion Week TOKYO, and was awarded the TOKYO FASHION AWARD winner in 2016. Presented 2017 A/W collection in Paris at showroom.tokyo. Have been presenting collections every season, under the concept of "dressing up".
While real clothes occupy the mainstream of fashion scenes in recent years, BED j.w. FORD has been presenting creations under the concept of "dressing up", and gathering attention with their items which are minimal yet dotted with creative ideas. In addition to participating the fashion week from the 2017 S/S season and presenting a runway show, they participated showroom exhibitions at Paris for 2 consecutive seasons in January and June 2017. We've asked the designer, Mr. Shinpei Yamagishi, how the brand started, the brand concept, plans for the future including overseas developments, etc.
Please tell us the details behind how your brand came to be.
Originally, I hadn't thought of becoming a fashion designer, but I liked clothes, so after graduating from high school, I came to Tokyo and worked at a vintage clothes shop. During this time, I met all sorts of interesting people whom I never would in my hometown. One day, at a bar in Shimokitazawa, Keisuke Kohsaka, the president of BED j.w. FORD, casually invited me to start a brand, as if he were asking me to join a band or something. Because that's how the brand got started, I don't have any vocational learning in fashion, nor do I have any on-the-job training at a famous international brand.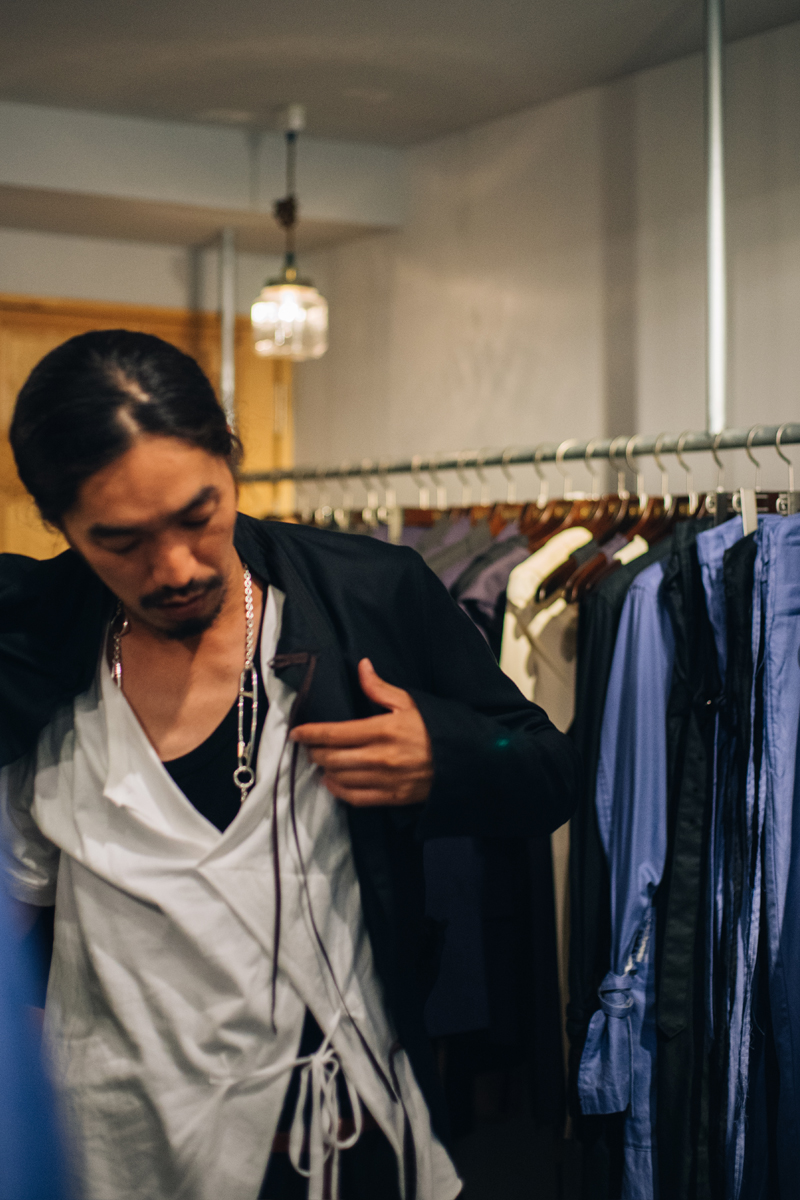 Did you discuss and decide on the brand concept with Mr. Kohsaka?
No, he gave me carte-blanche for all that. Mr. Kohsaka had already been working as a designer, so he had experience and knowhow, but he said he wanted me to be responsible for everything pertaining to creation. Back then, we were both in our mid-20s, a time when everybody is at their peak of being self-centered. I don't think it was easy to decide on completely entrusting somebody at such an age, and I was innocently happy of what he did. But he supports me in all other aspects, such as business and operations, so that I can concentrate my efforts on designing, and I think he is a person whom possesses everything that I lack.
You use the words "dressing up" as your concept. What are your thoughts behind that?
I think "dressing up" comes naturally for women, but for men, I feel that it carries rather negative connotations, like "being a show-off" or "narcistic". But you're paying good money to buy clothes, and I'm sure everybody, regardless of gender, wants to be told "nice clothes". When I was thinking of the direction of the brand, I tried listing up names of popular famous men, and I realized, all of them were somewhat narcistic and romanticist. These are words that have a bit of an embarrassing image, but at the same time, I don't think you can attract other people without being a bit full of yourself, and I think this is also true for clothing.
How do you decide on your seasonal themes?
I derive themes based on vague images that come to me through daily life and/or conversations with friends, but it usually becomes clear gradually through the process of designing and making fabrics. I often walk home from my workplace, which is an approximately 40-minute walk, but this time is the most important for me, because walking allows me to put all the individual thoughts in my mind together. You could call it a ceremonial time to fully accept the theme that I have elicited. I am fully aware that I can't do anything by myself, on my own, so I make it a point to doubt myself at least once, and rethink if it's really OK. I do the same thing in clothes making, gradually deciding upon an image through doubting myself and self-analysis.
When applying those images into clothing, is there anything you are particularly careful about?
The color and the fabric is important for me. Among all visual information, I think color and shape are the most direct, but because shape does not change largely in men's wear, I have a strong notion to dig one step deeper into color than other people, so I keep a collection of colors that attract me, from magazine clippings to chocolate wrappings. As for fabric, we make 90% of what we use, originally. Because of extensive communication with weavers, factories, pattern-makers, whom are our backbone, it has come to be that they give us suggestions beyond what we are asking for. I think this relationship has made us a strong brand, and I am very thankful for this.
Now that you've shown your collection for 2 consecutive seasons at the Paris showroom, as a TOKYO FASHION AWARD 2017 award winner, please tell us your thoughts on overseas developments.
Doing an overseas runway show has always been an aim of the brand. However, I wasn't sure of what needs to be done specifically to realize that. By experiencing overseas for the first time through winning this award, things we can do and things we cannot have been clarified, and I feel the road to doing an overseas runway show announcement has become clear.
Do you think this overseas experience will effect your creations also?
At Paris, I had a lot of time and opportunity to think about creation, for example, what colors would go well with this city, these sights, etc. Furthermore, I think the relationship between location and clothing is an important theme, so walking around unknown places is, without a doubt, a good stimulus for me. I'm not sure yet how this stimulus will be utilized in my creations, but it has renewed my feelings on the importance of continuing to polish up the brand while maintaining its core.
Interview by Yuki Harada / Translation by Aiko Osaki
Photography by Yohey Goto