Interview & Report

Teppei Fujita / "sulvam" designer
TOKYO FASHION AWARD 2015 Winner Designer
Teppei Fujita was born in Chiba, Japan in 1984. He worked at Yohji Yamamoto, a Japanese fashion house in Paris Collection, prior to the establishment of sulvam in 2013.
Menswear brand "sulvam" was launched in 2013 by Teppei Fujita, after gaining experience as a pattern maker at Yohji Yamamoto. With emphasis on alluring masculinity while harnessing the pattern making skills acquired under Yohji Yamamoto, Fujita's collection has been favorably received. We sat down with Fujita who rounded off his two showroom presentations at Paris as a winner of the TOKYO FASHION AWARD ("TFA"), to ask about what was on his mind now and on what aspects he focuses on when crafting clothes.
You used to work at Yohji Yamamoto. What made you start your own brand sulvam from there?
I worked as a pattern maker for Yohji Yamamoto, and I didn't have any experience in patterning when I started, but the senior staff taught me the skills. I stayed there for around seven years. Initially, I didn't intend to leave and start my own brand. But working for Mr. Yamamoto, who brought his brand to an international level all by himself, became a major inspiration for me and eventually I started to think about creating my own brand or company. I decided to launch a brand before turning 30 to test my abilities.
What did you learn at Yohji Yamamoto?
My experience at Yohji Yamamoto is what sustains me now, both in terms of technique and aesthetic-related aspects. My job at Yohji Yamamoto was to craft patterns out of Mr. Yamamoto's design. Now after leaving them and being on my own, I obviously have to plan everything – pattern making, cutting, or deciding how to adjust quantities – and this was harder work than I expected.
What kind of clothes are you planning to create at your brand?
I want to craft clothes that wouldn't be forced into a particular genre, like street or mode. But at the same time, I emphasize how to reinterpret tailoring because I think this serves as the basis of menswear. Our brand name "sulvam" is a Latin word that refers to improvisation; I'm hoping to portray through clothing an original quality that results from bringing together unlooked-for elements. I can't make fashion drawings or use computer software, so I can only take an analog-type approach, applying garments to the body to develop my work. Within my limited abilities, I want to create clothes in a manner similar to a band's performance together with drapers, sewing factories, and many other people.
You held an exhibition for two seasons in Paris at an early stage after launching sulvam. Have you always been international-minded?
Yes, I think I should compete outside of Japan regardless of the location, be it Paris, London, or New York. As for the TFA, a key factor that motivated me to participate was that all TFA juries were buyers. The people that I want to deliver my work the most is my clients. That's why having buyers, who are closely connected to clients, carefully deal with my clothes was just as important as the award's assistance in moving into the international market.
Besides your exhibition in Paris, you also presented a come-back show this March in Tokyo. By and large, how did the visitors react?
In the first exhibition held at Paris this January, I focused too much on the wearability of my clothes and other sales-related aspects. Reflecting upon this, I straightforwardly delivered my ideas in the second presentation. This resulted in extremely positive reactions, and also enabled me to gain a new business deal with an overseas shop. I initially had a lot of worries including financial issues for the show in Tokyo, but presenting this show allowed me to raise the profile of the brand. Vogue Italia's senior editor Ms. Sara Maino was viewing this show, and I managed to win her favor. This encounter led to an invitation from the textiles trade show Milano Unica scheduled this September, and I will be joining their joint exhibition.
Would you like to continue to present runway shows in Tokyo?
Hosting shows in Tokyo pleases my clients in Japan. That's why I would like to continue to exhibit my collection in Tokyo as much as I can. I also think it would be wonderful to have more people from abroad visit Tokyo's fashion week. We need to boost up the number of people who takes interest in Tokyo.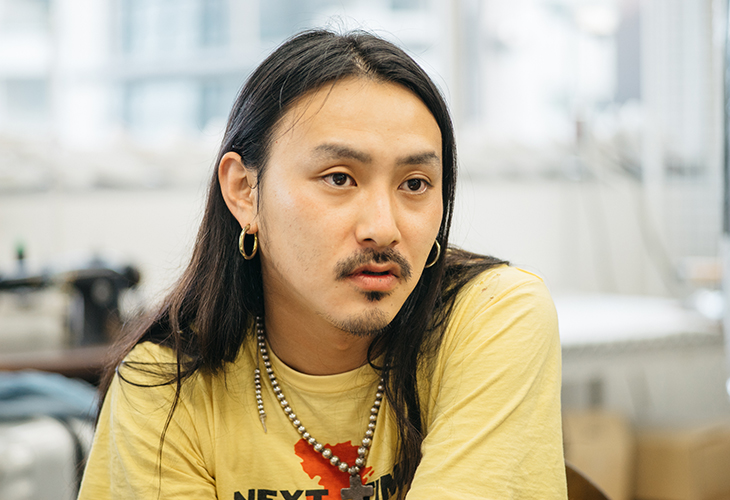 Please share with us your future plans.
I was very lucky being able to present my work abroad at this timing, just after I launched my brand. Having my straightforward creations accepted in Paris was a meaningful experience, and it gave me a strong awareness that I should maintain and set this forthright approach as my basis. I would like to continue showcasing my clothes at Paris at all costs. I'm confronted by a new challenge every day, and it sure is a tough situation, but I find it very rewarding.
Interview by Yuki Harada
Photography by Yohey Goto