Interview & Report

Takayuki Chino
CINOH Designer
2004 Graduated from Fashion technology department of Bunka Fashion graduate University
2008 Started the lady's brand during the 2008-2009 AW
2014 Renamed the brand as CINOH at the collection 2014SS
CINOH, a brand which has grown into an overseas attention gathering brand ever since their exhibition held at Paris as the award winner of TOKYO FASHION AWARD 2019, praised for their attentive production particular of materials and unique contemporary style. It has been 2 years since their last participation in Fashion Week TOKYO in 2019. We talked to their designer, Mr. Chino, on the starting up of the brand to their present business, background behind deciding to participate this season, future prospects of the brand and as a designer.
We have heard you had decided to become a designer since high school and were doing remakes also. Were you interested in clothes making before that?
I think it is partly because the public high school I went to didn't have a uniform and we were allowed to wear plain clothes, but I always had an interest in fashion, so I vaguely thought about becoming either a stylist or designer. As a result of long, hard anguish of trying to decide, I figured, becoming a designer would be a more rewarding challenge for me so I made up my mind. Back then, I was spending a busy high school life, working part-time while indulging in school club activities and skateboarding, and going to Tokyo to go shopping, but one day, a saw photos of RAF SIMONS in a magazine, about three seasons after his debut, and I thought, this is so cool, so I went straight to Tokyo to buy it. Since I was only a high school student, I could only buy one expensive item a month or so. Despite that, I did not want to buy other cheap clothes or things that are similar to what others are wearing, so I began to remake worn-out clothes. I didn't start it because I wanted to but rather, I didn't have any other choice.
We've heard that the words of the late Ms. Chie Koike, the former School President of Bunka Fashion College, became your chance to go down the road of fashion. What words were that?
On my way home from having fun at Tokyo, my parents came to pick me up by car at the station nearest my home. In the car, just as we were talking about my future course to pursue, we heard Ms. Chie Koike speaking on the car radio saying, "the beauty of leaf veins is like the beauty of drapes. That's why people who have grown up seeing nature has a feel for drapes". Hearing that, I remembered Raf Simons also grew up in the countryside, so I figured maybe I can make it too. I realize it's really simple-minded (laugh).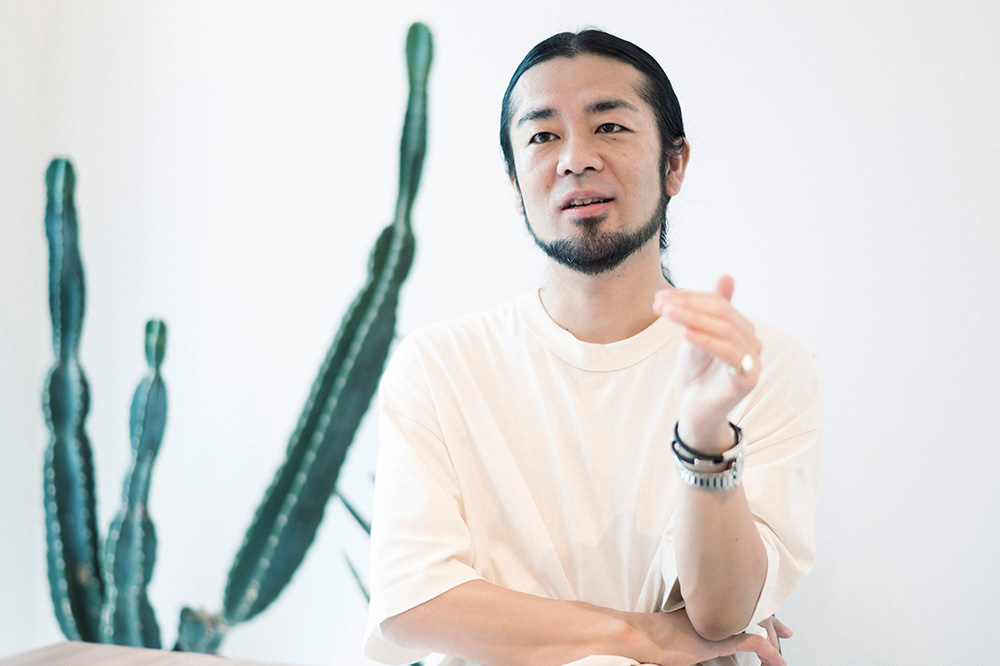 Please tell us about your thoughts behind the brand concept, "Rather than existing only in an instant of time, production that remains in one's wardrobe and memories".
Simply put, I hope my clothes remain strongly among the memories of daily life, for example, I was wearing this on the first date I went on. Furthermore, if there is a seasonal theme, it will link to memories like, "the clothes I wore at that time of that year". On the other hand, stylings such as that seen in the late 90's of skateboarders wearing simple shirts and skating with all the buttons closed up to the top, was extreme but clean and cool. When feelings of being out of place melt into being cool, I feel it is mode. Therefore, although an item looks timeless at first glance, I sometimes purposely produce a sense of the time. Whether it has a sense of the time or it is a timeless piece, people with style make effective use of it in their wardrobe, and I like clothes that has a synchronicity with time, allowing people to link parts of memories with pieces of clothing. Along with being both designs with strong theme traits that represent the season and essential designs, I hope to produce things that remain in one's memory.
Has there been any brand or designer you have been influenced by?
I used to read designer interviews or books often. Raf Simons, whom I mentioned earlier, I think the visual he creates is simply cool, and I was influenced by him in wanting to become a designer. I think it was around the year 2000, I read an article on Yohji Yamamoto in which he said something like, "if a person wants to accomplish something, they should not join a company", and thought, that's so true, so I guess I don't have to join a company, so yes I guess I've been influenced (laugh).
As for your inspiration in production, from where or what do you get stimulated?
I often receive information from daily life. In continuing CINOH, people tell me no matter what I do, everything I make turns out beautiful, which made me think that if that's true, maybe I can make so-called dirty things beautiful too. One of the reasons I decided to participate in FW started by thinking how elegant I can turn other themes into. The first time I participated it was grunge, the second time it was French casual/American casual, which I didn't go through myself. For example, thinking of ways to turn a flannel shirt into luxurious yet easy to wear and making it. Therefore, a sense of dressing up casual items continued for a while. As I mentioned earlier, I have the tendency of thinking dressing up properly to skateboard is rather cool, so I also think it was simply a natural flow of things inside me.
Also, in the sense of production, at times I feel I am also stimulated by social conditions. In recent years in the fashion industry, unisex products under the concept of genderless and/or diversity have been increasing, but as a brand making both women's and men's, I feel it is necessary for CINOH to go against that and create feminine, masculine items through physically shaping each. Especially in women's, because ours is based on men's, I'm worried it might have the tendency of being acknowledged as being masculine. To give you a simple example, in women's I design placing importance on the waist, and oppositely, for men's, make it box-like. For example, make the body spacious, but shorten the sleeves extremely. If the balance looks beautiful, I will choose it even though this balance may narrow the people who can wear it. I always create will contemplating how much space is needed between the fabric and body to make it look beautiful, so I think that at times, it might be a clever idea to designate a muse and make things which are completely egoistic expressions of the designer. However, in the end it is the customers who make the choice, so I think they should each enjoy it freely as they wish.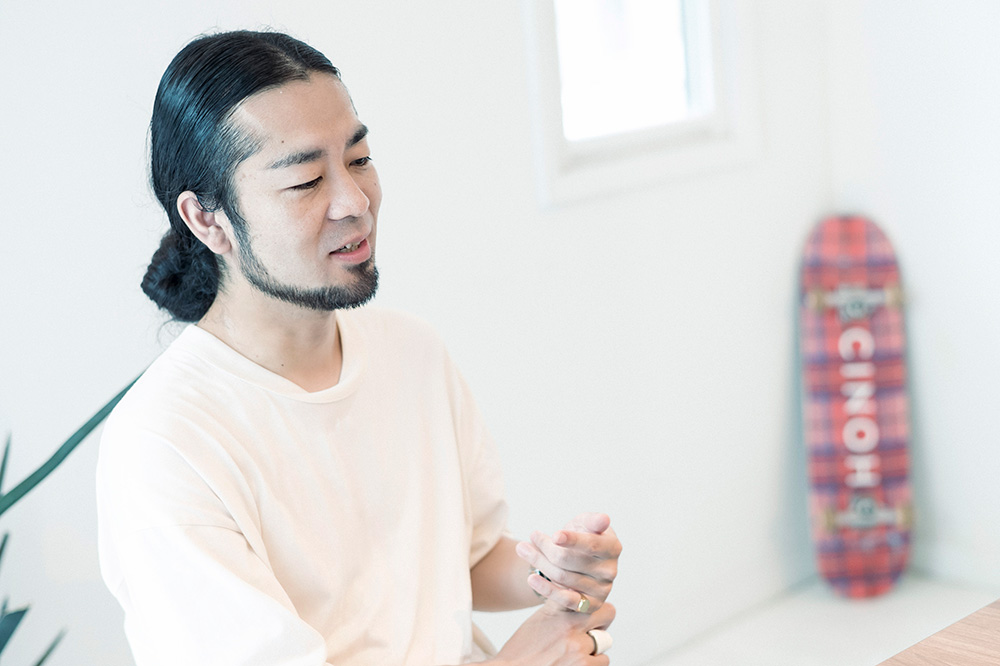 Please tell us about the background behind why you decided to participate in Rakuten Fashion Week TOKYO for the first time in two years, and why you decided on transmitting digitally.
The biggest reason is because I wanting to create a place of promotion, but others is that the S/S term was push up earlier, and digital transmission as become possible. Before, there was a complicated situation of going back and promoting former seasons just when operations of the next season were starting after exhibits were done, but this term, we were able conduct a natural flow of finishing exhibits then going straight into shooting, so that was good.
Could you please tell us of this season's collection theme and/or show concept.
I think many people have the image that CINOH is minimal and inorganic, but I wish for people to see the sort of emotion which textures or clothes possess, so I've incorporated naturistic aspects. In all past shows, I've had it done indoors, made to express naturalistic light, but this time, because we can do a digital presentation, we did the shoot outdoors in mid-day, showing by natural light, which is exactly the kind of show I have wanted to show originally. I think things will look different by changing the situation, so I would be happy if people will find new aspects. If we can use the song without any problems, I think you will understand the theme by hearing the first entrance song.
As a brand and as a designer, please tell us your future prospects.
Once the corona pandemic settles down, I would like to resume approaching overseas, and increase business. Domestically, we opened a directly operated shop in 2019, but I hope to increase the number of places in which we can express the worldview of the brand. Personally, I like to buy clothes after hearing the thoughts and feelings of the designer and staff, so I've always had the tendency to shop at stores at which the sales staff can explain about the brand, because in the case of clothes, it is my idea that being a brand is not simply about making clothes. It includes approaching customers to explain about the brand, have them purchase, and furthermore up to after-care. It is my idea that this all part of the brand. This enables us to suggest coordination and learn of customers reactions. At exhibits, we sometimes receive advice to convey to people more about the materials we are very particular about in creating. We thought this was simply a natural part of being a brand, therefore we hadn't talked about it in particular, but instead of just skin-deep features, I'm realizing the importance of having people know such aspects of the brand also, so I hope to increase the number of places at which we can convey such emotions of the brand more.